Industry Insights
[218+ Pages Report] According to Facts and Factors, during the forecast period of 2022 to 2028, the global astaxanthin market is estimated to develop at a compound annual growth rate (CAGR) of 8.2%. The global astaxanthin market was worth USD 650 million in 2021, and it is anticipated to exceed USD 980 million by 2028. The study investigates several elements and their consequences on the growth of the global astaxanthin market.
Market Overview
Astaxanthin is a carotene that belongs to the xanthophyll family. It is a reddish tint that occurs naturally in some algae and gives lobster, salmon, shrimp, and other seafood a pink-red color. Because of its ease of availability and cardiovascular benefits, the commodity is used as a dietary supplement. Furthermore, the product is thought to be much more powerful than vitamin E and far more efficient than other carotenoids like lutein and lycopene.
Haematococcus Pluvialis is the organism that naturally produces the highest concentrations of astaxanthin. At a lower cost, these supplements provide numerous benefits, such as immune system strengthening & prevention of chronic migraines, rheumatic diseases, blood pressure, cholesterol, and cognitive diseases. GRAS considers astaxanthin derived from synthetic, algae, and bacterial sources to be safe.
COVID-19 Impact
With border closures, lockdowns, and social distancing norms in place to prevent virus spread, fishing and seafood production and trade in several nations have also come to a halt. The closure of foodservice sectors in most pandemic-affected countries, including the United States, the European Union, and China, has impacted seafood and fish product supplies as well as aquaculture operations.
The seafood and aquaculture businesses are being harmed by a drop in demand from the food service industry. Trade sanctions have also had an impact on the imports and exports of critical seafood products. Another source of concern for the seafood and aquaculture industries is the long-term shift in consumer behavior toward live and frozen seafood.
COVID-19 has had an impact on seafood-producing countries, with agriculture and factory work being halted due to government lockdown initiatives and a resulting labor shortage. Most of these countries are experiencing stockpiles in cold storage, forcing farms to temporarily halt operations.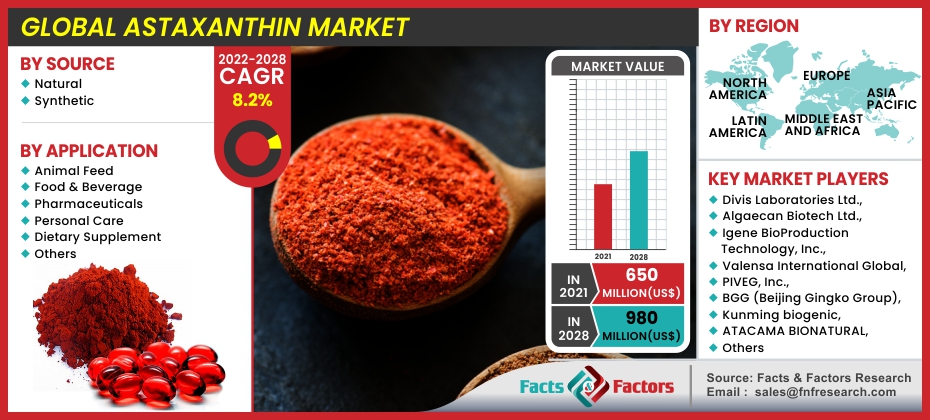 Growth Drivers
Increasing food industry demand will aid market growth
Consistent growth in astaxanthin demand, particularly from the food industry, is expected to drive the global astaxanthin market during the forecast period. Astaxanthin has become more popular as a food additive in recent decades due to its health benefits, which include improved immunity, anti-inflammatory effects, and the prevention of cardiovascular and cerebrovascular diseases, among others. Several studies over the last decade have indicated that astaxanthin can help prevent photoaging, improve sleep, reduce obesity, protect the vocal cord, combat depression, and raise sperm motility, among many other things.
Astaxanthin is in high demand in the food industry, where it is used as a food coloring agent and antioxidant to retain the freshness, color, taste, and quality of food items. Traditionally, astaxanthin was primarily used to protect food nutrients from damage, improve sensory aspects, and improve the overall appeal of food products. Astaxanthin has been approved as a necessary raw material for the development of dietary supplements in Europe. However, because astaxanthin is unstable and susceptible to degradation by a variety of environmental factors, research efforts in the astaxanthin market continue to focus on this area.
High aquaculture adoption to drive astaxanthin market growth
The aquaculture industry's adoption levels of astaxanthin continue to rise in the astaxanthin market. Aquaculture is increasing its demand for astaxanthin, which plays an important role in helping to improve the survival rate and fertility of aquatic species. Furthermore, the inability of crustaceans and sea creatures to self-synthesize astaxanthin is expected to increase the demand for natural astaxanthin. Natural astaxanthin, which is primarily derived from bacteria, yeast, and algae, is in high demand, particularly in the industrial sector.
Restraints
The high cost of producing natural astaxanthin to stifle market growth
Astaxanthin can be synthesized both naturally and synthetically. Synthetic astaxanthin is made from various chemical formulations derived from petroleum products and is available to consumers at a lower cost. Natural astaxanthin, on the other hand, is produced through an extraction and fermentation process involving various fungi, bacteria, yeast, algae, and marine animals. This natural astaxanthin is more difficult to produce and more expensive than the synthetic version.
Opportunities
Opportunities arise as a result of the growing demand for natural antioxidants
Natural carotenoids in their pure state are in higher demand than synthetic carotenoids, particularly in the dietary supplement industry, due to their high quality and success. The current methods for producing carotenoids naturally are limited and susceptible to contamination. Because these methods are expensive, natural carotenoids like lycopene and beta-carotene are nearly three times more expensive than synthetic carotenoids.
Challenges
Stringent government regulations in developed countries can be difficult to navigate
The regulatory standards for astaxanthin application areas are observed to differ across all regions. The FDA approves nutraceuticals under different sets of laws in the United States. The Dietary Supplement Health and Education Act of 1994 (DSHEA) requires manufacturers to make sure that a nutraceutical-based commodity or ingredient is safe before marketing it. Furthermore, the FDA is only permitted to take action against a hazardous product after it has been placed on the market. As a result, manufacturers must guarantee the product label and be clear about information.
Segmentation Analysis
The global astaxanthin market is segmented on the basis of source, application, and region.
By source, the market is divided into natural and synthetic. Synthetic astaxanthin is most commonly used in poultry, aquaculture, and pet food applications, and its market value is expected to exceed USD 350 million by 2028. It is made from petrochemicals in a massively complicated process and is fed to fish to provide coloration. Its use in aquaculture for providing pigmentation to these species, as well as its low cost, may help to support market statistics.
By application, the market is divided into animal feed, food & beverage, pharmaceutical, personal care, dietary supplement, and others. Rising consumer preference for chemical-free organic skincare products derived from naturally derived raw materials may drive product growth. It is used as an ingredient in a variety of cosmetic products such as sunscreens, body creams, facial creams, and lipsticks. Antioxidant properties protect the skin from the sun, treat damaged skin, reduce spots & wrinkles, increase the elasticity of the skin, and provide other therapeutic benefits.
Report Scope
| | |
| --- | --- |
| Report Attribute | Details |
| Market Size in 2021 | USD 650 Million |
| Projected Market Size in 2028 | USD 980 Million |
| CAGR Growth Rate | 8.2% CAGR |
| Base Year | 2021 |
| Forecast Years | 2022-2028 |
| Key Market Players | Divis Laboratories Ltd., Algaecan Biotech Ltd., Igene BioProduction Technology, Inc., Valensa International Global, PIVEG, Inc., BGG (Beijing Gingko Group), Kunming biogenic, ATACAMA BIONATURAL, Fenchem Biotek Ltd, Supreme Biotechnologies NZ Ltd, Archer Daniels Midland Co. (ADM), JXTG Nippon Oil & Energy Corporation, INNOBIO Limited, Fuji Chemical Industries Co., Ltd., AstaReal Inc, Algatechnologies Ltd., Cyanotech Corporation (BioAstin), Parry Nutraceuticals, BASF SE, Otsuka Pharmaceutica, Cardax, Inc., Koninklijke DSM N.V., and Others |
| Key Segment | By Source, Application, and Region |
| Major Regions Covered | North America, Europe, Asia Pacific, Latin America, and the Middle East & Africa |
| Purchase Options | Request customized purchase options to meet your research needs. Explore purchase options |
Regional Landscape
North America and Asia Pacific regions are anticipated to grow the market
Due to rising astaxanthin awareness and the presence of market leaders in the region, North America is expected to have the largest share of the global astaxanthin market during the forecast period. The soaring prevalence of chronic diseases, especially in the United States and Canada, is expected to drive astaxanthin demand in this region. Astaxanthin is used as a nutritional supplement all over the world and has numerous health benefits, such as strengthening the immune system, preventing chronic migraines, lowering blood cholesterol, and providing cardiovascular benefits. Furthermore, the market is expected to expand further as a result of the presence of organizations such as the Natural Algae Astaxanthin Association (NAXA).
During the forecast period, Asia Pacific is anticipated to grow rapidly in the global astaxanthin market. Rising health issues and increased demand for supplements as a result of the region's large aging population have generated a valuable market opportunity. Furthermore, the increase in the supply of animal feed products containing astaxanthin will increase investment inflows, particularly in China, India, and Japan. In addition, the region's thriving cosmeceutical sector has increased the demand for natural products. All of these factors will contribute to the growth of the Asia Pacific astaxanthin market.
Recent Development
December 2020: BASF collaborated with Adifo Software to introduce a digital platform for the animal agriculture supply chain that included sustainability analytics. This collaboration significantly aided BASF's advancement in feed formulation.
October 2020: Biomin, a specialized animal health and nutrition business owned by the Erber Group, was acquired by Koninklijke DSM N.V. This acquisition will add to Koninklijke DSM N.V.'s knowledge and experience and reputation as a leading source of animal health and nutrition options for farm sustainability and productivity, with a focus on reducing emissions, feed consumption efficiency, and improving the use of land and water.
Competitive Landscape
Some of the global astaxanthin market players are Divis Laboratories Ltd., Algaecan Biotech Ltd., Igene BioProduction Technology, Inc., Valensa International Global, PIVEG, Inc., BGG (Beijing Gingko Group), Kunming biogenic, ATACAMA BIONATURAL, Fenchem Biotek Ltd, Supreme Biotechnologies NZ Ltd, Archer Daniels Midland Co. (ADM), JXTG Nippon Oil & Energy Corporation, INNOBIO Limited, Fuji Chemical Industries Co., Ltd., AstaReal Inc, Algatechnologies Ltd., Cyanotech Corporation (BioAstin), Parry Nutraceuticals, BASF SE, Otsuka Pharmaceutica, Cardax, Inc., and Koninklijke DSM N.V.
The global astaxanthin market is segmented as follows:
By Source Segment Analysis
By Application Segment Analysis
Animal Feed
Food & Beverage
Pharmaceuticals
Personal Care
Dietary Supplement
Others
By Regional Segment Analysis
North America

The U.S.
Canada
Mexico
Rest of North America

Europe

France
The UK
Spain
Germany
Italy
Nordic countries

Denmark
Finland
Iceland
Sweden
Norway

Benelux Reunion

Belgium
The Netherlands
Luxembourg

Rest of Europe

Asia Pacific

China
Japan
India
New Zealand
Australia
South Korea
Southeast Asia

Indonesia
Thailand
Malaysia
Singapore
Rest of Southeast Asia

Rest of Asia Pacific

The Middle East & Africa

Saudi Arabia
UAE
Egypt
Kuwait
South Africa
Rest of the Middle East & Africa

Latin America

Brazil
Argentina
Rest of Latin America