Industry Insights
[215+ Pages Report] According to Facts and Factors, the global frozen seafood market is anticipated to grow at a compound annual growth rate (CAGR) of 7.5% during the forecast period between 2022 and 2028. The valuation for the global frozen seafood market was USD 38.82 billion in 2021 and it is estimated to cross USD 68.37 billion, by 2028. The report analyzes various factors and their implications on the frozen seafood market's growth.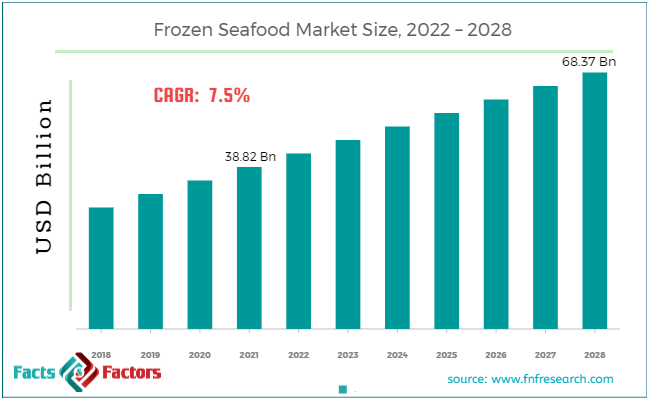 To know more about this report | Request Free Sample Copy
Market Overview
Frozen seafood products are freeze-treated, which helps to suppress bacterial development while also enhancing the storage shelf life of food products. The cooling process in frozen seafood items aids in lowering breakdown by converting the residual moisture into ice and preventing the growth of the majority of types of bacteria present in the food goods.
Frozen seafood is processed using two methods: cryogenic, commonly known as "flash freezing," and mechanical. The majority of frozen fish products are frozen using cryogenic freezing, which is the most widely utilized freezing technology owing to the existence of ultra-low liquid nitrogen with a temperature of -199.5 degrees Celsius. Using contemporary freezing techniques, frozen seafood products can be kept for an extended period of time.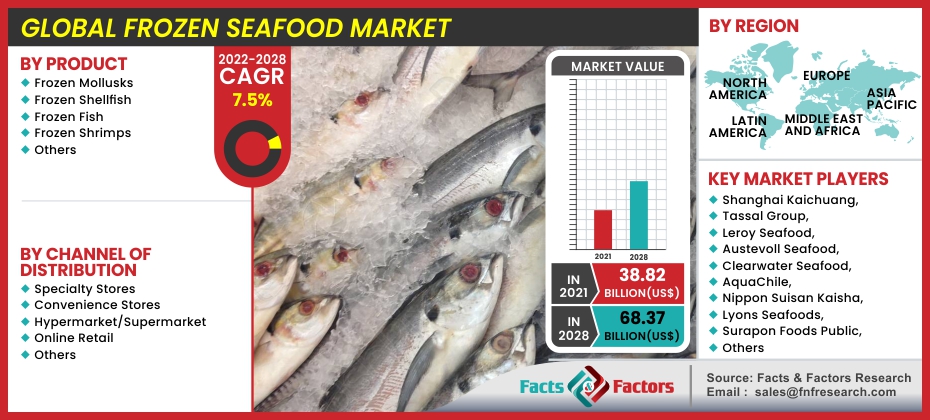 To know more about this report | Request Free Sample Copy
Covid-19 Impact
The global pandemic has caused enormous upheaval in the seafood business. Governments have closed fish markets and put a halt to processing operations. Several virus-affected regions have prohibited the trade of frozen fish and seafood, resulting in significant losses for seafood manufacturers. Local sourcing and online presence appear to be among the most effective ways to create cash in the sector. Furthermore, the global frozen seafood market grew during the lockdown since it has a longer shelf life than fresh fish and is anticipated to flourish post-Covid as well.
Growth Drivers
Rising popularity of seafood expected to boost market growth
The global market for frozen seafood products is expected to expand considerably during the forecast period. Manufacturers are emphasizing healthier product offerings. Frozen seafood goods are frozen using cryogenic technology, which aids in the inhibition of bacterial growth in frozen seafood products.
Many frozen seafood factories throughout the world use cryogenic freezing technology, which aids in sustaining low temperatures by utilizing liquid nitrogen or solid carbon dioxide that is directly sprayed onto frozen fish items. Using contemporary freezing techniques, frozen seafood items can be kept for a prolonged period of time.
Many people prefer frozen foods to canned foods since the nutrients in frozen foods are not degraded, and therefore the foods are utilized globally. Such frozen fish items maintain product quality and are thus widely consumed around the world. As a result, the global market is estimated to expand rapidly over the projected period.
Restraints
Overfishing may hinder the growth of the global market
Overfishing has become a major source of concern for both fisheries and the ecosystem. Overfishing may reduce the availability of fish, raising the prices of frozen seafood and, as a result, stifling the global frozen seafood market growth.
Opportunities
Seafood's health benefits contribute to expanding market potential
The revenue of the frozen seafood market is expected to rise during the forecast period as food firms place a greater emphasis on healthy food choices. For example, frozen food provider SeaPak Shrimp & Seafood Co. announced the debut of SeaPak Shrimp Sea Pals, which claim to have a high amount of protein per serving without the use of artificial preservatives or colors aimed at children. Innovative product options are increasing the frozen seafood market's revenue.
Companies in the frozen fish and seafood market are expanding their product lines in children's food items in order to capitalize on previously untapped opportunities. Several studies have found that children who consume fish at least once a week have better sleep habits and higher IQ scores. As a result, parents are becoming more aware of the benefits of seafood and making sensible decisions when purchasing frozen fish and seafood.
Challenges
Globalization and technology's extensive reach pose a concern for the market
With globalization and the broad reach of technology, the client base has shifted from cities and densely populated places to remote and outlying residential neighborhoods such as towns or suburbs. To cater to such a dispersed intended audience around the world, an efficient and effective supply chain is required. In the context of the frozen seafood market, any technological incident at any point might result in the failure of cold storage, resulting in enormous product waste.
Furthermore, the distribution method must be minimum and ergonomic in order for the system to be consumer-pleasant. Advances in cold food retailing for lengthier product shelf life, an increase in the consumption for ready-to-cook food, an increase in the working population, and a preference for clean & healthy food habits worldwide are expected to boost the growth of the frozen seafood market during the forecast period.
Segmentation Analysis
The global frozen seafood market is segregated on the basis of product, channel of distribution, and region.
By product, the market is divided into frozen mollusks, frozen shellfish, frozen fish, frozen shrimps, and others. The frozen fish segment contributes to a major portion of the market.
By channel of distribution, the market is classified into specialty stores, convenience stores, hypermarkets/supermarkets, online retail, and others. The majority of individuals prefer to buy frozen seafood from a specialty store. People who live in metropolitan regions, on the other hand, prefer hypermarkets and supermarkets since freshness and shelf life are important factors in sales. Because of features such as delivering fresh food to the customer's door, online platforms are seeing a 15% increase in revenue.
Report Scope
| | |
| --- | --- |
| Report Attribute | Details |
| Market Size in 2021 | USD 38.82 Billion |
| Projected Market Size in 2028 | USD 68.37 Billion |
| CAGR Growth Rate | 7.5% CAGR |
| Base Year | 2021 |
| Forecast Years | 2022-2028 |
| Key Market Players | Shanghai Kaichuang, Tassal Group, Leroy Seafood, Austevoll Seafood, Clearwater Seafood, AquaChile, Nippon Suisan Kaisha, Lyons Seafoods, Surapon Foods Public, Sajo Industries, Marine International, Hansung Enterprise, Toyo Suisan Kaisha, AquaChile, Marine Harvest, High Liner Foods, Tri Marine International, and Iglo Group. |
| Key Segment | By Product, By Channel of Distribution, and By Region |
| Major Regions Covered | North America, Europe, Asia Pacific, Latin America, and the Middle East & Africa |
| Purchase Options | Request customized purchase options to meet your research needs. Explore purchase options |
Regional Landscape
North America accounts for a sizable portion of the global market
North America is a prominent region in the global frozen seafood market, and it is expected to grow at a healthy rate over the projected period. According to the most current estimate, the frozen seafood industry in the United States accounted for around 84.5 percent of the North American market in 2021, whereas the frozen seafood products market in Canada accounted for 22.4 percent of the market. Consumers in the United States are seeking composite products that are widely available today while also fitting their fast-paced lifestyle. Since there is a growing demand for nutrient-rich healthy alternatives, there is a greater need for the advancement of food with quality ingredients.
Asia Pacific region is also projected to witness substantial growth in the coming period. The frozen seafood market in China raised around USD 1.3 billion in 2021. The country's need for frozen food is extremely strong. Protein manufacturing companies in China are fast expanding as more and more new enterprises enter the industry with the intention of first capturing a lion's share of the market.
Germany held a 24.2 percent market share in Europe in 2021, while the frozen shellfish market in the United Kingdom and the frozen mollusks market in France is likely to contribute significantly to Europe's total market. Top frozen fish manufacturers in Germany are expanding their business while also striving to resonate with today's value-driven customers, who are gradually opening up more opportunities for both legacy firms and start-ups to come into the market.
Recent Developments
August 2021: Avanti Frozen Foods Pvt. Ltd. announced the growth of a few of its shipments of frozen prepared, skinned, and deveined shrimps in various unit sizes.
January 2019: SeaShare, a non-profit organization, recently established a strategic alliance with Hook Line and Savor, a novel frozen seafood start-up located in Massachusetts.
Some of the leading players in the global market include
Shanghai Kaichuang
Tassal Group
Leroy Seafood
Austevoll Seafood
Clearwater Seafood
AquaChile
Nippon Suisan Kaisha
Lyons Seafoods
Surapon Foods Public
Sajo Industries
Marine International
Hansung Enterprise
Toyo Suisan Kaisha
AquaChile
Marine Harvest
High Liner Foods
Tri Marine International
Iglo Group.
The global frozen seafood market is segmented as follows:
By Product Segment Analysis
Frozen Mollusks
Frozen Shellfish
Frozen Fish
Frozen Shrimps
Others
By Channel of Distribution Segment Analysis
Specialty Stores
Convenience Stores
Hypermarket/Supermarket
Online Retail
Others
By Regional Segment Analysis
North America

The U.S.
Canada
Mexico
Rest of North America

Europe

France
The UK
Spain
Germany
Italy
Nordic countries

Denmark
Finland
Iceland
Sweden
Norway

Benelux Reunion

Belgium
The Netherlands
Luxembourg

Rest of Europe

Asia Pacific

China
Japan
India
New Zealand
Australia
South Korea
Southeast Asia

Indonesia
Thailand
Malaysia
Singapore
Rest of Southeast Asia

Rest of Southeast Asia

The Middle East & Africa

Saudi Arabia
UAE
Egypt
Kuwait
South Africa
Rest of Middle East & Africa

Latin America

Brazil
Argentina
Rest of Latin America