Industry Insights
[216+ Pages Report] According to Facts and Factors, the global nutritional supplements market was valued at USD 283.5 Million in 2020 and is expected to make approximately USD 423.1 Million in revenue by the end of 2026, with a CAGR of approximately 6.9% between 2021 and 2026. The report analyzes the nutritional supplements market's drivers, restraints/challenges, and the effect they have on the demands during the projection period. In addition, the report explores emerging opportunities in the nutritional supplements market.
Market Overview
Nutritional supplements are chemicals that supply enough amounts of critical nutrients for human bodies to function properly. It is rich in vitamins, herbs, proteins meal supplements, food science, and other nutritionally beneficial goods. They are consumed to promote better health and energy, as well as to support the immune system and reduce the risk of sickness. The human body requires a specific quantity of fuel to carry out daily activities, and the fuel we consume comes from our food. This is true not only for the activities we engage in or the exercise we engage in but also for what occurs at the cellular level within our bodies.
Our diets are frequently insufficient to meet our bodies' nutritional requirements. Individuals may benefit from dietary supplements in these situations. Nutritional supplements are foods that are added to a regular diet to help meet a person's nutritional needs. These requirements are determined by factors such as age, gender, level of physical activity, and so on. Supplementation can be done in a variety of methods to give the necessary macronutrients (carbohydrates, proteins, and fats), fibres, vitamins, minerals, and other nutrients because these elements fluctuate from person to person.
Our bodies need carbohydrates, lipids, and proteins for energy and rebuilding throughout the day. Exercise depletes these macronutrients, even more, therefore it's critical to try to restore them with the foods we eat. Energy bars, protein bars, and protein powders are useful sources of micronutrient supplementation for those who don't get enough from their regular diet. This ensures that your body has enough macronutrients to conduct its normal tasks as well as create and repair tissue after exercise.
Industry Growth Factors
Consumer awareness of healthy living and diet, urbanization and changing lifestyles, disease prevention, weight management awareness even among young professionals, advancement in the retail and pharmaceutical industries, innovation in product offerings, and modernization of retail channels are some of the key factors driving the nutritional supplement industry. The global nutritional supplement industry is growing as people become more aware of the health benefits of taking supplements. To cure nutritional deficits in the human body, nutritional supplements are employed. Vitamins, minerals, proteins, and other essential elements make up nutritional supplements.
Reduced indications of ageing and enhanced cardiovascular health are just a few of the health advantages connected with dietary supplement intake. Women are more concerned about preserving healthy skin, hair, and nails, as well as a growing desire to avoid premature skin ageing and a growing preference for effective and safe cosmetic products. Such factors are expected to drive the growth of the nutritional supplements market. Minerals and vitamins required for good skin, hair, and nails are all provided by nutritional supplements. However, such products frequently contain high amounts of vitamins and minerals, which can induce constipation, diarrhoea, and other stomach issues.
Allergies may be triggered by inactive components. Antibiotics, enzymes, polyphenols, amino acids, and collagen capsules are examples of nutritional supplements. With the rise of the working class, obtaining all of the nutrients through a balanced diet has become more difficult. This fuels the nutritional supplement market as people seek out items to help them meet their nutritional objectives. These supplements are widely available at supermarkets and hypermarkets, which together account for the majority of the market.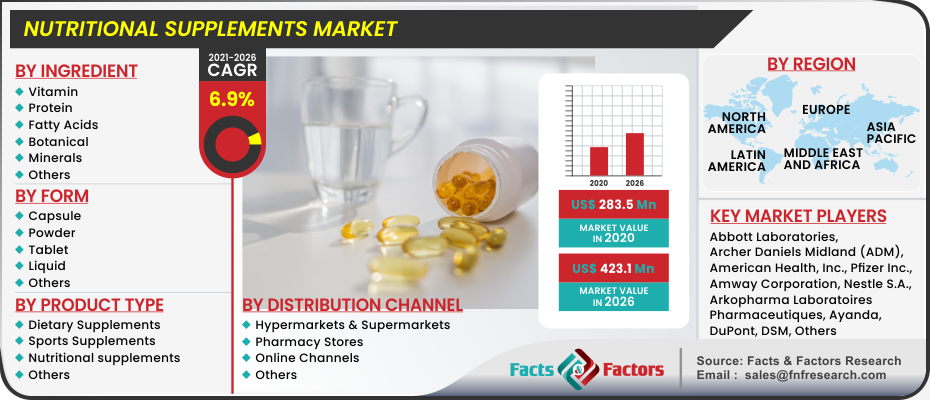 To know more about this report | Request Free Sample Copy
Segmentation Analysis
The nutritional supplements market is segmented based on ingredient, form, product type, and distribution channel:
As per ingredient (vitamin, protein, fatty acids, botanicals, minerals, and others), form (capsule, powder, tablet, liquid, and others), by product type (dietary supplements, sports supplements, nutritional supplements, and others), by distribution channel (hypermarkets & supermarkets, pharmacy stores, online channels, and others). The implementation of new and advanced technologies, which has made them more multifunctional, has on condition that the industry with many worthwhile growth prospects in the coming years.
Report Scope
| | |
| --- | --- |
| Report Attribute | Details |
| Market Size in 2020 | USD 283.5 Million |
| Projected Market Size in 2026 | USD 423.1 Million |
| CAGR Growth Rate | 6.9% CAGR |
| Base Year | 2020 |
| Forecast Years | 2021-2026 |
| Key Market Players | Abbott Laboratories, Archer Daniels Midland (ADM), American Health, Inc., Amway Corporation, Arkopharma Laboratoires Pharmaceutiques, Ayanda, DuPont, DSM, the Nature's Bounty Co., Herbalife International of America, Inc, Stepan Company, Pfizer Inc., Nestle S.A., Nature's Sunshine, and GlaxoSmithKline, among others. |
| Key Segment | By Ingredient, By Form, By Product Type, and By Region |
| Major Regions Covered | North America, Europe, Asia Pacific, Latin America, and the Middle East & Africa |
| Purchase Options | Request customized purchase options to meet your research needs. Explore purchase options |
Regional Analysis
Due to rising demand in China, Japan, and India, Asia-Pacific will be the fastest-growing region for nutritional supplements by 2020. Over the projected period, rising expenditure on health-enhancing products in the region due to rising per capita income and increased awareness is likely to fuel demand for dietary supplements. Low-cost raw resources, especially plant-based compounds, are readily available in the region. Furthermore, nations such as China, India, and the Philippines are becoming major outsourcing hubs for manufacturing and R&D. The expansion of nutritional supplements in the region is being fuelled by rising disposable income, increased health awareness, and an increased willingness to spend more on nutrition.
Covid-19 Analysis
The emergence of the COVID-19 pandemic has resulted in a rise in consumer health awareness. Furthermore, people seek nutritional supplements to boost their health. This, in turn, is boosting the global market. According to a report published by the World Health Organization (WHO) in March 2020, adopting a balanced diet to maintain a robust immune system is critical for quick recovery from a variety of viruses, including SARS-CoV-2 infection. Despite the lack of proof that nutritional foods and dietary supplements can prevent or cure COVID-19 infection, healthy and nutritional diets are still important for immune system support.
As a COVID-19 prevention tool, there is a large increase in consumer demand for immunity-boosting supplements. Furthermore, according to an article published in Natural Products in April 2020, immunity-boosting supplements are selling quite well in the United Kingdom and other European countries. During this time, immune-boosting supplements are expected to fuel market expansion. Furthermore, there is an increasing demand for sports nutrition products due to a growing preference for healthy active living as well as increased nutrition awareness among young athletes.
Because of the rise of e-commerce, dietary and nutritional supplements are becoming more widely available. Even though buying dietary and nutrition supplements online is challenging due to a lack of product knowledge and worries about compatibility, sales of these items have continued to rise. Furthermore, during the COVID-19 epidemic, internet platforms are thriving. For example, in the first quarter of 2020, online revenue for BY-HEALTH, a Chinese nutritional supplement company, climbed by 46.83 percent over the same period the previous year. Nutritional supplements are easily accessible through both brick and mortar and online channels, which is helping to drive market expansion.
Competitive Players
Some of the essential players operating in the nutritional supplements market are:
Abbott Laboratories
Archer Daniels Midland (ADM)
American Health Inc.
Amway Corporation
Arkopharma Laboratoires Pharmaceutiques
Ayanda
DuPont
DSM
the Nature's Bounty Co.
Herbalife International of America Inc
Stepan Company
Pfizer Inc.
Nestle S.A.
Nature's Sunshine
GlaxoSmithKline
The global nutritional supplements market is segmented as follows:
By Ingredient Segment Analysis
Vitamin
Protein
Fatty Acids
Botanical
Minerals
Others
By Form Segment Analysis
Capsule
Powder
Tablet
Liquid
Others
By Product Type Segment Analysis
Dietary Supplements
Sports Supplements
Nutritional supplements
Others
By Distribution Channel Segment Analysis
Hypermarkets & Supermarkets
Pharmacy Stores
Online Channels
Others
By Regional Segment Analysis
North America
Europe

France
UK
Germany
Italy
Spain
Rest of Europe

Asia Pacific

China
India
Japan
South Korea
Southeast Asia
Rest of Asia Pacific

Latin America

Mexico
Brazil
Rest of Latin America

The Middle East & Africa

South Africa
GCC
Rest of MEA