Industry Insights
[221+ Pages Report] According to Facts and Factors, the global dietary supplements market was valued at USD 149.50 billion in 2021 and is predicted to increase at a CAGR of 8.50% to USD 240.90 billion by 2028. The study examines the market in terms of revenue in each of the major regions, which are classified into countries.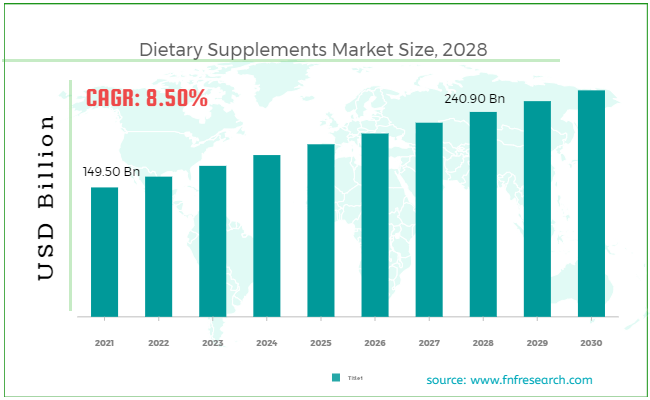 To know more about this report | Request Free Sample Copy
Market Overview
Rising awareness and attention toward health and prevention by consumers has increased the consumption of dietary supplements. A dietary supplement is a substance that is used to complement a person's diet. Some dietary supplements are designed to lower the risk of chronic illnesses, while others are designed to boost the nutritional content of the daily diet. As a result, dietary supplement content differs based on the age of the target consumer, but the primary function remains the same.
The demand for dietary supplements is predicted to rise due to an increase in the number of fitness centers, health clubs, and gymnasiums, as well as a greater awareness of fitness among young people. The dietary supplements can be consumed in the form of tablets, powder, capsules, liquids, soft gel & gel caps. However, the rising cost of products can hinder the number of sales in the market. Furthermore, being more cautious about health and fitness, consumers' spending on dietary supplement product types is predicted to increase the sales revenue and consumer base in the forecast period.
Impact of COVID – 19
The unanticipated outbreak of Covid 19 has had a positive influence on market growth. Sales of nutritional supplements and nutraceuticals soared as a result of the pandemic's potential immune-boosting properties. Through television and social media since the onset of the coronavirus pandemic, prominent medical personalities have advocated for the use of particular nutritional supplements in the prevention and acute treatment of Covid-19 infection. Consumers have been influenced and encouraged to utilize various dietary supplements on a daily basis as a result of this. Following the pandemic's protocols in 2021, awareness of the value of sports and exercise rose, and consumption of nutritional supplements is expected to rise in the future years.
The long-term consequences are difficult to predict, given the global economy's struggles with pandemic conditions, which could have an impact on global trade and the supply chain for dietary supplement products. However, as they provide strong immune functions and minimize the risk of health threats, increasing demand for human dietary supplements in both developed and emerging regions is predicted to significantly drive product growth during the projection period. Besides, the necessity of immunity has been emphasized by the impact of COVID-19 and the severity of the coronavirus. The relationship between immune function and nutrition is also expected to increase dietary supplement usage.
The complete research study looks at both the qualitative and quantitative aspects of the dietary supplements market. Both the demand and supply sides of the market have been investigated. The demand side study examines market income in various regions before comparing it to all of the major countries. The supply-side research examines the industry's top rivals, as well as their regional and global presence and strategies. Each major country in North America, Europe, Asia Pacific, the Middle East and Africa, and Latin America is thoroughly investigated.
Segmentation Analysis
The global dietary supplements market is segregated based on type, function, target consumer, mode of application and region.
In 2021, the market for dietary supplements was dominated by vitamins as a product owing to the increased demand for energy and weight management among working professionals and sports players. Due to the higher efficiency index in terms of consumption, users consume multivitamins via tablets, powder, and liquid. In addition to that, as millennials are digitally advanced, they keep up with health-related information and try to adjust their routines and eating habits accordingly. This is driving up demand for probiotic supplements, which is projected to boost the global probiotics market in the near future.
The mode of application in which dietary supplements can be taken is a tablet, powder, liquid, capsules, gel cap, and soft gel. In the worldwide dietary supplement industry, the tablet is the most popular application mode. Tablet and capsule supplements are in high demand on the global market for a variety of reasons, including their low cost, easy packaging, and longer shelf life. Capsules, soft gels, and tablets provide well-defined dosages, hence they are preferred over liquids and other forms of administration. Furthermore, there is an increasing demand for protein supplements on the market. As consumers are moving toward fitness centers like gyms or online exercise programs, where, trainers recommend intake of protein in the form of tablets or capsules for all age groups on a daily basis, the tablet sub-segment is expected to grow in the forecast period.
Report Scope
| | |
| --- | --- |
| Report Attribute | Details |
| Market Size in 2021 | USD 149.50 Billion |
| Projected Market Size in 2028 | USD 240.90 Billion |
| CAGR Growth Rate | 8.50% CAGR |
| Base Year | 2021 |
| Forecast Years | 2022-2028 |
| Key Market Players | Amway Corp (US), Herbalife International of America, INC. (US), ADM (US), Pfizer INC (US), Abbott (US), Nestle (Switzerland), and Others |
| Key Segment | By Type, Function, Target Consumer, Mode of Application, and Region |
| Major Regions Covered | North America, Europe, Asia Pacific, Latin America, and the Middle East & Africa |
| Purchase Options | Request customized purchase options to meet your research needs. Explore purchase options |
Regional Landscape
In both developed and emerging countries, the Asia-Pacific dietary supplement market grew rapidly. The dietary supplement market in the country is being driven by a growing knowledge of health supplements, as well as a growing population and increased disposable incomes. For instance, in 2021, due to the significant presence of the aging population in such emerging countries and awareness of herbal and Ayurveda extract-based products, supplement demand has surged in countries like India, China, and Japan. Similarly, in the coming years, the growth of the dietary supplement market is foretold to show a significant increase in the use of dietary products, such in North America and Europe.
Competitive Landscape
List of Key Players in the Global Dietary Supplements Market:
Amway Corp (US)
Herbalife International of America, INC. (US)
ADM (US)
Pfizer INC (US)
Abbott (US)
Nestle (Switzerland)
The Global Dietary Supplements Market is segmented as follows:
By Type Segment Analysis
Botanicals
Vitamins
Minerals
Amino Acids
Enzymes
Probiotics
Other Dietary Supplements
By Function Segment Analysis
Additional Supplements
Medicinal Supplements
Sports Nutrition
By Target Consumer Segment Analysis
Infant
Children
Adults
Pregnant Women
Elderly
By Mode of Application Segment Analysis
Tablets
Capsules
Powders
Liquids
Soft Gels
Gel Caps
By Regional Segment Analysis
North America

The U.S.
Canada
Mexico
Rest of North America

Europe

France
The UK
Spain
Germany
Italy
Nordic countries

Denmark
Finland
Iceland
Sweden
Norway

Benelux Reunion

Belgium
The Netherlands
Luxembourg

Rest of Europe

Asia Pacific

China
Japan
India
New Zealand
Australia
South Korea
Southeast Asia

Indonesia
Thailand
Malaysia
Singapore
Rest of Southeast Asia

Rest of Asia Pacific

The Middle East & Africa

Saudi Arabia
UAE
Egypt
Kuwait
South Africa
Rest of the Middle East & Africa

Latin America

Brazil
Argentina
Rest of Latin America