Covid-19
Global Natural Gas Storage Market Size, Share
The pandemic continues to cause unprecedented disruption across industries worldwide.Get detailed insights regarding the impact of COVID-19 on the market. Request Sample
Industry Insights
[205+ Pages Report] According to Facts and Factors, the global natural gas storage market was valued at around USD 796.50 Billion in 2020 and is expected to generate over USD 1280.80 Billion in revenue by the end of 2026, with a CAGR of around 7.2% between 2021 and 2026.
Market Overview
Natural gas, a colorless, odorless, and flammable hydrocarbon can be stored in a variety of forms. It's most often held in three kinds of warehouses, all of which are underground and under heat. Depleted reserves of oil and/or natural gas fields, aquifers, and salt cavern formations are examples of underground installations. Natural gas is often stored in above-ground tanks in liquid or gaseous form. Physical characteristics (porosity, permeability, retaining capability) and economics (site planning and repair costs, deliverability speeds, and cycling capability) dictate the suitability of each storage form for specific applications.
Industry Growth Factors
The demand for natural gas storage is expected to be driven by the region's rising chemical sector, industrial sector, and transportation sector. Furthermore, the benefits of using natural gas as a clean-burning, versatile, and effective fuel for a range of uses, as well as global moves toward a low-carbon economy, are expected to boost natural gas demand in the future. However, the market for natural gas storage is projected to be hampered by the seasonal and unpredictable nature of production, as well as a supply and demand imbalance. The global population rises, and as a result, urbanization grows, resulting in an increase in natural gas consumption year by year. Natural gas use is growing as a result of these reasons in both domestic and other end-users such as power generation, transportation, and a variety of other industries. Because of its low cost and environmental advantages, natural gas is increasingly being used in industry in various countries. Since natural gas is non-renewable energy, these storage facilities are critical in protecting natural gas from natural hazards, unanticipated events, and production and distribution failures. The natural gas supply, along with increasing seasonal demand from a variety of end-use applications and industrial sectors in the area, is expected to drive market growth in the coming years. Furthermore, favorable government policies for low carbon fuels relative to other fossil fuels are expected to remain a positive factor for natural gas demand growth. Furthermore, technical advances combined with an increased understanding of natural gas as a renewable fuel would drive demand much higher.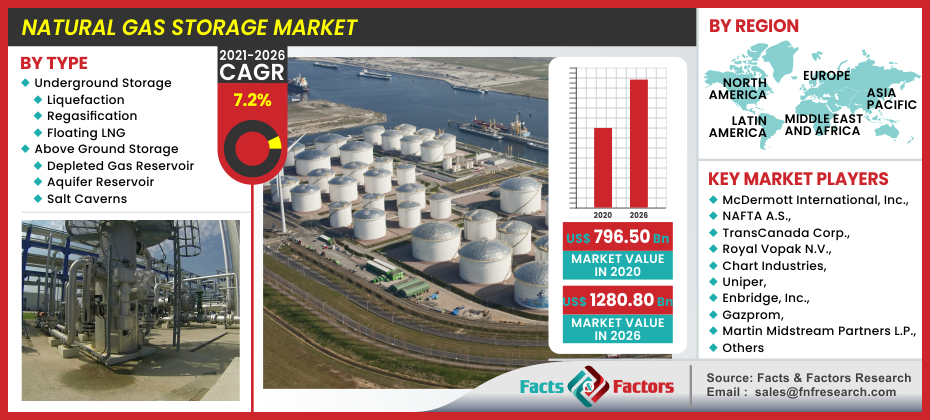 Segmentation Analysis
The global Natural Gas Storage market is segregated based on type, above-ground storage type, underground storage type, and region. Based on type, the global natural gas storage industry is categorized into underground storage and above-ground storage. Based on above-ground storage type segmentation, the market is classified into liquefaction, regasification, and floating LNG. In terms of underground storage type, the market is split into the depleted gas reservoir, aquifer reservoir, and salt caverns.
Regional Analysis
North America led the market for natural gas storage in 2020, followed by Europe. The Asia-Pacific region is expected to see the fastest growth in the coming years due to increased exploration and development activities. Increased understanding of natural gas as a renewable fuel is also expected to boost development in the country. Europe is expected to expand at a substantial pace over the projected period due to ample supply and a favorable regulatory environment. Iran is expected to become the most powerful nation in Europe. With rising energy demand, the Middle East and Africa, as well as Latin America, are projected to see significant expansion. The increased domestic demand from all major end-use industries in countries like China, Japan, and India, Asia Pacific is projected to rise significantly over the forecast period.
Competitive Players
Some main participants of the global natural gas storage market are McDermott International, Inc., NAFTA A.S., TransCanada Corp., Royal Vopak N.V., Chart Industries, Uniper, Enbridge, Inc., Gazprom, Martin Midstream Partners L.P., GDF SUEZ, Samsung Heavy Industries, Foster Wheeler, Spectra Energy, ANR Storage Company, Blue Lake Gas Storage Company, DTE Energy, E.ON SE, Technip, The Williams Companies, Kinder Morgan Inc, Michigan Gas Storage Company, ONEOK Inc., Worley Parsons, Centrica, Chiyoda Corporation, Niska Gas Storage amongst others.
Natural Gas Storage Market: Regional Segment Analysis
North America
Europe

UK
France
Germany
Italy
Spain
Rest of Europe

Asia Pacific

China
Japan
India
South Korea
Southeast Asia
Rest of Asia Pacific

Latin America

Brazil
Mexico
Rest of Latin America

Middle East and Africa

GCC Countries
South Africa
Rest of MEA