Industry Insights
[225+ Pages Report] According to Facts and Factors, the Global Food Enzymes Market was worth around USD 2,164.2 million in 2021 and is estimated to grow to about USD 3,104.8 million by 2028, with a compound annual growth rate (CAGR) of approximately 6.2% over the forecast period. The report analyzes the food enzymes market drivers, restraints/challenges, and the effect they have on the demands during the projection period. In addition, the report explores emerging opportunities in the Food Enzymes Market.
Market Overview
Food enzymes are protein molecules that can be found in both humans and animals. They drive all-natural and biological activities in the human and animal bodies. Enzymes are necessary components of every chemical reaction in the body, therefore life cannot exist without them. They are intentionally added to processed foods to fulfill a technological function in food manufacturing, preparation, and treatment. The multifunctional benefits of enzymes in a wide range of applications are projected to fuel market expansion in the forecast period. In addition, advances in molecular biology, genetics, and microbial diversity will drive demand for food enzymes in the coming years. With the increased consumption of processed and packaged foods, the demand for food preservatives is predicted to rise, driving the use of enzymes in the approaching years.
Food enzymes operate as a catalyst for biological events that improve the quality of various processed food items, consequently promoting their use in a wide range of applications. The penetration of organized retail sectors in urban and rural areas has increased the need for bakery and confectionery items, consequently promoting the growth of the food enzymes market. Moreover, a rising product range in the bakery and processed food sectors will open the door to new prospects, increasing the chances for food enzyme manufacturers to capitalize on these opportunities.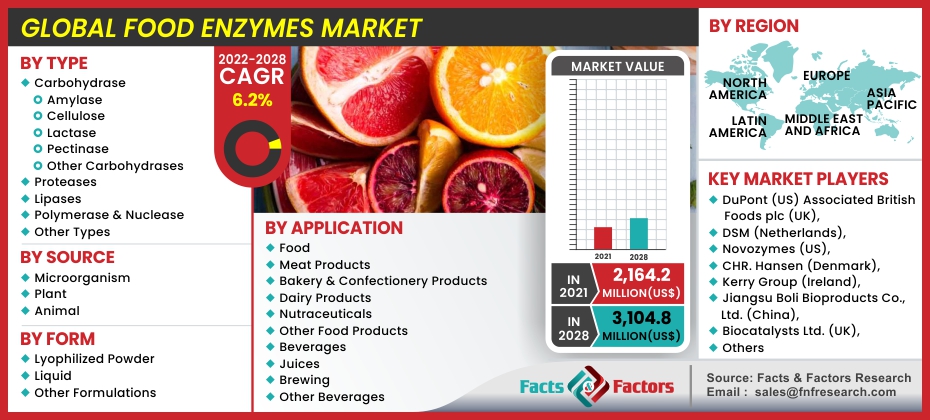 To know more about this report | Request Free Sample Copy
COVID-19 Impact:
COVID-19 is expected to have a significant impact on food enzymes, as the current pandemic has highlighted the importance of safe, healthy, and nutritious eating. Due to its use in nutritional and immune products, the COVID-19 crisis should have a positive impact on the market for food enzymes. While ingredient sales increase across the globe, major players in the food enzymes industry have begun to establish regional production. Supply chains for the distribution of raw materials are also being optimized by R&D and sales departments. However, food ingredient companies are facing significant challenges in meeting the increased demand for food enzymes, including changing tastes and preferences, as a result of the COVID-19 outbreak.
During the pandemic, a sudden and unexpected increase in demand for functional foods left manufacturers, suppliers, and retailers scrambling to ensure a steady supply of raw materials. The market faced challenges due to supply chain disruptions across countries during the COVID-19 lockdown. Throughout the forecast period, the impact of COVID-19 on the food enzyme supply chain and the availability of raw materials will pose a challenge to the food enzymes market. Changes in food enzyme safety regulations will pose a significant challenge to the market's growth.
Driver
Demand for processed foods is increasing.
Processed food demand is increasing globally, owing largely to the Asian continent's growing economies. The major drivers of the processed food market's substantial growth are China and India. The middle-class population is growing, and rising disposable incomes, combined with a hectic lifestyle, are contributing to this market's expansion. End-product freshness is increased by using food enzymes, which extends the shelf life of convenience foods while also preserving their flavour, colour, and texture.
Restraint
Temperature and pH operating ranges are limited.
The surrounding environmental conditions have a significant impact on the action of food enzymes. The reaction rate drops dramatically as the temperature drops, and thermal agitation denatures the food enzyme (degrades the structure of the food enzyme), rendering it non-functional. Varying the pH outside the food enzyme's operational range reduces enzyme activity and can eventually lead to permanent denaturation. Food enzyme manufacturers are working to develop enzymes that can function at a wide range of temperatures and pH levels; however, if enzymes are to be used in all food and beverage manufacturing processes, there is still a long way to go.
Opportunities
Platforms for technological innovation
Many small-scale manufacturers compete with the market leaders in terms of the application specificity of the food enzymes produced in the global food enzymes market. This, in turn, is dependent on the quality of the manufacturing strain developed by manufacturers. Various technology licensors enable small-scale manufacturers to produce programmable enzymes that can be scaled up to produce large quantities. One such licensor is Dyadic International Inc. (US), which licenses its C1 platform technology to smaller companies so they can produce large quantities of high-mobility food enzymes on-site.
Challenges
Changes in food enzyme safety regulations
The rise of food enzymes as processing ingredients in the food industry has resulted in the regulatory framework for their safety continuing to evolve and improve. Since enzymes are naturally present in food ingredients, their safety and toxicity were not previously a major concern. However, the introduction of large-scale food enzyme production using genetically modified microorganisms has increased scrutiny of enzymes used in the food and beverage industry. Enzymes are divided into two categories in terms of food legislation: food additives and food processing aids. Food enzyme classification is critical because pre-market approval, which includes a safety evaluation, is only required for additives in some countries. Furthermore, the definitions of additives and processing aids differ by country and region, resulting in regulatory uncertainty that impedes the market growth.
Segmentation Analysis
The Food Enzymes Market is segregated based on Type, Source, Application, and Form.
By Type, the market is classified into Carbohydrase, Amylase, Cellulose, Lactase, Pectinase, Other carbohydrates, Proteases, Lipases, Polymerase & nuclease, and Other types. During the forecast period, the carbohydrates segment is expected to dominate the market. The vast application of carbohydrates in the food industry is driving the growth of the segment. Carbohydrases are used in a variety of food applications, including bakery and confectionery, dairy, and processed foods. They have added value to a variety of food applications due to their cost-effectiveness, reduced time and space requirements, and ease of process modification and optimization.
By Source, the market is classified into Microorganisms, Plant, and Animals. Microbial Enzymes to Hold the Largest Market during the forecast period because microbial enzymes are more cost-effective and stable than plant and animal enzymes. Various fermentation techniques, such as solid-state and submerged fermentation, can be used to effectively produce microbial enzymes. Microbial enzymes are easier to produce in large quantities than plant and animal enzymes. They can also be easily modified to increase their specificity using a variety of molecular and biochemical approaches. These favorable characteristics will help microbial-source food enzymes maintain their dominance over the forecast period.
By Application, the market is classified into Food, Meat Products, Bakery & confectionery products, Dairy products, Nutraceuticals, Other food products, Beverages, Juices, Brewing, and Other Beverages. During the forecast period, the food segment is expected to hold the largest share of the market. Due to the sheer growing use of enzymes in the food and beverage industry, there is a significant increase in demand for food enzymes. Meat processing, dairy products, bakery products, nutraceuticals, and other food products are among the food and beverage applications considered in this study (such as processed fruits & vegetables, processed food, and vegetable oil processing). Peptides and amino acids are produced by enzymatic hydrolysis of yeast and vegetable proteins, which are used as flavor enhancers in soups, sauces, ready-to-eat meals, canned, and frozen foods. Enzymes in the food industry are in high demand as a result of these factors.
Report Scope
| | |
| --- | --- |
| Report Attribute | Details |
| Market Size in 2021 | USD 2,164.2 Million |
| Projected Market Size in 2028 | USD 3,104.8 Million |
| CAGR Growth Rate | 6.2% CAGR |
| Base Year | 2021 |
| Forecast Years | 2022-2028 |
| Key Market Players | DuPont (US) Associated British Foods plc (UK), DSM (Netherlands), Novozymes (US), CHR. Hansen (Denmark), Kerry Group (Ireland), Jiangsu Boli Bioproducts Co., Ltd. (China), Biocatalysts Ltd. (UK), Puratos Group (Belgium), Advanced Enzyme Technologies Ltd (India), Amano Enzyme Inc. (Japan), Enzyme Development Corporation (US), ENMEX, S.A. de C.V. (Mexico), Enzyme Bioscience Private Limited, Aumgene Biosciences (India) Creative Enzymes (US), SUNSON Industry Group Co., Ltd (China), AUM Enzymes (India), Xike Biotechnology Co. Ltd. (China), Antozyme Biotech Pvt Ltd (India). |
| Key Segment | By Type, Source, Application, Form, and Region |
| Major Regions Covered | North America, Europe, Asia Pacific, Latin America, and the Middle East & Africa |
| Purchase Options | Request customized purchase options to meet your research needs. Explore purchase options |
Regional Landscape
North America accounted for the largest share of the global food enzymes market in the forecast period. Processed food demand is increasing in countries like the United States and Canada, making it a key market for food enzymes during the forecasted timeframe. Technological advancements in the food ingredients industry, combined with significant investments in enzyme development, are boosting business growth. The region's demand for food enzymes is being fueled by a growing perception among consumers that natural additives are healthy and safe. Increased use of enzymes in a variety of food systems has resulted from the growing demand for high-quality processed foods without chemical additives. The regional industry share is expected to grow due to increased enzyme manufacturing capacity and increased product adoption in a variety of food applications.
The Asia-Pacific food enzymes market is rapidly developing and expanding, owing to a global shift in manufacturing from North America and Europe to Asia-Pacific, as well as an increase in demand for food enzymes from food manufacturers. The adoption of Western diets, which is linked to rising demand for bakery, dairy, and beverage products, is continuing to rise in the region. In the face of growing concerns about food safety and sustainability, these products are expected to use food enzymes instead of synthetic additives. Furthermore, rising industrialization and significant growth in the food processing industry, growing government initiatives to improve the food processing sector, and abundant raw material supply are all driving the Asia-Pacific food enzymes market forward.
Recent Developments
In 2021, Enovera 3001, an enzyme for the bakery industry, has been launched in North America by IFF. It enables industrial bakers to formulate dough without sacrificing its strength, texture, or flavor.
In 2021, Amano Enzyme Inc. has released Umamizyme Pulse, a non-GMO enzyme that can be used in a variety of plant protein products. The enzyme aids in the enhancement of plant-based proteins' umami flavour.
Competitive Landscape
Some of the main competitors dominating the Food Enzymes Market include -
DuPont (US) Associated British Foods plc (UK)
DSM (Netherlands)
Novozymes (US)
CHR. Hansen (Denmark)
Kerry Group (Ireland)
Jiangsu Boli Bioproducts Co.Ltd. (China)
Biocatalysts Ltd. (UK)
Puratos Group (Belgium)
Advanced Enzyme Technologies Ltd (India)
Amano Enzyme Inc. (Japan)
Enzyme Development Corporation (US)
ENMEX
S.A. de C.V. (Mexico)
Enzyme Bioscience Private Limited
Aumgene Biosciences (India) Creative Enzymes (US)
SUNSON Industry Group Co.Ltd (China)
AUM Enzymes (India)
Xike Biotechnology Co. Ltd. (China)
Antozyme Biotech Pvt Ltd (India)
Food Enzymes Market is segmented as follows:
By Type Segment Analysis
Carbohydrase

Amylase
Cellulose
Lactase
Pectinase
Other Carbohydrases

Proteases
Lipases
Polymerase & Nuclease
Other Types
By Source Segment Analysis
Microorganism
Plant
Animal
By Application Segment Analysis
Food
Meat Products
Bakery & Confectionery Products
Dairy Products
Nutraceuticals
Other Food Products
Beverages
Juices
Brewing
Other Beverages
By Form Segment Analysis
Lyophilized Powder
Liquid
Other Formulations
By Regional Segment Analysis
North America

The U.S.
Canada
Mexico
Rest of North America

Europe

France
The UK
Spain
Germany
Italy
Nordic countries

Denmark
Finland
Iceland
Sweden
Norway

Benelux Reunion

Belgium
The Netherlands
Luxembourg

Rest of Europe

Asia Pacific

China
Japan
India
New Zealand
Australia
South Korea
Southeast Asia

Indonesia
Thailand
Malaysia
Singapore
Rest of Southeast Asia

Rest of Asia Pacific

The Middle East & Africa

Saudi Arabia
UAE
Egypt
Kuwait
South Africa
Rest of the Middle East & Africa

Latin America

Brazil
Argentina
Rest of Latin America