Covid-19
Global Virtual Power Plant Market Size, Share
The pandemic continues to cause unprecedented disruption across industries worldwide.Get detailed insights regarding the impact of COVID-19 on the market. Request Sample
Industry Insights
[216+ Pages Report] According to Facts and Factors, the global virtual power plants market was valued at USD 1.57 Billion in 2020 and is expected to produce over USD 5.02 Billion in revenue by the end of 2026, with a CAGR of approximately 21.3% between 2021 and 2026.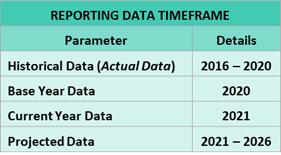 Market Overview
A VPP is defined as a virtual entity made up of even more power generation systems, controllable and storage units or flexible loads that interact with a single centralized authority responsible for monitoring the electrical energy flow within the cluster and its exchange with the main network, as well as monitoring and controlling functions across multiple DERs. Even though VPPs are currently only available on a megawatts of the power scale, they will soon be deployed on a gigawatt (gw) scale at utility level as the underlying ICTs evolve exponentially, particularly with the emergence of new disruptive technologies such as blockchain, artificial intelligence (AI), and machine learning. Advanced IT systems enable power providers to successfully manage their growing share of intermittent renewables, energy storage, and flexible usage. Microgrids make it easier to make use of DERs' flexibility and distributed nature. The concept of VPPs and aggregators is used to expand on this idea. Traditional peaking power plants and DR programs can be efficiently replaced or supplemented by aggregating various distributed resources, including load management.
Because it allows for the optimization of own energy supply and demand, a collaborative VPPVirtual Power Plant is a potential and commercial application now for SMEs in the manufacturing industry. Additional revenues are possible, but profitability is limited in the current market, as revenue potential is primarily limited to the futures market (where price spreads are currently low), making participation uneconomical for SMEs with limited load flexibility. Furthermore, the revenue potential is linked to the pool size's scalability. As a result, the number, size, and aggregated load curve of VPP participants are important to all value chain partners.
VPPs allow utilities to portray themselves as service providers and energy transition pioneers, allowing them to expand into new markets. For small and medium-sized energy supply enterprises, however, developing a scalable Virtual Power Plant (VPP) without the participation of cooperation partners is difficult to implement. Different approaches to entering the VPP market can be considered depending on the energy supply company's strengths, weaknesses, opportunities, and risks, as well as its strategy and objectives.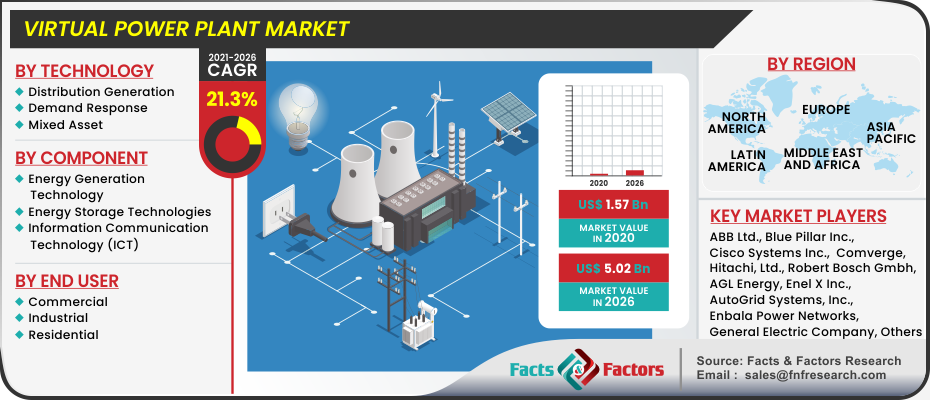 Industry Growth Factors
A (VPP) is a decentralized power plant made up of decentralized power systems to integrate multiple applications of energy sources such as wind turbines, solar PV cells, and hydroelectric facilities. Furthermore, virtual power plants provide efficient power generation even during high-demand periods, as well as the ability to buy or sell power on the open market. A virtual power plant is a medium-scale power generating facility that incorporates several renewable energy sources like solar, wind, and other flexible power users, as well as storage devices. A sort of virtual power plant is mainly composed of several diversified assets that are connected via a central control system that interprets a wide range of data, including current power exchange pricing, price and weather forecasts, and system operator grid information.
Increased renewable energy penetration in the power production sector, as well as changes in power grid dynamics from centralized to distributed, are likely to boost the VPP industry. Further reductions in energy costs and the ease with which energy storage may be accessible will drive market demand. In their recent VPP venture, Tesla, for example, reported a 70% reduction in grid demand and up to a 30% reduction in rates. Furthermore, compared to conventional power plant setup, VPP is more efficient and flexible in offering maximum demand electricity in a short notice time, which would further boost the market growth. Due to price volatility, the versatility in buying with Virtual Power Plant attracted the attention of new entrants. Potential customers can sell excess energy and acquire energy at a lower price on the trade market. Such characteristics of virtual power plants are likely to increase demand. High-frequency electromagnetic and radio waves, on the other hand, cause health risks in infants and the elderly, perhaps impeding growth. Nonetheless, government regulations requiring efficient energy generation will boost the demand for renewable energy, impact the growth of virtual power plants.
Virtual Power Plant for the Whole World The market has been divided into three categories: technology, end-user, and geography. The energy generation segment by technology currently owns the highest share of the virtual power plant market and is likely to maintain its dominance over the forecast period. Demand response is a highly profitable investment due to the long-term advantages to end-users and improved grid energy efficiency. As a result, demand response is likely to increase rapidly. Industrial by end-user, on the other hand, had the greatest market share in 2016 and is predicted to continue to do so over the projection period. Industrial end-users are among the earliest adopters of virtual power plant setups and services, contributing significantly to market growth. Electricity peak loads are highest in enterprises such as petroleum and chemical, paper & pulp among others, creating a profitable market for virtual power plants in the industrial sector.
Due to rigorous advances in the power sector, as well as expanding consumer demand for uninterruptible power supply, the market is likely to see a significant amount of technological advancement over the projection period. Multinationals and well-established corporations are also likely to invest heavily in the industry. During the forecast period, mergers and acquisitions are projected to occur.
Segmentation Analysis
The virtual power plant market is segmented based on technology, component and end-user:
As per technology (distribution generation, demand response, mixed-asset), by component (energy generation technology, energy storage technologies, information communication technology [ICT]), by end-user (commercial, industrial, residential). The implementation of new and advanced technologies, which has made them more multifunctional, has on condition that the industry with many worthwhile growth prospects in the coming years.
Regional Analysis
Due to the existence of a significant wide range of industry participants and fresh government policies across different European countries on 100 percent green energy, Europe emerged as the largest virtual power plant market share. In the virtual global power plant market, Asia-Pacific has the fastest growing market. This can be attributed to increased energy demand in rapidly industrialising countries like China and India. China, for example, contributes 36 percent of the steel industry's annual contribution to global GDP by country of operation. Because of the increased demand for renewable energy, the United States is likely to lead the industry in North America and see considerable demand for virtual power plants.
Covid-19 Analysis
The Covid-19 pandemic is rapidly spreading over the world. Almost every country is experiencing a pandemic at a different stage. Developing economies like India and China were effective in the early stages of containment and are continually developing further steps to limit Covid-19's detrimental effects. European countries have also seen a major drop in IT infrastructure investment. According to the International Data Corporation (IDC), because of the Covid-19 issue, which continues to affect the European economy, European IT spending on software, hardware, and IT services is expected to fall by 4.7 percent in 2020.
Covid-19's global impact has impacted business in countries like China and India, resulting in lower energy demand. As additional countries apply lockdowns to prevent the virus from spreading, utility and grid project spending has dropped at an unprecedented rate. In addition, weak demand due to lower consumer expenditure across a variety of applications has hampered the growth of virtual power plants. As part of their pandemic reaction, some governments have created a relief effort. Thailand's state-owned metropolitan electricity authority and provincial electricity authority, for example, framed a set of measures to ease the burden on consumers, including 3% bill reductions across all tariff classes, bill payment grace periods, refunding metre deposits for residential and small business users, and other benefits.
Government initiatives have put a strain on national finances, forcing a rethinking of renewable energy transitions and delaying power sector reforms. Due to large investments in developing energy infrastructure in emerging economies, the market is likely to gain traction. Furthermore, the VPP market has been hampered by a drop in demand within the power industry due to delays in power projects, as well as industrial investments due to Covid-19.
Competitive Players
Some of the essential players operating in the virtual power plant market are ABB Ltd., Blue Pillar Inc., Cisco Systems Inc., Comverge, Hitachi, Ltd., Robert Bosch Gmbh, AGL Energy, AutoGrid Systems, Inc., Enbala Power Networks, Enel X Inc., General Electric Company, Siemens AG, Schneider Electric SE, Limejump Ltd., International Business Machines Corporation and among others.
By Technology:
Distribution Generation
Demand Response
Mixed Asset
By Component:
Energy Generation Technology
Energy Storage Technologies
Information Communication Technology (ICT)
By End User:
Commercial
Industrial
Residential
By Region:
• North America
o U.S.
o Canada
• Europe
o France
o UK
o Germany
o Italy
o Spain
o Rest of Europe
• Asia Pacific
o China
o India
o Japan
o South Korea
o Southeast Asia
o Rest of Asia-Pacific
• Latin America
o Brazil
o Mexico
o Rest of Latin America
• Middle East & Africa
o GCC
o South Africa
o Rest of Middle East & Africa