Industry Insights
[217+ Pages Report] According to Facts and Factors, the global food & beverage metal cans market was worth around USD 27,419.5 million in 2021 and is estimated to grow to about USD 38,456.8 million by 2028, with a compound annual growth rate (CAGR) of approximately 5.8% over the forecast period. The report analyzes the food & beverage metal cans market's drivers, restraints/challenges, and the effect they have on the demands during the projection period. In addition, the report explores emerging opportunities in the food & beverage metal cans market.
Global Food & Beverage Metal Cans Market: Overview
Steel, aluminium, and tin are the primary components of metal cans. These are lightweight and reasonably easy to stack. One of the most notable advantages of metal cans is that they are 100 percent recyclable without compromising the material's sturdiness or quality, contributing to environmental sustainability. The major factors such as transportation resistance, hermetically sealed cover, irregular handling, and easy recyclability are driving market growth over the forecast period. In addition, the great recyclability of metal cans is a significant market driver. One of the reasons for the increase in demand for metal cans is that making items from recycled metals requires less energy, reduces carbon emissions, and consumes less water than utilizing raw materials.
The ongoing consumer trends, such as a preference for small-size and multi-pack package forms, are also contributing to the metal cans market's volume rise. The growing consumer awareness about the use of non-carcinogenic materials in packaging, as well as increased demand for lightweight packaging, will drive the metal cans market to new heights in the coming years. Moreover, as the consumption of both alcoholic and non-alcoholic beverages, such as beer and carbonated drinks, increases, there is a large need for metal cans, fuelling the market's expansion.
COVID-19 Impact:
During the Covid-19 pandemic era, the worldwide metal cans sector saw ups and downs. An increase in demand for healthy drinks may have accelerated market expansion. Steelmakers have quickly curtailed supply in reaction to the COVID-19 pandemic's impact on demand, with first-quarter production down year on year. Furthermore, the nonferrous metals industry is a crucial supplier of critical value chains, such as food packaging. COVID-19 is having a large and expanding economic impact on the nonferrous metals sector, owing to severe demand reductions in critical value chains, supply delays, and transportation challenges. However, the production standstill and supply chain disruption caused by the Covid-19 lockout impeded industry expansion to a greater extent.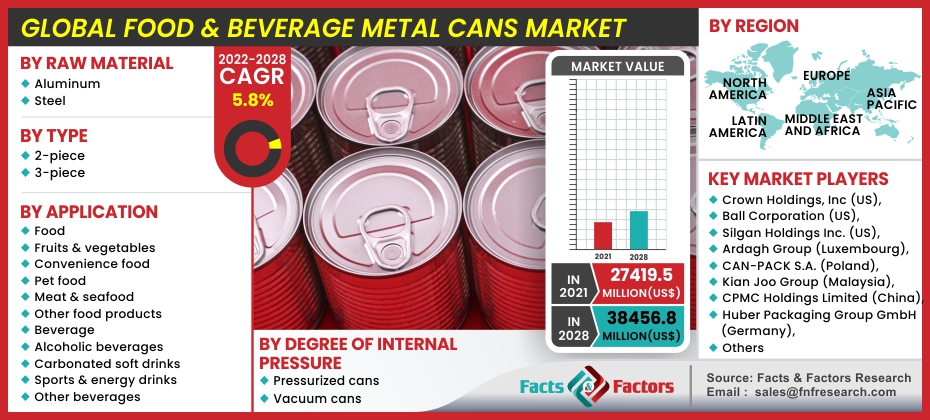 To know more about this report | Request Free Sample Copy
Global Food & Beverage Metal Cans Market: Growth Drivers
The factors such as environmental benefits, an increase in canned goods, and rapid recycling rates are predicted to boost the metal can sector during the forecast period. Metal Cans are distinguished by their distinct properties, which include an airtight cover, resistance to transport and irregular handling, and simplicity of recycling. Aluminum and steel plates are the principal raw materials used in product manufacturing. Metal cans' acceptance in the packaging sector has been aided by their widespread availability and ease of use. The innovation in the Food and Beverage Metal Cans Market's production method, size, and form will drive the packaging industry to new heights.
Moreover, improved preservation and shelf life have increased the usage of metal cans in the food and beverage industries. As it is difficult to assess in the newest manner, the remarkable food and beverage sector sales strategy for the purpose of metal cans has had a huge impact on the global market. Because of its widespread use in the food and beverage industries, the market is growing in popularity, and producers are focusing more on designing metal cans to avoid contamination and breakdown of food and beverage items. Product differentiation and the utilization of green products and practices can potentially create huge market growth opportunities. Metal cans can also be recycled and repurposed, which benefits the market. During the forecast period, modernizing consumer lifestyles may have a beneficial impact on overall market growth. Furthermore, the plastic ban presents an advantageous opportunity for the packaging business.
High solids coatings, water-based coatings, powder coatings, UV cure coatings, and conventional solvent-mediated coatings are some of the coating processes utilized in product manufacture. This coating is intended to preserve the product from wear and oxidation while also reducing friction and improving handling. All of the aforementioned reasons are expected to drive market expansion during the forecast period.
Global Food & Beverage Metal Cans Market: Restraints
Consumer environmental difficulties with aluminium, iron ore and other metals may hinder market expansion. When compared to other options such as paper and plastic, problems such as raw material price changes and a lack of microwave capabilities are expected to stymie overall market growth. The increased usage of bio-based plastic in food and beverage packaging has emerged as a significant constraint for metal can makers. Coca-Cola and PepsiCo, for example, have formed alliances with bio-based chemical manufacturers to create and use bio-based plastic as a reasonably cost-effective and sustainable packaging alternative.
Additionally, the packaging industry is gradually shifting away from polymer-based packaging materials and toward polyethylene terephthalate (PET) combined with bio-based plastic. The growing use of bio-based plastic in the packaging sector, notably in food and beverage packaging, suggests that metal cans' future prospects are limited.
Global Food & Beverage Metal Cans Market: Segmentation
The Food & Beverage Metal Cans Market is segregated based on Raw Material, Type, Degree of internal Pressure, and Application.
By Raw Material, the market is classified into Aluminum and Steel. The aluminium sector is expected to have the largest proportion of the food and beverage metal cans market. This is due to aluminium's low cost of production and high recycling rates. Increasing the usage of metal packaging for food and beverage packaging provides a sustainable and environmentally friendly packaging solution for a variety of applications. Aluminium cans are easy to store in freezers and ovens. Consumer preferences for food and beverage packaging are changing. Metal packaging for the food business is regarded as safe, which is one of the primary elements supporting its market growth.
By Application, the market is classified into Food, Fruits & vegetable, Convenience food, Pet food, Meat & seafood, Other food products (baby food, dairy food, and oils & fats), beverages, Alcoholic beverages, Carbonated soft drinks, Sports & energy drinks, and Other beverages (dairy beverages, packaged water, RTD coffee & tea, juices, and nectars). The food & beverage segment accounted for the larger size in the food & beverage metal cans market during the forecast period. With the widespread consumption of carbonated, non-carbonated, sports and energy drinks, and beverage cans are expected to account for the lion's share. The increased consumption of alcoholic beverages drives the growth of the beverage cans industry.
Additionally, changes in customer preferences for healthier beverages are propelling the metal can market throughout the projection period. Furthermore, cost-effective and environmentally friendly packaging solutions for food and drinks will fuel market expansion. Steel containers that are sealed and tamper-proof are in high demand because they protect food from hazardous microorganisms. Furthermore, due to customers' hectic and busy lifestyles, canned food is predicted to gain relevance.
| | |
| --- | --- |
| Report Attribute | Details |
| Market Size in 2021 | USD 27,419.5 Million |
| Projected Market Size in 2028 | USD 38,456.8 Million |
| CAGR Growth Rate | 5.8% CAGR |
| Base Year | 2021 |
| Forecast Years | 2022-2028 |
| Key Market Players | Crown Holdings, Inc (US), Ball Corporation (US), Silgan Holdings Inc. (US), Ardagh Group (Luxembourg), CAN-PACK S.A. (Poland), Kian Joo Group (Malaysia), CPMC Holdings Limited (China), Huber Packaging Group GmbH (Germany), CCL Industries (US), Toyo Seikan Group Holdings Ltd (Japan), Universal Can Corporation (Japan), Independent Can Company (US), Mauser Packaging Solution LLC (Germany), Visy (Australia), Lageen Food Packaging (Israel), Massilly Holding S.A.S (France), P. Wilkinson Containers Ltd. (UK), Unimpack (The Netherlands), Müller und Bauer GmbH (Germany), Allied Cans (Canada) |
| Key Segment | By Raw Material, Type, Degree of internal Pressure, Application, and Region |
| Major Regions Covered | North America, Europe, Asia Pacific, Latin America, and the Middle East & Africa |
| Purchase Options | Request customized purchase options to meet your research needs. Explore purchase options |
Regional Landscape
During the forecast period, North America has emerged as the dominant region. Increased consumption of beer and other alcoholic beverages is expected to benefit the local sector during the forecast period. Consumption of frozen and canned foods in the United States is expected to drive market growth during the forecast period. North America is expected to favorably affect metal cans market demand over the forecast period due to increased demand for various healthy beverages, carbonated soft drinks, health drinks, and sucralose juices.
Furthermore, widespread promotional activities and research developments by numerous main companies have an impact on industry growth. The number of superstores and grocery stores in the region is growing, and the growing number of smaller homes is a crucial component in the country's food and retail sector's growth. As a result, it is driving demand for smaller container units.
The Asia Pacific market is estimated to grow rapidly in the coming years. The Asia Pacific food and beverage metal cans market will grow due to the market's growing economies. In the coming years, demand for food and beverage metal cans will be fuelled by a young population base with high discretionary income. The robust growth of the food and beverage industry, as well as an ever-growing population base in nations like Japan, India, and China, are likely to drive demand for these metal cans in the future years. Several foods and beverage metal can manufacturers are also moving their operations into developing nations to reduce labor costs. Metal cans' lower cost and capacity to extend the shelf life of packaged food items are projected to maintain demand for these cans strong in the near future.
Recent Developments
In 2020, Ardagh Group announced the purchase of a factory in Huron, Ohio, to begin manufacturing its metal cans, with production set to begin in late 2020. The company's goal has been to develop beverage cans in a range of sizes for a variety of categories, such as sparkling water, soft drinks, teas, and alcoholic beverages.
Competitive Landscape
Some of the main competitors dominating the Food & Beverage Metal Cans Market include -
Crown Holdings Inc (US)
Ball Corporation (US)
Silgan Holdings Inc. (US)
Ardagh Group (Luxembourg)
CAN-PACK S.A. (Poland)
Kian Joo Group (Malaysia)
CPMC Holdings Limited (China)
Huber Packaging Group GmbH (Germany)
CCL Industries (US)
Toyo Seikan Group Holdings Ltd (Japan)
Universal Can Corporation (Japan)
Independent Can Company (US)
Mauser Packaging Solution LLC (Germany)
Visy (Australia)
Lageen Food Packaging (Israel)
Massilly Holding S.A.S (France)
P. Wilkinson Containers Ltd. (UK)
Unimpack (The Netherlands)
Müller und Bauer GmbH (Germany)
Allied Cans (Canada)
The food & beverage metal cans market is segmented as follows:
By Raw Material Segment Analysis
By Type Segment Analysis
By Degree of Internal Pressure Segment Analysis
Pressurized Cans
Vacuum Cans
By Application Segment Analysis
Food

Fruits & Vegetables
Convenience Food
Pet Food
Meat & Seafood
Other Food Products (Baby food, Dairy food, and Oils & fats)

Beverage

Alcoholic Beverages
Carbonated Soft Drinks
Sports & Energy Drinks
Other Beverages (Dairy beverages, Packaged water, RTD coffee & Tea, Juices, and Nectar)
By Regional Segment Analysis
North America

The U.S.
Canada
Mexico
Rest of North America

Europe

France
The UK
Spain
Germany
Italy
Nordic countries

Denmark
Finland
Iceland
Sweden
Norway

Benelux Reunion

Belgium
The Netherlands
Luxembourg

Rest of Europe

Asia Pacific

China
Japan
India
New Zealand
Australia
South Korea
Southeast Asia

Indonesia
Thailand
Malaysia
Singapore
Rest of Southeast Asia

Rest of Asia Pacific

The Middle East & Africa

Saudi Arabia
UAE
Egypt
Kuwait
South Africa
Rest of the Middle East & Africa

Latin America

Brazil
Argentina
Rest of Latin America