Industry Insights
[221+ Pages Report] As per the recently issued report by Facts and Factors, the global shoe packaging market was recorded at roughly USD 4,296 Million in the year 2020, and is predicted to generate revenues worth USD 5,509 Million by 2026, with an increasing CAGR of 4.23% between 2021 and 2026.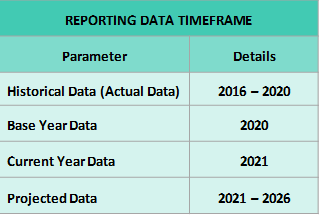 To know more about this report | Request Free Sample Copy
Market Overview
Humans wear shoes as one of their most prevalent accessories. They are utilized by both sexes and individuals of various ages. In reality, a person wears them for the rest of his life, starting from the moment he/she starts to walk. They are made to accommodate the foot, with a flexible leather or plastic top and a thicker sole and heel to protect the feet from stones and other objects when walking or performing any other activity. Because shoes play such a crucial part in daily life, they must be safeguarded from external influences that might cause harm to them during transportation or storage. Hence, the manufacturers also focus on the looks and features of the shoe packaging and spent money in developing the right box which would not only provide protection to the shoes but also help in attracting consumers for buying them.
Packaging is one of those marketing elements that raise the perceived worth of a product. The shoeboxes market has discovered that they are the ultimate key to their success. These boxes may be customized in a variety of forms and sizes to meet the brand's needs. Printing and finishing processes, on the other hand, may be utilized to make them appear more appealing and acceptable. They can be finished in gold or silver to give them a more opulent appearance. These boxes are made from cardboard or kraft paper. Both of these equities are regarded for being both environmentally friendly and cost-effective.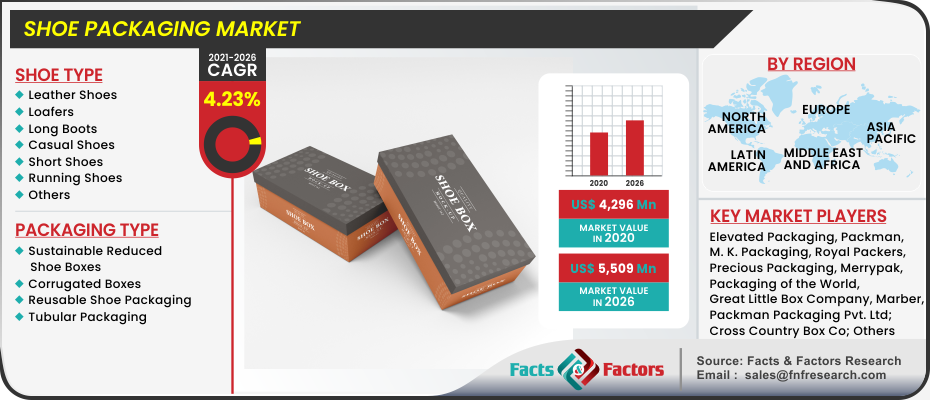 To know more about this report | Request Free Sample Copy
Industry Growth Factors
The global shoe packaging market is anticipated to witness an unprecedented boom in the forecasted period owing to the surging demand from consumers for sustainable and cost-effective packaging options. The worldwide shoe packaging market is growing due to the increased need for lightweight packaging and rising customer interest in creative packaging. Any product's packaging is considered part of its advertising. The appealing and attractive designs accepted by several brands on the shoe packaging have helped in increasing the sales and further surging the demand for the shoes and resultantly the shoe packaging market. Many luxury brands prefer their shoe packaging to be transparent where the consumers could see their shoes inside the transparent box and such type of packaging is been welcomed by many targeted consumers, thus escalated the demand for the market. Several governmental initiatives for promoting eco-friendly packaging have led to its acceptance among several shoe packaging providers and industries. Furthermore, both established companies and newcomers to the global shoe packaging market are implementing novel designs that appeal to a broad audience while also reducing raw material prices. The availability of such designs, as well as their compliance with storing and shipping a wide range of shoe kinds, is likely to improve the worldwide shoe packaging market's overall growth. The capacity of shoe packaging to gain new people by boosting its aesthetic value can be exploited as a sales opportunity for the industry.
Segmentation Analysis
The global shoe packaging market is segregated based on the type of shoes, type of shoe packaging, and region
Leather shoes, loafers, long boots, casual shoes, short shoes, running shoes, and others make up the type of shoe segment of the global shoe packaging industry. Casual shoes are considered to be the leading segment owing to the availability of a wide product portfolio along with its high adoption among consumers. The global shoe packaging market can be divided into sustainable reduced shoe boxes, corrugated boxes, reusable shoe packaging, and tubular packaging based on the type of shoe packaging. The leading category is corrugated boxes, which have historically been employed as the major type of shoe packaging. To strengthen the stress resistance of shoe packaging methods, shoe producers are including numerous layers of packaging such as bubble wraps, thin protective wraps, plastic film covers, and so on. Reusable shoe packaging is the fastest-growing segment as these cardboard shoe boxes could be used for storing tools, toys, and other useful things in an organized manner. Users are free to customize these boxes as per their needs which includes the wrapping of the box with painting or vinyl stickers.
Regional Analysis
Based on the regional coverage, the market for shoe packaging is segmented into regions such as North America, Europe, Asia Pacific, Latin America, and the Middle East and Africa. The region of Asia Pacific holds the maximum share in the industry owing to its rising population and the increasing demand for shoes among the consumers required for various activities related to sports, fashion, and other day-to-day life activities. The rapid industrialization along with several government initiatives to attract foreign investors for setting up their manufacturing units in countries such as Bangladesh, China, India, and Vietnam owing to the availability of land, necessary raw materials, and affordable labor workforce helps to makes the region the fastest-growing as compared with other regions. The surging disposable income among the working class along with the rising influence of the western fashion industry has significantly contributed to the rising demand of the shoe packaging market.
Competitive Players
Some main participants of the global shoe packaging market are Elevated Packaging, M. K. Packaging, Precious Packaging, Packman, Packaging of the World, Great Little Box Company, Cross Country Box Company, Marber, Zhuhai ZhuoYa Packing Product Co. Ltd., Merrypak, Packman Packaging Private Limited, My Box Printing, Samrat Box Mfg. Co. Pvt. Ltd, Packqueen, Royal Packers, Taizhou Forest Color Printing Packing, Sneakerbox Co, and Pack Now amongst others.
Shoe Packaging Market: Shoe Type Segment Analysis
Leather Shoes
Loafers
Long Boots
Casual Shoes
Short Shoes
Running Shoes
Others
Shoe Packaging Market: Packaging Type Segment Analysis
Sustainable Reduced Shoe Boxes
Corrugated Boxes
Reusable Shoe Packaging
Tubular Packaging
Shoe Packaging Market: Regional Segment Analysis
North America
Europe

UK
France
Germany
Italy
Spain
Rest of Europe

Asia Pacific

China
Japan
India
South Korea
Southeast Asia
Rest of Asia Pacific

Latin America

Brazil
Mexico
Rest of Latin America

Middle East and Africa

GCC Countries
South Africa
Rest of MEA