Industry Insights
[241+ Pages Report] According to the report published by Facts Factors, the global protein supplement market size was worth around USD 20.19 billion in 2021 and is predicted to grow to around USD 32.56 billion by 2028 with a compound annual growth rate (CAGR) of roughly 9.29% between 2022 and 2028. The report analyzes the global protein supplement market drivers, restraints/challenges, and the effect they have on the demands during the projection period. In addition, the report explores emerging opportunities in the protein supplement market.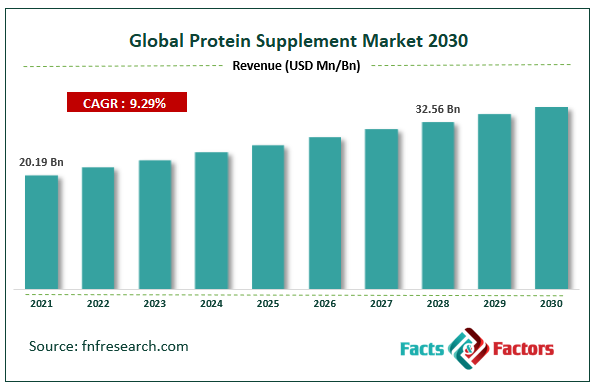 To know more about this report | Request Free Sample Copy
Market Overview
Protein supplements are essential dietary items mainly for athletes or physically active personnel. Even though they are the largest consumer segment, a sufficient amount of protein per meal is recommended for individuals of all age groups, especially for the older generation and people suffering from medical conditions. Artificial sources of protein are also recommended for vegetarians or people who refrain from the consumption of any sort of meat thus restricting their intake of necessary naturally sourced proteins. Before opting for any sort of protein supplement, consumers are recommended to speak to their respective physicians or check for allergies since protein supplements contain a variety of ingredients and may lead to harmful impacts in case of undetected allergies, over intake, or poor-grade protein supplements.
Key Insights
As per the analysis shared by our research analyst, the global protein supplement market is estimated to grow annually at a CAGR of around 9.29% over the forecast period (2022-2028).
In terms of revenue, the global protein supplement market size was valued at around USD 20.19 billion in 2021 and is projected to reach USD 32.56 billion, by 2028. Due to a variety of driving factors, the market is predicted to rise at a significant rate.
Based on product segmentation, protein powder was predicted to show maximum market share in the year 2021
Based on source segmentation, animal-based was the leading source in 2021.
On the basis of region, North America was the leading revenue generator in 2021
Covid-19 Impact
The global market was severely impacted during the pandemic. One of the major reasons was the closure of facilities creating protein supplements as well as the export and import of various forms of protein supplements. Eventually, with the steady lifting of impositions on online selling of products, the global market size picked up the pace and is projected to grow at a healthy CAGR during the projection period.
Growth Drivers
Growing awareness about sufficient protein intake to propel market growth
The global protein supplement market is projected to grow owing to the rising awareness rate amongst the general population about the necessity and benefits associated with sufficient protein throughout the day. In most cases, people prefer to obtain proteins from natural sources like eggs, chicken, cottage cheese, soya beans, and other items. However, protein content in natural sources is not present in sufficient quantities and a person will have to consume an exceptionally high amount of these natural resources to generate the amount of protein required. For instance, 100 grams of boiled eggs can provide 13 grams of protein. For a person who is required to consume over 30 grams of protein, more than 250 grams of boiled eggs will have to be a part of one meal. The same protein content is present in one scoop of whey protein powder. The convenience associated with the intake of protein supplements to meet dietary requirements is anticipated to help the global market growth trend.
Restraints
Health risks associated with over-consumption of supplements to restrict market expansion
The global market cap may witness restricted growth owing to various health concerns associated with improper or overconsumption of protein supplements. For instance, when regularly consuming protein powder, users are recommended to increase their intake of water content as well since the powder is capable of increasing the plasma urea content, thus affecting the proper functioning of the kidney.
Opportunities
Increasing number of players to provide excellent growth in consumers
The global protein supplement market cap is witnessing a high rise in the number of new players in the global market. Initially, manufacturing of most protein supplements was restricted to certain countries only with a high import value in emerging economies. However, many domestic players have found a strong hold over regional consumers and are giving tough competition to international brands which are expected to result in a deeper market penetration.
Challenges
Prevalence of counterfeit products to challenge market growth trend
There are several recorded cases of the circulation of counterfeit products amongst the consumer segment. Since it is extremely difficult to distinguish between a true protein supplement and a counterfeit one, many consumers fall prey to the growing number of fraudulent manufacturers resulting in severe health complications. For instance, in November 2020, the police team in the Uttar Pradesh state of India seized over 500 boxes of fake protein powder which were counterfeit top protein brands from the United States
Segmentation Analysis
The global protein supplement market is segmented based on product, source, distribution channel, and region,
Based on product, the global market segments are protein bars, protein powder, ready-to-drink, and others. The global market is led by the protein powder segment with more than 50% of revenue owing to the convenience of accessibility to protein content in a few scoops. Protein powders are extremely preferred by people who aim to build muscle mass as well as reduce fat content.
Based on source, the global market is divided into animal-based, plant-based, and others. The global market is currently dominated by animal-based proteins owing to the high deliverables associated with these types of protein supplements. Animal proteins are known to contain all 9 types of amino acids making them a preferred choice.
Based on distribution channel, the global market is segmented into pharmacies & drug stores, online retail, supermarkets & hypermarkets, and others. Currently, the global market is led by supermarkets & hypermarkets owing to the presence of multiple options under one roof. Costco, a large chain of supermarkets in the US generated a revenue of USD 150.7 billion in 2019.
Recent Developments:
In September 2022, Tata Consumer Products forayed into the health supplement market with the launch of a plant-based protein powder. The product is termed GoFit and is a health-based supplement range for women. While the drink is plant-based, it also boasts gut-friendly probiotics.
In December 2021, Pownut Healthcare, an Indian manufacturer of vitamins and supplements, launched three types of protein powder for children, women, and men. The product launched for women is called Shape Up and is soya based, while the one for men is called Build Up and is a whey protein isolate. The segment directed at children is called Pownut Grow.
Report Scope
| | |
| --- | --- |
| Report Attribute | Details |
| Market Size in 2021 | USD 20.19 Billion |
| Projected Market Size in 2028 | USD 32.56 Billion |
| CAGR Growth Rate | 9.29% CAGR |
| Base Year | 2021 |
| Forecast Years | 2022-2028 |
| Key Market Players | CytoSport Inc., Glanbia PLC, The Bountiful Company, Muscle Pharm, Iovate Health Sciences International Inc., and others. |
| Key Segment | By Product, Source, Distribution Channel, and Region |
| Major Regions Covered | North America, Europe, Asia Pacific, Latin America, and the Middle East &, Africa |
| Purchase Options | Request customized purchase options to meet your research needs. Explore purchase options |
Regional Analysis
North America to generate the highest revenue during the projection period
The global protein supplement market is projected to be dominated by North America in the coming years, with the US dominating the regional market revenue. The growth could be driven by the high adoption rate of protein supplements in regular diet forms amongst the increasing group of health-conscious consumers. The gym and recreational sector in the US is one of the world's highest-revenue sports segments. For instance, Gold's Gym which has origins in the US now has more than 150 gyms across India as of 2022. The gym brand is a multinational brand with centers in European and other countries as well. The regional growth is further propelled by a large number of protein supplement manufacturers in the US with high export value. Until a few years ago, almost all protein powders were manufactured in American states and exported to other territories. Even with the emergence of domestic players, the standard of international brands like ON, Dymatize, and MuscleTech is currently unmatched and people chose to spend more but opt for only international brands.
Competitive Analysis
CytoSport Inc.
Glanbia PLC
The Bountiful Company
Muscle Pharm
Iovate Health Sciences International Inc.
The global protein supplement market is segmented as follows:
By Product
Protein Bars
Protein Powder
Ready-To-Drink
Others
By Source
Animal-Based
Plant-Based
Others
By Distribution Channel
Pharmacies & Drug Stores
Online Retail
Supermarkets & Hypermarkets
Others
By Regional Segment Analysis
North America
Europe

France
The UK
Spain
Germany
Italy
Nordic Countries
Benelux Union

Belgium
The Netherlands
Luxembourg

Rest of Europe

Asia Pacific

China
Japan
India
Australia
South Korea
Southeast Asia

Indonesia
Thailand
Malaysia
Singapore
Rest of Southeast Asia

Rest of Asia Pacific

The Middle East & Africa

Saudi Arabia
UAE
Egypt
South Africa
Rest of the Middle East & Africa

Latin America

Brazil
Argentina
Rest of Latin America