Industry Insights
[220+ Pages Report] According to Facts and Factors, during the forecast period of 2022 to 2028, the global soy protein ingredients market is estimated to develop at a compound annual growth rate (CAGR) of 7.2%. The global soy protein ingredients market was worth USD 10.9 billion in 2021, and it is anticipated to exceed USD 19.5 billion by 2028. The study investigates several elements and their consequences for the growth of the global soy protein ingredients market.
Market Overview
Soy protein ingredients are commonly used in the preparation of soy protein foods. They are a great source of dietary proteins, depending on the quality used and the quantity present in the food. Soy protein supports all health needs throughout the lifespan as a cholesterol-free, lean, and lactose-free protein source. Soy protein is a complete protein that contains all of the essential amino acids needed to support children's normal growth and development. Because they are low in calories and free of fat & cholesterol, they are considered the perfect protein source for increasing the nutritive value of foods. Soy flour, soy protein isolate, and soy protein concentrate are the three most commonly used soy protein ingredients.
Soy flour is the least processed of the ingredients listed above. Simply grind the soybeans into a fine powder to make this. Because it is the least minimally processed ingredient, it can be low-fat, full-fat, or no-fat. Soy protein concentrate has a higher protein content than soy flour. It contains nearly 23% dietary fiber and 70% protein. It is made by extracting the water-soluble carbohydrates from defatted soybeans. Soy Protein Isolate is the most refined ingredient. Because it is made by removing all of the carbohydrates and fats from defatted soy flour, it has about 90% protein. It contains the most protein and is the most refined of all the ingredients.
Because soy proteins are high in protein, they have numerous health benefits. In some patients, consuming a lot of soy may help reduce the risk of cancer or its recurrence. It can also lower blood sugar in diabetics. Eating soy protein instead of other sources of protein is beneficial because it is low in fat and carbohydrates. It also aids in the growth of muscles. The estrogen effect is one side effect of consuming soy protein. Soy contains plant estrogens known as soy isoflavones, which have the same biological effects as human estrogen hormones but are generally less potent. Additionally, those with thyroid issues should limit their intake of soy-based protein, as it may impact hormone balance and impede the uptake of thyroid hormone prescription drugs.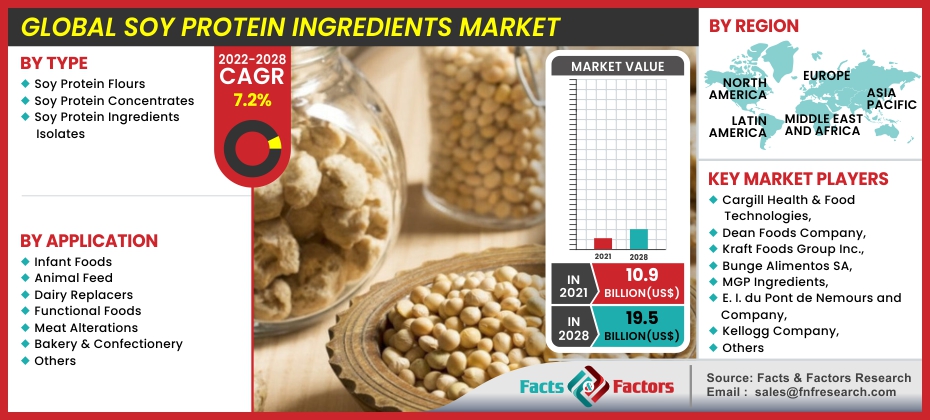 To know more about this report | Request Free Sample Copy
COVID-19 Impact
The pandemic had a negative impact on the soy protein ingredients market because of government regulations and restrictions on staying at home, which limited the authorities' ability to verify the soy protein ingredients as efficiently as before. Due to the pandemic, the potential for some laboratory testing was conceded, with the constraint of following social distancing and the lower availability of raw materials & employees. A certain increase in revenue is expected to continue in the post-COVID scenario due to the pandemic's prolonged consumer inclination toward health and wellbeing.
Growth Drivers
Consumers' growing demand for healthy food products drives the market
Because of their organic nature, soy protein ingredients are frequently used as a substitute for animal protein in the global market. Soy protein is high in minerals like calcium, fiber, potassium, iron, vitamin B, and magnesium. Soy proteins are high in protein as well. As a result, they can provide all of the essential amino acids required for the body's growth and development. Consumers are also increasing their consumption of plant-based products as they become more aware of the negative effects of consuming animal protein. Animal protein is less healthy for adults, prompting consumers to switch to plant-based products.
Moreover, the health benefits of soy protein do not discriminate against any age group. Soy protein is also safer and less expensive, particularly in comparison to animal proteins. Plant-based products have a long shelf life, which benefits the global soy protein ingredients market. Plant-based ingredients rarely spoil, in contrast to animal-based ingredients, which frequently deteriorate if not stored properly or used within a specified time frame.
Restraints
Demand for animal-based protein and a ban on genetically modified crops in some regions impede the market's growth
One of the most prominent factors expected to impede the growth of the global soy protein ingredients market is an increase in consumer demand for high-quality animal-based protein rather than plant-based protein. Another aspect posing a risk to the soy protein ingredient market is the presence of whey protein, which is becoming more popular among consumers. Furthermore, the European Union's ban on the cultivation of genetically modified crops is a powerful force that is expected to stymie the expansion of soy products in the global market. Countries within the EU, including France, Germany, the United Kingdom, and others, have banned the cultivation of genetically engineered plants.
Opportunities
Several opportunities arise as the population grows
Because soy protein is made up of a wide variety of products, it has the potential to grow at a rapid pace. Furthermore, due to rising populations and incomes, particularly in developing economies in the Asia Pacific region, there is an anticipation of strong growth in these areas for these markets if product availability and affordability are improved.
Challenges
The increasing use of other plant-based proteins as active ingredients has slowed the growth of soy protein
Plant-based meat proteins have gained traction, but soy protein has been shown to lose its edge over its equivalents in the long run as numerous ingredients rich in protein and low in carbohydrates have surfaced and uprooted what was once the segment's leader. Pea protein, for example, contains all essential amino acids as well as branched amino acids, allowing it to rank higher than soy. Moreover, soy protein has been recognized as the main allergen, whereas pea protein is classified as hypoallergenic. Since soy is the eighth most common food allergen, with a prevalence of around 0.3 percent, the market is under intense scrutiny.
Segmentation Analysis
The global soy protein ingredients market is segregated on the basis of type, application, and region.
By type, the market is divided into soy protein flour, soy protein concentrates, and soy protein ingredient isolates. Because of the highest amount of protein present in soy protein isolates and various benefits of soy isolates like low-fat content, bland taste, oligosaccharides, and fiber, the soy protein isolates segment is predicted to grow at the fastest rate during the forecasted period.
By application, the market is divided into infant foods, animal feed, dairy replacers, functional foods, meat alternatives, bakery & confectionery, and others. Among all the segments, the "animal feed" segment is projected to expand the fastest during the projected timeframe. The segment's growth is attributed to rising customer perception of soy protein ingredients as a marketable source of protein in animal feed, and the Meat Alternatives segment is anticipated to continue to hold the largest share of the global soy protein ingredients market due to rising consumer demand for meat alternatives.
Report Scope
| | |
| --- | --- |
| Report Attribute | Details |
| Market Size in 2021 | USD 10.9 Billion |
| Projected Market Size in 2028 | USD 19.5 Billion |
| CAGR Growth Rate | 7.2% CAGR |
| Base Year | 2021 |
| Forecast Years | 2022-2028 |
| Key Market Players | Cargill Health & Food Technologies, Dean Foods Company, Kraft Foods Group Inc., Bunge Alimentos SA, MGP Ingredients, E. I. du Pont de Nemours and Company, Archer Daniels Midland (ADM) Company, Kellogg Company, Omega Protein Corporation, Kerry Ingredients Inc., Doves Farm Foods, George Weston Foods, Gelita Group, Manildra Group, Armor Proteins, and Burcon NutraScience, among others |
| Key Segment | By Type, Application, and Region |
| Major Regions Covered | North America, Europe, Asia Pacific, Latin America, and the Middle East & Africa |
| Purchase Options | Request customized purchase options to meet your research needs. Explore purchase options |
Regional Landscape
North America dominates the global market
When compared to its competitors, North America has a 33 percent market share. It is due to the high demand for plant-based ingredients in all categories, particularly soy and pea, due to their functional benefits and ease of incorporation. Changes in lifestyle, a lack of a well-balanced diet, and a greater emphasis on R & D by global manufacturers to develop new types of soy-protein-enriched products are all factors to consider. Furthermore, there is a growing awareness in the region about the environmental impact that meals can have. One-third of all the crop-growing land on the planet is often used to grow livestock feed. Experts estimate that if everyone became vegan, worldwide agricultural land use could be reduced by up to 75 percent.
Furthermore, Asia Pacific is expected to provide lucrative growth opportunities for marketers between 2022 and 2028. It is due to the implementation of different dietary measures guided by governmental bodies that favor the usage of plant-based ingredients like soy protein over other meat options.
Recent Developments
July 2020: DuPont launched a plant-based Planit portfolio to expand product options. Plant proteins, cultures, hydrocolloids, fibers, probiotics, antioxidants, food protection, natural extracts, enzymes, and emulsifiers, as well as custom-made systems, are all part of the new line. These ingredients can be used to co-create meat and dairy alternatives, but the company's goal is to increase plant-based consumption by offering an ingredient forum for companies diversifying into new formats and subgroups that broaden the plant-based food space. The aforementioned advancement would benefit all sources, including soy, pea, and almond, among others.
March 2020: To contend with soy protein concentrates in final products, Benson Hill introduced "ultra-high" soybeans. To achieve the roughly equivalent levels of protein found in soy protein concentrate, the variation would involve extremely low water and processing. According to company analysis, the manufacturing and processing of soy protein concentrate is water and energy-intensive process. To avoid this problem, Benson Hill has developed a soybean variety that has up to 50% more protein at crop standard than current yields.
Competitive Landscape
Some of the main competitors dominating the global soy protein ingredients market are
Cargill Health & Food Technologies
Dean Foods Company
Kraft Foods Group Inc.
Bunge Alimentos SA
MGP Ingredients
E. I. du Pont de Nemours and Company
Archer Daniels Midland (ADM) Company
Kellogg Company
Omega Protein Corporation
Kerry Ingredients Inc.
Doves Farm Foods
George Weston Foods
Gelita Group
Manildra Group
Armor Proteins
Burcon NutraScience
The global soy protein ingredients market is segmented as follows:
By Type Segment Analysis
Soy Protein Flours
Soy Protein Concentrates
Soy Protein Ingredients Isolates
By Application Segment Analysis
Infant Foods
Animal Feed
Dairy Replacers
Functional Foods
Meat Alterations
Bakery & Confectionery
Others
By Regional Segment Analysis
North America

The U.S.
Canada
Mexico
Rest of North America

Europe

France
The UK
Spain
Germany
Italy
Nordic countries

Denmark
Finland
Iceland
Sweden
Norway

Benelux Reunion

Belgium
The Netherlands
Luxembourg

Rest of Europe

Asia Pacific

China
Japan
India
New Zealand
Australia
South Korea
Southeast Asia

Indonesia
Thailand
Malaysia
Singapore
Rest of Southeast Asia

Rest of Asia Pacific

The Middle East & Africa

Saudi Arabia
UAE
Egypt
Kuwait
South Africa
Rest of the Middle East & Africa

Latin America

Brazil
Argentina
Rest of Latin America