Industry Insights
[227+ Pages Report] According to Facts and Factors, the global Gluten-Free Products market size was worth around USD 5.80 billion in 2021 and is predicted to grow to around USD 10.96 billion by 2028 with a compound annual growth rate (CAGR) of roughly 9.51% between 2022 and 2028. The report analyzes the global Gluten-Free Products market's drivers, restraints/challenges, and the effect they have on the demands during the projection period. In addition, the report explores emerging opportunities in the global Gluten-Free Products market.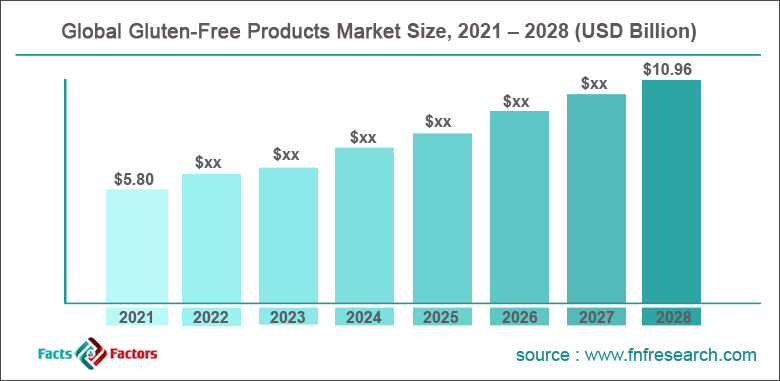 To know more about this report | Request Free Sample Copy
Market Overview
Foods that are devoid of gluten are made specifically for people who are gluten intolerant. This condition is also known as celiac disease. People who are gluten intolerant cannot digest gluten; as a result, when they consume gluten-containing meals, they experience an immunological reaction. Numerous health problems might result from small intestine irritation brought on by gluten. Additionally, it prevents the body from absorbing a number of essential nutrients. Over time, there has been an increase in the population of people who are gluten intolerant in different places, which is likely to spur demand for gluten-free products. Despite being safe to eat, this protein should be avoided by people who have celiac disease, gluten sensitivity, gluten ataxia, or a wheat allergy. They can pick from a variety of gluten-free items, including olive oil, eggs, fish, vegetables, fruits, and other herbs, all of which help to increase energy levels, treat digestive problems, and lower cholesterol and fat levels in the body.
The manufacture of gluten-free goods and their international supply chains have been impacted by the COVID-19 epidemic. Due to limited supply chain activities, manufacturers of gluten-free food are unable to procure raw materials and produce goods to satisfy demand. In addition, the majority of the factories were shut down as some governments implemented a lockdown. All of these elements have had a negative impact on the target industry's expansion. Because more people are consuming foods that enhance immunity, it is predicted that the market for gluten-free goods will grow globally in the post-pandemic period.
Key Insights
As per the analysis shared by our research analyst, the global Gluten-Free Products market is estimated to grow annually at a CAGR of around 9.51% over the forecast period (2022-2028).
In terms of revenue, the global Gluten-Free Products market size was valued at around USD 5.80 billion in 2021 and is predicted to grow to around USD 10.96 billion by 2028.
Due to a variety of driving factors, the market is predicted to rise at a significant rate.
The increasing incidence of Irritable Bowel Syndrome (IBS) and celiac diseases is expected to drive the demand for gluten-free products across developed as well as developing countries.
Based on product segmentation, the bakery products were predicted to show maximum market share in the year 2021
Based on distribution channel segmentation, supermarkets and hypermarkets was predicted to show maximum market share in the year 2021
On the basis of region, North America was the leading revenue generator in 2021.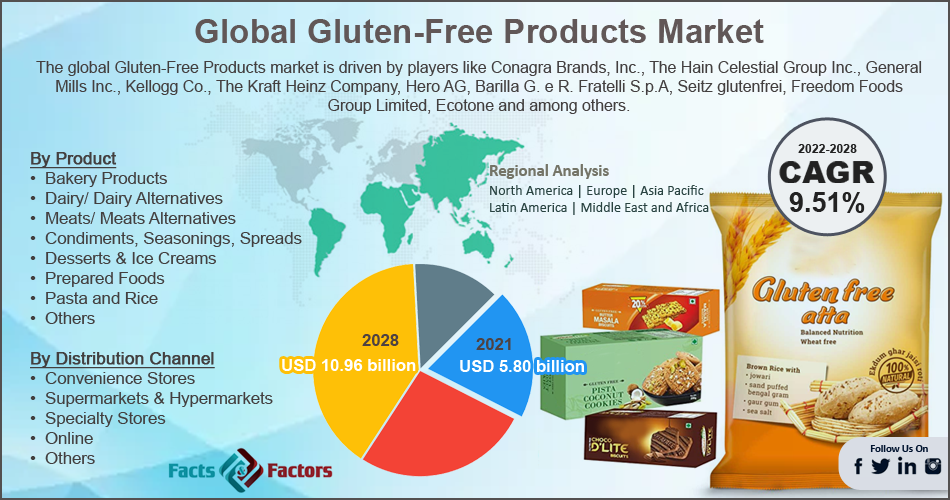 To know more about this report | Request Free Sample Copy
Growth Drivers
Increased diagnosis of celiac disease and other food allergies.
Celiac disease, often known as gluten intolerance, is an autoimmune condition of the small intestine. It starts in infancy and is genetically predisposed. Diarrhea, anemia, weariness, and pain in the intestines and stomach are among the symptoms. The incidence of celiac disease has risen over the previous few decades by an average of 7.5% per year, according to the Celiac Disease Foundation (2020). In addition to a real increase in this immune-based condition, which was unrelated to disease diagnosis, the incidence increased.
Additionally, during the past few decades, celiac disease has become more common in many Western nations. When compared to men in the 21st century, women and children had a higher incidence of celiac disease. The prevalence of the celiac disease among women was 17.4 per 100,000 people per year, compared to 7.8 per 100,000 people per year among males. This means that among 100,000 women observed for a year, slightly more than 17 will receive a diagnosis. Children had a higher annual incidence of celiac disease (21.3 per 100,000), compared to adults (12.9 per 100,000). Thereby, rising incidences of celiac disease and other food allergies drive the growth of the global gluten-free products market.
Restraints
Lack of awareness hindering gluten-free product market growth
The market for gluten-free goods could eventually experience a slowdown in growth. And this is because people all around the world are not aware of celiac disease. A digestive ailment called celiac disease is brought on by an immunological response to foods like wheat, barley, and rye, which are frequently high in the protein gluten.
Challenges
Formulation challenges faced by manufacturers
It is quite challenging to convert a consumer to a gluten-free diet and lifestyle. For a variety of reasons, including the difference in texture, flavor, and taste, most people are unable to adjust to it. Many manufacturers face significant obstacles as a result of this. The main market participant in gluten-free products faces the problem of developing a product with palatable texture, flavor, consistency, and taste that is comparable to those of traditional gluten-containing food. It is difficult to employ substitute ingredients and get them to interact the same way they would in the original product, which is one of the causes of this. As a result, these characteristics make it difficult for manufacturers to compete in the worldwide market by providing equivalent gluten-free products that are also reasonably priced.
Opportunity
Adoption of micro encapsulation technology to improve the shelf life of gluten-free products
Gluten protein is in charge of controlling and relating moisture in traditional gluten-containing foods and food items, giving them a reasonably extended shelf life. However, when items are made gluten-free to meet the rising demand of end users around the world, they typically have a shorter shelf life and lack the textural aesthetic. Additionally, it is challenging for the major players to produce a line of gluten-free goods in order to improve moisture retention and shelf-life. To achieve the appropriate shelf-life, they need ongoing R&D and the introduction of newer technology.
One such technique that can help producers accomplish this goal of extending the shelf life and texture of their assortment of gluten-free products is microencapsulation. The same technology has been applied to extend the shelf life of frozen and refrigerated dough, frozen biscuit dough, scoop and bake frozen muffins, and refrigerated pizza's cardboard-like substance and rising crust.
Segmentation Analysis
The global Gluten-Free Products market is segmented based on product, distribution channel, and region
The market is divided into bakery products, dairy/ dairy alternatives, meats/ meats alternatives, condiments, seasonings, spreads, desserts & ice creams, prepared foods, pasta and rice, and others on the basis of product. In 2021, the gluten-free products market is anticipated to be dominated by the bakery products category. Due to the expanding popularity of healthier bakery products and the rising prevalence of gluten-free diets due to the increased risk of developing chronic health disorders, a substantial portion of this market can be attributable to these factors. Additionally, due to a rise in millennial demand for gluten-free products as well as a rise in the popularity of nutrient-rich diets, bakery items have become one of the most popular choices among customers.
The market is divided into categories based on distribution channels, including convenience stores, supermarkets & hypermarkets, specialty stores, online, and others. In 2021, supermarkets & hypermarkets became the most popular distribution channel category. This is because it offers convenient access to a variety of things under one roof. Customers can choose products from a wide variety of availability as a result. Since there are more seasonal displays now including gluten-free goods, more new goods are being promoted, growing the segment. Managing a single sizable client base is simpler in supermarkets than managing a big number of independent, smaller customers. Supermarkets and hypermarkets generate a substantial amount of sales since they have access to a sizable consumer base. A bigger sales volume is also made possible by improved brand recognition for products with nationwide distribution.
Recent Developments:
In November 2021, the grocery store company Hy-Vee, Inc. unveiled Good Graces, a new private brand offering a complete line of gluten-free goods. There are now 30 gluten-free foods available from Good Graces, and another 60 are being developed.
In September 2021, with a new fermentation method and redesigned packaging that includes bread, Rudi's debuted 15 new products in its organic and gluten-free categories.
Report Scope
| | |
| --- | --- |
| Report Attribute | Details |
| Market Size in 2021 | USD 5.80 Billion |
| Projected Market Size in 2028 | USD 10.96 Billion |
| CAGR Growth Rate | 9.51% CAGR |
| Base Year | 2021 |
| Forecast Years | 2022-2028 |
| Key Market Players | Conagra Brands Inc., The Hain Celestial Group Inc., General Mills Inc., Kellogg Co., The Kraft Heinz Company, Hero AG, Barilla G. e R. Fratelli S.p.A, Seitz glutenfrei, Freedom Foods Group Limited, Ecotone, and others. |
| Key Segment | By Product, Distribution Channel, and Region |
| Major Regions Covered | North America, Europe, Asia Pacific, Latin America, and the Middle East &, Africa |
| Purchase Options | Request customized purchase options to meet your research needs. Explore purchase options |
Regional Analysis
North America to lead the market growth during the projection period
In 2021, North America controlled the global gluten-free products market and generated the biggest revenue share. Foods without gluten are thought to improve digestion, reduce cholesterol, and promote weight loss. Over the projection period, these variables are anticipated to increase demand. Additionally, it is anticipated that their simple accessibility at almost every grocery shop would increase consumption, especially in the United States. With more people becoming aware of celiac disease, the U.S. market is set to expand. To prevent symptoms, those with the condition adhering to a gluten-free diet. A gluten-free diet is also being followed by people who do not have the condition because it is believed that doing so can lower cardiovascular risks.
The market is anticipated to grow at the greatest CAGR in Asia Pacific between 2022 and 2028. Due to variables including rising internet use, a flourishing e-commerce industry, and favorable demographics, the regional market conditions are quite promising. Customers in the nation include not just people with celiac disease or gluten intolerance/sensitivity, but also those who value their health and need these goods to control their weight. Due to the rising popularity of healthy diet items and the innovative marketing techniques used by leading manufacturers to gain a sizable market share, this region has the potential to develop.
Competitive Analysis
Conagra Brands Inc.
The Hain Celestial Group Inc.
General Mills Inc.
Kellogg Co.
The Kraft Heinz Company
Hero AG
Barilla G. e R. Fratelli S.p.A
Seitz glutenfrei
Freedom Foods Group Limited
Ecotone
The global Gluten-Free Products market is segmented as follows:
By Product
Bakery Products
Dairy/ Dairy Alternatives
Meats/ Meats Alternatives
Condiments, Seasonings, Spreads
Desserts & Ice Creams
Prepared Foods
Pasta and Rice
Others
By Distribution Channel
Convenience Stores
Supermarkets & Hypermarkets
Specialty Stores
Online
Others
By Regional Segment Analysis
North America
Europe

France
The UK
Spain
Germany
Italy
Nordic Countries
Benelux Union

Belgium
The Netherlands
Luxembourg

Rest of Europe

Asia Pacific

China
Japan
India
Australia
South Korea
Southeast Asia

Indonesia
Thailand
Malaysia
Singapore
Rest of Southeast Asia

Rest of Asia Pacific

The Middle East & Africa

Saudi Arabia
UAE
Egypt
South Africa
Rest of the Middle East & Africa

Latin America

Brazil
Argentina
Rest of Latin America