Industry Insights
[210+ Pages Report] According to Facts and Factors, the global food pathogen testing market size was worth around USD 4.51 billion in 2021 and is predicted to grow to around USD 9.1 billion by 2028 with a compound annual growth rate (CAGR) of roughly 8% between 2022 and 2028. The report analyzes the global food pathogen testing market drivers, restraints/challenges, and the effect they have on the demands during the projection period. In addition, the report explores emerging opportunities in the food pathogen testing market.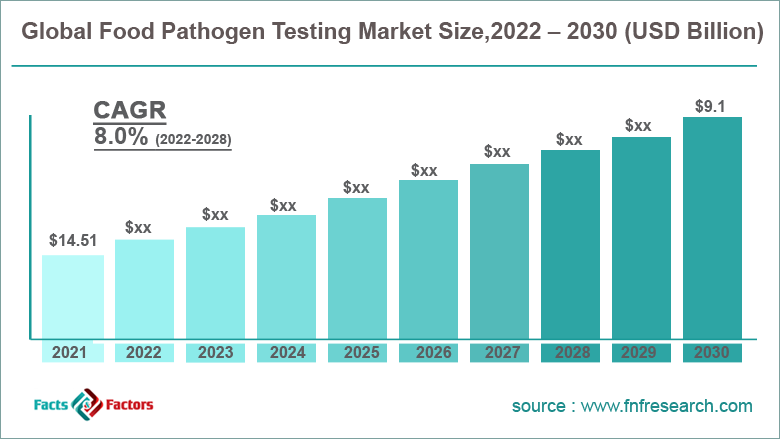 To know more about this report | Request Free Sample Copy
Market Overview
Food pathogens, also known as foodborne pathogens are living organisms that can be found in food items. Very early in history, scholars had deduced the correlation between human or animal health and the consumption of various food products. Foodborne pathogens like viruses, parasites, and bacteria are known to cause various food-related illnesses varying in seriousness. These biological agents are the leading cause of foodborne disease outbreak which is defined as the occurrence of two or more similar incidents that result from ingesting the same food. In such cases, the food pathogens are proven to establish themselves in the body of the host. Foodborne diseases can also occur if a person consumes the toxins generated by pathogens in the food item. Hence food-related illnesses can be classified into two types, namely; foodborne infection and foodborne intoxication, where infections involve an incubation period which is generally missing in foodborne intoxication. Pathogen testing is the most effective way of reducing, controlling, or limiting the spread of foodborne diseases and is a part of every step in the food production process.
Key Insights
As per the analysis shared by our research analyst, the global food pathogen testing market is estimated to grow annually at a CAGR of around 8% over the forecast period (2022-2028)
In terms of revenue, the global food pathogen testing market size was valued at around USD 4.51 billion in 2021 and is projected to reach USD 9.1 billion, by 2028. Due to a variety of driving factors, the market is predicted to rise at a significant rate
Based on food type segmentation, processed was predicted to show maximum market share in the year 2021
Based on technology segmentation, rapid was the leading technology in 2021
On the basis of region, North America was the leading revenue generator in 2021
To know more about this report | Request Free Sample Copy
Growth Drivers
Increasing cases of food contamination to drive market demand
The global food pathogen testing market is projected to grow owing to the rise in reported cases of diseases occurring due to the ingestion of contaminated food products. As per a report published on the official website of the World Health Organization more than 600 million are known to suffer from food-related illnesses every year. This number represents infection in 1 out of every 10 people. As per the same report, the global economy spends more than USD 110 billion every year on medical expenses related to the consumption of unsafe food items. The numbers have grown in the last few years due to the circulation of various low-grade food products manufactured by local or domestic producers that fail to undertake food pathogen testing steps to avoid expenses and increase profit. Various international organizations have started large-scale programs to expose such manufacturers and put food corporations under pressure to make food pathogen testing a mandatory step across the production process to avoid any loss of life or money.
Restraints
Lack of necessary infrastructure to restrict market expansion
The global market may face limited growth owing to the absence of the necessary infrastructure to incorporate food pathogen testing during the production process. This is highly prevalent in underdeveloped nations where economic growth is slow or in war-torn nations where food availability in itself is rare. These nations lack the necessary awareness related to food safety norms. The only solution to the problem is for other nations and regional governments to enhance their measures to help upgrade the infrastructure and put necessary guidelines in place.
Opportunities
Growing importance of food safety in developing nations to provide growth opportunities
The global food pathogen testing market is projected to benefit from the increasing awareness rate related to food safety in developing nations which is further encouraged by growing undertakings by regional governments to promote the consumption of tested and approved food products only. Post Covid-10 people have become aware of the food products that are consumed and the impact of the edible items on the human body which is further projected to make the global market players invest heavily in conducting food pathogen testing regularly. Since food-based illness is not restricted to a certain age group, every item meant for consumption purposes ranging from children to the elderly population has to be first certified as safe for ingestion before being rolled out in the market.
Challenges
Presence of unrecognized food suppliers acts as a major challenge for market players
There is a high prevalence of counterfeit food suppliers that copy the branding or look for processed or ready-to-eat meals that are sold as actual products. Lack of information can lead to a high number of people consuming low-quality food items as they may find it difficult to distinguish between the original and the copy as these products tend to be similar. Unrecognized food suppliers are known to evade the guidelines laid down by the regulatory bodies and it may become difficult to detect them in the pool of other products. This acts as a major challenge for the global market players since such incidents directly impact brand value.
Segmentation Analysis
The global food pathogen testing market is segmented based on food type, contaminant, technology, and region.
Based on food type, the global market divisions are dairy, meat & poultry, fruits & vegetables, and processed. The global market witnessed the highest growth in the processed food segment as consumer awareness related to food safety, sanitation, testing results, and hygiene has increased rapidly in urban areas. Meat & poultry follows next in the segmental revenue which has increased at a high rate post the effects of Covid-19. As per the Center for Disease Control, around 3000 American citizens are known to die every year due to foodborne diseases.
Based on technology, the global market divisions are rapid and traditional. In 2021, the global market witnessed the highest growth in the rapid technology segment and it is projected to cross over 5787 million by 2028 in terms of revenue. Most rapid tests are known to give accurate results within 48 hours and are hence suitable for the current fast-paced world where demand for food is increasing exponentially every day.
Recent Developments:
In November 2022, Sixth Wave Innovations Inc. announced that the company has applied for a patent for its Accelerated Molecularly Imprinted Polymer (AMIPs) technology capable of detecting multiple food pathogens
In June 2022, Scholars at Michigan State University claimed that they are currently working on developing a cell phone-based pathogen testing method that can detect bacteria in meat products
Report Scope
| | |
| --- | --- |
| Report Attribute | Details |
| Market Size in 2021 | USD 4.51 Billion |
| Projected Market Size in 2028 | USD 9.1 Billion |
| CAGR Growth Rate | 8% CAGR |
| Base Year | 2021 |
| Forecast Years | 2022-2028 |
| Key Market Players | Intertek Group PLC, RapidBio Systems Inc., Genevac Ltd, Eurofins Scientific, Lloyd's Register Quality Assurance Limited, Campden BRI, Asurequality, Agilent Technologies , and Others |
| Key Segment | By Food Type, Contaminant, Technology, and Region |
| Major Regions Covered | North America, Europe, Asia Pacific, Latin America, and the Middle East &, Africa |
| Purchase Options | Request customized purchase options to meet your research needs. Explore purchase options |
Regional Analysis
North America to dominate with the highest market share
The global food pathogen testing market is projected to witness the highest growth in North America which is anticipated to grow at a CAGR of 7.21% during the forecast period. The regional growth is projected to be reinforced by the presence of stringent government regulations related to food safety and hazards associated with the consumption of contaminated products. In the US, responsible authorities like the Food Safety and Inspection Services, Center for Disease Control, and the US Food and Drug Administration are the principal bodies that look after food production-related decisions and concerns. The regional growth may further be driven by the presence of excellent infrastructure and a high rate of awareness amongst the end population which means that food safety cannot be neglected in these countries. Growth in Europe may be driven by the growing investments in upgrading technological settings for the prevention of food-borne illnesses.
Competitive Analysis
Intertek Group PLC
RapidBio Systems Inc.
Genevac Ltd
Eurofins Scientific
Lloyd's Register Quality Assurance Limited
Campden BRI
Asurequality
Agilent Technologies
The global food pathogen testing market is segmented as follows:
By Food Type
Dairy
Meat & Poultry
Fruits & Vegetables
Processed
By Contaminant
Listeria
Salmonella
Campylobacter
E. Coli
By Technology
By Regional Segment Analysis
North America
Europe

France
The UK
Spain
Germany
Italy
Nordic Countries
Benelux Union

Belgium
The Netherlands
Luxembourg

Rest of Europe

Asia Pacific

China
Japan
India
Australia
South Korea
Southeast Asia

Indonesia
Thailand
Malaysia
Singapore
Rest of Southeast Asia

Rest of Asia Pacific

The Middle East & Africa

Saudi Arabia
UAE
Egypt
South Africa
Rest of the Middle East & Africa

Latin America

Brazil
Argentina
Rest of Latin America