Industry Insights
[205+ Pages Report] According to Facts and Factors, the global drug delivery in cancer market was valued at USD 1527.40 million in 2021 and is predicted to increase at a CAGR of 6.70 % to USD 2253.92 million by 2028. The study examines the market in terms of revenue in each of the major regions, which are classified into countries.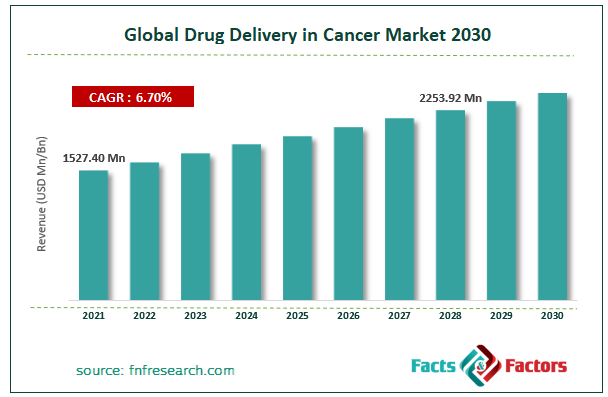 To know more about this report | Request Free Sample Copy
Market Overview
Cancer is defined as the uncontrolled growth of abnormal cells. Radiation, chemotherapy, and medical procedures are all used in today's disease treatment systems. Traditional drug delivery strategies for malignant cell growth chemotherapy can kill normal growing cells, thus it's only used for the most severe tumors. A targeted drug delivery system (TDDS) is a framework that delivers medication in a controlled manner to a predetermined location. The polymers play a significant role in the development of nanoparticulate transporters for illness treatment, and nanotechnology-based conveyance frameworks have a critical effect on malignancy therapy. Delay in half-life, improved bio-dissemination, extended course season of medication, controlled & supported the arrival of medication, the flexibility of course of organization, and expanded intercellular grouping of medication are just a few of the significant benefits associated with nanotherapeutic drug delivery systems (NDDS). Targeted drug systems based on nanotechnology are successfully able to include precise quantities of therapeutic pharmaceuticals for patients.
However, market expansion in the region is expected to be hampered by a lack of understanding of new medicine systems in underdeveloped regions and a scarcity of competent medical practitioners. Furthermore, the high expenses of cancer research programmers and clinical trials may stifle market development in economically weak nations like Sudan and Somalia. Market penetration in these regions is expected to be hampered by the implementation of severe regulatory rules and the fragile geostrategic scenario that exists in countries like Cuba and Vietnam.
Impact of COVID - 19
Pharmaceutical and biotech businesses, as well as governments around the world, are attempting to combat the COID-19 outbreak, from assisting in the development of vaccines to preparing for obstacles in the medication supply chain. Approximately 115 vaccine candidates and 155 compounds are currently being developed in the R&D pipeline. More regularly used medications, such as hydroxychloroquine, have seen a huge increase in demand for COID-19 treatment. Due to the increased demand for these treatments, manufacturers of COID-19 management drugs have a lot of chances, as many developing nations are running out of them. As a result of the demand for vaccine and treatment medications for COID-19, the pharmaceutical and biotechnology industries are likely to increase significantly in the future. As a result, the worldwide drug delivery in the cancer market is likely to be significantly impacted.
The complete research study looks at both the qualitative and quantitative aspects of drug delivery in cancer market. Both the demand and supply sides of the market have been investigated. The demand side study examines market income in various regions before comparing it to all of the major countries. The supply-side research examines the industry's top rivals, as well as their regional and global presence and strategies. Each major country in North America, Europe, Asia Pacific, the Middle East and Africa, and Latin America is thoroughly investigated.
Segmentation Analysis
The global drug delivery in cancer market is segregated based on product, application, and region.
In terms of product, in 2020, the Polymer Nanoparticle accounted for the biggest share of the global drug delivery in cancer market. Nanoparticles as innovative drug delivery devices represent a novel cancer treatment strategy. They protect the medications from chemical and enzymatic breakdown by encapsulating them. Long circulation half-lives, fewer adverse effects, and improved pharmacokinetics are all advantages of nanoparticles in medication administration. These particles also have higher permeability, allowing for more efficient medication delivery to cancer tissues. As innovative drug delivery systems, nanoparticles are seen as a possible alternative to standard chemotherapy, which poses a major risk to healthy tissues. Drug efficacy and DNA delivery and targeting are frequently improved using nanoparticle delivery technologies like as liposomes and micelles. The desire for innovative drug delivery systems has grown as the therapeutic qualities of medications have improved.
In terms of Application, cancer centers will have the largest share. The rise in cancer cases around the world, combined with increased awareness of elective treatment options, is expected to drive market expansion for drug delivery systems. Furthermore, the use of nanoparticles to cure ailments in a variety of countries is expected to boost the market growth. The growing number of important main players in the market who are expanding their interest in research and development of drug delivery systems, as well as a growing product portfolio and administrative endorsements, is expected to accelerate market growth even further.
Report Scope
| | |
| --- | --- |
| Report Attribute | Details |
| Market Size in 2021 | USD 1527.40 million |
| Projected Market Size in 2028 | USD 2253.92 million |
| CAGR Growth Rate | 6.70% CAGR |
| Base Year | 2021 |
| Forecast Years | 2022-2028 |
| Key Market Players | Amgen, Teva, UCB (Union Chimique Belge), Roche, Celgene, Sanofi, Merck, Johnson & Johnson, Takeda, Gilead Sciences All Market Inc., and Others |
| Key Segment | By Product, Application, and Region |
| Major Regions Covered | North America, Europe, Asia Pacific, Latin America, and the Middle East & Africa |
| Purchase Options | Request customized purchase options to meet your research needs. Explore purchase options |
Regional Landscape
Because of the rising incidences of cancer in the region, as well as the growing elderly population and the resulting need for advanced therapeutic techniques, North America is likely to lead the market. Other key factors driving the growth of this market include an increase in clinical trials for new treatment mechanisms, an increase in drug discovery spending plans, an increase in the number of regional players, an increase in the occurrence of malignancy, and FDA approvals for NDDS business accessibility.
The Asia Pacific market for drug delivery systems in cancer therapy is predicted to increase significantly in the next years, because of rising cancer rates in China and Japan, Japan's growing geriatric population, and joint product development efforts between the US and Japan. Furthermore, it is expected that China will strengthen malignancy examination in the future, raising awareness of noel therapies in East Asia. Due to a large number of cancer patients, increased awareness of noel therapies among cancer patients, and high consumption of medical services, the European market is expected to see significant improvements in the drug delivery sector.
Competitive Landscape
List of Key Players in the Global Drug Delivery in Cancer Market:
Amgen
Teva
UCB (Union Chimique Belge)
Roche
Celgene
Sanofi
Merck
Johnson & Johnson
Takeda
Gilead Sciences All Market Inc.
The Global Drug Delivery in Cancer Market is segmented as follows:
By Product Segment Analysis
Liposome
PE Gylated Proteins & Polypeptides
Polymer Nanoparticle
Protein–drug Conjugates
By Application Segment Analysis
Hospitals & Clinic
Cancer Treatment Centers
Others
By Regional Segment Analysis
North America
Europe

France
The UK
Spain
Germany
Italy
Nordic Countries
Benelux Union

Belgium
The Netherlands
Luxembourg

Rest of Europe

Asia Pacific

China
Japan
India
Australia
South Korea
Southeast Asia

Indonesia
Thailand
Malaysia
Singapore
Rest of Southeast Asia

Rest of Asia Pacific

The Middle East & Africa

Saudi Arabia
UAE
Egypt
South Africa
Rest of the Middle East & Africa

Latin America

Brazil
Argentina
Rest of Latin America