Industry Insights
[235+ Pages Report] According to the report published by Facts Factors, the global tapioca pearls market size was worth around USD 5.21 billion in 2022 and is predicted to grow to around USD 8 billion by 2030 with a compound annual growth rate (CAGR) of roughly 1.9% between 2023 and 2030. The report analyzes the global tapioca pearls market drivers, restraints/challenges, and the effect they have on the demands during the projection period. In addition, the report explores emerging opportunities in the tapioca pearls market.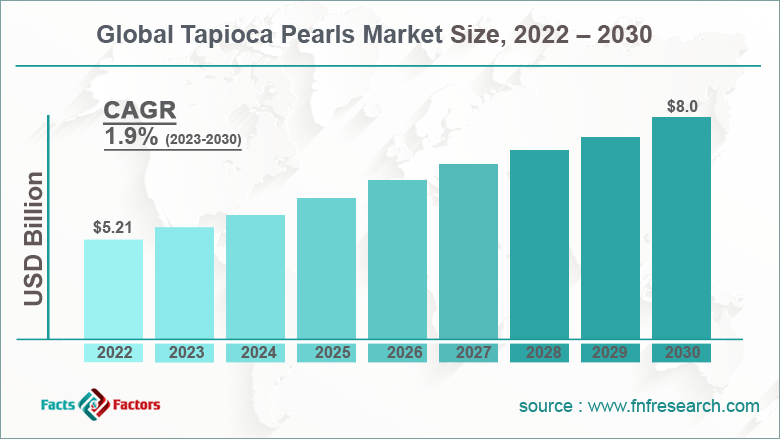 Market Overview
The global industry refers to the commercial segment that deals in the production and sale of tapioca pearls. They are also known as bubbles, boba, or simply pearls. Structurally, they are small and can be easily chewed since they are made of starch derived from tapioca which is a derivative of cassava root. Tapioca pearls have found extensive application as food toppings or are added as additives in beverages like smoothies, tea, and fruit juices.
In the last few years, the global market has registered significant growth and has become exceptional in regions like Europe, North America, and Asia where bubble tea has garnered a dedicated consumer base. Furthermore, the market comprises tapioca pearl producers and suppliers, retailers selling bubble tea drinks, and manufacturers of bubble tea. It is full of small and large-scale business players making it a highly competitive market who are finding ways to keep a strong hold on the sales volume. The industry is diverse in terms of product availability in different flavors, colors, and sizes.
Key Insights
As per the analysis shared by our research analyst, the global tapioca pearls market is estimated to grow annually at a CAGR of around 1.9% over the forecast period (2022-2030)
In terms of revenue, the global tapioca pearls market size was valued at around USD 5.21 billion in 2022 and is projected to reach USD 8 billion, by 2030.
The market is projected to grow at a significant rate due to the growing popularity of bubble tea
Based on distribution channel segmentation, supermarkets & hypermarkets were predicted to show maximum market share in the year 2022
Based on end-user segmentation, HoReCa was the leading user in 2022
On the basis of region, Asia-Pacific was the leading revenue generator in 2022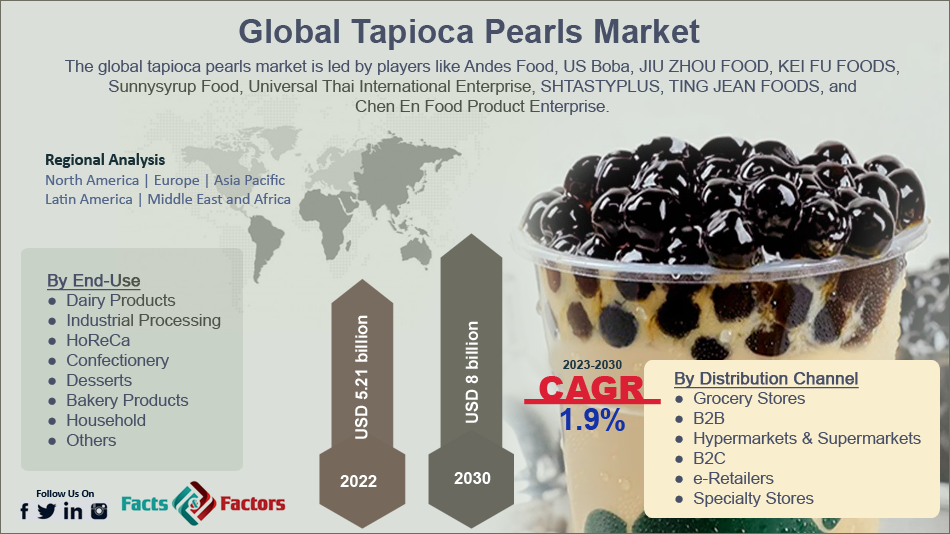 Growth Drivers
Growing popularity of bubble tea to propel market demand
The global tapioca pearls market is projected to grow owing to the increasing popularity of bubble tea which has, in the last few years, become a popular form of beverage in many parts of the world. Tea is slowly gaining a higher consumer database in developing nations with the launch of new service providers. Tapioca pearls are the key ingredients in bubble tea and hence the more number of suppliers translates to higher demand for tapioca pearls.
Furthermore, key market players are benefitting from the constant franchise expansion of bubble tea brands like Koi, Chatime, and Coco. In recent years, the brands have expanded their reach with the aid of strategic collaboration, unexplored market entries, and exhaustive spending on marketing campaigns. For instance, in September 2021, Koi inaugurated its 40th store in the UK in the Manchester region. The company intends to open more stores in the UK in the coming years driven by the growing popularity and demand for bubble tea. Moreover, the enormous amount of new product launches in different flavors, and constant product innovation also help to serve a broader consumer database.
Restraints
Health impact to restrict the market growth
Tapioca pearls are not healthy when consumed in large quantities or over some time. The sugar and carbohydrate contents of tapioca pearls are extremely high which can become a health concern for regular consumers and is not suitable for consumption by people who suffer from health conditions like diabetes. The demand for tapioca pearls may register certain limitations as people may opt for more healthy options which are readily available in the commercial market. The high competitiveness is another reason for concern for the market players since it is full of small and large suppliers working toward garnering higher profit margins.
Opportunities
Growing diversification in terms of food service to provide growth opportunities
Influenced by factors like growing internet reach, social media marketing, increasing disposable income, and changing lifestyle habits, the food industry is undergoing a transition with the launch of new-age food and beverages. The market players are consistently investing resources in constant product diversification to cater to the needs of ever-changing consumer patterns. This could act as an excellent growth opportunity for the global industry during the projection period.
Challenges
Managing supply chain to challenge the market expansion
The main source of tapioca pearls is the Southeast Asian markets and the growing political turmoil between the western and eastern countries could disrupt the supply chains of the essential raw material. Furthermore, the changing climatic conditions, war-like conditions, and natural disasters could hamper the global industry expansion trajectory. This could also have an impact on the price sensitivity of the pearls causing market players to analyze the cost-efficiency in the long term.
Segmentation Analysis
The global tapioca pearls market is segmented based on end-use, size, distribution channel, and region.
Based on end-use, the global market is divided into dairy products, industrial processing, HoReCa, confectionery, desserts, bakery products, household, and others.
In 2022, HoReca which stands for hotels, restaurants, and cafes, was the largest contributor to the global market
The food service industry is the main source of revenue for tapioca pearls and it mainly comprises HoReCa units
The growing popularity of bubble tea, which has origins in Taiwan, is the major reason for the increased demand for tapioca pearls worldwide
In 2020, more than 341 million people bought bubble teas and related supplies
Based on the size, the global market divisions are large, medium, and small.
Based on distribution channels, the global market segments are grocery stores, B2B, hypermarkets & supermarkets, B2C, e-retailers, and specialty stores.
The highest growth was observed in the hypermarkets & supermarkets segment however, online sales channels and specialty stores also registered significant growth
Most of the facilities serving beverages with tapioca pearls source the raw material from dedicated large-scale suppliers but e-retailers like Amazon offer a wide range of tapioca pearls that can be used for personal consumption
B2C is an important segment since many suppliers tend to use personal websites to deliver products to the consumers
An average serving of bubble tea has a sugar intake of 20 to 60 grams which may be a high dose for some consumers
Recent Developments:
In August 2022, Jamba, a popular restaurant chain serving made-to-order bowls and smoothies, added two boba items to its menu. In addition, the restaurant has added a fresh beverage that can be customized as per consumer requirements. The two flavors are Sweet Tapioca Boba Pearls and Strawberry Bursting Boba
In April 2022, BUBLUV Inc., an American start-up focusing on bringing Asian-inspired food and drinks to the world market, announced the launch of BUBLUV Bubble Tea which is the first-of-its-kind boba substitute that has no added sugar content. The items have less than 50 calories per bottle and do not use any artificial ingredient
In October 2022, Inspire Food Company announced the launch of a new website for the US market to sell premium-range bubble tea products
Report Scope
| | |
| --- | --- |
| Report Attribute | Details |
| Market Size in 2022 | USD 5.21 Billion |
| Projected Market Size in 2030 | USD 8 Billion |
| CAGR Growth Rate | 1.9% CAGR |
| Base Year | 2022 |
| Forecast Years | 2023-2030 |
| Key Market Players | Andes Food, US Boba, JIU ZHOU FOOD, KEI FU FOODS, Sunnysyrup Food, Universal Thai International Enterprise, SHTASTYPLUS, TING JEAN FOODS, Chen En Food Product Enterprise, and others. |
| Key Segment | By End-Use, Size, Distribution Channel, and Region |
| Major Regions Covered | North America, Europe, Asia Pacific, Latin America, and the Middle East &, Africa |
| Purchase Options | Request customized purchase options to meet your research needs. Explore purchase options |
Regional Analysis
Asia-Pacific to continue leading with the highest growth
The global tapioca pearls market is currently led by Asia-Pacific and it will continue the trend in the coming years. The main source of tapioca pearls is Asian countries like Vietnam, Taiwan, Thailand, and Indonesia. The largest exporter of tapioca pearls is Thailand since it is a major agricultural product in the country that is harvested across the region.
Furthermore, bubble tea is a staple beverage in Asian countries and it has gained high popularity in other nearby nations over time. Malaysia, China, and India are fast emerging as potential suppliers and consumers of tapioca pearls that could further assist in regional market growth. The growing food & beverage sector of these countries given the high population and changing consumer lifestyle habits is an excellent opportunity for more players to enter this segment. However, the product is gaining consumers worldwide including in North America, Europe, and the Middle East.
Competitive Analysis
Andes Food
US Boba
JIU ZHOU FOOD
KEI FU FOODS
Sunnysyrup Food
Universal Thai International Enterprise
SHTASTYPLUS
TING JEAN FOODS
Chen En Food Product Enterprise
The global tapioca pearls market is segmented as follows:
By End-Use Segment Analysis
Dairy Products
Industrial Processing
HoReCa
Confectionery
Desserts
Bakery Products
Household
Others
By Size Segment Analysis
By Distribution Channel Segment Analysis
Grocery Stores
B2B
Hypermarkets & Supermarkets
B2C
e-Retailers
Specialty Stores
By Regional Segment Analysis
North America
Europe

France
The UK
Spain
Germany
Italy
Nordic Countries
Benelux Union

Belgium
The Netherlands
Luxembourg

Rest of Europe

Asia Pacific

China
Japan
India
Australia
South Korea
Southeast Asia

Indonesia
Thailand
Malaysia
Singapore
Rest of Southeast Asia

Rest of Asia Pacific

The Middle East & Africa

Saudi Arabia
UAE
Egypt
South Africa
Rest of the Middle East & Africa

Latin America

Brazil
Argentina
Rest of Latin America