Industry Insights
[218+ Pages Report] According to the latest report issued by Facts and Factors, the global B2B Mobility Sharing Market stood at about USD 31.25 Billion in 2020 and is expected to generate the value of an estimated USD 119.2 Billion by end of 2026, growing at a CAGR of around 25% between 2021 and 2026.
Market Overview
Customers can rent a vehicle for a specific distance or time in return for money through mobility sharing. Due to growing digitization and the rising cost of vehicle ownership, the mobility sharing market is booming. Because of the growing adoption of cell phones and the large population in APAC, the mobility sharing market is expected to expand rapidly.
Industry Growth Factors
The rise in traffic congestion has pushed the market for shared mobility forward. According to a report, in 2019, the travel times in Mexico City are 52 percent longer during rush hour, rendering it the most congested city in North America. Although this number applies to extra average travel time during the day, evening peak hours make driving 87 percent longer on average. Los Angeles and Vancouver, respectively, on the West Coast, are the most congested cities in the United States and Canada. The market is being driven by an increase in demand for ride-sharing services combined with a reduction in parking space. Businesses use car-sharing systems to commute their workers regularly, reducing fleet time and parking costs. Furthermore, in Europe and North America, governments have enacted strict pollution control regulations, incentives provided by the government in the United States to use car-sharing, automobile manufacturers in Germany are increasing their investments in car sharing, heavy traffic congestion and pollution in China leading the people to opt for urban mobility. The lack of adequate public transportation infrastructure in India, as well as changing regulations in Malaysia and Singapore, are major factors that are driving the market growth substantially. In addition, owing to reduced traveling costs, people are opting for ride-sharing. The surge in the adoption of vehicles enabled with advanced technologies is also contributing to the market. For instance, BMW, a vehicle manufacturer had launched "ReachNow arm" which offers car-sharing and ride-hailing services across the USA in July 2018.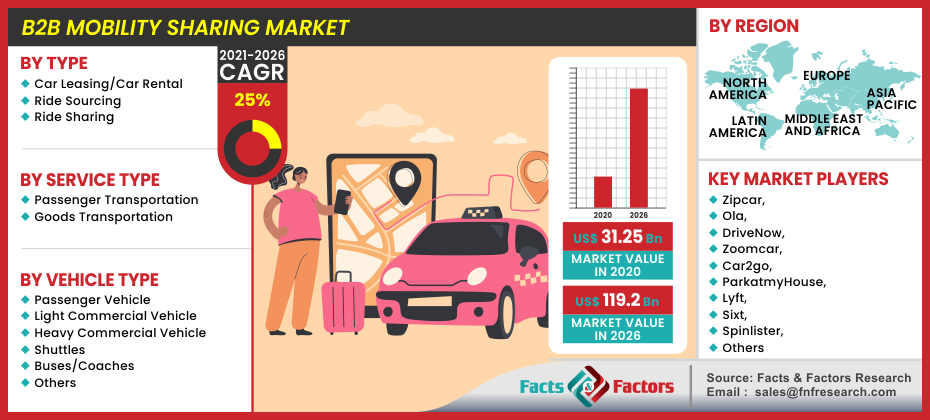 To know more about this report | Request Free Sample Copy
Rising vehicle ownership costs are enabling people to use solutions that enable them to share a variety of modes of transportation. Furthermore, solutions allow users to book, change, and cancel reservations in real-time. Ride-hailing services are widely used, especially in emerging economies like India and Mexico. The market's growth may be hampered by a lack of knowledge about the advantages of such service models over the forecast period. Furthermore, individuals are hesitant to share their cars with strangers in the case of ride-sharing, resulting in a decrease in the number of vehicles involved in the segment. In some low-income countries in the Middle East and Africa, poor connectivity and high costs associated with internet infrastructure growth are also preventing the market from reaching its full potential. Various government policies promoting shared resources are serving as catalysts for the industry's restructuring. For example, the European Commission and government agencies such as the Center on Regulation in Europe (CERRE) have begun to provide incentives to vehicle owners to promote the adoption of these services. Henceforth certain factors are contributing to the growth of the market in recent years and are expected to maintain the trend.
Segmentation Analysis
The global B2B mobility sharing market has been categorized into service type, type, vehicle type, and region. In terms of type, the industry has been categorized into car leasing or car rental, ride-sourcing, and ride-sharing. In a car rental service, businesses rent or lease a vehicle for a set period of time, while in a car-sharing service; many passengers share the same vehicle at the same time to get to their desired location. In terms of service type, the B2B mobility sharing market can be divided into two types of services: goods transportation, and passenger transportation. The services provided by businesses or organizations may be classified according to the customer's requirements. Some businesses use automobiles to transport their workers, while others use automobiles to transport their goods and services. The B2B mobility sharing market is categorized into passenger vehicles, heavy commercial vehicles, light commercial vehicles, buses/coaches, and shuttles based on vehicle type.
Regional Analysis
The Asia Pacific market is expected to account for the largest revenue share. In countries like India and China, on-road vehicle traffic and vehicle ownership costs are constantly rising. Furthermore, countries like India, where the urban population is growing and transportation infrastructure is improving, have a lot of room for growth in these services. From 2021 to 2026, the Middle Eastern and African market is projected to grow at a significant rate. Demand for shared transportation solutions is surging in countries like the United Arab Emirates and South Africa, owing to an increase in the number of corporate travelers. Furthermore, the UAE government's increased emphasis on developing alternative mobility forms to reduce traffic congestion and greenhouse gas (GHG) emissions is expected to boost the regional market during the forecast period. Ride-hailing services are becoming increasingly popular around the world, owing to their effectiveness in reducing the number of vehicles on the road, resulting in reduced emissions and traffic congestion. Several countries in North America and Europe are experiencing substantial traffic congestion, resulting in significant greenhouse gas emissions, which leads to an increase in global temperature. As a result, governments are focusing on shared mobility services, which is leading the B2B mobility sharing market.
Report Scope
| | |
| --- | --- |
| Report Attribute | Details |
| Market Size in 2020 | USD 31.25 Billion |
| Projected Market Size in 2026 | USD 119.2 Billion |
| CAGR Growth Rate | 25% CAGR |
| Base Year | 2020 |
| Forecast Years | 2020-2026 |
| Key Market Players | Zipcar, Ola, DriveNow, Zoomcar, Car2go, ParkatmyHouse, Lyft, Sixt, Spinlister, Uber, Drivezy, Volercars, SKedGo Pty Ltd, Tranzer, Rapido, Jenzabar, We Trott amongst others. |
| Key Segment | By Type, By Service Type, By Vehicle Type, By Region |
| Major Regions Covered | North America, Europe, Asia Pacific, Latin America, and the Middle East & Africa |
| Purchase Options | Request customized purchase options to meet your research needs. Explore purchase options |
Competitive Players
Some main participants of the global B2B Mobility Sharing market are :
Zipcar
Ola
DriveNow
Zoomcar
Car2go
ParkatmyHouse
Lyft
Sixt
Spinlister
Uber
Drivezy
Volercars
SKedGo Pty Ltd
Tranzer
Rapido
Jenzabar
The global B2B mobility sharing market is segmented as follows:
By Type:
Car Leasing/Car Rental
Ride Sourcing
Ride Sharing
By Service Type:
Passenger Transportation
Goods Transportation
By Vehicle Type:
Passenger Vehicle
Light Commercial Vehicle
Heavy Commercial Vehicle
Shuttles
Buses/Coaches
Others
By Region:
North America
Europe

UK
France
Germany
Italy
Spain
Rest of Europe

Asia Pacific

China
Japan
India
South Korea
Southeast Asia
Rest of Asia Pacific

Latin America

Brazil
Mexico
Rest of Latin America

Middle East and Africa

GCC Countries
South Africa
Rest of MEA