Industry Insights
[176+ Pages Report] As per the research report on the global agricultural packaging market published by Facts and Factors, the global market demand in 2019 was valued at USD 4.12 Billion and it is expected to register market revenue of around USD 5.81 Billion by end of 2026, growing at a CAGR of around 5.0 % between 2020 and 2026.
Market Overview
Agricultural packaging is critical in the agricultural sector since a large percentage of agricultural products are lost during handling, transportation, and storage. Agricultural packaging keeps agricultural goods from spoiling until they hit their final destination. Bulk containers, silo bags, pouches, clamshells, bottles, and trays are examples of agricultural packaging items. Plastics, glass, jute, and paperboards are popular materials used in agricultural packaging. High-density polyethylene (HDPE), low-density polyethylene (LDPE), and polypropylene are the plastics used in agricultural packaging (PP). Agricultural packaging is also used in the agrochemicals industry. In nature, pesticides and fertilizers are poisonous. As a result, they need advanced agricultural packaging that will minimize risk during handling, transportation, and storage. Agricultural packaging for pesticides and fertilizers is designed to improve sealing, reduce operating costs, and prevent packaging failure. This packaging improves the shelf life of agricultural goods and reduces loss during shipping.
Industry Growth Factors
Growing demand for agrochemicals around the world, rising preferences for user-friendly solutions, the demand for seed storage containers along with the growth of the packaging industry, and the uses of agriculture packaging for storage, assembling, shipment, handling, and other purposes are some contributing factors that will likely drive positive growth in the agriculture packaging industry. High raw material prices, as well as an increase in the use of recycled and outdated packaging materials, are expected to stymie the growth of the agriculture packaging market during the forecast period. Environmental, as well as recycling issues, will hinder the growth of the sector. Furthermore, the increasing demand for effective and environmentally friendly packaging, as well as strict environmental regulations for the promotion of sustainable packaging solutions, would create enormous opportunities for the agriculture packaging market to expand during the forecast period.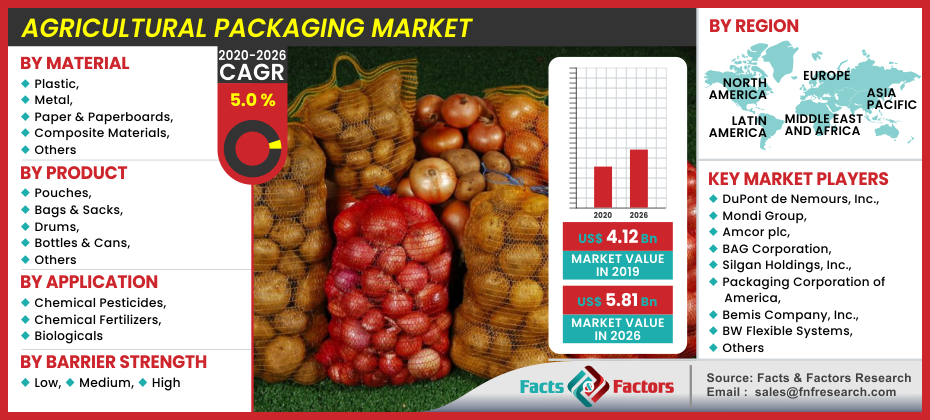 To know more about this report | Request Free Sample Copy
Segmentation Analysis
The global agricultural packaging market is segregated on the basis of material, product, application, and barrier strength. The material has been classified into plastic, metal, paper & paperboards, composite materials, and others. Due to the growing demand for flexible packaging, which consumers prefer, plastic packaging is influencing the market growth. As stated by the Flexible Packaging Association, more than sixty percentile of North American consumers are willing to pay for benefits such as quality safety, supply chain efficiency, and shipping friendliness, among others. ? The product has been categorized into pouches, bags & sacks, drums, bottles & cans, and others. Agrochemical products in solid/dry formulations have been introduced by a lot of major players. The pouches & bags segment is expected to grow at a rapid rate over the forecast period as the usage of pouches and bags helps to keep agrochemicals secure during storage and handling operations. These are used to pack chemical pesticides, biologicals, and chemical fertilizers. The barrier strength is divided into low, medium, and high. By 2026, medium barrier intensity is projected to be a lucrative market segment as these containers have mid-level barrier strength and are reasonably priced.
Regional Analysis
The agricultural packaging market in North America and Europe is expected to grow linearly over the forecast period, as the market has reached maturity and is expected to lose a significant amount of market share to the Asia Pacific. Key agricultural packaging manufacturers are eyeing APAC markets as a way to expand economically by efficiently using capital from India and other developing countries at a competitive pace. The Asia-Pacific region is dominating the market for agricultural packaging development. Various other end-use industries, such as crop, pesticides, and fertilizers, are expected to expand at a healthy rate over the forecast period as a result of increased agricultural production. Citing an instance, Alibaba, the Chinese e-commerce giant, recently entered the farming industry by implementing artificial intelligence in agriculture to help farmers increase crop yield while lowering costs. Farmers were able to access Alibaba's digitally captured information on their smartphones, allowing them to track whether fruits were ready to harvest or if pests were attacking their standing crops. Thereby, certain factors are contributing to the growth of the market. The agricultural sector in Latin America and the Middle East and Africa is projected to develop at a positive pace during the forecast period. Over the forecast period, the global agricultural packaging market is expected to grow at a healthy rate.
Competitive Players
Some main participants of the global agricultural packaging market are DuPont de Nemours, Inc., Mondi Group, Amcor plc, BAG Corporation, Silgan Holdings, Inc., Packaging Corporation of America, Bemis Company, Inc., BW Flexible Systems, Epac Holdings, LLC., Greif, Inc., JenJil Packaging Inc., Kenvos Biotech Co., Ltd, LC Packaging International Bv, NNZ Group, Parakh Group, Proampac LLC, Purity Flexpack Ltd., Rebelo Agricultural Group, and Sonoco Products Company amongst others.
Agricultural Packaging Market: Regional Segment Analysis
North America
Europe

UK
France
Germany
Italy
Spain
Rest of Europe

Asia Pacific

China
Japan
India
South Korea
Southeast Asia
Rest of Asia Pacific

Latin America

Brazil
Mexico
Rest of Latin America

Middle East and Africa

GCC Countries
South Africa
Rest of MEA