Industry Insights
[223+ Pages Report] According to the report published by Facts Factors, the global functional food market size was worth around USD 233,620.2 million in 2021 and is predicted to grow to around USD 418,440 million by 2028 with a compound annual growth rate (CAGR) of roughly 8.79% between 2022 and 2028. The report analyzes the global functional food market drivers, restraints/challenges, and the effect they have on the demands during the projection period. In addition, the report explores emerging opportunities in the functional food market.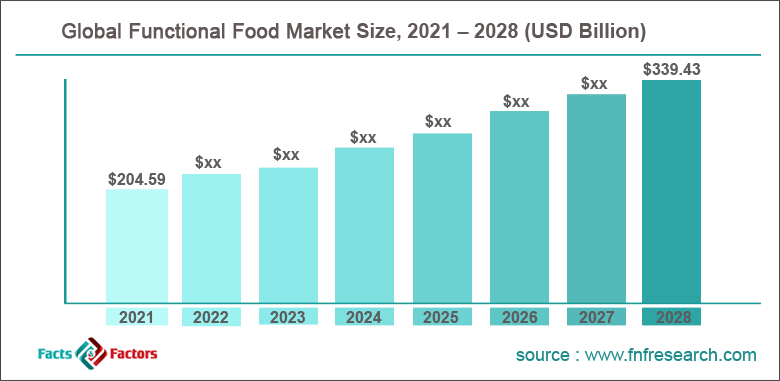 To know more about this report | Request Free Sample Copy
Market Overview
Functional food items are a part of the larger food industry and entail consumption items that are claimed to provide the additional nutritional value of added functions when combined with other ingredients that are either naturally present or artificially created. Functional food can also refer to nutritional properties bred into the already existing plants, for instance, gold or purple potatoes comprising more carotenoid or anthocyanin content, respectively. Many producers of functional food artificially design items to cater to the requirements of consumers with medical conditions like prevention or risk reduction of chronic diseases. In most cases, they are similar to conventional food products and are consumed like other dietary items.
Key Insights
As per the analysis shared by our research analyst, the global functional food market is estimated to grow annually at a CAGR of around 8.79% over the forecast period (2022-2028).
In terms of revenue, the global functional food market size was valued at around USD 233,620.2 million in 2021 and is projected to reach USD 418,440 million, by 2028. Due to a variety of driving factors, the market is predicted to rise at a significant rate.
Based on product segmentation, dairy products were predicted to show maximum market share in the year 2021
Based on application segmentation, sports nutrition was the leading application in 2021.
On the basis of region, Asia-Pacific was the leading revenue generator in 2021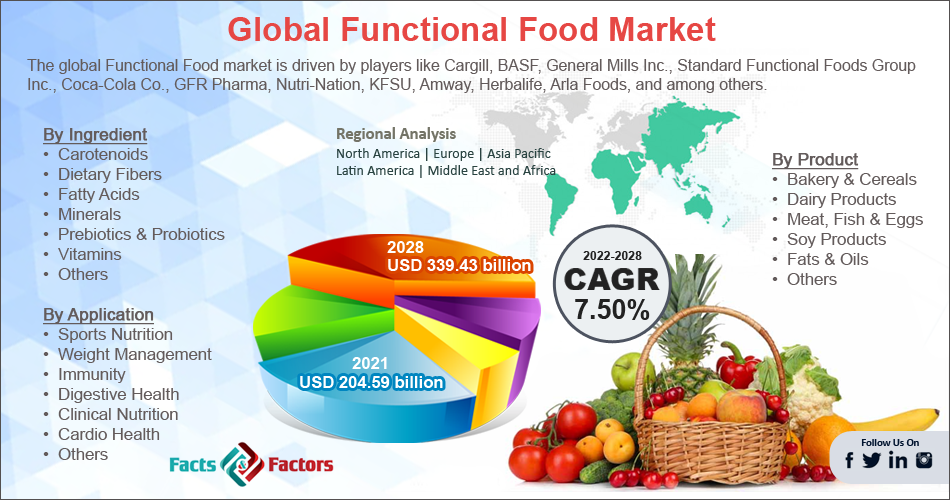 To know more about this report | Request Free Sample Copy
Covid-19 Impact
The global market cap received a positive push during the pandemic. Although there were initial concerns about the availability of the products owing to transport restrictions, however, since food items were a part of the essential segment, the supply chain was not severely impacted. As per a survey conducted by Kerry, more than 40% of the respondents claimed to have increased their purchase of functional foods since the start of the pandemic.
Growth Drivers
Growing health concerns to attract more consumers in the coming years
The global functional food market is projected to grow during the forecast period owing to the rising trend of health awareness and consciousness amongst the general population. The Covid-19 virus most severely infected people who had lower immunity or were struggling with other medical conditions. This fact acted as a major driver for people to start taking physical and mental health more seriously and invest in food items or activities that contribute to a better health index. A lot of people are accommodating functional food in regular diet forms driven by the benefits associated with the consumption of such products. For instance, the consumption of a balanced diet including fruits and green vegetables is known to eliminate any vitamin or calcium deficiency naturally without the intake of artificial supplements. Japan launched iron-reinforced wheat flour which was claimed to have reduced the population of anemic children by 50%.
Restraints
Presence of phytochemicals to restrict market expansion
Phytochemicals are biologically active compounds that are found in plants. The presence of these compounds can cause confusion when working toward determining an effective diet plan. There are also rising concerns about the loss of nutrition that occurs when natural functional foods undergo processing. During the manufacturing stage, the active ingredients could change from levo-from to dextro-form, causing a reduced nutritional value.
Opportunities
Increasing investment in the advertisement of the products to provide growth opportunities
Commercial suppliers of functional food items spend heft amounts on exhaustive production, marketing, and advertising activities to reach a larger consumer segment. This involves the constant addition of new products to the market while also upgrading the already existing products. Many functional food products are advertised as effective in managing certain diseases, however, such claims may not necessarily have the essential scientific backing. These factors together may lead to the generation of a larger consumer database in the coming years.
Challenges
High cost to create challenges during the market growth trend
Functional food is relatively higher priced than traditional food products resulting in the loss of certain consumer segments from the low or middle-income group. Even if these products are consumed in these segments, the frequency of purchase is low. This trend is mostly observed in underdeveloped economies of some parts of developing and first-world nations. For instance, as per statistics by the World Bank, more than 10% of the American population was below the poverty line in 2019.
Segmentation Analysis
The global functional food market is segmented based on product, ingredient, application, and region.
Based on product, the global market is divided into dairy products, bakery & cereals, soy products, fats & oils, fish & eggs, and others. The global market was led by the dairy segment in the previous year owing to the high consumption level of products like milk, cheese, and yogurt and the constant product innovation in this food category. The segmental revenue was around USD 48.832 million in 2019.
Based on ingredient, the global market is segmented into minerals, probiotics, prebiotics, proteins & amino acids, vitamins, dietary fibers, and others. The dominating segment is the dietary fibers and vitamins section. The components form an extremely crucial part of a healthy diet and are highly recommended by medical professionals with adequate intake daily. For instance, almonds have high vitamin E3 content and are well-known for skin benefits.
Based on application, cardiovascular health, weight management, sports nutrition, clinical nutrition, and others are the main segments. Sports nutrition leads the segmental growth with a projected CAGR rate of 6.55% in the coming years. The increasing awareness about physical and mental health benefits associated with functional food may drive the demand in this segment.
Recent Developments:
In February 2021, a British multinational consumer goods company announced that the company will now focus on increasing investment in plant-based and functional food products. With this move, the company plans to expand its portfolio in the coming years as part of its renewed strategy.
In August 2020, Bunge Ltd., an Indian agricultural commodities provider, invested USD 30 million in Merit Functional Foods Corporation, a Canadian plant-based protein provider. This has provided Bunge with a minority interest in the invested company and will accelerate the construction of a protein facility by Merit in Winnipeg, that will be used for the production of canola protein and novel pea ingredients
Report Scope
| | |
| --- | --- |
| Report Attribute | Details |
| Market Size in 2021 | USD 2,33,620.2 Million |
| Projected Market Size in 2028 | USD 4,18,440 Million |
| CAGR Growth Rate | 8.79% CAGR |
| Base Year | 2021 |
| Forecast Years | 2022-2028 |
| Key Market Players | Laird Superfood, GENERAL MILLS, Unilever, Abbott, Clif Bar & Company, Kellogg Company, and others. |
| Key Segment | By Product, Ingredient, Application, and Region |
| Major Regions Covered | North America, Europe, Asia Pacific, Latin America, and the Middle East &, Africa |
| Purchase Options | Request customized purchase options to meet your research needs. Explore purchase options |
Regional Analysis
Asia-Pacific to generate the highest revenue during the forecast period
The global functional food market is projected to be led by Asia-Pacific in the coming years majorly owing to the region housing around 50% of the world's population in countries like India and China. This has propelled the food consumption rate which is further fueled by the increased per capita income capacity and a growing number of health-conscious people. China has been working relentlessly to become a world leader in the coming years and it currently is the second largest economy, following the United States. However, it leads the global market in terms of food grain production as its export. India, on the other hand, is witnessing a high rise in investment directed toward the food industry following government policies to attract more foreign direct investment (FDI). Between April 2000 and March 2022, total FDI in India is claimed to be around USD 847 billion of which around USD 523 billion was seen in the last 8 years, as per official records.
Competitive Analysis
Laird Superfood
GENERAL MILLS
Unilever
Abbott
Clif Bar & Company
Kellogg Company.
The global functional food market is segmented as follows:
By Product
Dairy Products
Bakery & Cereals
Soy Products
Fats & Oils
Fish & Eggs
Others
By Ingredient
Minerals
Probiotics
Prebiotics
Proteins & Amino Acids
Vitamins
Dietary Fibers
Others
By Application
Cardiovascular Health
Weight Management
Sports Nutrition
Clinical Nutrition
Others
By Regional Segment Analysis
North America
Europe

France
The UK
Spain
Germany
Italy
Nordic Countries
Benelux Union

Belgium
The Netherlands
Luxembourg

Rest of Europe

Asia Pacific

China
Japan
India
Australia
South Korea
Southeast Asia

Indonesia
Thailand
Malaysia
Singapore
Rest of Southeast Asia

Rest of Asia Pacific

The Middle East & Africa

Saudi Arabia
UAE
Egypt
South Africa
Rest of the Middle East & Africa

Latin America

Brazil
Argentina
Rest of Latin America