Industry Insights
[211+ Pages Report] According to Facts and Factors, the global plant based dairy products market size was worth around USD 11.2 billion in 2021 and is predicted to grow to around USD 31.5 billion by 2028 with a compound annual growth rate (CAGR) of roughly 10.5% between 2022 and 2028. The report analyzes the global plant based dairy products market drivers, restraints/challenges, and the effect they have on the demands during the projection period. In addition, the report explores emerging opportunities in the plant based dairy products market.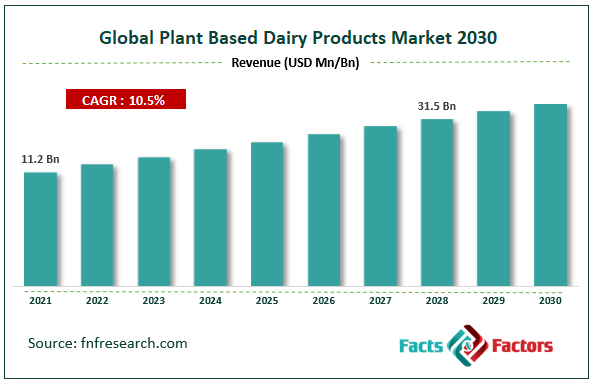 To know more about this report | Request Free Sample Copy
Market Overview
Plant based dairy products are items that are created using vegetables or plants only and do not comprise any raw material from animals. These products are an important part of the vegan culture which can be observed across the globe. A large section of society is looking for purely plant based options when it comes to eating habits owing to the increasing side effects shown by animal-based dairy products. Dairy products, in general, have been losing popularity since they have been claimed to impact human health in the long run, for instance, women suffering from Polycystic ovary syndrome or severe acne problems are recommended to stay away from animal-based dairy products as it leads to reinforcement of the medical condition due to added hormonal changes. This has given rise to the demand for healthier substitutes like coconut milk, soy milk, hemp seeds, and dairy-free yogurt, to name a few. These products come with their own set of benefits like lower calorie count, lesser fat content, reduced sugar levels, and higher protein compositions, helping the global market cap gain more popularity.
Key Insights
As per the analysis shared by our research analyst, the global plant based dairy products market is estimated to grow annually at a CAGR of around 10.5% over the forecast period (2022-2028).
In terms of revenue, the global plant based dairy products market size was valued at around USD 11.2 billion in 2021 and is projected to reach USD 31.5 billion, by 2028. Due to a variety of driving factors, the market is predicted to rise at a significant rate.
Based on distribution channel segmentation, supermarkets were predicted to show maximum market share in the year 2021
Based on product segmentation, milk was the leading revenue-generating product in 2021.
On the basis of region, North America was the leading revenue generator in 2021
Covid-19 Impact:
The global market size showed a mixed response to the pandemic spread. With growing concerns about animal-based food items, more people showed hesitation toward animal-based dairy products as well seeing this, plant-based dairy product creators grabbed the opportunity to educate the population about the benefits of animal-content-free products which may show numerically positive results in the coming years.
Growth Drivers
Rising vegan culture to propel market growth
The global plant based dairy products market growth trend is expected to be propelled by the rising awareness and adoption of vegan culture in many countries. Veganism refers to the philosophy of avoiding, as far as possible, any activity involving the exploitation of or cruelty against animals for all purposes including food. The culture is termed as a sustainable way of cohabiting with other living organisms and is gaining extreme popularity with people consciously choosing plant-based products including dairy items. As per an article by the VOU, the vegan population in the United States (US) grew by 600% between 2014 and 2018, with the number rising from 4 million to 20 million in the respective years. The trend is projected to help the market grow further alongside the claims of higher health benefits with plant-based products. As per claims, animal component-free products enhance the good traits of a foot item and reduce the bad traits.
Restraints
High price of products to restrict the market growth
The global market size may witness restricted growth because of the high price of plant-based items. Where animal-based products are readily accessible while being sold at affordable prices, plant-based products are relatively higher in price rendering them unaffordable to be accepted as a regular diet form.
Opportunities
Growing efforts by units against animal cruelty to provide market growth opportunities
The global market cap is expected to benefit from the growing efforts undertaken by agencies against animal cruelty to educate the masses about the benefits of switching to plant-based animals. Not only are animal-based dairy products harmful to the human body in the long run, but it also leaves harmful negative impacts because of disruption in the ecosystem. The higher the awareness rate, the more people are likely to incline toward sustainable eating habits.
Challenges
Insufficient number of suppliers to challenge market growth
The claimed benefits of switching to plant-based dairy items are still being researched and scientific conclusions about the concrete benefits of these items are yet to be published. There are claims that plant based dairy products may not deliver exactly as promised to result in a lesser number of producers in the global market. This directly correlates to the higher prices of these products as there are limited options. More research and conclusive data are required to generate higher confidence amongst the population and the manufacturers.
Segmentation Analysis
The global plant based dairy products market is segmented based on product, end-user, distribution channel, and region.
By product, the global market segments are milk, butter, frozen desserts, yogurt, cheese, and creamers. Milk leads the segment with almond milk generating a revenue of 344 million in the first three months of 2021, as reported by Statista
By end-user, the global market segments are business-to-business (b2b), and business-to-consumer (b2c). The global market is currently dominated by the b2c segment because of high dairy consumption in general with an average of 65 kilograms per person in European countries, as of 2020
Based on distribution channel, the global market is divided into retails, supermarkets, local shops, and others. Supermarkets are leading the segment since they have more options. As per official studies, more than 29.5% of people prefer supermarkets.
Recent Developments:
In December 2021, The Food Safety and Standards Authority of India (FSSAI), issued a statement that any plant based product, including beverages and food items, cannot be labeled as milk products. It directed e-commerce platforms in the country to remove plant-based products from the 'dairy' section with immediate effect. The statements came as a result of a complaint filed by the National Co-operative Dairy Federation of India objecting to the labeling of plant-based products as dairy.
In July 2022, Danone, a leading food company, launched the first-of-its-kind Dairy and Plants Blend baby formula, influenced by the rising demand from parents for flexitarian and vegetarian options for babies. The product is 40% dairy-based and 60% plant-based, combining the benefits of breastmilk and plant nutrients.
Report Scope
| | |
| --- | --- |
| Report Attribute | Details |
| Market Size in 2021 | USD 11.2 Billion |
| Projected Market Size in 2028 | USD 31.5 Billion |
| CAGR Growth Rate | 10.5% CAGR |
| Base Year | 2021 |
| Forecast Years | 2022-2028 |
| Key Market Players | Chobani, Lactalis, Unilever, Nestle, General Mills, Saputo, The Hain Celestial Group Inc., Axiom Foods Inc., Danone SA., Sahmyook Foods., and Others |
| Key Segment | By Product, End-User, Distribution Channel, and Region |
| Major Regions Covered | North America, Europe, Asia Pacific, Latin America, and the Middle East &, Africa |
| Purchase Options | Request customized purchase options to meet your research needs. Explore purchase options |
Regional Analysis
North America to be driven by a high awareness rate during the projection period
The global plant based dairy products market is projected to be dominated by North America in the coming years owing to the high awareness rate about the products and their benefits. This subsequently affects the demand for the product resulting in a higher number of suppliers as compared to other regions where the demand is relatively lower. The increasing population of health-conscious people is an important factor for the increased regional revenue.
Europe is projected to grow significantly because of the growing number of vegan populations. As per a study by Veganz, around 30% of European people choose a vegan lifestyle, out of which Austria led the way, with 31.8%, Germany with 30%, and Portugal with 28.6%. Over 57% of the respondents mentioned that they would prefer to go vegan in the coming years which is an indication of the potential market penetration in the coming years.
Competitive Analysis
Chobani
Lactalis
Unilever
Nestle
General Mills
Saputo
The Hain Celestial Group Inc.
Axiom Foods Inc.
Danone SA.
Sahmyook Foods.
The global plant based dairy products market is segmented as follows:
By Product
Milk
Butter
Frozen Desserts
Yogurt
Cheese
Creamers
By End-User
Business-to-Business (B2B)
Business-to-Consumer (B2C)
By Distribution Channel
Retails
Supermarkets
Local Shops
Others
By Regional Segment Analysis
North America
Europe

France
The UK
Spain
Germany
Italy
Nordic Countries
Benelux Union

Belgium
The Netherlands
Luxembourg

Rest of Europe

Asia Pacific

China
Japan
India
Australia
South Korea
Southeast Asia

Indonesia
Thailand
Malaysia
Singapore
Rest of Southeast Asia

Rest of Asia Pacific

The Middle East & Africa

Saudi Arabia
UAE
Egypt
South Africa
Rest of the Middle East & Africa

Latin America

Brazil
Argentina
Rest of Latin America