Industry Insights
[215+ Pages Report] According to Facts and Factors, the global goat milk powder market was valued at USD 2.2 billion in 2021 and is predicted to increase at a CAGR of 8.2% to USD 3.32 billion by 2028. The study examines the market in terms of revenue in each of the major regions, which are classified into countries.
Market Overview
Goat milk powder is prepared after the evaporation and drying of goat milk. The cream of goat's milk is first skimmed and then dried. The goat milk powder finds its uses in yogurt and cheese making, baby food, ice cream, chocolates, and food for older people. Goat milk powder derives its benefits from goat milk, which is highly nutritious because it contains many essential vitamins such as vitamin A, vitamin D, folic acid, and minerals like sodium, potassium, iron, and calcium. It also contains vital amino acids, fats, good cholesterol, and protein. This helps lower blood pressure levels, improve metabolism, maintain good heart health, improve nerve function, and increase the growth of good stomach bacteria. Goat milk is also considered a super-food that can increase blood platelet count in patients with dengue fever.
Furthermore, it can help with magnesium deficiency, anemia, asthma, and skin and digestive system disease. The primary market driver for the global goat milk powder is its high nutritional value. There is a rising awareness among people about the benefits of goat milk powder as they adopt healthy lifestyles. Goat Milk contains A2 casein, which is also present in breast milk. This makes it easily digestible by babies. Such benefits have been causing an increase in the consumption of goat milk powder by infants, driven by a rise in the newborn population and bottle-feeding culture.
The E-commerce of goat milk powder products could be an excellent opportunity for marketers due to its time-saving and cost-effective nature. Furthermore, due to the increasing demand for goat milk and meat, governments worldwide offer incentives to farmers and entrepreneurs to enter commercial goat farming. Increasing population and rising income levels in developing countries are excellent opportunities for market players to expand to the untapped markets. Also, the multiple applications of goat milk powder in the food industry and its long shelf life are prominent factors that will boost the market during the forecast period. However, goat milk is expensive, which could impede the market's growth, along with an increasing vegan population giving up animal products such as milk and meat.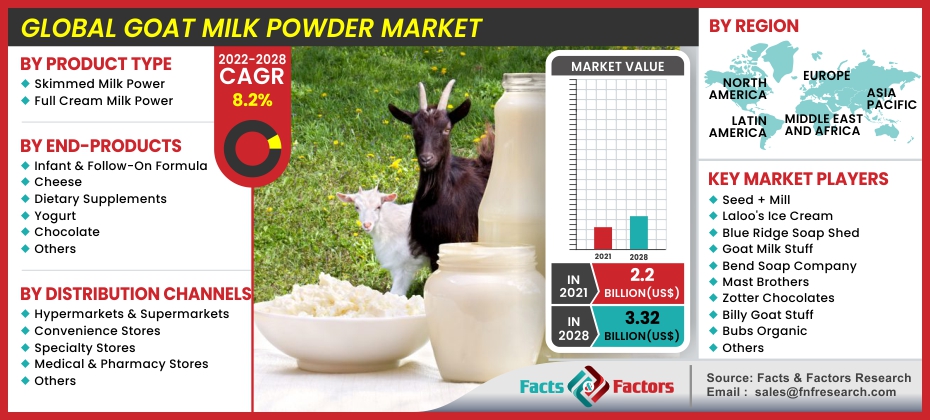 To know more about this report | Request Free Sample Copy
Impact of COVID - 19
The Covid-19 pandemic has disrupted global businesses by hampering distribution channels, creating a large-scale disruption in the demand-supply mix. Production units were shut down globally, impacting production and sale. However, the demand for goat milk and its products, including goat milk powder, has risen, driven by its numerous health benefits, most importantly immunity-boosting capability. Customers have shifted to online retail platforms for buying goat milk powder, which is an excellent opportunity for marketers.
The complete research study looks at both the qualitative and quantitative aspects of the goat milk powder market. Both the demand and supply sides of the market have been investigated. The demand side study examines market income in various regions before comparing it to all major countries. The supply-side research examines the industry's top rivals and their regional and global presence and strategies. Each major country in North America, Europe, Asia Pacific, the Middle East, Africa, and Latin America is thoroughly investigated.
Segmentation Analysis
The global goat milk powder market is segregated based on Product type, end products, and Distribution channels.
In terms of product type, in 2021, the skimmed milk powder category accounted for more than half of the global milk powder market. Rising concerns among populations about health issues such as obesity, diabetes, cardiovascular diseases, and changing food habits and lifestyles propel the demand in this category.
In terms of distribution channels, in 2021, the hypermarkets and supermarkets category accounted for the largest share of the market. The easy availability of groceries under a single roof has been the driving force behind this.
Report Scope
| | |
| --- | --- |
| Report Attribute | Details |
| Market Size in 2021 | USD 2.2 Billion |
| Projected Market Size in 2028 | USD 3.32 Billion |
| CAGR Growth Rate | 8.2% CAGR |
| Base Year | 2021 |
| Forecast Years | 2022-2028 |
| Key Market Players | Seed + Mill, Laloo's Ice Cream, Blue Ridge Soap Shed, Goat Milk Stuff, Bend Soap Company, Mast Brothers, Zotter Chocolates, Billy Goat Stuff, Bubs Organic, Keytone Dairy Corporation Limited, Mt. Capra, Shaanxi Guanshan DairyCo. Ltd., Shaanxi RedstarMeiling Dairy Co. Ltd., CapriLac, The Good Goat Milk Company, Holle, Baiyue Dairy Group, FIT Company, Meyenberg Goat Milk Products, Goat Partners International, AVH Dairy Trade B.V., Ausnutria Diary Corporation Ltd, Dairy Goat Co-Operation (DGC), and Others |
| Key Segment | By Product Type, End-products, Distribution Channels, and Region |
| Major Regions Covered | North America, Europe, Asia Pacific, Latin America, and the Middle East & Africa |
| Purchase Options | Request customized purchase options to meet your research needs. Explore purchase options |
Regional Landscape
North America holds the largest share of the global goat milk powder market during the forecast period. The increasing demand for milk food and dairy products is expected to drive demand for goat milk powder in the region. The U.S., with its large number of dairy farms, dominates the North American goat milk powder market, and factors like increasing goat cheese demand and the rising lactose-intolerant population in the country add to its market expansion.
The Asia-Pacific region is projected to grow at the fastest CAGR during the forecast period. The precipitating factors for this have been identified as rising health awareness, increasing disposable incomes, increasing need for infant formula in China, and westernization.
List of Key Players in the Global Goat Milk Powder Market:
Seed + Mill
Laloo's Ice Cream
Blue Ridge Soap Shed
Goat Milk Stuff
Bend Soap Company
Mast Brothers
Zotter Chocolates
Billy Goat Stuff
Bubs Organic
Keytone Dairy Corporation Limited
Mt. Capra
Shaanxi Guanshan Dairy Co. Ltd.
Shaanxi RedstarMeiling Dairy Co. Ltd.
CapriLac
The Good Goat Milk Company
Holle
Baiyue Dairy Group
FIT Company
Meyenberg Goat Milk Products
Goat Partners International
AVH Dairy Trade B.V.
Ausnutria Dairy Corporation Ltd
Dairy Goat Co-Operation (DGC)
The global goat Milk powder market is segmented as follows;
By Product Type
Skimmed Milk Powder
Full Cream Milk Powder
By End-products
Infant & Follow-On Formula
Cheese
Dietary Supplements
Yogurt
Chocolate
Others
By Distribution Channels
Hypermarkets & Supermarkets
Convenience Stores
Specialty Stores
Medical & Pharmacy Stores
Others
By Regional Segment Analysis
North America
Europe

France
The UK
Spain
Germany
Italy
Nordic Countries
Benelux Union

Belgium
The Netherlands
Luxembourg

Rest of Europe

Asia Pacific

China
Japan
India
Australia
South Korea
Southeast Asia

Indonesia
Thailand
Malaysia
Singapore
Rest of Southeast Asia

Rest of Asia Pacific

The Middle East & Africa

Saudi Arabia
UAE
Egypt
South Africa
Rest of the Middle East & Africa

Latin America

Brazil
Argentina
Rest of Latin America