Industry Insights
[209+ Pages Report] According to Facts and Factors, during the forecast period of 2022 to 2028, the global cheese powder market is estimated to develop at a compound annual growth rate (CAGR) of 6.8%. The global cheese powder market was valued at USD 580 million in 2021, and it is predicted to exceed USD 950 million by 2028. The study investigates several elements and their consequences on the growth of the cheese powder market.
Market Overview
Cheese powder is basically cheese that has been dehydrated. It can be manufactured in a variety of methods, but the most typical commercial method is to melt fresh, complete cheese and then spray it via a hot dryer, resulting in a rich, smooth powder that can be used in bread, popcorn, & sauces, and, strangely enough, homemade cheese recipes. The most common type of cheese powder is cheddar, although it also comes in Swiss, sharp, and a few varieties. It is not commonly found on grocery store shelves, but it is available from several online cheese-making supply businesses as well as spice and baking product stores.
Cheese powder is most typically used in cheese recipes for flavor. A cheese (particularly one eaten fresh) can sometimes taste bland or sharp, especially a goat's milk cheese, but adding cheese powder can dramatically alter the flavor. Cheese, salt, whey, and maybe an anti-caking ingredient are commonly found in high-quality cheese powder.
Because cheese powder has no standardized identity, the grade of cheese powder from different sources fluctuates, potentially changing the components and flavor of the cheese powder. Cheese powder has been shown to be the most effective hard cheese alternative.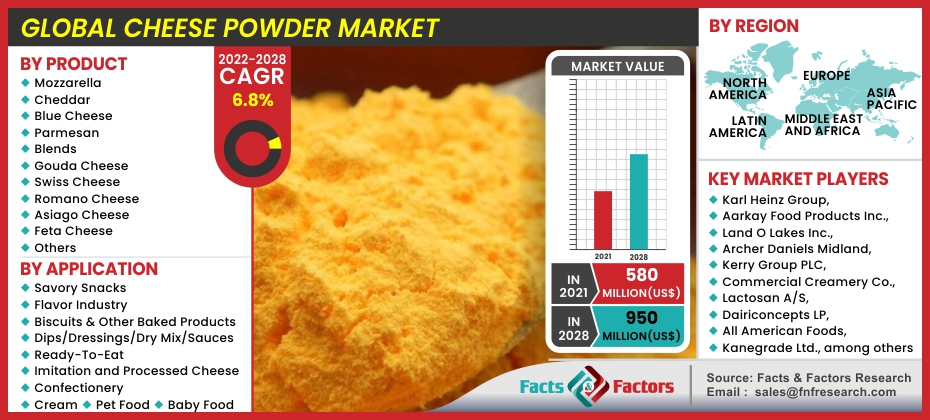 To know more about this report | Request Free Sample Copy
COVID-19 Impact:
Cheese consumption has risen as a result of people spending more time at home during the outbreak. More than 36% of people worldwide say their cheese consumption has increased. With the advent of the COVID-19 pandemic, the cheese business experienced a severe upheaval due to a major shift in market dynamics. Lockdowns all around the world have forced the food service sector to close, drastically cutting demand for all processed foods. As the market for high-end products declines, cheese prices are expected to fall. On the other hand, increased purchases of low-cost cheeses at wholesale pricing from retail shops for home cooking are projected to bring the supply chain back into balance. As the foodservice industry re-establishes on its own and cheese manufacturing resources are regenerated following the pandemic, the worldwide market is likely to rise in the next few years.
Growth Drivers
Increasing demand for convenience foods is propelling the market
The increased demand for convenience foods is one of the primary drivers of the cheese powder industry. Soups, sauces, packaged foods, and ready-to-eat meals are some of the most common industrial applications for cheese powders. Due to consumer demand for dairy formulations, the usage of cheese powder in domestic culinary preparations has increased, particularly in Europe and North America. Major food manufacturers are keen to use cheese as an element in a wide variety of recipes, including pasta, pizza, salads, burgers, sandwiches, bread, appetizers, soups, and sauces. Increased cheese powder usage in the food production, catering service, and food service industries is another driver driving global cheese powder market growth.
Furthermore, the growing number of Western food outlets in emerging countries throughout the Asia Pacific region, as well as their high demand for cheese-based goods, are driving the cheese powder market forward. According to the Department of International Trade, British cheese exports to Asia were USD 70 million in 2018, accounting for 12% of the total cheese export value. The product has a wide range of uses in food and beverages along with changing customer tastes leading to a preference for ready meals have increased the product demand. These factors are driving the global market.
Restraints
Loss of key flavor components, as well as high prices, may hinder industry growth
Some volatile taste components, such as dimethyl sulfide and diacetyl, which are vital to cheese flavor, may be lost during the process of turning cheese into cheese powder, which may impede demand and growth in the global market. The price of cheese powder is very high in comparison to hard cheese, which might also influence consumer purchasing criteria and limit the growth of the global cheese powder market.
Opportunities
Manufacturers have a plethora of options due to the growing demand for taste diversity
The availability of flavor variations is attributed to the rise of the cheese powder sector. Aside from enhancing the flavor profile, the powder also helps to extend the shelf life of bakery products, particularly packed baked goods. They also have a very low moisture content, giving them an 18-month shelf life. The longer shelf life of nutrition bars, snacks, soups, and readily available food is a major factor in the area of space. Because adding normal cheese to many processed items is challenging, powdered versions have allowed manufacturers to enter these sectors. As a result, several firms expanding into these snacking markets have begun selling powdered and freeze-dried versions.
Because of the regularity with which they are purchased and the ongoing taste advancements from the manufacturer's side, savory snacks have become a home staple for millennials and the younger population. Children's demography has also revealed a great preference for cheese snacks to satisfy their appetites. The young demographic has significant market potential for global industry expansion.
Challenges
The rising demand for low-fat cheese at a low price is a challenge
Consumers are increasingly becoming health-conscious these days, and they want their cheese to be nutritional, with minimal fat content and a "clean label," which means low amounts of added preservatives. All with the ideal mouthfeel, a delectable texture, and a reasonable price tag. Maintaining such a highly nutritious and low-fat content at such a low cost necessitates a simpler manufacturing process, which can be difficult for manufacturers.
Powdered cheese is likewise in high demand among consumers. They anticipate a flawless appearance, texture, taste, and mouthfeel. All of them are required for the product to stand out on the shelf. Achieving the desired product quality while avoiding pitfalls such as lumps and grittiness requires a complicated interaction between the component blend and the processing equipment.
Segmentation Analysis
The global cheese powder market is segregated on the basis of product, application, and region.
By product, the market is divided into mozzarella, cheddar, blue cheese, parmesan, blends, Gouda cheese, Swiss cheese, Romano cheese, Asiago cheese, feta cheese, and others. Cheddar cheese powder is a hard, ripened cheese with a long shelf life that has gained popularity owing to its unique flavor, aroma, and taste. It is extremely popular in the United States and Europe. The increased demand for specialty and premium flavors is projected to drive the expansion of the cheddar powder segment. Cheesemakers are focusing on providing personalized flavors that range from sugary and buttery to savory flavors.
In addition, producers are experimenting with new ingredients in order to develop new flavor profiles and service offers. In terms of value, Parmesan cheese powder is predicted to be the fastest-growing variety. Users frequently desire distinct & original flavors and natural ingredients, and they spend money on high-quality soups, sauces, soups, and dressings to improve texture, taste, and presentation.
By application, the market is segmented into savory snacks, flavor industry, biscuits & other baked products, dips/dressings/dry mix/sauces, ready-to-eat, imitation & processed cheese, confectionery, cream, and pet & baby food. In 2020, the savory snacks segment developed at a stable rate. Snack sales in emerging economies have more than doubled due to rising per capita discretionary money, creating a significant opportunity for the business. Snacks such as pre-packaged meals are becoming more common in developed nations as the working-class population grows. During the forecast period, the dips/dressings/dry mixes, and sauces segment is expected to hold the biggest market share. Sauces made from cheese powder are typically served with pasta, pizza, vegetables, and soups. Dips and sauces are typically served alongside fried foods, wings, and veggies. Asia Pacific region's increasing consumption of junk food has raised the demand for the product, resulting in a strong growth rate in the coming years.
Report Scope
| | |
| --- | --- |
| Report Attribute | Details |
| Market Size in 2021 | USD 580 Million |
| Projected Market Size in 2028 | USD 950 Million |
| CAGR Growth Rate | 6.8% CAGR |
| Base Year | 2021 |
| Forecast Years | 2022-2028 |
| Key Market Players | Karl Heinz Group, Aarkay Food Products Inc., Land O Lakes Inc., Archer Daniels Midland, Kerry Group PLC, Commercial Creamery Company, Lactosan A/S, Dairiconcepts LP, All American Foods, and Kanegrade Ltd., among others |
| Key Segment | By Product, Application, and Region |
| Major Regions Covered | North America, Europe, Asia Pacific, Latin America, and the Middle East & Africa |
| Purchase Options | Request customized purchase options to meet your research needs. Explore purchase options |
Regional Landscape
North America accounts for a sizable portion of the global market
In terms of revenue, the market in North America currently dominates the worldwide cheese powder market, owing to increased demand for convenience foods that are simple and ready-to-eat in this region throughout the forecast period. Due to increased customer desire for convenience food items in this area, the market in Europe accounted for the second-highest profit share in the global cheese powder market, followed by those in Latin America, Asia Pacific, and the Middle East & Africa, in that order. The market in the Asia Pacific is expected to expand the quickest in terms of revenue, owing to the increased disposable income of consumers, which allows them to afford more expensive food goods, which is fueling the expansion of the cheese powder market during the forecast period.
Recent Developments
July 2020: To reduce the rural broadband divide, Land O'Lakes Inc. and Microsoft Corp. unveiled a multi-year strategic agreement to pioneer agricultural innovations, improve the supply chain, and increase sustainable practices for farmers and the food system.
June 2021: Kerry Group plc, the global nutrition company, announced the signing of the agreement to obtain Hare Topco, Inc., doing business as Niacet Corp., from an associate of funds recommended by LP, SK Capital Partners, and other shareholders for USD 950 million in cash and debt-free terms, subject to conventional closing adjustments.
Competitive Landscape
Some of the main competitors dominating the global cheese powder market are :
Karl Heinz Group
Aarkay Food Products Inc.
Land O Lakes Inc.
Archer Daniels Midland
Kerry Group PLC
Commercial Creamery Company
Lactosan A/S
Dairiconcepts LP
All American Foods
Kanegrade Ltd.
The global cheese powder market is segmented as follows:
By Product Segment Analysis
Mozzarella
Cheddar
Blue Cheese
Parmesan
Blends
Gouda Cheese
Swiss Cheese
Romano Cheese
Asiago Cheese
Feta Cheese
Others
By Application Segment Analysis
Savory Snacks
Flavor Industry
Biscuits & Other Baked Products
Dips/Dressings/Dry Mix/Sauces
Ready-To-Eat
Imitation and Processed Cheese
Confectionery
Cream
Pet Food
Baby Food
By Regional Segment Analysis
North America

The U.S.
Canada
Mexico
Rest of North America

Europe

France
The UK
Spain
Germany
Italy
Nordic countries

Denmark
Finland
Iceland
Sweden
Norway

Benelux Reunion

Belgium
The Netherlands
Luxembourg

Rest of Europe

Asia Pacific

China
Japan
India
New Zealand
Australia
South Korea
Southeast Asia

Indonesia
Thailand
Malaysia
Singapore
Rest of Southeast Asia

Rest of Southeast Asia

The Middle East & Africa

Saudi Arabia
UAE
Egypt
Kuwait
South Africa
Rest of the Middle East & Africa

Latin America

Brazil
Argentina
Rest of Latin America