Industry Insights
[195+ Pages Report] According to the report published by Facts & Factors, the global surgical sponge market was estimated at approximately USD 2,000 Million in 2019 and is anticipated to generate revenue of around USD 2,500 Million by end of 2026, growing at a CAGR of around 3.5% between 2020 and 2026.
Market Overview
A surgical sponge is a kind of cotton pad that is used in surgeries for absorbing blood and other liquid discharge from the body. These sponges help in controlling bleeding as well as for cleaning wounds. The common sizes available of the surgical sponge are 5 cm x 5 cm, 7 cm x 7 cm, and 10 cm x 10 cm. These surgical sponges are available in various shapes and material type and their sterility type depends upon the raw material through which the sponge is made. They are also prepared using non-woven materials which facilitate in removing the dead tissue from the skin surface and prevents the discharge of any kind of liquid from the wound on the secondary dressing to avoid maceration of the skin tissue. These sponges can be reused or can be disposed of easily. They are also very easily available at clinics and hospitals are they are very essential while performing any kind of surgery.
Industry Growth Factors
Increased alliances and agreements among manufacturers for vaccine production and research & development is a key factor driving the surgical sponges market. Other major factors driving the surgical sponges market include rising cesarean rates around the world, a rise in the number of injuries, and an increase in the geriatric population, among others. Patients' changing tastes from open surgeries to minimally invasive surgical procedures are limiting factors for the surgical sponges' industry, which will pose a further challenge to the market's growth in the forecasted timeframe. In the forecasted period of 2020-2027, technological advances and new varieties of surgical sponges are expected to generate opportunities for the surgical sponge industry.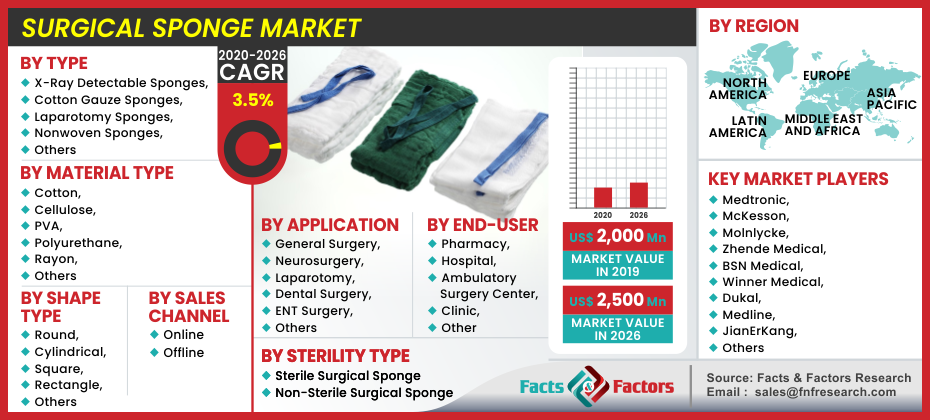 To know more about this report | Request Free Sample Copy
Segmentation Analysis
Based on type segmentation, the surgical sponge market is divided into x-ray detectable sponges, cotton gauze sponges, laparotomy sponges, nonwoven sponges, and others. The cotton gauze sponges are expected to hold the maximum market share owing to their high fluid absorbency. The cotton gauze sponges are used at all levels, from medical to corporate to personal. The substance control act governs this medication. As a result, it should be assembled to meet its quality management criteria. To have optimum protection and avoid friction, the cotton sponge should be chemically inert and smooth.
These properties can be obtained by making the substance according to industry standards. Raw cotton is refined into a sequence of steps to make it hydro-phallic and free of foreign impurities, making it ideal for surgical dressings and personal grooming. Cotton gauze sponge demand is closely linked to hospitals, dispensaries, nursing homes, and health care centers, among other places, boosting its demand in the surgical sponge sector. Based on material type, the market is segmented into cotton, cellulose, PVA, polyurethane, rayon, and others.
Cotton type, followed by cellulose material type is estimated to show maximum share as they are 100% natural and are biodegradable in nature. They are super absorbent and are able to clean up any kind of body liquid during surgeries and can even be used for sterilization of wounds by applying the sterilizing liquid on the cotton surface without causing any kind of side effect on human health.
On the basis of shape type, the market is bifurcated into round, cylindrical, square, rectangle, and others. The rectangle-shaped surgical sponge is widely used in surgeries as they are small and can be easily held in the hands. They can effectively wall off the surgical site and collect fluids, monitor hemostasis, and keep the surgical area clean and dry. These sponges are used for sensitive dissection and can also be used to mitigate tissue damage during fluid aspiration by placing them between the tissue and the suction tip. Based on the sterility type, the market is split into sterile surgical sponges and non-sterile surgical sponges.
The non-sterile surgical sponges are widely used by hospitals and clinics as they are more cost-effective compared with sterile surgical sponges, providing good cushioning support to any cuts or wounds. Based on the sales channel, an online sales channel is widely preferred as they provide consumers benefit from improved availability, lower purchase and medication prices, accessibility, and greater privacy. They also have connectivity to those with reduced mobility and others living in rural areas. Based on the application segment, the market is split into general surgery, neurosurgery, laparotomy, dental surgery, ent surgery, and others, in which the general surgery type shows the maximum usage of surgical sponges. The end-user segment is divided into pharmacy, hospital, ambulatory surgery center, clinic, and others. The hospital segment is considered to be the leading segment as a major count of surgeries of various types are operated at big hospitals owing to its big infrastructural and advanced medical facilities.
Report Scope
| | |
| --- | --- |
| Report Attributes | Details |
| Market Size in 2019 | USD 2,000 Million |
| Projected Market Size in 2026 | USD 2,500 Million |
| Growth Rate | CAGR 3.5% |
| Base Year | 2019 |
| Forecast Years | 2020 – 2026 |
| Key Market Players | ASC, Zhende Medical, Medtronic, Medicom, Molnlycke, Texpol, BSN medical, Dukal, Medline, Kettenbach, Cardinal Health, Crosstex, Hartmann, Allmed Medical, Lohmann &, Rauscher, Deroyal, Ahlstrom, Hakuzo, Owens & Minor, JianErKang, B. Braun, Winner Medical, and McKesson among others. |
| Key Segment | By Type, By Material, By Shape Type, By Sterility Type, By Sales Channel, By Segmentation, By End-User, By Regional |
| Major Regions Covered | North America, Europe, Asia Pacific, Latin America, and the Middle East & Africa |
| Purchase Options | Request customized purchase options to meet your research needs. Explore purchase options |
Regional Analysis
Owing to the well-developed medical technology, an increase in patients with illnesses requiring surgery, the reports of road accidents, high healthcare expenditures, and expanded government support for research and development activities, North America is expected to dominate the surgical sponge market over the forecasted timeframe. Furthermore, the country's presence of cutting-edge facilities will fuel market growth in the immediate future. In the coming years, the presence of major top corporations in the region is projected to fuel business growth. For instance, Stryker Corporation unveiled a surgical protection enterprise in September 2017 with a no-mistakes sponge device.
The program was dependent upon sponges who were bar-coded and sterile in nature for avoiding any kind of infection of virus transfusion and a digital console with open source software to keep track of all sponges. The machine boasted zero sponges left behind after nearly 11 million surgical operations over the past five years, including the usage of more than 200 million sponges. Because of the growing population and increasingly evolving healthcare services and technology, Asia Pacific is projected to have the highest CAGR. Furthermore, the growing aging population and demand for high-quality medical devices are likely to contribute to more specialized appliances being used, boosting surgical sponge market growth in the region.
Competitive Players
The major players dominating the global surgical sponge market in terms of revenue and development are Medtronic, McKesson, Molnlycke, Zhende Medical, BSN Medical, Winner Medical, Dukal, Medline, JianErKang, Cardinal Health, Hakuzo, Hartmann, Texpol, Deroyal, Lohmann & Rauscher, Allmed Medical, Ahlstrom, ASC, Medicom, Owens & Minor, Crosstex, B. Braun, Kettenbach, and Others. These major companies have used a variety of strategies to gain a respectable presence in the world market, including signing agreements, stakes, loans, partnerships, joint ventures, new product launches, agreements, and mergers and acquisitions. Signing deals, shares, leases, alliances, joint ventures, new product sales, collaborations, and mergers and acquisitions have all been used by these large corporations to gain a reputable position in the world economy.
For instance, ProCell Surgical Inc. launched ProCellTM in June 2020, a patented and newly designed medical technology that completely automated intraoperative autotransfusion (IAT) which traditionally used the manual and obsolete method of surgical sponge-blood recovery.
Surgical Sponge Market: Regional Segment Analysis
North America
Europe

U.K.
France
Germany
Rest of Europe

Asia Pacific

China
Japan
India
South Korea
Rest of Asia Pacific

Latin America

Brazil
Rest of Latin America

The Middle East and Africa

GCC Countries
South Africa
Rest of MEA