Industry Insights
[217+ Pages Report] According to Facts and Factors, the global metaverse in travel and tourism market is expected to be worth USD 220.8 billion by 2028, growing at a CAGR of 26.6% over the forecast period. This market report offers an in-depth analysis of the market. The report provides a thorough examination of key sections, advancements, drivers, barriers, the competitive landscape, and market segments.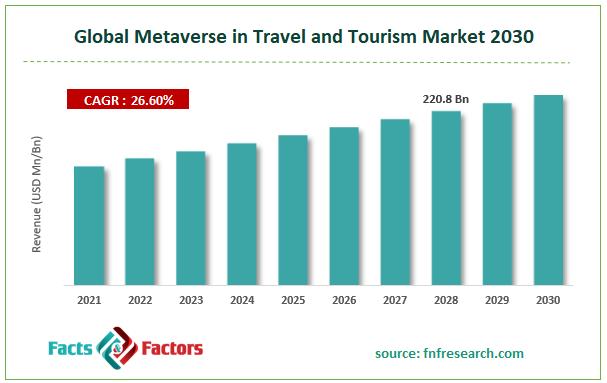 To know more about this report | Request Free Sample Copy
Market Overview
The metaverse, also known as the next iteration of the internet, has the potential to transform the digital world and create new opportunities in every end-use sector. Metaverse can be used in the hospitality industry to create truly unforgettable experiences for locals and tourists alike. The metaverse has enabled developers to build realistic sights and sounds of sites in the digital world while generating 3D virtual tours of hotels, event spaces, and amenities that offer a more immersive experience. The metaverse can also allow for greater anonymity between participants and much more realistic situations that can train hotel employees for guest conversations with both favorable and unfavorable inputs.
Drivers
Rising demand for VR & AR technology to boost the market growth
The increasing demand for VR and AR technology is a primary factor influencing growth in the metaverse market in the travel and tourism industry. Customers are constantly adopting virtual reality and augmented reality technology, whether for professional or personal use. Unlike traditional VR programs, Metaverse is a mixed reality (VR/AR) environment with unlimited access. During the forecast period, technological innovations will drive demand for VR and AR applications even more, since these applications will allow the user to use the technology in a much more user-friendly manner. Wearable technology platforms will almost certainly increase the utility of augmented reality (AR) in the global metaverse market in the travel and tourism industry. As a result, the expanding application areas of VR and AR technology will drive the global industry forward.
Putting more emphasis on booking volume by improving the booking experience to bolster growth
A global metaverse market in the travel and tourism industry that is anticipated to boost impact in the coming years is the increased focus on increasing booking volume by improving the booking experience. Metaverse travel and tourism services have the potential to significantly improve booking methods by providing accurate information that cannot be delivered precisely in any other way. This increases the likelihood that a customer will complete their booking journey instead of canceling. Travel agencies can use virtual reality tours to give their customers life-like experiences of places they want to visit.
During the booking process, the true value of metaverse offerings in the tourism and travel industry is their potential to raise overall booking volumes. This is due to the improved customer experience provided by the metaverse, in which customers can gain inspiration from augmented and virtual reality travel technology, and the real experience of booking hotels, taking trips, food service, and other services becomes more fun and interesting, informative, and a device for influencing buyers economic situation.
Restraints
Limited awareness to inhibit market growth
Low awareness of the metaverse, high costs of VR & AR device applications, and technical difficulties associated with metaverse development are some of the factors that may impede market growth during the forecast period. Furthermore, stringent cryptocurrency regulations, growing concerns about user privacy in connected virtual worlds, and adverse reactions of VR devices on health such as fatigue, dizziness, and physical injuries are some of the aspects that may restrict the adoption of metaverse-related resources and devices and limit market revenue growth in the future.
Segmentation Analysis
The global metaverse in travel and tourism market is segmented on the basis of technology, component, end-use, and region.
By technology, the market is divided into VR, AR, MR, XR, and blockchain. Over the forecast period, the augmented reality (AR) segment is estimated to hold a sizable revenue share. Increasing the use of augmented reality-infused navigation for virtual destination hours, technological advancements in AR-enabled devices, and expanding the use of AR to improve local transit, augmented reality gamification, & museum excursions will drive the segment's growth. Travelers can also benefit from AR-tech by increasing tourists' appetite & interest in new destinations; assisting travel agents in increasing booking amounts for flights & hotels, and improving travel experiences.
By component, the market is divided into hardware and software. The hardware segment is expected to grow at a rapid pace over the forecast period, owing to increased demand for immersive AR & VR technology, rapid developments in AR & VR devices, and increased use of AR- & VR-enabled devices for virtual tours, in-flight entertainment, theme park visits, and trial runs of tourist destinations and points of interest. Furthermore, the increasing use of AR-powered glasses for immersive experiences, as well as increased investment to accelerate advancements in metaverse technology, are required to contribute to the segment's revenue growth in the future.
By end-use, the market is divided into destination tours, room tours, theme parks and museums, trade and expos, natural attractions, and others. The destination tours segment is projected to grow significantly in revenue over the forecast period, owing to the metaverse's growing potential to change the way customers shop for destinations, accommodations, and attractions. Augmented reality is widely used to provide metaverse travel and tourism solutions such as the development of virtual hotel elements, AR-powered tourist places to visit, VR tours, and digital avatars, as well as other solutions to provide customers with information about the property, a sense of the size of the hotel rooms, and what amenities are available.
Customers could use virtual reality and augmented reality to experience new things without physically traveling, as well as to visit destinations that are remote, difficult to reach, and expensive to visit. Furthermore, metaverse technologies can assist customers and travelers in testing various journeys and excursions to their selected destinations, which can encourage bookings. These primary components are expected to contribute to the segment's revenue growth in the future.
Report Scope
| | |
| --- | --- |
| Report Attribute | Details |
| Projected Market Size in 2028 | USD 220.8 Billion |
| CAGR Growth Rate | 26.6% CAGR |
| Base Year | 2021 |
| Forecast Years | 2022-2028 |
| Key Market Players | Color Star Technology Co. Ltd., Marriot International, Beyondvision Cultural Development Co., Ltd., First Airlines, Google LLC, The Boeing Company, Powerbridge Technologies Co., Ltd., Microsoft Corporation, LynKey, Meta Platforms. Inc., Metaverse, and Ariva, and Others |
| Key Segment | By Technology, Component, End-Use, and Region |
| Major Regions Covered | North America, Europe, Asia Pacific, Latin America, and the Middle East & Africa |
| Purchase Options | Request customized purchase options to meet your research needs. Explore purchase options |
Regional Landscape
North America region to account for a large revenue share in the global market
According to regional analysis, North America is estimated to witness a substantially large revenue share in the global metaverse in travel and tourism market, owing to increased awareness and adoption of metaverse technologies and cryptocurrencies, the growth of the luxury tourism sector, and increased collaboration among metaverse-related businesses and travel enterprises to securely exchange information directly and strengthen travel experiences. Other factors estimated to bolster revenue growth in the region include technological advancements in AR and VR, a rise in the number of employees combining business and leisure trips due to work from anywhere concepts, expanding tourism businesses leveraging metaverse to accelerate recovery in a post-pandemic market, and the strong presence of key companies.
Over the forecast period, Asia Pacific is anticipated to register a rapid revenue CAGR, owing to an increasing number of travel companies investing in technology and product to ramp up cross-border travel retrieval, capitalizing on COVID-19-induced opportunities, and the rise of numerous metaverse-related start-up companies. To get regional travel back on track, leading players are attempting to develop travel and tourism platforms. Rapid internet infrastructure development, increasing smartphone penetration & accessibility to high-speed internet, a larger base of gamers, and digitalization consumption among the younger generation are anticipated to build lucrative opportunities for metaverse in the Asia Pacific market and contribute to revenue growth in the future.
Recent developments
November 2021: Metaverse, a Miami-based company, launched its 3D platform, where businesspeople can generate their own personas and hold virtual events, meetings, showrooms, and training courses. With its business metaverse for professionals who travel across the world, the company hopes to make executive travel obsolete. The company's goal is to alleviate the stress caused by airport security screenings, jet lag, and other travel inconveniences.
December 2021: Marriott Bonvoy, Marriott International's award-winning travel program with 30 elite hotel brands and countless experiences, announced a collaboration with emerging digital creatives to create three NFTs. Marriott Bonvoy will be the first hospitality brand to design its own NFTs, and it has introduced digital art inspired by the travel program's latest Power of Travel campaign.
Competitive Landscape
Some of the key global metaverse in travel and tourism market players are;
Color Star Technology Co. Ltd.
Marriot International
Beyondvision Cultural Development Co., Ltd.
First Airlines
Google LLC
The Boeing Company
Powerbridge Technologies Co., Ltd.
Microsoft Corporation
LynKey
Meta Platforms, Inc.
Metaverse
Ariva
The global metaverse in travel and tourism market is segmented as follows;
By Technology Segment Analysis
By Component Segment Analysis
By End-Use Segment Analysis
Destination Tours
Room Tours
Theme Parks and Museums
Trade Shows and Expos
Natural Attractions
Others
By Regional Segment Analysis
North America
Europe

France
The UK
Spain
Germany
Italy
Nordic Countries
Benelux Union

Belgium
The Netherlands
Luxembourg

Rest of Europe

Asia Pacific

China
Japan
India
Australia
South Korea
Southeast Asia

Indonesia
Thailand
Malaysia
Singapore
Rest of Southeast Asia

Rest of Asia Pacific

The Middle East & Africa

Saudi Arabia
UAE
Egypt
South Africa
Rest of the Middle East & Africa

Latin America

Brazil
Argentina
Rest of Latin America