Industry Insights
[217+ Pages Report] According to Facts and Factors, During the forecast period of 2022 to 2028, the global wearable technology market is estimated to develop at a compound annual growth rate (CAGR) of 18.5%. The global wearable technology market was worth USD 115.8 billion in 2021, and it is anticipated to exceed USD 380.5 billion by 2028. The study investigates several elements and their consequences on the growth of the wearable technology market.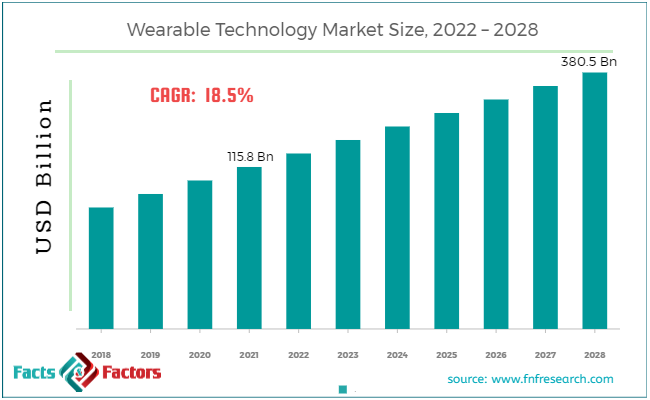 To know more about this report | Request Free Sample Copy
Market Overview
Wearable technology also referred to as "wearables," refers to a type of electronic device which can be put up as a fashion accessory, placed on the user's body, tattooed on the skin, or embedded in clothing. The devices are hands-free tools with useful applications that are powered by central processing units (CPUs) and can transmit data over the Internet.
Because of its rapid adoption, wearable technology has risen to the forefront of the Internet of Things. The growth of mobile networks has aided the development of wearable technology. Fitness trackers were the very first big trend in wearable technology to acquire consumer acceptance. The wristwatch was further converted into a display, and more potent software applications were made available. Bluetooth smart watches, headsets, and digital glasses can all receive data via Wi-Fi networks. The gaming industry is expanding its wearables with augmented reality and virtual reality headsets.
COVID-19 Impact
COVID-19 likely has had a negative impact on the market's supply chain because a few influential players were based in China, which was the epicenter of the pandemic. Furthermore, the vital wearable technology market is currently concentrating on preserving and producing operating revenue, resulting in fewer developments in the market. COVID-19's impact is expected to diminish during the forecast period as many previously postponed product launches and significant developments are eventually released.
Growth Drivers
Wearable technology in healthcare is expected to drive market growth
Customers' increasing desire to take control of their health is heavily impacting the use of wearable technologies in healthcare. Wearable technology in the healthcare sector is being facilitated by the growth of wearable devices like smartphones, fitness trackers, smart clothing, smartwatches, and so on. As new wearable technology is supported by advanced functions that monitor health-related issues and make the early diagnosis process more efficient for medical practitioners, the adoption of advanced wearable technology is increasing. Furthermore, the advent of wearable ECG monitors is gaining significant traction in the healthcare sector, which is steering the global wearable technology market.
Smartwatches are becoming increasingly popular, which is propelling the market growth
The growing use of internet access and digitalization has increased the demand for wireless devices. As a result of this deployment, sport and wireless fitness devices such as smartwatches and fitness trackers are in high demand. Furthermore, technological advancement has resulted in the establishment of Bluetooth smartwatches with built-in features that can be easily connected to mobile devices. These innovative Bluetooth smartwatches are easily portable, able to provide information at any time, and are also becoming a point of interest for customers, spurring the wearable technology market even further. Furthermore, the introduction of the Apple Watch Series 5 with its user-friendly, feature-packed, dependable, and customizable design is boosting the market growth. The majority of adults between the ages of 18 and 55 prefer to wear smartwatches as a fashion statement, which is driving the wearable technology market.
Advanced apparel, powered by technology, is accelerating market growth
The wearable technology market is benefiting from technological advancements in garment manufacturing. Garment manufacturers are incorporating advanced electronics into their products, resulting in the implementation of smart clothing, which has an impact on the medical industry. Smart clothing is gaining popularity among customers because it allows them to change the color of their clothes according to their preferences. Furthermore, top brands like Adidas and Nike are investing heavily in the rapid development of T-shirts fitted with sensors for monitoring health-related entities like heart rate, calories, and so on. The growing fitness consciousness, fueled by a slew of marathons and fitness events, is propelling the global wearable technology market forward.
Restraints
The market's growth may be hampered by limited battery life
The lack of an efficient and dependable battery system that can be comfortably worn without compromising the device's compactness and ease of use is a major impediment to the growth of the wearable technology market. The most difficult challenge for wearable computing as it moves toward the convergence of all computing devices into a single wearable device is managing the electrical load, power consumption, and battery recharging. With the increasing demand for wearable devices, it is critical not only to meet the power efficiency requirement cost-effectively but also to maintain power consumption. This component is thought to be a major market restraint.
Opportunities
Wearables that integrate all computing requirements into a single compact device are in high demand
Consumers prefer a single portable device that can handle all of their monitoring and computing needs. This preference provides an environment for the growth of hybrid and multi-function wearable devices that can provide users with convenience while also integrating the functionality of multiple devices into a single portable wearable device. In the coming years, the amount of such devices is projected to rise. Cellular technology solutions have become a leading medium for data communication and transmission, with a steady transition from the Plain Old Telephone System to cellular gateways and mobile phones. This factor is expected to provide an excellent opportunity for businesses to launch wearables that are linked to mobile devices such as tablets and smartphones.
Challenges
Safety, security, and privacy can be challenging to attain
Wearable technology is rapidly expanding, but the key challenge that is negatively impacting this technology is the need for customer safety, security, and privacy. Because wearable devices contain lithium batteries and are connected close to the body, they pose a risk to the customer. Furthermore, the user's security and privacy are jeopardized due to the increased risk of data manipulation by hackers. Security and privacy are also common factors that pose a risk to using wearable technology, as they result in a complete absence of end-to-end encryption of details, insecure communication, and the formation of cyber-related vulnerabilities.
It can be challenging to keep up with the demand for continual device development
The consumer electronics industry is a rapidly changing market. Market participants, on the other hand, face significant price encroachment as product lines with old technology end up losing their symbolic importance when a new technology develops. Technology advances at an incredible rate, and it is difficult to keep up with these advancements because by the time software developers create a prototype, the development has already revolutionized. Technologies are being developed at a fast rate and are being integrated as an added function into a variety of products. Consumers also prefer to buy products with more features that are technologically advanced. LCDs are the most widely used technology in the global market.
Segmentation Analysis
The global wearable technology market is segregated on the basis of type of product, application, and region.
By type of product, the market is divided into bodywear, neckwear, headwear, wristwear, footwear, and eyewear. Wristwear products accounted for 29.4% of the global wearable technology market in 2020. Due to the growing need for Bluetooth smartwatches and fitness tracking systems, wrist wearables are becoming increasingly popular. This is a computerized smartwatch phone with functions like making a phone call, browsing the web, and tracking health data. Wearable electronic items, such as smart garments, smart jewelry, fitness trackers, and so on, are connected with hardware and software that can be utilized with different devices and also provide complex analyses using built-in technological capabilities. As a result, the growing popularity of wristbands and smartwatch phones as a fashion statement is propelling the global wearable technology market forward.
By application, the market is classified into defense, healthcare, enterprise & industrial applications, fitness & wellness, infotainment, and others. Fitness & wellness are the most common applications for wearable gadgets. Consumers' lifestyles are changing, necessitating the need for items that can conveniently convey information on health. Wearable technology such as fitness bands, smartwatches, smart health watches, smart clothing, and other similar devices is gaining popularity and increasing the fitness & wellness application category. Furthermore, a growing number of customers are opting for smart health bands and watches to maintain their fitness, which is driving the wearable technology market forward. As a result, the fitness & wellness category is anticipated to expand at a 10.5% CAGR between 2022 and 2028.
The wearable technology market is also being driven by the healthcare sector, which is seeing an increase in the need for smart garments to improve healthcare procedures. The wearable technology industry is also benefiting from the growing usage of smart garments for health monitoring and supporting a healthy lifestyle.
Report Scope
| | |
| --- | --- |
| Report Attribute | Details |
| Market Size in 2021 | USD 115.8 Billion |
| Projected Market Size in 2028 | USD 380.5 Billion |
| CAGR Growth Rate | 18.5% CAGR |
| Base Year | 2021 |
| Forecast Years | 2022-2028 |
| Key Market Players | Xiaomi Global Community, Huawei Technologies Co., Ltd., Nike Inc., Motorola Solutions Inc., Sony Corporation, Google LLC, HTC Corporation, Michael Kors, ADIDAS AG, Polar Electro, TomTom International BV, Fossil Group Inc., ASUSTeK Computer Inc, SAMSUNG, Apple Inc., LG Electronics, CASIO AMERICA INC., Garmin Ltd., Withings, and Fitbit Inc., among others |
| Key Segment | By Type of Product, Application, and Region |
| Major Regions Covered | North America, Europe, Asia Pacific, Latin America, and the Middle East & Africa |
| Purchase Options | Request customized purchase options to meet your research needs. Explore purchase options |
Regional Landscape
North American region accounts for a sizable portion of the market
With a market share of more than 38.2 percent, North America leads the global wearable technology market, followed by Asia-Pacific and Europe. The growing demand for more advanced wearable technologies, as well as the low price of smart wireless sensor networks, are propelling the wearable technology market in this region forward. The use of smartwatches in the United States is growing as the design and implementation of Bluetooth smartwatches are also improving. Moreover, it is estimated that the number of adults in the United States who wear smartwatches has surpassed 11 percent.
Furthermore, it is expected that 31.8 million Americans aged 18 to 55 will be wearing smartwatches, propelling the wearable technology market in North America. Furthermore, Apple Inc.'s announcement of a smart ring to manage an iPhone would help to drive the wearable technology market in North America forward.
Recent Developments
March 2020: Google invested USD 40 million in property rights from Fossil in 2019, and Google parent Alphabet announced in November that it would buy Fitbit for USD 2.2 billion. Optical sensors would be incorporated into the body of a smartwatch. The sensor will be capable of reading the wearer's wrists, fingers, and arms, and the Pixel Watch was slated to debut in 2020.
April 2020: In a tweet on the Chinese social media platform Weibo, Xiaomi's Huami subsidiary announced the Mi Band 5's release date. According to the company, the Amazfit range will also get a new addition called the Amazfit Ares. Huami also stated that the Amazfit Ares would have 70 different sports modes and a rough "urban outdoor" style.
Competitive Landscape
Some of the main competitors dominating the global wearable technology market are
Xiaomi Global Community
Huawei Technologies Co. Ltd.
Nike Inc.
Motorola Solutions Inc.
Sony Corporation
Google LLC
HTC Corporation
Michael Kors
ADIDAS AG
Polar Electro
TomTom International BV
Fossil Group Inc.
ASUSTeK Computer Inc
SAMSUNG
Apple Inc.
LG Electronics
CASIO AMERICA INC.
Garmin Ltd.
Withings
Fitbit Inc.
The global wearable technology market is segmented as follows:
By Type of Product Segment Analysis
Bodywear
Neckwear
Headwear
Wristwear
Footwear
Eyewear
By Application Segment Analysis
Defense
Healthcare
Enterprise & Industrial Applications
Fitness & Wellness
Others
By Regional Segment Analysis
North America

The U.S.
Canada
Mexico
Rest of North America

Europe

France
The UK
Spain
Germany
Italy
Nordic countries

Denmark
Finland
Iceland
Sweden
Norway

Benelux Reunion

Belgium
The Netherlands
Luxembourg

Rest of Europe

Asia Pacific

China
Japan
India
New Zealand
Australia
South Korea
Southeast Asia

Indonesia
Thailand
Malaysia
Singapore
Rest of Southeast Asia

Rest of Asia Pacific

The Middle East & Africa

Saudi Arabia
UAE
Egypt
Kuwait
South Africa
Rest of the Middle East & Africa

Latin America

Brazil
Argentina
Rest of Latin America