Industry Insights
[212+ Pages Report] According to Facts and Factors, during the forecast period of 2022 to 2028, the global smartwatch market is estimated to develop at a compound annual growth rate (CAGR) of 21.5%. The global smartwatch market was worth USD 22.46 billion in 2021, and it is anticipated to exceed USD 97.52 billion by 2028. The study investigates several elements and their consequences on the growth of the global smartwatch market.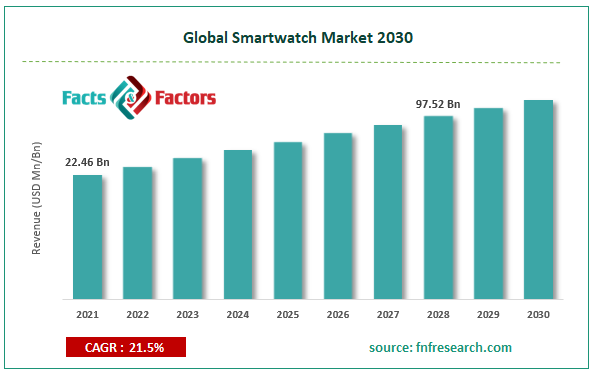 To know more about this report | Request Free Sample Copy
Market Overview
A smartwatch is a wearable piece of technology that is similar to a wristwatch or even other time-keeping gadgets. Aside from having watch-like features, many smartwatches are Bluetooth-enabled. The watch then acts as a wireless Bluetooth adaptor, extending the capabilities of the wearer's smartphone and connecting it to the smartwatch. The product's wearer can now use the watch's interface to read messages or emails, accept or decline calls, listen to music, use virtual assistants, and dictate emails or texts. Such additional features are likely to propel growth in the global smartwatch market in the coming years.
COVID-19 Impact
In 2020, the world was confronted with a never-before-seen phenomenon and a situation for which nobody was prepared. The very first quarter of 2020 could see the onset of the coronavirus in full force, which became more extreme as the year advanced and brought the world to a halt via global lockdowns, disrupted supply chains, and global manufacturing to a halt.
Because of coronavirus infections all over the world, sales of smartwatches fell in 2020. The supply and production of smartwatches were also severely harmed as a result of the pandemic's numerous restrictions around the world.
The demand for smartwatches increased dramatically in early 2021, and this trend is likely to continue for the next ten years. As manufacturers resume production and launch new products in order to gain a competitive advantage over the other makers, the requirement for smartwatches in the post-pandemic period is predicted to skyrocket.
Growth Drivers
Technology penetration in healthcare infrastructure to drive market growth
The most valuable aspect of wearable innovation has been the observation of wellbeing. It not only helps wellness enthusiasts by providing basic wellness parameters, but it also helps patients by providing information about their conditions. People are becoming increasingly concerned about their health, which has resulted in an increase in the shipment of fitness trackers. Because each smartwatch incorporates a wellness tracker, the popularity of smartwatches is growing all the time, as it has numerous useful features for capturing wellbeing parameters.
Smartwatches help experts by providing some complicated and critical data, saving both time and assets. This data assists clinical experts in explaining puzzles, such as what the impact of another medication might be, the consistent monitoring of a working patient's recuperation status, and much more. Because of these technological advancements in the healthcare sector, the global smartwatch market is expected to expand significantly in the coming years.
Individuals' preference for wireless electronic devices followed by improved internet connectivity across all regions to stimulate market growth on a global scale
The development of wireless electronic devices is increasing as a result of the global shift toward digitalization and internet connectivity, which is spreading across all regions and even to remote locations. The availability of various apps that can be used for a variety of purposes, such as playing music, games, and a variety of other applications, is increasing consumer demand for smartwatches. These smartwatches provide wireless connectivity as well as the ability to monitor and track a variety of fitness activities like distance traveled, calories burned, the total number of steps taken per day, and many more.
Restraints
High prices and short battery life likely to stymie market growth
Smartwatches are pricey and out of reach for the average person, despite the fact that they have many functions other than keeping time. Furthermore, they have a limited battery life, with these watches lasting only a day or two after being fully charged, and their battery life is dependent largely on the functionalities of a smartphone. In some cases, energy consumption may be significant when certain features are used regularly, which could quickly deplete a smartwatch's battery.
Lack of awareness and smaller memory size may halt market growth
There is a lack of consumer awareness about the operation of smartwatches, their technology, and their utility for individuals. Furthermore, the data that will be saved on the smartwatch is determined by the memory space of the smartwatch. If large amounts of data must be stored, the memory size must be large enough to accommodate enough files.
Opportunities
In the coming years, hybrid smartwatches will have a huge market opportunity
The hybrid smartwatch, which is a hybrid between a smartwatch and a conventional mechanical watch, is creating a massive opportunity for smartwatch market players. A hybrid smartwatch has all of the functionalities of a standard smartwatch (plus some connected features) but lacks a touchscreen interface and charging capability. It is smart with its Bluetooth connectivity, but it looks like a regular mechanical watch with extra features like a heart rate tracking system and a calorie (burned) tracking system. Consumers, especially the upper and business classes, have shown a large passion for these hybrid smartwatches, as they are less interested in complex smartwatches that require long charging times and solid technical knowledge to operate properly. As a result, the segment has huge potential for growth for the players in the market.
Challenges
Transition from gadget-like to style-conscious design
Though early entrants in the global smartwatch market were centered on the device's technology, new entrants with fashion backgrounds are impacting customers' requirements for design and aesthetic appeal. Style is becoming an extremely important aspect for consumers, with product appearance ranking third in a smartwatch purchase intention.
Lack of clarity from the manufacturer on use cases and features
Manufacturers of smartwatches are debating whether to place their product in a niche market with a specific use case or as a multi-purpose mobile platform with a variety of use cases and operability. The absence of a coherent value proposition or "killer app" has resulted in a slew of similar items that are smirked by the competition.
Confusion over distribution channels is a difficult phenomenon
As a product category, the smartwatch bridges two worlds: technology and style. Each of these departments has its own means of reaching out to customers. This disparity in distribution channels makes it difficult for smartwatch makers to get their products into the hands of consumers.
Segmentation Analysis
The global smartwatch market is segregated on the basis of product type, operating system, application, and region.
By product type, the market is divided into standalone, extension, and classic. Among these product lines, extension smartwatches have contributed the most revenue and will continue to do so in the years ahead. The increase in demand for this commodity can be attributed to the growth of well-equipped smartwatches, which are widely used for the augmentation of smart devices. Furthermore, the growth of advanced technologies such as connectivity, tracking, and notifications that are compatible with a wide range of smartwatches is expected to create massive interest among users, thereby bolstering the global growth of the smartwatch market.
By operating system, the market is classified into iOS, Android, and others. Among all these operating systems, iOS-based smartwatches have the largest market share. Apple's "watchOS" product has seen tremendous growth since its release on the market, owing to technological innovation and its competence.
By application, the market is divided into sports, personal assistance, medical, wellness, and others. Among these, smartwatches with personal assistance features are expected to grow at the fastest rate during the forecast period. Personal assistance on smartwatches simplifies users' routine activities by assessing crucial data and information, allowing them to become much more productive and efficient.
Report Scope
| | |
| --- | --- |
| Report Attribute | Details |
| Market Size in 2021 | USD 22.46 Billion |
| Projected Market Size in 2028 | USD 97.52 Billion |
| CAGR Growth Rate | 21.5% CAGR |
| Base Year | 2021 |
| Forecast Years | 2022-2028 |
| Key Market Players | Huawei Technologies Co. Ltd., TomTom International BV, Samsung Electronics, Pebble, Garmin, LG Electronics, Google Inc., ConnectDevice Ltd, Mobvoi Information Technology Company Ltd, Motorola, Fossil Group Inc, Qualcomm, ASUSTeK Computer Inc., Apple Inc., Huami Corp, Sony Corporation, Lenovo Group Ltd, and Fitbit., among others |
| Key Segment | By Product Type, Operating System, Application, and Region |
| Major Regions Covered | North America, Europe, Asia Pacific, Latin America, and the Middle East & Africa |
| Purchase Options | Request customized purchase options to meet your research needs. Explore purchase options |
Regional Landscape
North America is expected to hold the largest share of the market
The market in North America is expected to hold the largest share of the market. This is attributed to the existence of significant market players in the region and also to rapid technological developments brought into these gadgets by several market players, each of which is unique in its own way. According to the National Institutes of Health, more than 38% of adults in the United States are obese, and more than 35% are overweight. Obesity affects approximately 18% of children and teenagers.
High levels of obesity among the population in the United States, as well as increasing awareness among the American population regarding obesity and its negative effects on individual health, are expected to drive demand for smartwatches among the overall population in the United States and are expected to drive the region's market growth over the forecast period. The Asia Pacific market is projected to expand rapidly, owing to a rise in the number of skilled, tech-savvy individuals with increased purchasing power in the region in the last decade.
Recent Development
September 2021: In a virtual press conference, Fossil announced the release of its Gen 6 touchscreen smartwatch line. The watch is available in two sizes: 42mm and 44mm. The Qualcomm Snapdragon Wear 4100+ Platform will power the watch and provide customers with faster application connection speeds, more responsive customer experiences, and more cost-effective power consumption.
August 2021: Huawei Technologies has announced the release of the Huawei Watch 3 Series, its revolutionary flagship smartwatch. HarmonyOS powers the Huawei Watch 3 Series, building a new smart interactive element on the wrist and transforming the smartwatch into a smart assistant and wellness center. Furthermore, this will be the first smartwatch to facilitate eSIM technology, and it will be available in Singapore.
Competitive Landscape
Some of the main competitors dominating the global smartwatch market are
Huawei Technologies Co. Ltd.
TomTom International BV
Samsung Electronics
Pebble
Garmin
LG Electronics
Google Inc.
ConnectDevice Ltd
Mobvoi Information Technology Company Ltd
Motorola
Fossil Group Inc
Qualcomm
ASUSTeK Computer Inc.
Apple Inc.
Huami Corp
Sony Corporation
Lenovo Group Ltd
and Fitbit.
The global smartwatch market is segmented as follows:
By Product Type Segment Analysis
Standalone
Extensive
Classic
By Operating System Segment Analysis
By Application Segment Analysis
Sports
Personal Assistance
Medical
Wellness
Others
By Regional Segment Analysis
North America

The U.S.
Canada
Mexico
Rest of North America

Europe

France
The UK
Spain
Germany
Italy
Nordic countries

Denmark
Finland
Iceland
Sweden
Norway

Benelux Reunion

Belgium
The Netherlands
Luxembourg

Rest of Europe

Asia Pacific

China
Japan
India
New Zealand
Australia
South Korea
Southeast Asia

Indonesia
Thailand
Malaysia
Singapore
Rest of Southeast Asia

Rest of Asia Pacific

The Middle East & Africa

Saudi Arabia
UAE
Egypt
Kuwait
South Africa
Rest of the Middle East & Africa

Latin America

Brazil
Argentina
Rest of Latin America