Industry Insights
[220+ Pages Report] According to the report published by Facts Factors, the global e-textiles and smart clothing market size was worth around USD 1725.27 million in 2021 and is predicted to grow to around USD 15019 million by 2028 with a compound annual growth rate (CAGR) of roughly 32.35% between 2022 and 2028. The report analyzes the global e-textiles and smart clothing market drivers, restraints/challenges, and the effect they have on the demands during the projection period. In addition, the report explores emerging opportunities in the e-textiles and smart clothing market.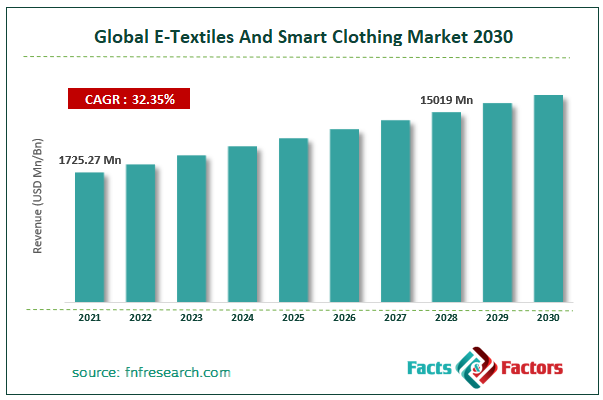 To know more about this report | Request Free Sample Copy
Market Overview
Electronics textiles are fabrics allowing electronic objects like sensors, lights, batteries, and microcontrollers to be implanted in them whereas smart clothes are fabrics that are developed using technology for added value. Both are different types of material, however, smart clothing makes use of e-textiles as per requirement. E-textiles are an example of seamless integration between electronics and textiles, and in many instances, e-textiles may not necessarily be wearing material, they may be used for interior decoration. As per a report submitted by Cientifica Research, e-textiles are broadly classified into 3 types: the first-generation are companies or textile companies that attach sensors to the clothing items, currently incorporated by brands like Adidas, and Nike. Second generation e-textiles embed the sensor within the garment like Samsung, Ralph Lauren, and the third generation is where the garment itself acts as a sensor that is temperature, rain, and pressure sensitive. Smart clothes are also referred to as high-technology clothes and involve the use of advanced technology to impart the textile properties making them useful for other functions apart from traditional use. Some examples of smart clothing materials are smart shoes created by Pizza Hut, a limited edition range of shoes that could order pizza on its own
Key Insights
As per the analysis shared by our research analyst, the global e-textiles and smart clothing market is estimated to grow annually at a CAGR of around 32.35% over the forecast period (2022-2028).
In terms of revenue, the global e-textiles and smart clothing market size was valued at around USD 1725.27 million in 2021 and is projected to reach USD 15019 million, by 2028. Due to a variety of driving factors, the market is predicted to rise at a significant rate.
Based on textile type segmentation, active smart was predicted to show maximum market share in the year 2021
Based on industry segmentation, sports & fitness was the leading revenue-generating industry in 2021.
On the basis of region, North America was the leading revenue generator in 2021
Covid-19 Impact:
The global market cap was severely impacted during the pandemic owing to the massive losses incurred by the textile industry during the peak of Covid-19. There were issues related to supply chain management, delivery and raw material of raw materials, and a general halt in new product launches.
Growth Drivers
Rising adoption of technology in textile to propel market growth
The global e-textiles and smart clothing market is projected to grow owing to the increasing use of technology to meet the growing demand from end consumers. Companies are now trying to create a niche for themselves and a brand value that remains unmatched. This is one of the reasons why billion-dollar companies use extensively to modify a simple fabric into a smart one that can ease the life of the wearer. For instance, Nike Air uses super gasses that are encased in urethane plastics to provide excellent cushioning. As per reports, companies generally tend to spend around 3 to 8% on information technology (IT), and Nike is estimated to spend around 2.7% of its revenues on integrating technology for further growth. The global market cap is estimated to benefit from the increasing adoption rate of e-textiles in sectors that deal with security and protection. For instance, rescue crew during accidents, firefighting, and others.
Restraints
High cost of materials to restraint market growth
The global market cap is projected to witness growth restrictions to the high cost of the end-product causing them to be out of reach for large segments of society. In most cases, e-textiles are limited edition, which means only a certain number of products are put out in the market and only for a limited duration. They are highly priced and generally are not sold at discounted rates ever.
Opportunities
Growing use of fabrics in the healthcare segment to provide excellent opportunities
The global e-textiles and smart clothing market size is anticipated to benefit from the growing use of e-textiles and smart clothing in the healthcare segment. As a consequence of the catastrophic impact of Covid-19 and its highly sensitive nature, there is a growing interest in the healthcare community in making use of smart clothes that are reactive to changes in the healthcare environment and incorporating electronic sensors on clothing items for faster response.
Challenges
Low customer awareness to challenge the market expansion
Since the use of technology in fabrics is a relatively new segment, there is a lack of awareness amongst consumers about smart clothing or electronic textiles leading to a lesser adoption rate. The high cost of the products is another factor resulting in low attention to the segment in low-income groups which may cause challenges during further market expansion.
Segmentation Analysis
The global e-textiles and smart clothing market is segmented based on industry, textile type, product type, and region.
Based on industry, the global market segments are healthcare, mining, sports & fitness, fashion & entertainment, military & defense, and others. The global market was led by the sports & fitness segment in 2021 owing to exceptionally high revenues generated by industry giants like Adidas, Asics, and Under Armour catering to the needs of sportsmen. In 2021, Under Armour is estimated to have generated a revenue of USD 5.7 billion.
Based on textile type, the global market is segmented into passive smart, active smart, and ultra-smart. Active smart textiles are more in demand owing to their energy-transducing capabilities.
Based on product type, the global market is divided into lower wear, upper wear, inner wear, and others, where upper wear led the segmental growth owing to higher demand for smart clothing materials like shirts, jackets, and others. A Spacesuit, a brilliant example of e-textiles and smart clothing costs up to USD 150 million, as per estimate.
Recent Developments:
In January 2019, Karl Mayer, a textile solutions company, launched a project called 'Textile Circuit' that utilized warp knitting technology to create extremely innovative and advanced e-textiles. The smart items can be used for cooling, heating, and lighting, while also contributing to heart rate measurement and use in space as space reflectors but only when they are electrically conductive.
In July 2022, OCSiAl and CoatYarn collaborated to create a smart textile technology in response to the increasing demand for interactive electronic textiles. The technology uses graphene nanotubes and has encouraged CoatYarn to expand its already existing line with the addition of thermoplastic polyurethane yarn.
Report Scope
| | |
| --- | --- |
| Report Attribute | Details |
| Market Size in 2021 | USD 1725.27 Million |
| Projected Market Size in 2028 | USD 15019 Million |
| CAGR Growth Rate | 32.35% CAGR |
| Base Year | 2021 |
| Forecast Years | 2022-2028 |
| Key Market Players | Toray Industries, Cityzen Sciences, AiQ Smart Clothing, Owlet, Clothing Plus, Sensoria, Applycon, and others. |
| Key Segment | By Industry, Textile Type, Product Type, and Region |
| Major Regions Covered | North America, Europe, Asia Pacific, Latin America, and the Middle East &, Africa |
| Purchase Options | Request customized purchase options to meet your research needs. Explore purchase options |
Regional Analysis
North America to generate the highest revenue during the forecast period
The global e-textiles and smart clothing market is projected to be dominated by North America in the coming years owing to the high consumer awareness rate as well the presence of multiple players in the market. Most of the current world's leading sports brands are headquartered in the United States, which is the largest contributor to regional revenue. Under Armour, a favorite amongst sports enthusiasts recently launched new athlete sleepwear that is endorsed by Tom Brady. The exhaustive investments in advertising and marketing activities incorporated by market players lead to further revenue generation. In 2021, Nike was estimated to have spent over USD 3.11 billion on advertising and promotion. The revenue thus generated is further propelled by the rising trend of adopting a healthier lifestyle and investing in fitness, amongst the general population.
Competitive Analysis
Toray Industries
Cityzen Sciences
AiQ Smart Clothing
Owlet
Clothing Plus
Sensoria
Applycon
The global e-textiles and smart clothing market is segmented as follows:
By Industry
Healthcare
Mining
Sports & Fitness
Fashion & Entertainment
Military & Defense
Others
By Textile Type
Passive Smart
Active Smart
Ultra-smart
By Product Type
Lower Wear
Upper Wear
Inner Wear
Others
By Regional Segment Analysis
North America
Europe

France
The UK
Spain
Germany
Italy
Nordic Countries
Benelux Union

Belgium
The Netherlands
Luxembourg

Rest of Europe

Asia Pacific

China
Japan
India
Australia
South Korea
Southeast Asia

Indonesia
Thailand
Malaysia
Singapore
Rest of Southeast Asia

Rest of Asia Pacific

The Middle East & Africa

Saudi Arabia
UAE
Egypt
South Africa
Rest of the Middle East & Africa

Latin America

Brazil
Argentina
Rest of Latin America