Covid-19
Global Heat Transfer Fluids Market Size, Share
The pandemic continues to cause unprecedented disruption across industries worldwide.Get detailed insights regarding the impact of COVID-19 on the market. Request Sample
Industry Insights
[217+ Pages Report] According to Facts and Factors, the global heat transfer fluids market was worth approximately USD 3.8 billion in 2021 and is expected to grow to approximately USD 6.5 billion by 2028, with a compound annual growth rate (CAGR) of approximately 9.5% over the forecast period. The report explores the heat transfer fluids market drivers & restraints and the impact they have on needs during the projection period. In addition, the report analyses emerging opportunities in the heat transfer fluids market.
Market Overview
A heat transfer fluid is a liquid or gas that participates in heat transfer by acting as a bridge in cooling on one side of a method, storing & transporting thermal energy, and heating on the other side of the process. Heat transfer fluids are used in a wide range of applications and manufacturing processes that require heating or cooling, usually in closed circuits and in multiple cycles. Cooling water, for example, cools an engine, whereas heating water in a hydronic heating system heats the radiator in a room. Because of its low cost, high heat capacity, and good transport properties, water is the most commonly used heat transfer fluid. However, depending on the temperature, the useful temperature range is limited by boiling at elevated temperatures and freezing below 0°C.
COVID-19 Impact
Due to various legal and economic restrictions imposed by many governments around the world during the COVID-19 outbreak, the global heat transfer fluids market was severely impacted. The market was severely impacted in terms of production, supply, and distribution as a result of the various restrictions imposed around the world during the pandemic. For fear of the spread of the coronavirus, all movements, including people and goods, were prohibited. This had a significant impact on the heat transfer fluids market, as sales plummeted resulting in reduced demand for heat transfer fluids.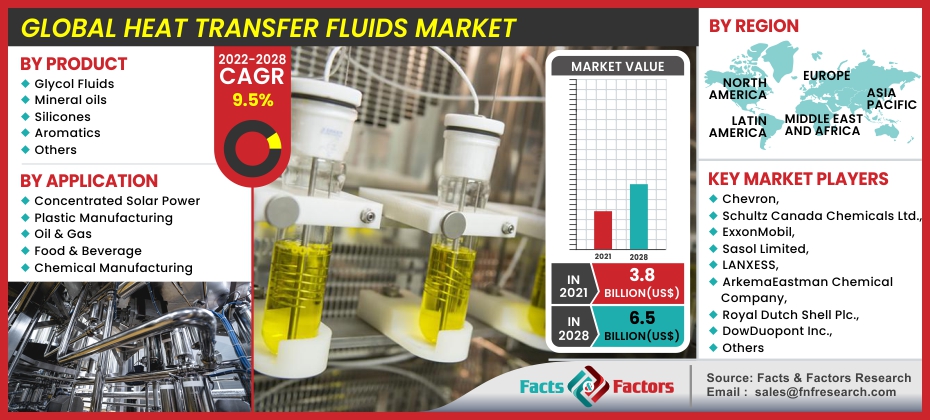 Growth Drivers
Increased quality of heat transfer fluids to boost the market growth
The heat transfer characteristics of these fluids are superior to those of similar viscosity petroleum oils. They have superior heat & oxidation consistency and are broadly used in open-ventilated area heat transfer systems, calendaring & laminating rolls, chemical processing tools, dyes & molds in the plastic & rubber industries, as well as die-cast aluminum & zinc alloys. The utilization of thermal heat transfer fluids increases production volume, enhances product quality, and lowers maintenance. Thermal heat transfer fluids reduce energy consumption in processing industries while also reducing operating costs.
Restraints
Explosion and fire hazards pose a threat to market growth
Numerous high-temperature programs in chemical treatment, such as metal processing, plastic processing, and specialty chemical production, necessitate the use of organic fluids that have the potential to form explosive conditions. Such fluids function greater than the tipping point of thermal fluids covered by the 2002 "Dangerous Substances and Explosive Atmosphere" Regulations. Furthermore, fluids like mineral oils deteriorate over time. The degradation lowers the flashpoint of these fluids, causing them to ignite. Under tension and also below the flashpoint, fluids form explosive mist atmospheres. As a result, the explosion hazards posed by HTFs are limiting the global heat transfer fluids market growth.
Opportunities
Rising need for energy conservation to present market growth opportunities
Due to energy scarcity and environmental regulations, the need for energy conservation is increasing dramatically. As a result, energy transfer devices such as heat pumps and heat exchangers have become popular. The management of heat in residential and industrial applications is critical for efficient energy use. HTFs will be critical in providing effective solutions for making better use of heat in a variety of applications. Propylene glycol-based HTFs, for example, perform well in medium-temperature secondary loop refrigeration, resulting in increased energy efficiency, lower refrigerant costs, and up to a 50% reduction in maintenance.
Challenges
Raw material price volatility is a concern
One of the major challenges for manufacturers is the volatility of HTF raw material prices. Phenol, glycol, benzene, and other materials are used as raw materials in HTFs. The price of raw materials used in HTFs is directly affected by the rise or drop in crude oil prices. Manufacturers must contend with high and rising raw material costs, lowering profit margins. To maintain growth and market share, market players have been forced to improve the productivity and efficiency of their operations.
Segmentation Analysis
The global heat transfer fluids market is segmented on the basis of product, application, and region.
By product, the market is divided into glycol fluids, mineral oils, silicones, aromatics, and others. Because of their excellent antifreeze properties, glycol-based HTFs are the fastest-growing product category. The segment is expected to grow at a CAGR of 4.2% over the forecast period. Because they are consistent with both high and low-temperature applications, bio-based glycols are gaining popularity as a key ingredient in heat transfer fluid formulations. Mineral oils are commonly used in a variety of convenient radiator heaters that are widely used in both commercial and residential applications.
By application, the market is divided into concentrated solar power, plastic manufacturing, oil & gas, food & beverage, and chemical manufacturing. The oil & gas segment had the highest revenue share in 2021, accounting for more than 23% of total revenue. Oil and gas processing dynamics necessitate highly specific HTFs that are tailored to the desired temperatures and compatibility. These products are used in processes such as recycling, manufacturing, refining, and transportation. Offshore platforms use aqueous heat transfer liquid to regenerate glycols and heat facilities, which ultimately eliminates water from the generated natural gas.
Report Scope
| | |
| --- | --- |
| Report Attribute | Details |
| Market Size in 2021 | USD 3.8 Billion |
| Projected Market Size in 2028 | USD 6.5 Billion |
| CAGR Growth Rate | 9.5% CAGR |
| Base Year | 2021 |
| Forecast Years | 2022-2028 |
| Key Market Players | Chevron, Schultz Canada Chemicals Ltd., ExxonMobil, Sasol Limited, LANXESS, ArkemaEastman Chemical Company, Royal Dutch Shell Plc., DowDuopont Inc., Paratherm, Clariant, and Huntsman Corporation, among others |
| Key Segment | By Product, Application, and Region |
| Major Regions Covered | North America, Europe, Asia Pacific, Latin America, and the Middle East & Africa |
| Purchase Options | Request customized purchase options to meet your research needs. Explore purchase options |
Regional Landscape
Because of the presence of multiple manufacturers in the region, North America holds a major share of the global heat transfer fluids market. More stringent carbon emission regulations, as well as constant R & D activities for fresh and novel solutions, have stifled demand for the product. In Europe, governments in a number of countries are making significant efforts to promote the use of concentrated solar power.
Due to rising demand from countries such as India, China, and Japan, Asia Pacific is currently the fastest-growing market. China has the largest share in this region, owing to the country's active efforts in energy-saving techniques. Rapid industrialization, combined with advances in machinery in countries such as South Korea and India, has increased the importance of heat transfer fluid.
Mexico has made a number of investments in the chemical industry in Latin America in order to strengthen its chemical core. Growing industrialization and urbanization, as well as increased chemical exports to countries such as Mexico and Brazil, are expected to drive demand. Due to demand from various industries such as food & beverages and petrochemicals, the Middle East and Africa are expected to grow rapidly in the future.
Recent Development
April 2019: Eastman purchased the German production resources of Marlotherm HTFs from Sasol (South Africa), a global energy and chemical corporation. With this acquisition, the company was able to widen its heat transfer product lines to customers all over the world.
October 2020: In addition to its existing passenger car e-fluids, Royal Dutch Shell has introduced new e-fluids for heavy-duty, medium-duty, and light-duty electrified commercial vehicles. Transmission fluids, greases, and battery coolants are among the new fluids for battery and fuel-cell EVs.
Competitive Landscape
Some of the key players in the global heat transfer fluids market are Chevron, Schultz Canada Chemicals Ltd., ExxonMobil, Sasol Limited, LANXESS, ArkemaEastman Chemical Company, Royal Dutch Shell Plc., DowDuopont Inc., Paratherm, Clariant, and Huntsman Corporation.
The global heat transfer fluids market is segmented as follows;
By Product Segment Analysis
Glycol Fluids
Mineral oils
Silicones
Aromatics
Others
By Application Segment Analysis
Concentrated Solar Power
Plastic Manufacturing
Oil & Gas
Food & Beverage
Chemical Manufacturing
By Regional Segment Analysis
North America
Europe

France
The UK
Spain
Germany
Italy
Nordic Countries
Benelux Union

Belgium
The Netherlands
Luxembourg

Rest of Europe

Asia Pacific

China
Japan
India
Australia
South Korea
Southeast Asia

Indonesia
Thailand
Malaysia
Singapore
Rest of Southeast Asia

Rest of Asia Pacific

The Middle East & Africa

Saudi Arabia
UAE
Egypt
South Africa
Rest of the Middle East & Africa

Latin America

Brazil
Argentina
Rest of Latin America