Industry Insights
[205+ Pages Report] According to Facts and Factors, the global thermal spray coating market was valued at roughly USD 7,600 Million in 2020 and is predicted to create revenue of roughly USD 11,400 Million by the end of 2026, with a CAGR of roughly 7% between 2021 and 2026.
Market Overview
The method of coating surfaces by melting powder substrates into droplets and spraying them at high speeds is known as thermal spray coating. Zirconium oxide, aluminum bronze, and cobalt-molybdenum are some of the most widely utilized coatings. They are sprayed on several metal products that are made up of stainless steel, bronze, copper, ceramics, nickel alloys, molybdenum, and tungsten carbides, among other materials. Surfaces are protected against deterioration, wear and tear, abrasion, friction, and corrosion by the coatings, which establish stable bonds with them. Electrical conductivity, lubricity, chemical resistance, and desirable surface characteristics are all provided by them. As a result, this coating technology is widely used in various end-use industries, including, healthcare, aerospace, automotive, energy, and food and beverage.
Industry Growth Factors
One of the major reasons driving the market's positive growth is the significant expansion in the chemical sector, which is accompanied by rising demand for high-performance industrial-grade coatings. Pumps, valves, machinery, turbine blades, and other industrial equipment all have these coatings on their surfaces to improve their operating efficiency, quality, and dependability. Coatings are also used on several parts such as piston rings, cylinder rings, brake discs, exhaust pipes, crankshafts, and shifters in the automobile industry that help to increase performance and fuel economy. Furthermore, a shift in consumer preference from chrome plating and to thermal spray coatings is propelling market expansion. Also with growing awareness of environmental issues, customers are increasingly opting for thermal spray coatings that are more fatigue resistant and leave little residue after processing. The market is also growing owing to the development of flame-based and reactive spray deposition methods for low-temperature solid oxide fuel cell, plasma, and laser deposition coatings. Other factors, including growing consumer spending power and significant research and development (R&D) efforts, are expected to propel the market growth in the forecasted period.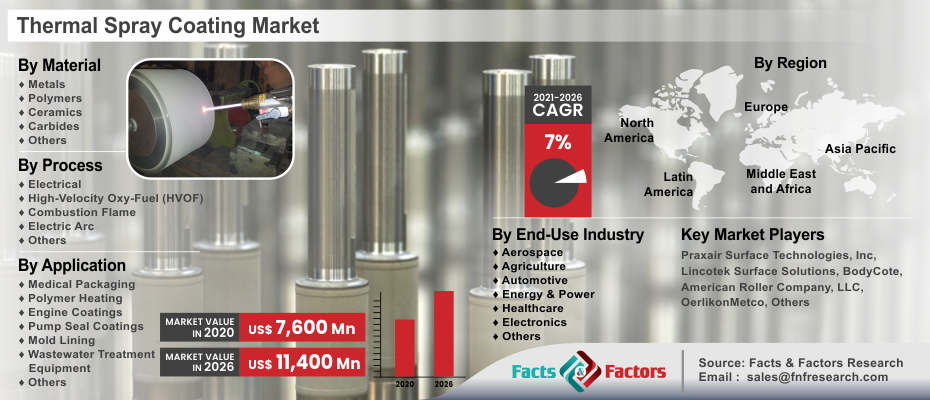 To know more about this report | Request Free Sample Copy
Segmentation Analysis
The global thermal spray coating industry is segmented on the basis of process type, material type, end-use, application, and region.
The metals, polymers, ceramics, carbides, and others are included under the material type segment of the global thermal spray coating industry. The global thermal spray coating market can be divided into electrical, high-velocity oxy-fuel (HVOF), combustion flame, electric arc, and others based on the process type. Based on application, the global thermal spray coating industry is categorized into medical packaging, polymer heating, engine coatings, pump seal coatings, mold lining, wastewater treatment equipment, and others. Aerospace, agriculture, automotive, energy & power, healthcare, electronics, and others are the end-use industry segment of the global thermal spray coating market.
Thermal Spray Coating Market: Report Scope
| | |
| --- | --- |
| Report Attribute | Details |
| Market Size in 2020 | USD 7,600 Million |
| Projected Market Size in 2026 | USD 11,400 Million |
| CAGR Growth Rate | 7% |
| Base Year | 2020 |
| Forecast Years | 2021-2026 |
| Key Market Players | Praxair Surface Technologies, Inc, Lincotek Surface Solutions, BodyCote, American Roller Company, LLC, OerlikonMetco and Others |
| Key Segments | Material Type, Process Type, Application, End-Use Industry, and Region |
| Major Regions Covered | North America, Europe, Asia Pacific, Latin America, and Middle East & Africa |
| Purchase Options | Request customized purchase options to meet your research needs. Explore purchase options |
Regional Analysis
The market for thermal spray coatings is dominated by North America owing to the increased urbanization and industrialization, rising consumer disposable income, and rising demand from different end-use sectors, such as aerospace, are all contributing to the growth of the industry. This industry is also projected to surge due to the cheap availability of raw materials in the area. The United States is expected to be the region's greatest contributor to the thermal spray coatings industry. The presence of top manufacturers of this industry has significantly contributed to the rising demand for the market.
During the projected period, the Asia Pacific area is predicted to have the greatest CAGR because of the increasing demand from the automobile industry Furthermore, increasing industrialization in emerging nations, as well as demand for thermal spray coating from the oil and gas, steel, and pulp and paper industries, are projected to boost the target market's growth in this area.
Covid-19 Impact Analysis
During the COVID-19 epidemic, the thermal spray coatings industry saw a drop in its business owing to a significant drop in the end-use industries such as construction, automotive, and industrial sectors where these spray coatings are used. Production businesses had extended the shutdown of all activities at their workplaces and manufacturing locations until the government issued reopening orders. Also, the thermal spray painting sector had a considerable drop in production owing to a reduction in the workforce due to social distancing conventions during the COVID-19 epidemic.
Competitive Players
Some main participants of the global thermal spray coating market are
Praxair Surface Technologies Inc
Lincotek Surface Solutions
BodyCote
American Roller Company
LLC
OerlikonMetco
Powder Alloy Corp.
Surface Technology
BryCoat Inc.
H.C StarckGmbh
Flame Spray SpA
F.W. Gartner Thermal Spraying
Plasma-Tec Inc.
Arc Spray (Pty) Ltd
John Wood Group PLC
Metallisation Limited
C&M Technologies GmbH
Montreal Carbide Co. Ltd.
AMETEK Inc
By Material Type
Metals
Polymers
Ceramics
Carbides
Others
By Process Type
Electrical
High-Velocity Oxy-Fuel (HVOF)
Combustion Flame
Electric Arc
Others
By Application
Medical Packaging
Polymer Heating
Engine Coatings
Pump Seal Coatings
Mold Lining
Wastewater Treatment Equipment
Others
By End-Use Industry
Aerospace
Agriculture
Automotive
Energy & Power
Healthcare
Electronics
Others
By Region
North America
Europe

France
The UK
Spain
Germany
Italy
Rest of Europe

Asia Pacific

China
Japan
India
South Korea
Southeast Asia
Rest of Asia Pacific

Latin America

Brazil
Mexico
Rest of Latin America

Middle East & Africa

GCC Countries
South Africa
Rest of Middle East & Africa