Industry Insights
[228+ Pages Report] According to the report published by Facts and Factors, the global food allergy market size was worth around USD 35 billion in 2021 and is predicted to grow to around USD 54 billion by 2030 with a compound annual growth rate (CAGR) of roughly 5.64% between 2022 and 2030. The report analyzes the global food allergy market drivers, restraints/challenges, and the effect they have on the demands during the projection period. In addition, the report explores emerging opportunities in the food allergy market.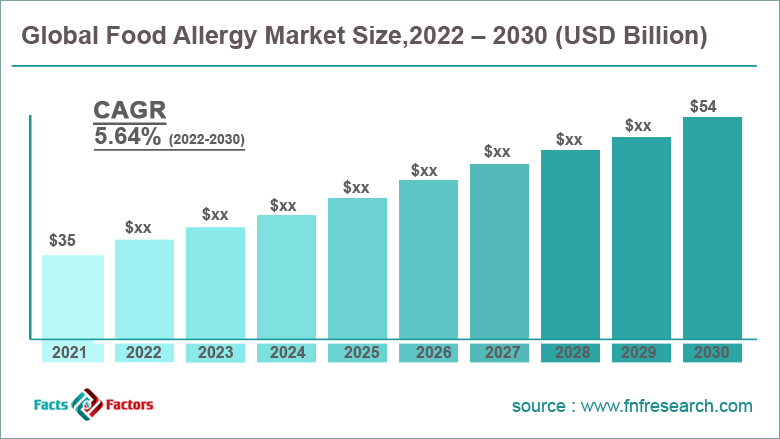 Market Overview
Food allergy can be considered as the reaction of the immune system when a certain food or type of food is consumed. The food allergy can get triggered even when a small amount of the food is consumed and there are several symptoms associated with such allergies with different patients exhibiting different symptoms. Some cases of food allergy show swollen airways while some may have digestive problems. Food allergy can also be life-threatening in case the allergic person suffers from a reaction called anaphylaxis which can occur within minutes or seconds of consuming allergic food.
Anaphylaxis causes the entire immune system to release chemicals making the person go into shock where the blood pressure may drop suddenly and the airway may become narrow resulting in the blocking of the breathing process. As per estimates, food allergies can be found in almost 8% of children below the age of 5. The rate of food allergy reactions in adults is around 4%. Food allergy is significantly different from food intolerance since the latter is not as serious as food allergy. Food intolerance is not related to the immunity system.
Key Insights
As per the analysis shared by our research analyst, the global food allergy market is estimated to grow annually at a CAGR of around 5.64% over the forecast period (2022-2030)
In terms of revenue, the global food allergy size was valued at around USD 35 billion in 2021 and is projected to reach USD 54 billion, by 2030.
The market is projected to grow at a significant rate due to the growing susceptibility in the modern world
Based on treatment segmentation, antihistamines were predicted to show maximum market share in the year 2021
Based on end-users segmentation, hospitals were the leading users in 2021
On the basis of region, North America was the leading revenue generator in 2021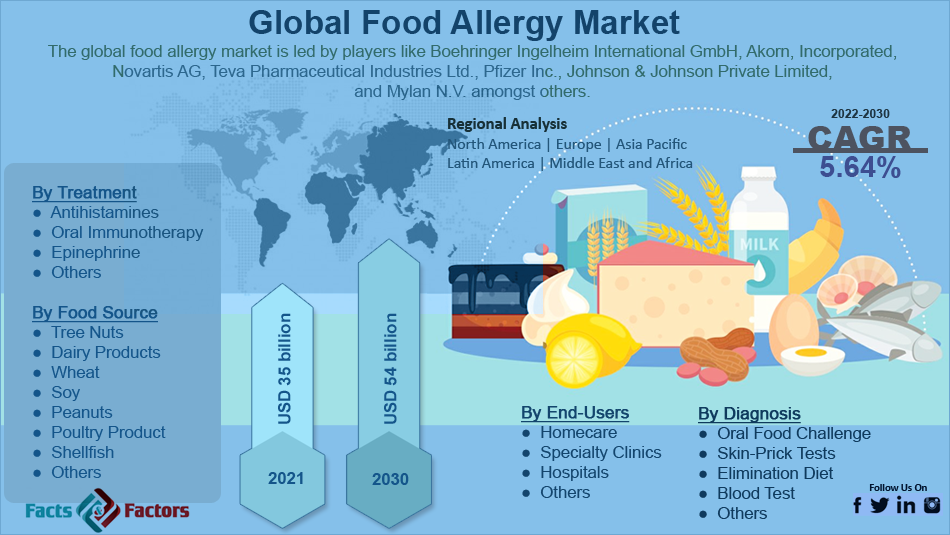 Growth Drivers
Growing susceptibility in the modern world to propel market growth
The global food allergy market is projected to grow owing to the increasing susceptibility to food allergies in the modern world. The immunity system reason can be triggered by multiple reasons and hence it is difficult to explain food allergy based on genetics alone. However, recent studies, especially Hygiene Hypothesis estimate that with a clean environment, children born in today's day and age lack the necessary molecules that can battle the invasion of allergic particles and hence the immune system tends to overreact when exposed to certain food items creating an allergic reaction.
The response is likely to become more frequent if the child, in the infant stage, was introduced to a certain protein in non-conventional ways which is not through the gastrointestinal system or by eating but if the protein was introduced through broken or dry skin. This theory which showcases how food allergies are developed is called the Dual Allergen Exposure Hypothesis and explains why eczema remains a high-risk factor for developing immunity system response to certain food items. Eczema can lead to dry, patchy, itchy skin making room for food proteins to enter the body.
Restraints
Lack of treatment to restrict market expansion
Food allergy is one of those medical conditions that have not been found any cure so far. The medicines or treatment plans available in the market can help patients manage the system but the only possible way of prevention is to avoid consuming allergic food products. None of the treatments available in the market can guarantee complete relief from food allergies which is a major restraining factor for the global market growth as patients have to be extremely careful while eating any type of food.
Opportunities
Growing research to provide growth opportunities
The global food allergy market is anticipated to benefit from the growing research and development activities to understand the main triggering factors for food allergies and the associated cure. For instance, FARE, the largest private source of investment directed toward research related to food allergy, has invested more than USD 100 since its inception. The funding group is now working on developing next-generation research models and patient care.
Challenges
Lack of infrastructure in underdeveloped economies to challenge market growth
Food allergy testing and medication may not be new in the medical community but there is a significant lack of essential infrastructure including allergy experts to control or treat food allergy cases, especially in low to medium-income economies. The global market growth may further be challenged by the absence of the right information amongst the population about food allergies and treatment methods. Since the prevalence rate for food allergies is high, state or regional governments need to focus on enhancing the medical architecture surrounding food allergies.
Segmentation Analysis
The global food allergy market is segmented based on treatment, food source, end-users, diagnosis, and region
Based on treatment, the global market segments are antihistamines, oral immunotherapy, epinephrine, and others. In 2021, the highest revenue-generating segment was antihistamines which are a type of drug that is most commonly used to treat the various symptoms of food allergies. Antihistamines work by negating the effect of too much histamine, a chemical created in the body. Diphenhydramine is the most widely used antihistamine for treating acute food allergy cases since it is easily available and starts showing results within 15 minutes to 60 minutes of administration.
Based on end-users, the global market segments are homecare, specialty clinics, hospitals, and others. In the previous years including 2021, the hospitals segment was the leading segment followed by specialty clinics. Treatment in hospitals is relatively less expensive as compared to getting treated in specialty clinics. The segmental growth may be driven by the increased adoption of medical reimbursement policies by many people as a means of securing financial expenses in case of extreme sickness. As of 2021, almost 7.9% of the US population working year-round and full-time has access to public health insurance.
Recent Developments:
In January 2020, the US Food and Drugs Administration approved the first drug called Peanut (Arachis hypogaea) Allergen Powder-dnfp (Palforzia) to treat food allergies caused by peanuts in children. The treatment with Palforzia can be used in children within the age group of 4 years to 17 years showing accurate and confirmed diagnosis related to peanut allergy
In December 2020, the European Commission sanctioned approval for Palforzia for treating peanut allergies in the European market. The drug became the first of its kind to receive approval in the territory
Report Scope
| | |
| --- | --- |
| Report Attribute | Details |
| Market Size in 2021 | USD 35 Billion |
| Projected Market Size in 2030 | USD 54 Billion |
| CAGR Growth Rate | 5.64% CAGR |
| Base Year | 2021 |
| Forecast Years | 2022-2030 |
| Key Market Players | Boehringer Ingelheim International GmbH, Akorn Incorporated, Novartis AG, Teva Pharmaceutical Industries Ltd., Pfizer Inc., Johnson & Johnson Private Limited, Mylan N.V., and Others |
| Key Segment | By Treatment, Food Source, End-Users, Diagnosis, and Region |
| Major Regions Covered | North America, Europe, Asia Pacific, Latin America, and the Middle East &, Africa |
| Purchase Options | Request customized purchase options to meet your research needs. Explore purchase options |
Regional Analysis
North America to lead with the highest growth rate
The global food allergy market is projected to register the highest growth in North America due to the presence of essential medical infrastructure required to diagnose the condition and provide essential medical care. The growing research on developing better and more effective cures for food allergies could also help in generating higher revenue.
For instance, in June 2022, Alladapt Immunotherapeutics received funding of USD 119 million from companies like Novartis. The funds will be directed toward developing the long-lived dream of Alladapt to develop an FDA-approved drug for treating the majority of food allergies in patients.
Currently, the only candidate the company is working on is ADP101 which is in clinical trials along with work toward building a manufacturing facility. ADP101 is produced to treat food allergies that could have been triggered by multiple or single proteins from the 9 food groups that are responsible for most of the food allergies.
Competitive Analysis
Boehringer Ingelheim International GmbH
Akorn Incorporated
Novartis AG
Teva Pharmaceutical Industries Ltd.
Pfizer Inc.
Johnson & Johnson Private Limited
Mylan N.V.
The global food allergy market is segmented as follows:
By Treatment Segment Analysis
Antihistamines
Oral Immunotherapy
Epinephrine
Others
By Food Source Segment Analysis
Tree Nuts
Dairy Products
Wheat
Soy
Peanuts
Poultry Product
Shellfish
Others
By End-Users Segment Analysis
Homecare
Specialty Clinics
Hospitals
Others
By Diagnosis Segment Analysis
Oral Food Challenge
Skin-Prick Tests
Elimination Diet
Blood Test
Others
By Regional Segment Analysis
North America
Europe

France
The UK
Spain
Germany
Italy
Nordic Countries
Benelux Union

Belgium
The Netherlands
Luxembourg

Rest of Europe

Asia Pacific

China
Japan
India
Australia
South Korea
Southeast Asia

Indonesia
Thailand
Malaysia
Singapore
Rest of Southeast Asia

Rest of Asia Pacific

The Middle East & Africa

Saudi Arabia
UAE
Egypt
South Africa
Rest of the Middle East & Africa

Latin America

Brazil
Argentina
Rest of Latin America