Covid-19
Global Blood Pressure Monitoring Devices Market Size, Share
The pandemic continues to cause unprecedented disruption across industries worldwide.Get detailed insights regarding the impact of COVID-19 on the market. Request Sample
Industry Insights
[221+ Pages Report] According to Facts and Factors, during the forecast period of 2022 to 2028, the global blood pressure monitoring devices market is estimated to develop at a compound annual growth rate (CAGR) of 8.8%. The global blood pressure monitoring devices market was valued at USD 1.5 billion in 2021, and it is predicted to exceed USD 2.8 billion by 2028. The study investigates several elements and their consequences for the growth of the blood pressure monitoring devices market.
Market Overview
Hypertension is a very prevalent cardiovascular disorder caused mostly by variations in blood pressure. Although hypertension is not officially classified as a disease, it leads to a variety of health issues, including heart disease and, in some circumstances, death. If one believes they are at risk, or if the doctor agrees, he will almost certainly recommend monitoring blood pressure using blood pressure monitors on a daily basis. A blood pressure monitor establishes a critical baseline for your blood pressure, which can be used to evaluate whether you are truly at risk of developing hypertension or other possibly chronic disorders.
A blood pressure monitoring device is equipment that is used to properly measure an individual's blood pressure. It has an inflated cuff, an air pressure sensor, and a pump. The band is placed on the user's left arm, where it compresses and relaxes the artery beneath it in a controlled fashion. The volume of blood pumped by the heart is measured, and the measured blood pressure is shown on the monitor. Several portable, lightweight, and low-cost blood pressure monitors have been introduced to the market. They are simple to use and have a wide reading display. Furthermore, these devices are capable of storing a large number of prior readings, allowing users to maintain track of their usual blood pressure.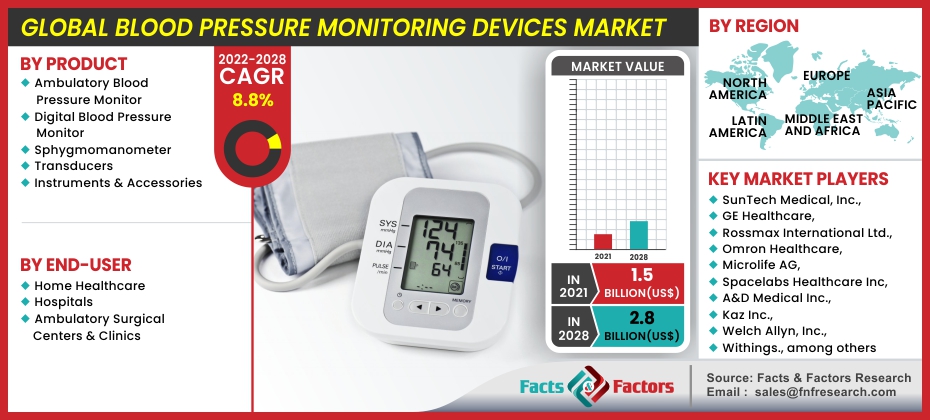 COVID-19 Impact:
The global blood pressure monitoring devices market has grown significantly in the COVID-19 situation, owing to an increase in occurrences of hypertension in COVID-19 hospitalized patients. As a result of the global outbreak, many people in both developed and poor countries were hospitalized in 2020. These patients need beat-to-beat blood-pressure monitoring, which greatly aids HCPs in observing vital signs regarding the patient in real-time and making therapeutic decisions accordingly. Furthermore, the COVID-19 infection has resulted in a significant workload for health care providers (HCP). As a result, the use of home blood pressure monitoring devices has increased during the COVID-19 epidemic. In the COVID-19 scenario, such factors have boosted the global market.
Growth Drivers
Soaring aneroid gauge innovations are anticipated to drive the growth of the market
Aneroid blood pressure gauges can be used because they do not contain mercury. Regardless of the fact that current aneroid gauges are usually precise and trustworthy, users should remember that their efficient performance is strongly dependent on periodic inspection. An aneroid gauge monitors pressure by bending a membrane on the inside of the meter. Welch Allyn aneroid sphygmomanometers with shock-resistant DuraShock® technology keep blood pressure gauges securely accurate and calibrated longer than typical aneroid sphygmomanometers in busy hospital environments where apparatus must be durable. The progressive gear-free technology used in Welch Allyn DuraShockTM blood pressure gauges is the first major development in aneroid technology in a century. With Welch Allyn DuraShock Technology, precise blood pressure readings can be maintained at a lower lifetime cost. Increasing aneroid gauge developments will therefore propel the blood pressure monitoring devices market forward throughout the projected period.
The market is expected to grow due to soaring digital health innovations in hypertension
Apart from aneroid gauge advancements, digital health technologies are also moving the global blood pressure monitoring devices market forward. Portable cellphone forearm blood pressure monitors, remote monitoring technology, cuffless blood pressure sensors, and user-friendly mobile apps are among the digital health advancements relating to hypertension. These systems have the potential to improve hypertension control and medication adherence through improved communication with clinicians and medication reminder alerts. In January 2021, Valencell announced that their breakthrough calibration-free, cuffless blood pressure technology for wearables may now be used in gadgets worn on the wrist and fingers. The technology, which offers cuff-like blood pressure precision to other regions of the body, is expected to be available in hearing aids, hearables, and other ear-based gadgets. Smartwatches, patches, fitness bands, and finger clip pulse oximeters are just a few of the new gadget form factors that can now be embedded with technology. During the forecast period, increasing hypertension-related advancements will drive the growth of the blood pressure monitoring devices market.
Restraints
The market's expansion may be hampered by a lack of qualified technicians and standardization
A shortage of qualified specialists in addressing system crashes in real-time applications is slowing the market's growth. Another aspect impeding market expansion is a lack of uniformity. The cost of some advanced-featured devices is a little expensive, which remains a challenge for market developers. The market for blood pressure monitoring devices is limited by the government's severe laws and regulations when it comes to certifying new devices.
Opportunities
Rising cases of chronic diseases are likely to provide new opportunities for market players
Chronic diseases, like hypertension, are more common all over the world. According to the Pan American Health Organization, hypertension affected more than 30 percent of the adult population worldwide by 2020. Additionally, the governments of many nations, as well as private healthcare sectors, are actively promoting awareness about hypertension management. This is contributing to the rise in self-diagnosis and regular check-ups among the general public, which is driving up demand for such devices. To meet this unmet need, prominent market participants are offering new technologies with enhanced functionalities, such as Bluetooth data transfer.
Challenges
Limitations in blood pressure self-measurement are slowing the market
To be considered reliable for diagnostic use, blood pressure self-measurement requires patients to follow a set of guidelines. The following are some suggestions:
Prior to and during the examination, the patient should be sufficiently relaxed and seated.
The patient should live in a peaceful environment and should not speak throughout the assessment.
Recommendations differ depending on the country. However, they frequently deal with the same basic topics. Current devices do not ensure that the recommendations are followed; healthcare providers are unable to see if self-monitoring patients follow the recommendations; patients are not aware of all the recommendations and the need to follow them; the risk of healthcare provider-activated data transfer bias, the risk of patient-activated reporting bias, and the risk of data being recorded are all challenges of blood pressure self-management. The expansion of the blood pressure monitoring device market is being hampered by these difficulties.
Segmentation Analysis
The global blood pressure monitoring devices market is segregated on the basis of product, end-user, and region.
By product, the market is divided into ambulatory blood pressure monitors, digital blood pressure monitors, sphygmomanometers, transducers, and instruments & accessories. In 2021, the sphygmomanometer segment had the most market share. This expansion is due to rapid technological advancements and a surge in new product releases around the world. Tremendous progress is being made in the field of aneroid gauges. The growing benefits of digital sphygmomanometers, such as their precise results and ease of use, are fueling the expansion of the sphygmomanometer segment.
Furthermore, the disposable blood pressure transducer size is anticipated to grow at the fastest CAGR of 10.5% during the forecast period, owing to the increasing use of disposable blood pressure transducers, which are designed to provide constant and accurate observations of venous and arterial blood pressure assessments.
By end-user, the market is segmented into home healthcare, hospitals, ambulatory surgical centers & clinics. In 2021, the hospital's segment had the most market share. The existence of a large pool of hypertension patients around the world accounts for this rise. Blood pressure is measured using an aneroid gauge. The growing popularity of blood pressure monitoring devices, which are inexpensive, quick, and precise diagnostic tools for better health outcomes, is fueling the expansion of this market.
Furthermore, the home healthcare segment is expected to grow at the fastest CAGR of 10.4 % during the forecast period, owing to the increasing use of home healthcare due to the high cost-effectiveness of this alternative for blood pressure monitoring right at home, as well as the availability of wearable technologies that provide mobility and the rising preference for independent living apart from the use of an aneroid gauge.
Report Scope
| | |
| --- | --- |
| Report Attribute | Details |
| Market Size in 2021 | USD 1.5 Billion |
| Projected Market Size in 2028 | USD 2.8 Billion |
| CAGR Growth Rate | 8.8% CAGR |
| Base Year | 2021 |
| Forecast Years | 2022-2028 |
| Key Market Players | SunTech Medical, Inc., GE Healthcare, Rossmax International Ltd., Omron Healthcare, Microlife AG, Spacelabs Healthcare Inc, A&D Medical Inc., Kaz Inc., Welch Allyn, Inc., and Withings., among others |
| Key Segment | By Product, End-User, and Region |
| Major Regions Covered | North America, Europe, Asia Pacific, Latin America, and the Middle East & Africa |
| Purchase Options | Request customized purchase options to meet your research needs. Explore purchase options |
Regional Landscape
North America holds the biggest revenue share
In 2021, North America owned the greatest share of the market, accounting for 38.5% of the global blood pressure monitoring devices market. The region's growth can be attributed to the region's highly regulated and well-established healthcare system. The rising financing and demand for blood pressure monitors, especially aneroid gauges, as a result of an increase in the number of hypertensive patients are fueling the expansion of the blood pressure monitoring devices market in this region. The presence of prominent companies in the region, such as Omron Healthcare in the United States, is further driving the development of the blood pressure monitoring devices market in North America.
Furthermore, the Asia Pacific region is expected to have the quickest CAGR rate during the projection period. This expansion is due to reasons such as rapid funding by key enterprises in Asia Pacific developing countries. The improved healthcare facilities that use aneroid gauges have raised the prevalence of hypertension, and rising awareness about high blood pressure is fueling the growth of the blood pressure monitoring devices market in the Asia Pacific region.
Recent Developments
November 2021: With new product developments, GE aims to improve radiology effectiveness. At RSNA 2021, GE Healthcare will unveil new solutions in a variety of medical imaging modalities, with a common theme: improving the efficiency of radiology departments and imaging centers. A new MRI series and a new CT scanner are being launched.
February 2020: GE Healthcare has introduced a new cybersecurity customer service that combines medical device knowledge, process management capabilities, and artificial intelligence to help hospital organizations combat cyber threats. Skeye, a unique solution, bolsters hospitals' existing resources and capabilities by providing proactive supervision via a remote security operations center (SOC) – supporting them in real-time detection, assessment, and response to cybersecurity threats and events. As more devices become linked, the risk of cyberattack rises, and security breaches can have a significant impact on a company's productivity, revenue, the standard of healthcare, and reputation.
Competitive Landscape
Some of the main competitors dominating the global blood pressure monitoring devices market are SunTech Medical, Inc., GE Healthcare, Rossmax International Ltd., Omron Healthcare, Microlife AG, Spacelabs Healthcare Inc, A&D Medical Inc., Kaz Inc., Welch Allyn, Inc., and Withings.
The global blood pressure monitoring devices market is segmented as follows:
By Product Segment Analysis
Ambulatory Blood Pressure Monitor
Digital Blood Pressure Monitor
Sphygmomanometer
Transducers
Instruments & Accessories
By End-User Segment Analysis
Home Healthcare
Hospitals
Ambulatory Surgical Centers & Clinics
By Regional Segment Analysis
North America

The U.S.
Canada
Mexico
Rest of North America

Europe

France
The UK
Spain
Germany
Italy
Nordic countries

Denmark
Finland
Iceland
Sweden
Norway

Benelux Reunion

Belgium
The Netherlands
Luxembourg

Rest of Europe

Asia Pacific

China
Japan
India
New Zealand
Australia
South Korea
Southeast Asia

Indonesia
Thailand
Malaysia
Singapore
Rest of Southeast Asia

Rest of Southeast Asia

The Middle East & Africa

Saudi Arabia
UAE
Egypt
Kuwait
South Africa
Rest of the Middle East & Africa

Latin America

Brazil
Argentina
Rest of Latin America