Industry Insights
[233+ Pages Report] According to the report published by Facts Factors, the globally distributed energy generation market size was worth around USD 281.9 billion in 2022 and is predicted to grow to around USD 744.8 billion by 2030 with a compound annual growth rate (CAGR) of roughly 11.41% between 2023 and 2030. The report analyzes the globally distributed energy generation market drivers, restraints/challenges, and the effect they have on the demands during the projection period. In addition, the report explores emerging opportunities in the distributed energy generation market.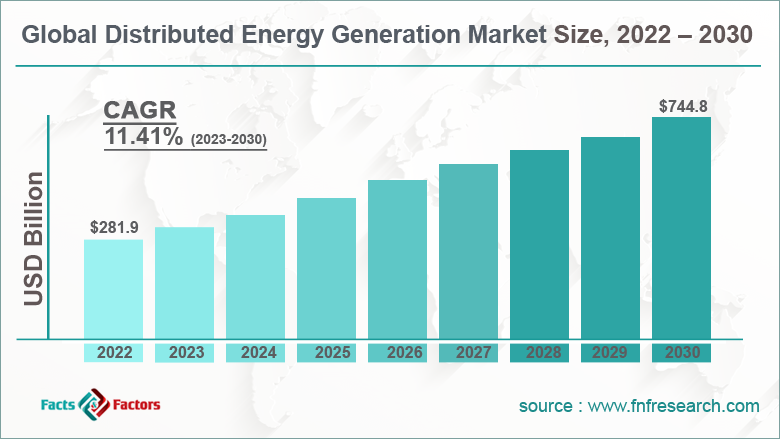 To know more about this report | Request Free Sample Copy
Market Overview
Distributed energy generation (DEG) involves generating energy near the place of consumption, on a smaller scale, instead of relying on large grids or centralized power plants for the generation of energy and distribution over long distances. It makes use of localized, small-scale power generation systems and associated services. DEG includes different types of technologies like wind turbines, solar panels, small hydroelectric generators, fuel cells, and others to name a few. These technologies can be applied to work in varied types of settings like communities, businesses, and homes.
There are several benefits associated with the use of DEG systems and they are the reasons for its growing popularity. The industry is diverse and growing rapidly and is run by project developers, equipment manufacturers, and energy service companies including other stakeholders. During the projection period, the market is projected to have a high CAGR while navigating through certain challenges and restraints.
Key Insights
As per the analysis shared by our research analyst, the globally distributed energy generation market is estimated to grow annually at a CAGR of around 11.41% over the forecast period (2022-2030)
In terms of revenue, the globally distributed energy generation market size was valued at around USD 281.9 billion in 2022 and is projected to reach USD 744.8 billion, by 2030.
The market is projected to grow at a significant rate due to the growing demand for renewable energy
Based on end-user segmentation, residential was predicted to show maximum market share in the year 2022
Based on technology segmentation, solar panels were the leading technology in 2022
On the basis of region, North America was the leading revenue generator in 2022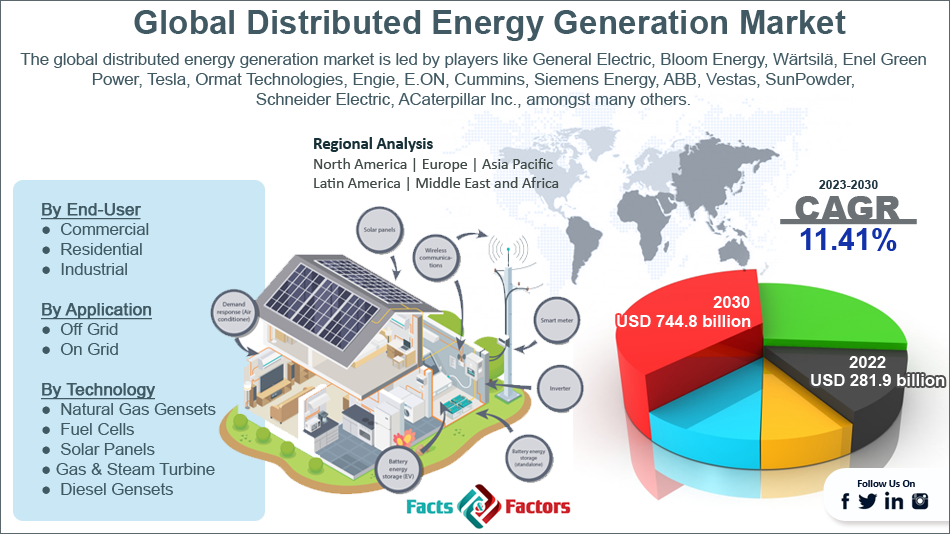 To know more about this report | Request Free Sample Copy
Growth Drivers
Growing demand for renewable energy to propel market growth
The globally distributed energy generation market is projected to benefit from the rising demand for renewable energy. With increasing consumption rates due to rapid industrialization alongside urbanization, the dependency on non-renewable sources of energy is extremely high. These events are leading to irreversible damage to the environment. The growing temperatures during summers, changing weather conditions, the onset of frequent natural calamities like floods and drought are certain examples of damage done to the ecosystem due to the growing use of fossil fuel for energy generation.
As world leaders and regular consumers are becoming increasingly aware of the harmful impact, consumption patterns are changing slowly but steadily. This trend is expected to work in the favor of the industry as more investments toward developing means of sustainable energy generation are on the rise.
Restraints
Lack of standard regulatory measures to restrict market expansion
Although there are certain regions that are working toward better and higher adoption of the technologies in the DEG sector, a large number of nations are significantly lagging in deploying regulatory processes and implementation procedures. This can lead to a significant loss of revenue in the coming years as the potential for the industry is huge but due to unawareness or lack of necessary support from government bodies, market players may incur losses.
Opportunities
Growth in emerging economies to provide growth opportunities
One of the key expansion opportunities for the global industry players is in emerging economies that are witnessing a change in lifestyle patterns. These regions have a high potential for growth since the demand for energy is rising suddenly due to the increasing movement of people from rural areas to urban cities.
Furthermore, the intense investment directed toward infrastructure projects enhances the growth prospects in developing segments. The market could especially benefit in areas that lack a regular or reliable supply of energy due to the lack of supportive architecture.
Challenges
Limited grid integration to act as a major challenge for market players
A major challenge faced by market players is the seamless and efficient integration of existing energy infrastructure with DEG systems. Since the process is extremely complex and requires skilled resources, of which there is a significant lack of demand and availability. Other issues like technical compatibility and variable output are other challenges that the industry supplies need to deal with before completely exploring the fraternity's potential.
Segmentation Analysis
The global distributed energy generation market is segmented based on end-user, application, technology, and region
Based on end-user, the global market segments are commercial, residential, and industrial
Although the market is registering a high growth rate in all segments, 2022 was dominated by the residential sector
The previous year registered high demand and installation of home energy storage solutions and rooftop solar panels to meet residential energy demand
The industrial and commercial sectors are also important segments for expansion, especially in areas of backup power, energy management, and grid balancing
The industry is also registering small but significant demand in government, utilities, and the public sector and they may emerge as significant contributors in the coming years
As per an estimate, a 6 kW residential solar panel can generate energy between 6000 kWh per hour to 9000 kWh per hour
Based on application, the global market is divided into off-grid and on-grid.
Based on technology, the global market is segmented into natural gas gen-sets, fuel cells, solar panels, gas & steam turbines, and diesel gensets
Solar panels are the most in-demand type of technology in the DEG market
Factors are falling costs, renewable energy focus, and easy installation are major drivers for the segmental growth
Although the demand for other types is also high, they are generally used in specific settings and have limited applications but offer several advantages like reliability, high efficiency, and flexibility
However, the market for these types is small compared to solar panels
Most panels come with a warranty of 25 years
Recent Developments:
In December 2022, Soleos, a global provider of energy performance contracting (EPC) solutions, announced the launch of a new set of solar panels unlike anything before. They are called the ANTARES BI 144 and offer efficiency in terms of space optimization along with lower associated costs in the long haul
In January 2023, the Caltech Space Solar Power Project (SSPP) launched the Space Solar Power Demonstrator (SSPD) prototype called the Transporter-6 mission into space. It is an ambitious plan which intends to harness the power of solar energy and bring it back to the planet
In September 2022, the US witnessed the launch of a new brand of solar panels called Star Solar at the RE+ show. The company is led by a team of women in management
Report Scope
| | |
| --- | --- |
| Report Attribute | Details |
| Market Size in 2022 | USD 281.9 Billion |
| Projected Market Size in 2030 | USD 744.8 Billion |
| CAGR Growth Rate | 11.41% CAGR |
| Base Year | 2022 |
| Forecast Years | 2023-2030 |
| Key Market Players | General Electric, Bloom Energy, Wärtsilä, Enel Green Power, Tesla, Ormat Technologies, Engie, E.ON, Cummins, Siemens Energy, ABB, Vestas, SunPowder, Schneider Electric, ACaterpillar Inc., and others. |
| Key Segment | By End-User, Application, Technology, and Region |
| Major Regions Covered | North America, Europe, Asia Pacific, Latin America, and the Middle East &, Africa |
| Purchase Options | Request customized purchase options to meet your research needs. Explore purchase options |
Regional Analysis
North America to continue its dominance in the market
North America currently leads the globally distributed energy generation market and is expected to grow at the highest CAGR during the forecast period. Several favorable factors are responsible for regional growth and include aspects like favorable government policies for the promotion and adoption of DEG systems to meet the growing energy demand of advanced economies. Furthermore, the presence of dominating and influential brands alongside the growing rate of emergence of new players offering quality and affordable technology could lead to further growth.
Moreover, the US is investing heavily in terms of research & development to harness renewable sources of energy and concentrate it in ways that best fit the requirements of residential, commercial, and industrial energy requirements. Europe is projected to grow at a significant CAGR in the coming years.
Competitive Analysis
General Electric
Bloom Energy
Wärtsilä
Enel Green Power
Tesla
Ormat Technologies
Engie
E.ON
Cummins
Siemens Energy
ABB
Vestas
SunPowder
Schneider Electric
ACaterpillar Inc
The global distributed energy generation market is segmented as follows:
By End-User Segment Analysis
Commercial
Residential
Industrial
By Application Segment Analysis
By Technology Segment Analysis
Natural Gas Gensets
Fuel Cells
Solar Panels
Gas & Steam Turbine
Diesel Gensets
By Regional Segment Analysis
North America
Europe

France
The UK
Spain
Germany
Italy
Nordic Countries
Benelux Union

Belgium
The Netherlands
Luxembourg

Rest of Europe

Asia Pacific

China
Japan
India
Australia
South Korea
Southeast Asia

Indonesia
Thailand
Malaysia
Singapore
Rest of Southeast Asia

Rest of Asia Pacific

The Middle East & Africa

Saudi Arabia
UAE
Egypt
South Africa
Rest of the Middle East & Africa

Latin America

Brazil
Argentina
Rest of Latin America