Industry Insights
[235+ Pages Report] According to the report published by Facts and Factors, the global digital health market size was worth around USD 195.1 billion in 2021 and is predicted to grow to around USD 780.05 billion by 2030 with a compound annual growth rate (CAGR) of roughly 16.1% between 2022 and 2030. The report analyzes the global digital health market drivers, restraints/challenges, and the effect they have on the demands during the projection period. In addition, the report explores emerging opportunities in the digital health market.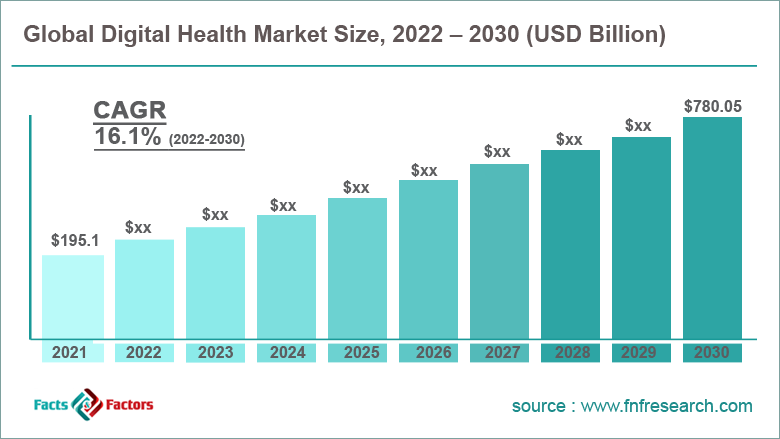 To know more about this report | Request Free Sample Copy
Market Overview
Digital health is a branch of a medical discipline that makes use of health-related technologies and digital care programs to improve the efficacy and efficiency of healthcare while aiding the personalization of medicines depending on the exact medical requirements of the patient. Digital health works along with communication and information systems to aid the understanding of medical problems faced by patients undergoing different types of medical treatment. It also acts as a crucial factor that affects social prescribing, the process in which the healthcare professional refers a patient to provide community support for mental health improvement.
Social prescribing can be made more effective by precise solutions when used alongside digital health systems. The efficiency of digital health depends on the ecosystem that it works in and includes aspects like computing software and platforms along with connectivity and sensors that can register healthcare-related concerns. Digital health has allowed medical professionals to approach treatment with a holistic view by having access to patients' healthcare-related data and it is anticipated to offer opportunities for growth in the medical field.
Key Insights
As per the analysis shared by our research analyst, the global digital health market is estimated to grow annually at a CAGR of around 16.1% over the forecast period (2022-2030)
In terms of revenue, the global digital health market size was valued at around USD 195.1 billion in 2021 and is projected to reach USD 780.05 billion, by 2030.
The market is projected to grow at a significant rate due to the benefits offered by digital health
Based on technology segmentation, telehealthcare was predicted to show maximum market share in the year 2021
Based on component segmentation, services were the leading component in 2021
On the basis of region, North America was the leading revenue generator in 2021
To know more about this report | Request Free Sample Copy
Growth Drivers
Exceptional benefits of digital health to propel market demand
The global digital health market is projected to grow owing to the exceptional and advantageous benefits of shifting to digital health not only for patients but for medical professionals as well. Digital health has played a vital role in creating a balance between the health-related control shared between the medical staff and the patient alike where the latter has more access to their health as opposed to traditional medicinal care where most of the control is with the medical personnel.
The technologies used in digital health are created to empower users to make informed decisions related to their health and less dependency on other people. It also facilitates early diagnosis or prevention of a life-threatening disease while also helping in managing chronic conditions when they occur outside of a traditional health care unit. Studies have shown that digital health can aid in the reduction of medicinal inefficiencies, increases the quality of medical care, improves access to information for all stakeholders, and can effectively reduce the overall cost of medical treatment. Consumers or patients can use the systems to manage or track wellness and health-related activities.
Restraints
Concerns over health data ownership to restrict market expansion
Digital health works on large files or data sheets that may range from simple sheets recording every death or birth to it may also include more complex metrics consisting of information like outbreaks, diseases, and chronic conditions. This accumulated data helps the medical community come to data-driven conclusions or decisions that best fit the personal medical requirements of the patient.
However, the nature of the data thus collected is extremely personal and the confidentiality of such information should be the top priority for all the involved stakeholders. The medical community is currently debating the rightful owner of health data if it should be the governments or the big companies providing digital health.
Opportunities
Growing awareness to provide growth opportunities
The global digital health market is anticipated to benefit from the growing awareness of digital health amongst the population. It is a relatively new technology and although there is a significant section of people from the patient's side as well as the from the medical community who are aware of the technology and the devices, more people are expected to gain awareness about the benefits of digital health which could lead to higher growth opportunities. For instance, a recent survey by Healthexec concluded that 90% of American adults use at least 1 form of a digital health device.
Challenges
Adopting new technology to act as a major challenge
Digital health devices are known to propagate ageism, which involves systematic discrimination against senior citizens, who may not be well-adept at using new systems or devices. The problem does not just restrict to the older generation, but technology, in general, keeps changing every year with new products or versions launched making the previous technologies redundant. The gap related to technical knowledge will continue to exist unless digital health companies take proactive measures to curb the challenge.
Segmentation Analysis
The global digital health market is segmented based on component, technology, and region
Based on components, the global market segments are services, software, and hardware.
The global market registered the highest growth in the services segment in 2021 with around 45% of the segmental market share attributed to growing investments in staffing, training, maintenance, and installation of digital health.
As the technology keeps growing with constant changes including additions of new features and removal or upgrading of older features, the demand for installation and training is on the rise. Most of the device providers manage an internal team that is solely responsible for the after-sale services since it is important for future growth.
Based on technology, the global market is divided into digital health systems, healthcare analytics, telehealthcare, and mhealth.
The global market registered the highest growth in the telehealthcare segment which regenerated around 41.56% of the segmental revenue.
The growing demand for managing and monitoring healthcare data along with other factors like population management in real-time and secure storage of healthcare-related information is leading the demand for telehealth care.
The segment may register a high CAGR due to the growing remote patient care trend which comes along with its own sets of benefits in managing chronic conditions like cardiovascular diseases or diabetes.
Recent Developments:
In February 2022, the Government of India announced the launch of two new projects on digital health. The two new launches include a national tele-mental health program and the other one is an open platform to encourage the country's vision for digital health
In October 2022, the World Health Organization (WHO) along with the Qatar Ministry of Health announced the launch of a new artificial intelligence-powered Florence version 2.0 which offers an innovative platform to share and discuss various health issues in seven different languages
Report Scope
| | |
| --- | --- |
| Report Attribute | Details |
| Market Size in 2021 | USD 195.1 Billion |
| Projected Market Size in 2030 | USD 780.05 Billion |
| CAGR Growth Rate | 16.1% CAGR |
| Base Year | 2021 |
| Forecast Years | 2022-2030 |
| Key Market Players | Allscripts, Cerner Corporation (Oracle), AirStrip Technologies, Mckesson Corporation, Vodafone Group, Apple Inc., Samsung Electronics Co. Ltd., Epic Systems Corporation, and others. |
| Key Segment | By Component, Technology, and Region |
| Major Regions Covered | North America, Europe, Asia Pacific, Latin America, and the Middle East &, Africa |
| Purchase Options | Request customized purchase options to meet your research needs. Explore purchase options |
Regional Analysis
North America to lead with the highest CAGR
The global digital health market is projected to register the highest growth in North America due to higher product awareness which is further propelled by the growing number of dominant players in the US, which is also the largest contributor to the regional market revenue. Product penetration in the US is higher because of early acceptance of products across age groups voluntarily or due to influence from the advanced and well-funded medical community. It is one of the first few regions to adopt smart systems like mobile phones, mobile apps, electronic-health services, and smart wearables to gain remote access to use health information and make decisions based on the data collected.
Other factors like the rise in sales of smart medical monitoring gears, increasing cost of healthcare resulting in people switching to more affordable options like digital health, and shortage of primary medical care personnel could drive the regional growth during the forecast period. Growth in the Middle East is projected to be the result of growing government initiatives to advance digital healthcare in regional economies.
Competitive Analysis
Allscripts
Cerner Corporation (Oracle)
AirStrip Technologies
Mckesson Corporation
Vodafone Group
Apple Inc.
Samsung Electronics Co. Ltd.
Epic Systems Corporation
The global digital health market is segmented as follows:
By Component Segment Analysis
Services
Software
Hardware
By Technology Segment Analysis
Digital Health Systems
Healthcare analytics
Tele-Healthcare
mHealth
By Regional Segment Analysis
North America
Europe

France
The UK
Spain
Germany
Italy
Nordic Countries
Benelux Union

Belgium
The Netherlands
Luxembourg

Rest of Europe

Asia Pacific

China
Japan
India
Australia
South Korea
Southeast Asia

Indonesia
Thailand
Malaysia
Singapore
Rest of Southeast Asia

Rest of Asia Pacific

The Middle East & Africa

Saudi Arabia
UAE
Egypt
South Africa
Rest of the Middle East & Africa

Latin America

Brazil
Argentina
Rest of Latin America