Covid-19
Global Electronic Health Records Market Size, Share
The pandemic continues to cause unprecedented disruption across industries worldwide.Get detailed insights regarding the impact of COVID-19 on the market. Request Sample
Industry Insights
[187+ Pages Report] According to Facts and Factors Research, the global electronic health records market was registered at over USD 29.1 billion in 2020 and is predicted to reach USD 39.9 billion by the end of 2026, rising at a CAGR of over 5.4% between 2021 and 2026.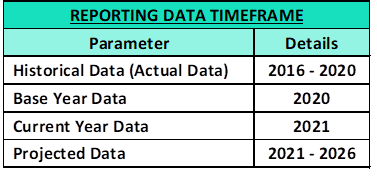 Market Overview
The schematized bundle of health information on patient data in a digital structure is known as an electronic health record (EHR). These records can be used in a variety of healthcare settings. Demographics, patient medical history, prescription, and allergy information, immunization status, laboratory test results, radiological pictures, personal statistics, and billing information are all included in the EHR.
Industry Growth Factors
The electronic health record (EHR) market is predicted to rise in the upcoming years owing to accurate and up-to-date patient data, more EHR adoption, and long-term cost savings in healthcare. Citing an instance, In Australia, My Health Record is a national digital health record portal. Unless they choose not to have one, every Australian citizen has a "My Health Record." According to the agency, by the end of 2022, all healthcare practitioners in the country will be able to contribute to and access the platform's healthcare data. In addition, the advent of technologically improved healthcare services is projected to fuel market expansion.
Since the beginning of 2020, the Covid-19 pandemic has placed a lot of strain on healthcare organizations. Since some client buying decisions and programs are postponed to concentrate on treating patients, procuring required medical supplies, and managing their companies during this crisis, the pandemic has had a negative impact on major market players' revenues. Efforts to provide medical treatment and testing were intensified during the COVID-19 pandemic. Researchers use telehealth and remote-controlled engagement tools to gather data for research, and doctors use telehealth and remote-controlled engagement tools to provide patient care.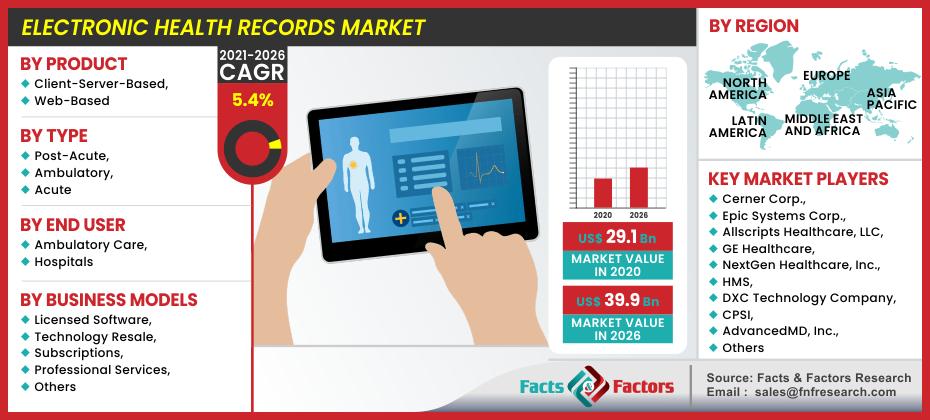 Segmentation Analysis
On the basis of product used in electronic health records market, the market can be segmented into client-server-based, and web-based. In 2020, the web-based EHR segment dominated the market, accounting for more than 54% of global sales. The popularity of web-based EHRs among physicians and healthcare professionals is responsible for this huge market share. Over the projected period, the client server-based product category is expected to increase significantly. Client-server EHRs are a safer option for users since they allow in-house data storage, which prevents data theft. These can also be tailored to meet the needs of the customer and are a good alternative for multi-physician facilities. Based on type, the electronic health records market can be segmented into post-acute, ambulatory, and acute. In 2020, the acute type segment had the biggest market share of over 47%. The government's measures for the use of EHRs in small-scale facilities are to blame for the increase. Government support for the implementation of ambulatory EHRs is likely to increase market growth, particularly during the Covid-19 pandemic. The segment's growth is expected to be aided by rising spending on post-acute care facilities.
Based on end-users, the market can be segmented into ambulatory care and hospitals. In 2020, the hospital sector had the biggest market share of more than 61 percent, and this dominance is expected to continue throughout the forecast period. The vast amount of medical data created in hospitals is to blame for the increase. However, from 2021 to 2026, the ambulatory end-use category is expected to grow at the quickest rate. Patients and healthcare providers benefit from the convenience of ambulatory care centers. In terms of business models, the industry is bifurcated into licensed software, technology resale, subscriptions, professional services, and others. In 2020, the professional services category led the market with a share of approximately 30.0 percent. The segment will be driven by the growing need for professional services such as clinical process optimization, project management, regulatory consultation, technical & application knowledge, and training of a workforce to aid in the design and implementation of systems.
Regional Analysis
Due to favorable government initiatives and the implementation of supported policies, the North American electronic health record market gained over 48% of the market share in 2020. The Centers for Medicare & Medicaid Services in the United States established "Promoting Interoperability Programs" to encourage hospitals and professionals to use certified electronic health record technologies. Industry players are launching advanced software that integrates cutting-edge technology to increase product utilization in the region. The government's and non-government organizations' strong focus on the establishment of a highly sustainable healthcare ecosystem in the region would boost market demand even more.
Competitive Players
Some main participants of the global electronic health records market are Cerner Corp., Epic Systems Corp., Allscripts Healthcare, LLC, GE Healthcare, NextGen Healthcare, Inc., HMS, DXC Technology Company, CPSI, AdvancedMD, Inc., eClinicalWorks, Medical Information Technology, Inc., Greenway Health, LLC, CureMD Healthcare, and McKesson Corp. among others.
Electronic Health Records Market: Regional Segment Analysis
North America
Europe

UK
France
Germany
Italy
Spain
Rest of Europe

Asia Pacific

China
Japan
India
South Korea
Southeast Asia
Rest of Asia Pacific

Latin America

Brazil
Mexico
Rest of Latin America

Middle East and Africa

GCC Countries
South Africa
Rest of MEA