Industry Insights
[214+ Pages Report] According to Facts and Factors,the global biological seed treatment market size was worth USD 928.40 million in 2021 and is estimated to grow to USD 1803.24 million by 2028, with a compound annual growth rate (CAGR) of approximately 11.70% over the forecast period. The report analyzes the biological seed treatment market's drivers, restraints/challenges, and their effect on the demands during the projection period. In addition, the report explores emerging opportunities in the biological seed treatment market.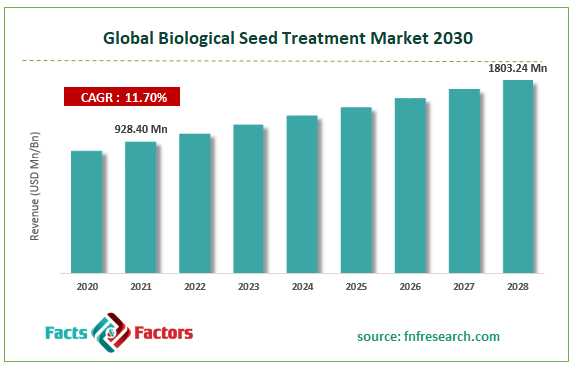 To know more about this report | Request Free Sample Copy
Market Overview
Extracts from plants and algae, fungi and bacteria, and microorganisms like fungi and bacteria can all be active ingredients in biological seed treatment. The biological material is applied to the seeds as liquid or powder. A uniform coating protects each seed and can be adjusted as necessary. When seeds are treated biologically, dangerous fungi cannot harm plants, seeds, or saplings. Additionally, natural seed treatment can promote cell division, root growth, nitrogen fixation, and an increase in plant resistance. On the other hand, biological seed treatment is environmentally friendly and encourages more even sowing and higher yields.
COVID-19 Impact:
The COVID-19 pandemic and the supply chain disruption have caused problems for the agriculture industry, including labor shortages, transportation obstacles, limited market access, and insufficient inventory in some places. Due to a lack of raw resources, producers produce less processed seed goods, including biological seed treatment products. The development of the COVID-19 virus has significantly impacted billions of people's daily lives. The virus attack drastically altered human behavior, forcing manufacturers to implement safety regulations and tactics that could aid the market's growth over the coming years. Following COVID-19, agricultural activity has returned to normal, enabling businesses to export their goods to other nations. Due to the potential benefit to farmers everywhere, physical agricultural goods and seed treatment agents are especially crucial.
Key Insights
As per the analysis shared by our research analyst, the global biological seed treatment market value will grow at a CAGR of 11.70% over the forecast period.
In terms of revenue, the global biological seed treatment market was valued at around USD 928.40 million in 2021 and is estimated to grow to USD 1803.24 billion.
The market is impacted by adopting sustainable farming methods and significant investment in product development and research by key market participants. The main drivers of this market's expansion globally are the agricultural and environmental advantages linked to these biological seed treatment technologies.
By crop type, the soybean category dominated the market in 2021.
By function, the seed protection segment dominated the market in 2021.
North America dominated the global biological seed treatment market in 2021.
Growth Drivers
Concerns about the environment related to chemical seed treatment drive the market growth
Due to the high knowledge of their potential and the growing focus on the environmental and health dangers linked to conventional chemicals, there is a major growth in the market for biological seed treatment. Chemical seed treatments harm the environment and put pollinators at considerable risk. The insecticide class known as neonicotinoids is considered extremely hazardous to honeybees. Compared to synthetic chemicals, microorganisms used as active ingredients in pest management are typically safe for the environment and non-target species.
Restraints
Governmental restrictions may hinder the market growth
Different nations and regions have different regulatory environments for active biological components. Generally speaking, professionals worldwide agree that biological seed treatment solutions are superior to chemical plant protection goods but still advantageous. Furthermore, regulatory obligations and assessment procedures have not always been approached consistently despite this acknowledgment. In some nations, biologicals must be registered by specific laws, or they could be registered similarly to chemical plant protection products. Sometimes there are fewer data requirements, and other times there might not even be a clearly defined registration process.
Opportunity
Using bio-priming strategies to increase effectiveness provides market opportunities
"Bio-priming" refers to a biological seed treatment technique that combines seed hydration and microbial injection. Microbial inoculants, such as plant growth-promoting rhizome-microorganisms (bacteria or fungi), are typically used for bio-priming seeds. This eco-friendly method increases plant growth by using certain microbes that produce chemicals that promote plant growth, improve nutrient uptake, or shield seedlings and plants from soil- or seed-borne plant pathogenic organisms. Such methods are expanding because most pesticides used to treat seeds serve as contact fungicides and cannot shield plants from foliar infections in the later phases of crop development.
Challenges
Performance variations and compatibility issues with specific herbicides may hinder the market growth
The erratic results are the characteristics of biological seed treatments that have deterred investment. The most frequent issues when using such items are desiccation and environments that prevent their growth. Inoculants that were successful with one crop might not be as successful with a different crop. Trichoderma, for example, is more successful at increasing tomato yield than cucumber yield. It is not as effective to load with just one or two microorganisms as it is to load with the full community. However, mixing microorganisms with differing growth requirements can occasionally boost effectiveness. For example, PGPR can be coupled with fungi.
Segmentation Analysis
The global biological seed treatment market has been segmented into crop type, function, and type.
Based on crop type, the market is segmented into corn, wheat, soybean, cotton, sunflower, vegetable crops, and other crops (plantation, fruit, pulse, other cereal & oilseed, turf, forage, and ornamental crops). The soybean category dominated the market in 2021. For growth and development, the soybean crop needs a lot of exposure to nitrogen, which can be provided by biological fixation by seed inoculants. As a result, the soybean market for biological seed treatment will be expected to expand at the quickest rate over the projection period. By parasitizing the nematode, preventing nerve transmission, or erecting a barrier around the roots to deter nematodes, bio-nematicide seed treatments assist in protecting the roots from soybean cyst nematode (SCN) feeding.
Based on function, the market is classified into seed enhancement and protection. In 2021, the seed protection category dominated the global market. In the early seedling stage, biological seed treatments for seed protection offer specialized control of certain pests and fungal diseases. Biological seed treatments are applied to many crops to control many pests. Through protection from a variety of soil-borne diseases and insects, it guarantees uniform stand establishment.
Based on type, the global biological seed treatment market is segmented into microbial, botanical and others (fermentation products and natural polymer & derivatives). The microbial are anticipated to have the highest share in this market in 2021. Microbials, botanicals, and other materials make up the several types of biological seed treatments available today (fermentation products and natural polymers & derivatives). Due to the rising demand for microbial seed treatments in field crops, including soybean and corn, the microbial industry will lead the market in 2020.
Recent Developments-
October 2020: Through its business unit, Syngenta Crop Protection, the Syngenta Group announced the acquisition of Valagro, a significant player in the biological industry. By employing this tactic, Syngenta Crop Protection positions itself as one of the major international businesses that will help shape the rapidly expanding global biological market, which is anticipated to double in size over the following five years roughly.
March 2019: Horticultural Alliance, Inc., a Florida-based company in the United States that specializes in an organic method of maintaining plant health through mycorrhizal inoculants and helpful bacteria in horticulture, was bought by Italpollina (Italy). The "HELLO NATURE Family of Products" in the US now has more prospects for growth thanks to this deal.
Report Scope
| | |
| --- | --- |
| Report Attribute | Details |
| Market Size in 2021 | USD 928.40 Million |
| Projected Market Size in 2028 | USD 10824.88 Million |
| CAGR Growth Rate | 11.70% CAGR |
| Base Year | 2021 |
| Forecast Years | 2022-2028 |
| Key Market Players | BASF SE, Bayer AG, Novozymes A/S, Syngenta Group, Corteva Agriscience, Rhizobacter, ValentBioSciences, Verdesian Lifescience, Plant Health Care, Bioworks, Italpollina, UPL Limited, Bioworks Inc, Marrone Bio Innovation, Koppert Biological Systems, IPL Biologicals, Certis Europe, Advanced Biological Marketing, Kan Biosys, Incotec., and Others |
| Key Segment | By Crop Type, Function, Type, and Region |
| Major Regions Covered | North America, Europe, Asia Pacific, Latin America, and the Middle East &, Africa |
| Purchase Options | Request customized purchase options to meet your research needs. Explore purchase options |
Regional Landscape
North America dominated the biological seed treatment market in 2021
The demand for high-quality agricultural products and expanding agricultural practices are two factors that are anticipated to fuel the growth of the biological seed treatment market in this area. The primary reasons promoting the growth of this market in the North American region are the government laws enacted by industrialized nations to prohibit key active components. North America is therefore anticipated to have the greatest growth in the worldwide market. In the coming five years, it is anticipated that key businesses will invest in R&D to develop biological seed treatment and establish new production facilities.
Competitive Landscape
BASF SE
Bayer AG
Novozymes A/S
Syngenta Group
Corteva Agriscience
Rhizobacter
ValentBioSciences
Verdesian Lifescience
Plant Health Care
Bioworks
Italpollina
UPL Limited
Bioworks Inc
Marrone Bio Innovation
Koppert Biological Systems
IPL Biologicals
Certis Europe
Advanced Biological Marketing
Kan Biosys
Incotec.
The global biological seed treatment market is segmented as follows:
By Crop Type
Corn
Wheat
Soybean
Cotton
Sunflower
Vegetable crops
Other crops (plantation, fruit, pulse, other cereal & oilseed, turf, forage, and ornamental crops)
By Function
Seed enhancement
Seed protection
By Type
Microbials
Botanical and others (fermentation products and natural polymers & derivatives)
By Region
North America
Europe

France
The UK
Spain
Germany
Italy
Nordic Countries
Benelux Union

Belgium
The Netherlands
Luxembourg

Rest of Europe

Asia Pacific

China
Japan
India
Australia
South Korea
Southeast Asia

Indonesia
Thailand
Malaysia
Singapore
Rest of Southeast Asia

Rest of Asia Pacific

The Middle East & Africa

Saudi Arabia
UAE
Egypt
South Africa
Rest of the Middle East & Africa

Latin America

Brazil
Argentina
Rest of Latin America