Industry Insights
[227+ Pages Report] According to Facts and Factors, the global all-in-one cooking food processors market size was worth around USD 1987.88 million in 2021 and is predicted to grow to around USD 3068.89 million by 2028 with a compound annual growth rate (CAGR) of roughly 6.4% between 2022 and 2028. The report analyzes the global All-in-One Cooking Food Processors market's drivers, restraints/challenges, and the effect they have on the demands during the projection period. In addition, the report explores emerging opportunities in the All-in-One Cooking Food Processors market.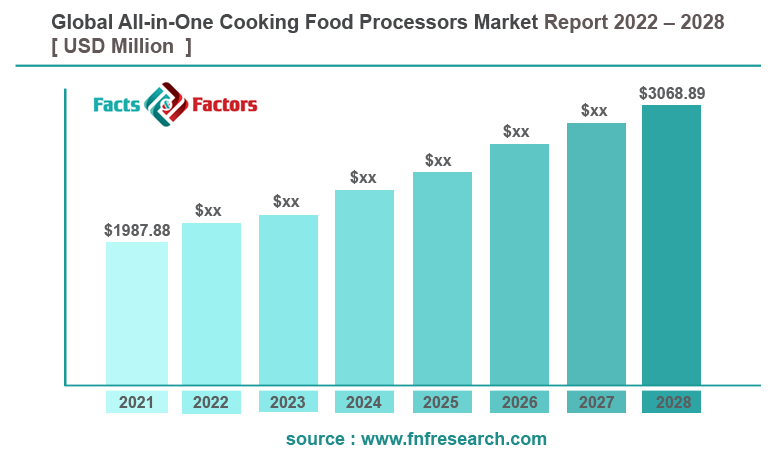 Market Overview
Over the upcoming years, the market is anticipated to be driven by advancements in food processing technology, an increase in consumer demand for processed foods, and more research and development into food processing equipment. The study on the global All-in-One cooking food processing market offers a comprehensive analysis of the industry. The research provides a thorough analysis of the market's key segments, trends, drivers, restraints, competitive environmental, and other important elements. Fresh foods are transformed into finished goods through the process of food processing. It is a method of transforming agricultural output or raw materials into instantly consumable food. It involves a variety of procedures, including fermenting, crystallizing, blending, washing, cutting, and pasteurization, among others.
The benefits of food processing include distribution, preservation, ease of preparation, and less susceptible to spoilage than fresh food. Along with this, reduces the incidence of foodborne disease and improves the taste of food. Based on the type, food processing is classified into depositors, extruding machines, mixers, refrigeration, slicers & dicers, and others. Various applications of food processing are beverages, dairy, meat & poultry, bakery, convenience food & snacks, fruits & vegetables, confectionery, and others.
Key Insights
As per the analysis shared by our research analyst, the global All-in-One Cooking Food Processors market is estimated to grow annually at a CAGR of around 6.4% over the forecast period (2022-2028).
In terms of revenue, the global All-in-One Cooking Food Processors market size was valued at around USD 1987.88 million in 2021 and is predicted to grow to around USD 3068.89 million by 2028. Due to a variety of driving factors, the market is predicted to rise at a significant rate.
Based on type segmentation, <1000 Watts was predicted to show maximum market share in the year 2021
Based on application segmentation, the commercial segment held the leading revenue-generating applications in 2021.
On the basis of region, Asia Pacific was the leading revenue generator in 2021
Covid-19 Impact
The Covid-19 outbreak has disrupted the world's economy and put everything on hold. The market for all-in-one cooking food processors is also severely impacted. The market for all-in-one cooking food processors has been impacted by challenges with cash flow and the lack of raw materials. The manufacturing facilities are operating with a smaller workforce, and the supply chain is also affected. The demand for food processing appliances has decreased to some extent as a result of decreased cash flow. On the market for commercial food processors, Covid-19 may experience mild issues, according to some estimates. Furthermore, around the world, there are more bakers than ever. Due to the COVID-19 pandemic's shutdown in recent years, people have turned more of their attention to baking and cooking at home. According to Packaged Facts' November–December 2020 national online survey, 84% of respondents said they baked at home in 2020, which led to an increase in bakers.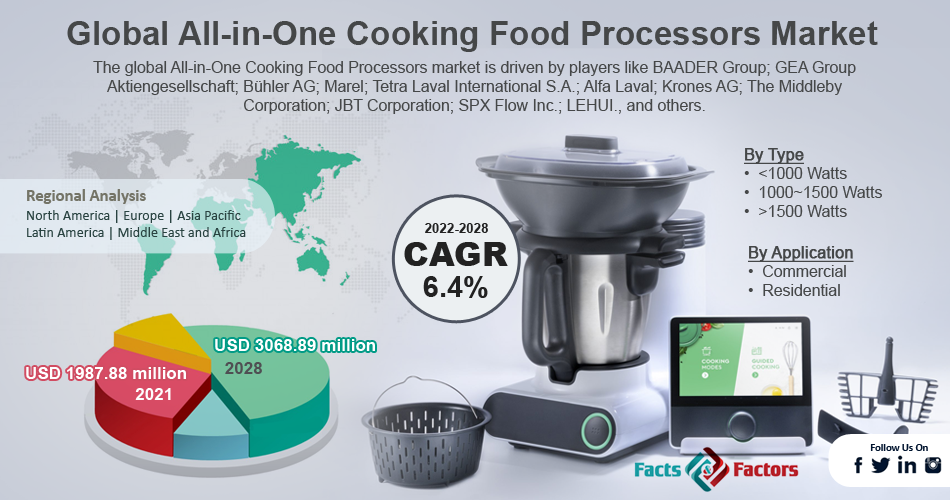 Growth Drivers
Constant innovation and easy-to-use appliances are driving the sales of the all-in-one cooking food processors
Commercial food processors come with easy speed adjustments and come in a variety of sizes. There are several options available, ranging from 20 cup food processors for restaurant to 4 cup food processors for home usage. Customers now have the power to select the ideal food processor for their needs. Due to the manufacturers' ongoing innovation in the commercial food processor industry, the manufacturers are also offering clients commercial food processors that can perform two or more tasks with a single machine. The market for commercial food processors has grown more rapidly as a result of this.
Furthermore, innovation in food processing technology and an upsurge in the demand for processed food are expected to drive the global all-in-one cooking food processors market over the predicted years. Also, the growing adoption of automated technologies in this segment and rising research & development in food processing machinery expect a boost to the market in the coming years. Additionally increasing health consciousness and dietary shifts in the developing regions and developed regions are predicted to fuel the market during the forecasted period. In addition, the construction industry largely demands high-performance materials which are lightweight, high-performance, strong, durable, and versatile.
Restraints
Fierce competition among the top players may hamper the market growth
However, the fierce competition among the top players and the rising number of new entrants may cause low-profit margins for market participants are hampers the target market's ability to raise its revenue. Additionally, the availability of old food processors and non-branded food processors from local companies at affordable prices are two concerns that could somewhat restrain market expansion.
Opportunity
Growing R&D among the top players may provide lucrative opportunities for the market growth
Conversely, growing number of R&D activities is expected to provide a huge market opportunity for the key players operating in the global all-in-one cooking food processors market.
Challenges
Gaps in supply chain infrastructure to pose challenge for market expansion
Lack of adequate primary processing, storage, and distribution facilities, the lack of a connection between production and processing, seasonal operations, low capacity utilization, institutional supply chain gaps, such as a reliance on APMC markets, a lack of attention to quality and safety standards, and a lack of product development resources are some of the major challenges facing the all in one food processors industry.
Segmentation Analysis
The global All-in-One Cooking Food Processors market is segmented based on type, application, and region
On the basis of type, the market is segmented as <1000 Watts, 1000~1500 Watts, >1500 Watts. Less than 1000 Watts and More Than 1500 Watts are the two main categories. While less than 1000 Watts category is growing at a considerable CAGR over this projected period. Increasing demand for meat and poultry as well as increased consumption of processed goods are anticipated as a result of population growth and rising per capita disposable income, which will enhance market growth over the forecast period. Because of their multiple applications and intrinsic benefits, including quality control, durability, hygiene, and preservation, these systems are widely used in a variety of industries, including dairy, grains, meat, fish, and poultry.
On the basis of application, the market is segmented as commercial and residential. Due to the increased demand for multi-functional cooking food processors for both commercial and industrial application, the commercial sector is anticipated to provide the largest proportion of revenue to the global market. Population growth and rising disposable income, along with increasing urbanization, are expected to augment the product demand in Middle Eastern countries. Moreover, the governments of Middle Eastern countries are focusing on reducing their reliance on the petroleum sector and promoting investments in industries, such as construction, automotive, and food and beverage. Farmed fish solutions for the marine industry had provided a convenient solution for the demand-supply imbalance. However, the industry witnessed a price hike for fresh and processed fish. The positive economic condition of the market and potential customers are some of the prominent factors that assure the prominent growth of the market over the forecast period. Though the number of malnourished people in the world has decreased by a considerable percent, the global condition of undernourished people is still critical. Rising population, dietary shifts, and a rise in spending power influence market growth, which exerts pressure on the industry to fulfill the ever-increasing demand of the world. In order to improve the food security of the world, one must increase pollution control measures and reduce food losses. These solutions can be easily achieved with standard and advanced processing equipment. This, in turn, is expected to create opportunities for equipment manufacturers over the forecast period.
Recent Developments:
In December 2019, Buhler Group, unveiled a brand-new cutting-edge technology called SORTEX PolarVision, an FM detecting system that provides excellent results for both simple vegetable blends and single goods. The device is meant to see the difference between vegetative and non-vegetable debris such snails, glass, stones, insects, and plastic. The market will grow throughout the anticipated time period due to the rising demand for these technologies.
In August 2021, Nordischer Maschinenbau Rudolf Baader -- the German manufacturer of fish and other food processing equipment better known as Baader -- has announced the establishment of a holding company, Baader Global SE. With this new organizational structure, the firm has created the basis for establishing itself as a European group.
Report Scope
| | |
| --- | --- |
| Report Attribute | Details |
| Market Size in 2021 | USD 1987.88 Million |
| Projected Market Size in 2028 | USD 3068.89 Million |
| CAGR Growth Rate | 6.4% CAGR |
| Base Year | 2021 |
| Forecast Years | 2022-2028 |
| Key Market Players | BAADER Group, GEA Group Aktiengesellschaft, Bühler AG, Marel, Tetra Laval International S.A., Alfa Laval, Krones AG, The Middleby Corporation, JBT Corporation, SPX Flow Inc., LEHUI, and others. |
| Key Segment | By Type, Application, and Region |
| Major Regions Covered | North America, Europe, Asia Pacific, Latin America, and the Middle East &, Africa |
| Purchase Options | Request customized purchase options to meet your research needs. Explore purchase options |
Regional Analysis
Asia Pacific to lead the market growth during the projection period
The market in Asia Pacific is expected to have a significant revenue share in the global all-in-one cooking food processors market and is predicted to grow at the fastest rate over the next ten years due to the rising demand for technologically sophisticated multi-functional food processors and the presence of many players, particularly in national markets like China, India, and Japan. The Asia Pacific all-in-one cooking food processors market is anticipated to increase as a result of the region's expanding economy, rising purchasing power, and quickly expanding number of downstream sectors. In recent times, the imposed tariffs of China on shipments from the U.S. depicting lower imports of grain in China. Moreover, adverse weather conditions in Canada affect grain production, which eventually affects the product demand in the region.
Due to the region's early and high rate of adoption of high-tech appliances, as well as rising investments in R&D for the development of food processor products, the North American market for multi-functional cooking food processors is anticipated to grow at a significant rate. This is due to the region's high per capita disposable income.
Competitive Analysis
BAADER Group
GEA Group Aktiengesellschaft
Bühler AG
Marel
Tetra Laval International S.A.
Alfa Laval
Krones AG
The Middleby Corporation
JBT Corporation
SPX Flow Inc.
LEHUI.
The global All-in-One Cooking Food Processors market is segmented as follows:
By Type
<1000 Watts
1000~1500 Watts
>1500 Watts
By Application
By Regional Segment Analysis
North America
Europe

France
The UK
Spain
Germany
Italy
Nordic Countries
Benelux Union

Belgium
The Netherlands
Luxembourg

Rest of Europe

Asia Pacific

China
Japan
India
Australia
South Korea
Southeast Asia

Indonesia
Thailand
Malaysia
Singapore
Rest of Southeast Asia

Rest of Asia Pacific

The Middle East & Africa

Saudi Arabia
UAE
Egypt
South Africa
Rest of the Middle East & Africa

Latin America

Brazil
Argentina
Rest of Latin America