Industry Insights
[197+ Pages Report] According to a research survey released by Facts and Factors Research, the demand for Packaged Food Market in the United States stood at USD 996.6 billion in the year 2020 and is projected to cross USD 1268.3 billion by the end of the year 2026, rising at a CAGR of nearly 4.10% between 2021 and 2026.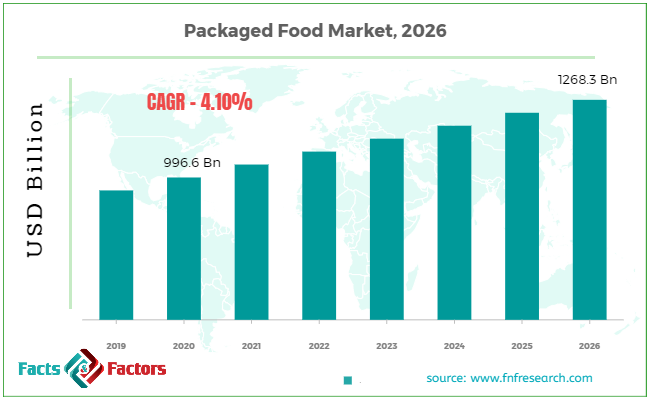 To know more about this report | Request Free Sample Copy
U.S. Packaged Food Market: Overview
Packaged food is any food for retail sale, which was produced and packaged into cartons or containers for marketing in advance. Raw ingredients and meals served in restaurants and cafés are not included in this list of food products. Packaged foods are simple to handle, prepare, and eat. They are gaining popularity in both developed and developing nations since they are extremely handy for urban residents.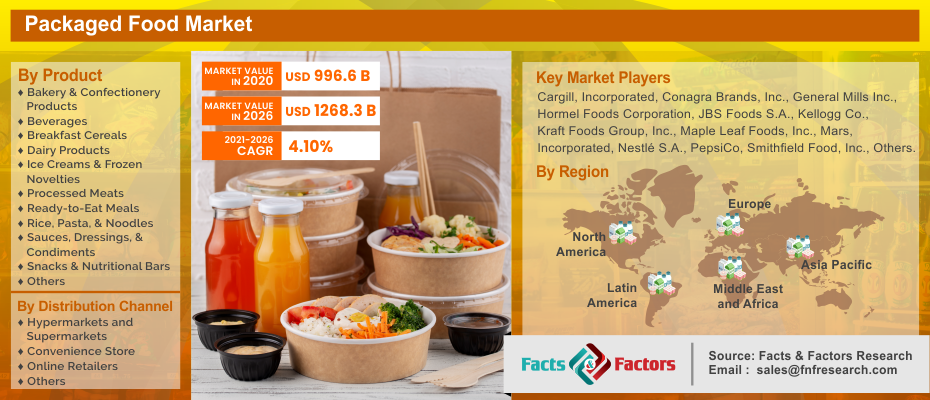 To know more about this report | Request Free Sample Copy
U.S. Packaged Food Market: Growth Factors
United States consumers' demanding work and personal schedules, as well as their growing preference for convenience, have driven the industry throughout the years. Furthermore, the growing use of e-commerce in the United States promotes goods sales across the country. Furthermore, rising innovations in food packaging, plant-based goods, robust tastes, and nutritious ingredients are projected to help the market's growth in the coming years in the United States. The expanding vegan population in the country has increased the demand for plant-based products, opening up new growth prospects for industry participants Organic, natural, clean, and whole-food items have seen a surge in popularity among health and environment-conscious U.S. customers who are less price-sensitive in recent years. The organic product sector is becoming a popular food category, thanks to the rising organic trend in the food and beverage business. Furthermore, U.S. consumers want more transparency in the source and supply chain of the items they buy. As a result, industry participants are becoming more open by giving extensive product information on labels.
U.S. Packaged Food Market: Segmentation
The U.S. Packaged Food market can be segregated based on product type, and distribution channel. Based on product type, the U.S. packaged food industry is categorized into bakery & confectionery products, beverages, breakfast cereals, dairy products, ice creams & frozen novelties, processed meats, ready-to-eat meals, rice, pasta, & noodles, sauces, dressings, & condiments, snacks & nutritional bars, and others. Based on distribution channels, the U.S. packaged food industry is categorized into hypermarkets and supermarkets, convenience stores, online retailers, and others.
U.S. Packaged Food Market: Regional Analysis
According to research, the United States packaged food and beverage supply in 2020 was ultra-processed and usually unhealthy, exposing people to items high in calories, saturated fat, sugar, and salt. The main drivers of U.S. regional market growth are rising disposable income, changing lifestyles, and expenditures in foody products. The market in the United States is very competitive, with a significant number of well-established firms spread around the country. Consumers have shown a preference for businesses that prioritize sustainable production and environmentally friendly packaging.
Report Scope
| | |
| --- | --- |
| Report Attribute | Details |
| Market Size in 2020 | USD 996.6 billion |
| Projected Market Size in 2026 | USD 1268.3 billion |
| CAGR Growth Rate | 4.10% |
| Base Year | 2020 |
| Forecast Years | 2021-2026 |
| Key Market Players | Cargill, Incorporated, Conagra Brands, Inc., General Mills Inc., Hormel Foods Corporation, JBS Foods S.A., Kellogg Co., Kraft Foods Group, Inc., Maple Leaf Foods, Inc., Mars, Incorporated, Nestlé S.A., PepsiCo, Smithfield Food, Inc., The Coca-Cola Company, The Kraft Heinz Company, and Tyson Foods, Inc., amongst others. |
| Key Segment | By Product Type, By Distribution Channel, By Region |
| Major Regions Covered | North America, Europe, Asia Pacific, Latin America, and the Middle East & Africa |
| Purchase Options | Request customized purchase options to meet your research needs. Explore purchase options |
As a result, some businesses are concentrating on environmentally friendly packaging and a transparent supply chain. To capitalize on the potential, many industry players, including Danone S.A, Nestlé, and Unilever, have entered the plant-based field. Furthermore, pioneering vegan firms like Impossible Foods Inc. and Beyond Meat have propelled the industry's growth. According to the United States Department of Health and Human Services, about 30 million individuals in the United States will be lactose intolerant by 2020. As a result, plant-based dairy substitutes have gained popularity among the country's lactose-intolerant customers.
U.S. Packaged Food Market: Competitive Players
Cargill
Incorporated
Conagra Brands Inc.
General Mills Inc.
Hormel Foods Corporation
JBS Foods S.A.
Kellogg Co.
Kraft Foods Group Inc.
Maple Leaf Foods Inc.
Mars
Incorporated
Nestlé S.A.
PepsiCo
Smithfield Food Inc.
The Coca-Cola Company
The Kraft Heinz Company
Tyson Foods Inc.
Companies have been investing extensively to study and modify their product and marketing strategies accordingly, the changing requirements and preferences of customers. Moreover, mergers and alliances have been turned into a typical growth strategy, enabling smaller firms to increase their prospects in the packaged food industry.
U.S. Packaged Food Market: By Product Type
Bakery & Confectionery Products
Beverages
Breakfast Cereals
Dairy Products
Ice Creams & Frozen Novelties
Processed Meats
Ready-to-Eat Meals
Rice, Pasta, & Noodles
Sauces, Dressings, & Condiments
Snacks & Nutritional Bars
Others
U.S. Packaged Food Market: By Distribution Channel
Hypermarkets and Supermarkets
Convenience Store
Online Retailers
Others
U.S. Packaged Food Market: By Region