Industry Insights
[231+ Pages Report] According to Facts and Factors,the global agricultural surfactants market size was worth USD 1382.40 million in 2021 and is estimated to grow to USD 1949.88 million by 2028, with a compound annual growth rate (CAGR) of approximately 5.90% over the forecast period. The report analyzes the agricultural surfactants market's drivers, restraints/challenges, and their effect on the demands during the projection period. In addition, the report explores emerging opportunities in the agricultural surfactants market.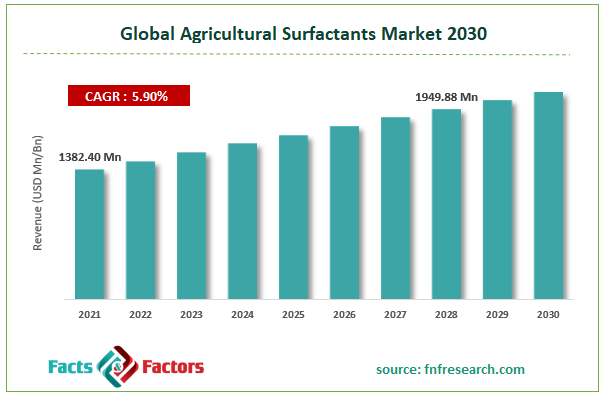 To know more about this report | Request Free Sample Copy
Market Overview
Surfactants are surface-acting substances that lower the surface tension of water. Surfactants aid farmers in using pesticides more skillfully and effectively for enhanced crop protection. Statistics from the European Union indicate that France sold about 82 million kg of pesticides in 2018. Agricultural surfactants are additives that increase the efficacy of agricultural pesticides in agrochemicals. Precision farming and agriculture implementation is expected to increase agrochemical demand, which would likely fuel market expansion. Market expansion is probably supported by technological development in agriculture, particularly genetic crop enhancement. Due to their low toxicity and environmentally favorable biodegradability, bio-based surfactants are increasingly preferred over synthetic solutions, which is predicted to drive market expansion.
COVID-19 Impact:
The epidemic has negatively impacted vulnerable populations like small farmers, laborers, immigrants, and other individuals earning a daily wage. The lack of labor, agrochemicals, and agricultural supplies has significantly impacted the agriculture sector. Many nations have imposed import and export restrictions due to the worry over uncertainties related to the supply of agricultural goods.
The production of agricultural surfactants has eventually been held down by the lack of raw materials and chemicals. The world is anticipated to have a comfortable supply and demand situation for food grains in 2020/21, according to an estimate by the Food and Agriculture Organization (FAO). However, the pandemic's consequences will continue to affect the market for a few more months.
Key Insights
As per the analysis shared by our research analyst, the global agricultural surfactants market value is expected to grow at a CAGR of 5.90% over the forecast period.
In terms of revenue, the global agricultural surfactants market size was worth USD 1382.40 million in 2021 and is estimated to grow to USD 1949.88 million by 2028.
The growing demand for crop protection to support market development drives this market's expansion.
By type, the non-ionic category dominated the market in 2021.
By application, the herbicides segment dominated the market in 2021.
North America dominated the agricultural surfactants market in 2021.
Growth Drivers
Growing demand for crop protection drives the market growth
The fast-rising global population has resulted in a considerable increase in the demand for food. The Food & Agricultural Organization (FAO) has performed research that indicates that the amount of arable land is decreasing, which will probably hurt food production in the future. By producing more food, modern farming methods and a higher pesticide and insecticide use rate are expected to ease the food supply and demand burden.
Higher yields are required to further the production of a crop of the highest possible quality and combat the rising prevalence of numerous crop diseases and insect attacks. In the end, this has increased the demand for pesticides and insecticides. For example, in June 2020, many locusts swarmed numerous nations, including Kenya, India, Pakistan, Ethiopia, Uganda, Somalia, Iran, Yemen, and others, inflicting significant crop damage and destruction. On the other hand, agricultural surfactants are additives that are added to agrochemicals to increase the pesticides' efficacy. They provide an exceptional dispersing agent that will encourage market expansion and low toxicity to plants.
Pesticides are primarily made to manage weeds, diseases, and pests that negatively impact crop yield. Additionally, businesses are improving crop protection's effectiveness and safety by providing a variety of active chemicals. Solvay, for instance, provides active compounds appropriate for crop protection. The business sells and develops various products used in sustainable agriculture, including Soprophor, Rhodiasolv, and others.
Restraints
The use of chemical insecticides and pesticides is limited, which may hinder the market growth
The market for agricultural surfactants has been affected by customers' shifting preferences for food products with the fewest possible chemical residues. It has greatly reduced the usage of chemical pesticides and insecticides. The market is suffering as consumers become more aware of the harmful effects of some chemicals found in pesticides and other agrochemicals. Additionally, the demand for chemical pesticides and other agrochemicals has been negatively impacted by the rising demand for organic fertilizers and pesticides.
The seeds used to cultivate agricultural produce are genetically modified (GM). The increasing use of GM seeds, which provide better yield with less reliance on pesticides and agrochemicals, may limit market expansion. However, it is anticipated that manufacturers would have an opportunity to enhance their positions due to rising R&D efforts and technological advancements to provide secure and safe surfactants for agriculture.
Opportunities
Changes in farming methods present market opportunities
Changes in farming methods, such as greenhouse and vertical farming, and the introduction of new inventions are expected to drive the growth of the global agricultural surfactants market. Due to the growing strain on the world's food production, there is an increase in demand for agrochemicals, which spurs global market expansion. Additionally, underdeveloped areas and developing nations present tremendous growth prospects for the major market participants for agricultural surfactants. To achieve sustainability and stop environmental deterioration, manufacturers also heavily fund research to create bio-based solutions, promoting global market expansion. However, the industry's growth is constrained by an increase in the use of genetically modified seeds and a decrease in agrochemicals and pesticides.
Segmentation Analysis
The global agricultural surfactants market has been segmented into type, application, substrate type, crop type, and region.
Based on type, the agricultural surfactants market is divided into cationic, anionic, non-ionic, and amphoteric. Since non-ionic surfactants are neutral and do not change in the hydrophilic end, the non-ionic segment had the largest share in 2021 and is anticipated to maintain its dominance during the forecast period. Due to their effective dispersion properties, low toxicity, and cold water durability, these surfactants are frequently utilized in herbicides. Due to its reduced surface tension and contact with individual spray droplets features, it is most suitable with water-soluble insecticides, plant growth regulators, fungicides, and herbicides.
Based on the application, the market is divided into herbicides, fungicides, insecticides, and others. The herbicides segment had a significant share in 2021. Herbicides, often known as weed killers, are specialized formulations used to manage invasive species in agricultural settings. Additionally, they help to eradicate the targeted weed species without hurting the desired crop. They are often used either post-emergence or before weed emergence. Herbicides are combined with surfactants to improve spraying, aiding applications with large surfaces. It improves usability and decreases herbicide waste. The demand for herbicides from forestry to control conifer-favoring hardwood kinds, pasture management, and managing wildlife habitat regions will fuel market expansion.
Based on substrate type, the global agricultural surfactants market is divided into synthetic and bio-based. In 2021, the bio-based segment dominated the market because of its low toxicity, biodegradability, and environmental friendliness. Increasing the use of both conventional and bio-based surfactants will increase market demand. Growing environmental concerns and strict restrictions on using artificial additives should promote the expansion of bio-based industries.
Based on crop type, the market is segmented into cereals & grains, fruits & vegetables, and others. In 2021, the cereals and grains segment accounted for a sizable portion. Surfactant-enriched herbicides are frequently used to shield cereals and grains from insect and crop disease attacks. During the projection period, the increasing frequency of insect infestations will likely fuel the segment expansion.
Recent Developments
July 2021: The agricultural and horticultural surfactants division of Coseal in South Korea was acquired by Azelis. The primary goal of this acquisition was to accelerate and support the business' expansion in the Asia Pacific area.
March 2021: To improve its position in the market for bio-based surfactants, BASF formed a strategic partnership with the Japanese company Allied Carbon Solutions Co., Ltd. and the UK-based Holiferm Ltd. The agreement intends to increase the company's selection of bio-based goods.
Report Scope
| | |
| --- | --- |
| Report Attribute | Details |
| Market Size in 2021 | USD 1382.40 Million |
| Projected Market Size in 2028 | USD 1949.88 Million |
| CAGR Growth Rate | 5.90% CAGR |
| Base Year | 2021 |
| Forecast Years | 2022-2028 |
| Key Market Players | DowDuPont, Stepan Company, AkzoNobel, BASF, Solvay, Evonik, Huntsman Corporation, Clariant, Nufarm, Croda International, Helena Chemical Company, Wilbur-Ellis Company, and Others |
| Key Segment | By Type, Application, Substrate Type, Crop Type, and Region |
| Major Regions Covered | North America, Europe, Asia Pacific, Latin America, and the Middle East &, Africa |
| Purchase Options | Request customized purchase options to meet your research needs. Explore purchase options |
Regional Landscape
North America dominates the agricultural surfactants market in 2021
In 2021, North America held the largest share of the global agricultural surfactants market. The development of the agricultural surfactants market is anticipated to be aided by a sizable agrochemical manufacturing base. The United States is one of the top producers of food crops, and the development of modern agricultural techniques there has increased the demand for agrochemicals. Fertilizers and pesticides likely fuel the demand for chemical surfactants to create higher yields with the least amount of crop loss. The Food & Agricultural Organization and the World Health Organization are two organizations with strong R&D programs projected to favor regional market growth.
Competitive Landscape
DowDuPont
Stepan Company
AkzoNobel
BASF
Solvay
Evonik
Huntsman Corporation
Clariant
Nufarm
Croda International
Helena Chemical Company
Wilbur-Ellis Company
Global Agricultural Surfactants Market is segmented as follows:
By Type
Non-ionic
Anionic
Cationic
Amphoteric
By Application
Herbicides
Fungicides
Insecticides
Others (fertilizers, micronutrients, biostimulants, disinfectants, biocides, plant regulators, and other crop protection chemicals such as nematicides and acaricides)
By Substrate type
By Crop Type
Cereals & grains
Fruits & vegetables
Others (sugarcane, plantation crops, and turf & ornamentals)
By Regional Segment Analysis
North America
Europe

France
The UK
Spain
Germany
Italy
Nordic Countries
Benelux Union

Belgium
The Netherlands
Luxembourg

Rest of Europe

Asia Pacific

China
Japan
India
Australia
South Korea
Southeast Asia

Indonesia
Thailand
Malaysia
Singapore
Rest of Southeast Asia

Rest of Asia Pacific

The Middle East & Africa

Saudi Arabia
UAE
Egypt
South Africa
Rest of the Middle East & Africa

Latin America

Brazil
Argentina
Rest of Latin America