Industry Insights
[231+ Pages Report] According to Facts and Factors, the global bio-based materials market size was worth around USD 21.30 billion in 2021 and is estimated to grow to about USD 81.64 billion by 2028, with a compound annual growth rate (CAGR) of approximately 25.10% over the forecast period. The report analyzes the bio-based materials market drivers, restraints/challenges, and the effect they have on the demands during the projection period. In addition, the report explores emerging opportunities in the bio-based materials market.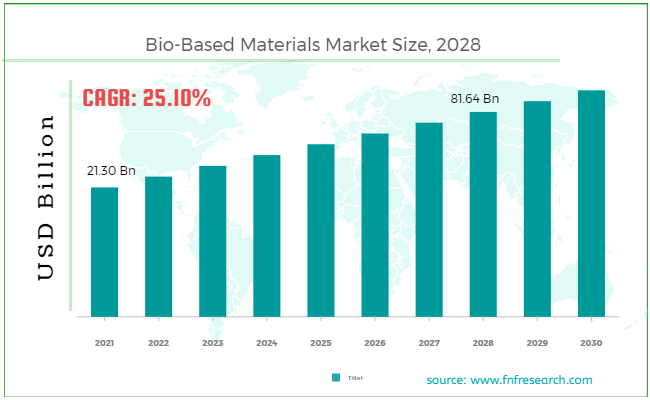 To know more about this report | Request Free Sample Copy
Market Overview
Bio-based materials are those made with elements derived from living organisms. The components are created from environmentally friendly elements such feeds like corn and sugarcane as well as organic polymers that completely disintegrate in the environment. Bio-based materials offer a number of benefits over petrochemical-based products. The prices of the created things remain steady because resource changes are not great. Comparing bio-based materials to conventional ones, which seldom decompose in the environment and damage the planet, reveals many advantages. One of the key factors fuelling the global market for bio-based materials is the consistent cost of agricultural feedstock in comparison to petrochemicals. This would probably stabilize the price of products made from biomaterials, which will support the growth of the global market for these products.
All market categories are seeing an increase in demand for bio-based materials as a result of consumers' increasing embrace of sustainable products. Utilizing sustainable bio-based materials will also lessen chemical waste and release toxic byproducts into the environment, increasing customer demand throughout the forecasted time. The growing concerns about greenhouse emissions and the developing use of bioplastics as an alternative in the packaging and automotive industries will both have a significant impact on the global market for bio-based products.
COVID-19 Impact:
The COVID-19 pandemic's global lockdown restricted the flow of resources and raw materials, disrupting the supply chain of companies that make bio-based products. Globally tight curfews caused people to stockpile long-lasting goods like rice, wheat, sugar, and other fundamental commodities. In addition, a lack of raw materials for the manufacture of materials resulted from the rising use of agricultural products. As a result, companies in the market experienced temporary shutdowns of manufacturing facilities and closures of production lines.
Key Insights
PET, a bio-based polyethylene, will rule the type sector in 2021.
Europe will lead global market growth in terms of revenue in 2021
Rigid packaging will dominate the application landscape in terms of value in 2021
The automotive & transport sector will have the highest CAGR over the projected period.
Growth Drivers
Increasing demand for bio-based products will boost the market.
The need for biomaterials has been fuelled by the quick depletion of fossil fuels and the rising global greenhouse gas emissions. The need for bio-based products has arisen from measures to eliminate hazardous emissions because of their effects on the environment in the transportation, textile, and building industries. The notion of "Green Chemistry" has become more well-known, which has increased demand as a result of the mounting consequences of carbon emissions during the creation of synthetic chemicals. Governments are supporting initiatives promoting green chemistry and company sustainability, such as a ban on single-use plastic bags and disposable carry bags, which will help the industry expand. The sale of plastic straws, cotton buds, and food containers is restricted in some nations, such as Germany, the United Kingdom, and France.
Restraints
The high cost of Bio-based materials hinders the growth of the market
The market's expansion will be hampered by the more expensive cost of bio-derived materials compared to synthetic materials. For the production of renewable materials, low-cost raw materials are needed. These materials are more expensive than their traditional counterparts due to the intricate processing techniques utilized in their creation. Additionally, the cost of the material's research and development operations raises the final price of the items. Additionally, fewer products will be used because end users are hesitant to use these materials for industrial applications.
Opportunities
The growing healthcare market in emerging economies
The biomaterials market in emerging countries is likely to grow significantly throughout the predicted timeframe. This is mostly because there are more patients in these countries, more implanted devices are being used, more people are aware of CVD, disposable money is rising, the healthcare infrastructure is better, and there are less stringent regulations there than in industrialized nations.
The economies of the BRICS nations (Brazil, Russia, India, China, and South Africa) are among the fastest in the world. According to the World Economic Forum, these developing nations' economies will account for one-third of global healthcare spending by 2020. The growing geriatric population, the rising demand for surgical procedures, and the increasing incidence of target diseases are some of the major factors that are anticipated to fuel the demand for cutting-edge healthcare services and cutting-edge medical devices in the respective healthcare systems of these countries. In the years to come, this is anticipated to present new growth prospects for market participants in biomaterials.
Challenges
Lack of LCA data and requirements for product quality for bio-based products
Although bio-based products claim to have positive effects on the economy, the environment, and society as a whole, this cannot be assumed for all bio-based products. To properly assess the advantages of bio-based products, from their raw materials to their intermediate and finished products, extensive Life-Cycle-Analysis (LCA) must be performed, taking use, disposal, and re-use into account. Public procurers may benefit from product quality standards and certification, voluntary industry initiatives, labeling, and communication programs. These factors are crucial to fostering demand and aggregating it. Because consumers and downstream manufacturers are largely unaware of bio-based products, they may decide to stick with incumbent products despite actual or perceived quality differences between them and bio-based products.
Segmentation Analysis
The global bio-based materials market is segmented based on type and application.
The market is divided into rigid packaging, electrics and electronics, automotive and transport, flexible packaging, consumer goods, and others on the basis of application. Throughout the projected period, the rigid packaging category is likely to increase market revenue significantly. The segment's expansion can be attributed to the rigid packaging industry's extensive usage of bio-based materials.
The market for bio-based materials is segmented into several categories, including bio-polycarbonate, bio-based polyethylene (PE), bio-based polyethylene terephthalate (PET), and others, based on type. During the anticipated time frame, the bio-based Polyethylene Terephthalate (PET) sector, which made up almost 60% of the total market share in 2017, is predicted to create enormous revenue. The segment's expansion can be attributed to plastic producers' greater emphasis on environmentally friendly packaging.
Report Scope
| | |
| --- | --- |
| Report Attribute | Details |
| Market Size in 2021 | USD 21.30 Billion |
| Projected Market Size in 2028 | USD 81.64 Billion |
| CAGR Growth Rate | 25.10% CAGR |
| Base Year | 2021 |
| Forecast Years | 2022-2028 |
| Key Market Players | BASF SE, DSM, Evonik Company, Anellotech Inc., Clariant AG, Arkema, Gevo Inc, LANXESS, Avantium, PespiCo Inc., and Others |
| Key Segment | By Type, Application, and Region |
| Major Regions Covered | North America, Europe, Asia Pacific, Latin America, and the Middle East & Africa |
| Purchase Options | Request customized purchase options to meet your research needs. Explore purchase options |
Recent Developments
BASF and Eni agreed to work together to create new technologies and create bio-propanol from glycerin, a byproduct of the manufacturing of industrial biodiesel or fatty acid methyl ester. This agreement was made in august 2021.
Archer Daniels Midland Company and LG Chem signed a joint development agreement in September 2019 to create bio-based acrylic acid, a fundamental component needed to create superabsorbent polymers (SAP), which are utilized in a variety of hygiene products.
Regional Landscape
Rising dominating industry players are likely to help Europe dominate the global market
In 2021, the European bio-based materials market is expected to generate enormous revenue, with Germany playing a significant role in the expansion of the local industry during the anticipated time frame. The biobased materials market is likely to experience growth during the forecast period as a result of the European Commission's inclusion of bio-based production as a key priority area intended for increasing industrial contribution to Europe's GDP from 15 to 20 percent. The European packaging market is expanding as a result of both the growing focus on sustainable packaging among industry participants and the strict enforcement of GHG emission-related legislation by the European Commission. A high degree of regional awareness about reducing GHG emissions during manufacturing activities in accordance with the Horizon 2020 policy will promote market expansion in the area.
However, on the other hand, Asia Pacific is predicted to witness a strong demand due to rapid industrialization. India and China are likely to become major contributors to this region.
Competitive Landscape
Key players within the global Bio-Based Materials market include
BASF SE
DSM
Evonik Company
Anellotech Inc.
Clariant AG
Arkema
Gevo Inc
LANXESS
Avantium
PespiCo Inc.
The Global Bio-Based Materials Market is segmented as follows:
Bio-Based Materials Market, By Type
Applied Ballistics
Bio-Polycarbonate
Bio-Based Polyethylene terephthalate (PET)
Bio-Based Polyethylene (PE)
Others
Bio-Based Materials Market, By Application
Rigid Packaging
Flexible Packaging
Electrics and Electronics
Consumer Goods
Automotive and Transport
Others
Bio-Based Materials Market, By Region
North America
Europe

France
The UK
Spain
Germany
Italy
Nordic Countries
Benelux Union

Belgium
The Netherlands
Luxembourg

Rest of Europe

Asia Pacific

China
Japan
India
Australia
South Korea
Southeast Asia

Indonesia
Thailand
Malaysia
Singapore
Rest of Southeast Asia

Rest of Asia Pacific

The Middle East & Africa

Saudi Arabia
UAE
Egypt
South Africa
Rest of the Middle East & Africa

Latin America

Brazil
Argentina
Rest of Latin America