Covid-19
Global Synthetic Leather Market Size, Share
The pandemic continues to cause unprecedented disruption across industries worldwide.Get detailed insights regarding the impact of COVID-19 on the market. Request Sample
Industry Insights
[210+ Pages Report] According to Facts and Factors, the global synthetic leather market was valued at USD 63.17 billion in 2021 and is predicted to increase at a CAGR of 4.01% to USD 80.55 billion by 2028. The study examines the market in terms of revenue in each of the top regions, which are classified into countries.
Market Overview
Synthetic leather is a man-made fabric made mostly of PVC or PU (PU). It's a form of synthetic leather that mimics the appearance of real leather. Synthetic leather is colored and processed to have the look of genuine leather. The market is being driven by rising demand for synthetic leather in end-use industries such as footwear, furniture, automotive, clothing, bags, purses & wallets, and others. Factors such as increased demand from the footwear sector, the absence of animal slaughter, advantages over pure leather, and rising demand for luxury cars and electric vehicles will boost the synthetic leather market.
The production of bio-based synthetic leather has no negative effects. Manufacturers should concentrate on commercializing synthetic leather made from natural fibers like flax or cotton fibers combined with palm, soybean, corn, and other plants. Given the expanding government and environmental laws in the European Union and North America over the use of dangerous toxic chemicals, bio-based synthetic leather could be a huge opportunity for synthetic leather makers.
Impact of COVID - 19
During COVID-19, the leather sector was negatively impacted, which has created prospects for synthetic leather. Synthetic leather has recently been in high demand from makeshift hospitals and healthcare facilities all over the world for beds and furniture to help patients suffering from COVID-19 and other disorders. These mattresses and other pieces of furniture are generally covered in medical-grade synthetic leather that is antibacterial or antifungal. In the automobile industry, it has suffered a huge blow as car sales fell in the first half of the year, which has had an indirect impact on demand for synthetic leather, which is mostly used in car interiors.
The complete research study looks at both the qualitative and quantitative aspects of the synthetic leather market. Both the demand and supply sides of the market have been investigated. The demand side study examines market income in various regions before comparing it to all of the major countries. The supply-side research examines the industry's top rivals, as well as their regional and global presence and strategies. Each major country in North America, Europe, Asia Pacific, the Middle East and Africa, and Latin America is thoroughly investigated.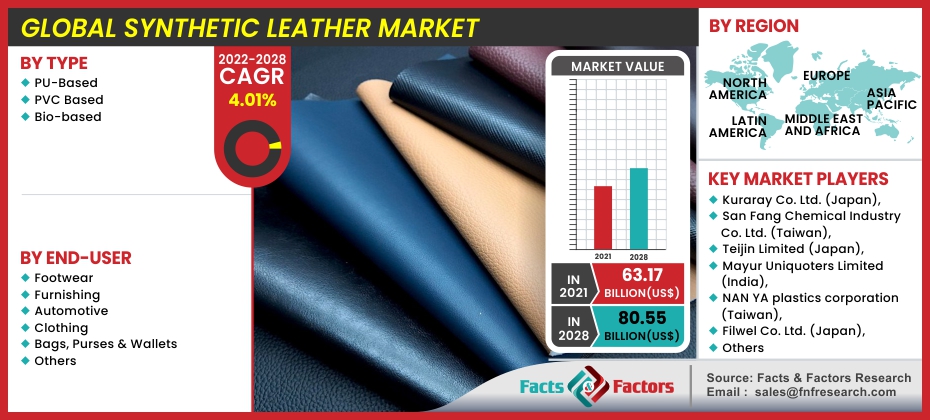 Segmentation Analysis
The global synthetic leather market is segregated based on the type and end-user industry.
Footwear, Furnishing, Automotive, Clothing, Bags, Purses & Wallets, and Others make up the global market by end-user industry. Between 2022 and 2028, the synthetic leather market's main end-use industry is expected to be footwear. Because of its great characteristics and long endurance, synthetic leather is frequently employed in the footwear industry. It is utilized in the linings, uppers, and insoles of several sorts of footwear, including athletic shoes, shoes and boots, and sandals and slippers. The need for synthetic leather is predicted to rise as the demand for footwear rises in both developed and developing countries. Because of its low cost, synthetic leather is frequently utilized to make sports shoes for a variety of sports all over the world.
The market is divided into three types: PU-based, PVC-based, and Bio-based. In 2021, the PU synthetic leather segment dominated the global market, accounting for most of the revenue. From 2022 to 2028, the segment will grow at the fastest CAGR. Polyurethane is waterproof, softer, and lighter than real leather, yet it's easier to dry clean, and tear than actual hides. It is also unaffected by direct sunshine. It is also an environmentally beneficial alternative to vinyl-based products because it does not emit dioxins. All these reasons are projected to boost demand even further.
Report Scope
| | |
| --- | --- |
| Report Attribute | Details |
| Market Size in 2021 | USD 63.17 Billion |
| Projected Market Size in 2028 | USD 80.55 Billion |
| CAGR Growth Rate | 4.01 CAGR |
| Base Year | 2021 |
| Forecast Years | 2022-2028 |
| Key Market Players | Kuraray Co. Ltd. (Japan), San Fang Chemical Industry Co. Ltd. (Taiwan), Teijin Limited (Japan), Mayur Uniquoters Limited (India), NAN YA plastics corporation (Taiwan), Filwel Co. Ltd. (Japan), Zhejiang Hexin Industry Group Co. Ltd. (China), Alfatex N.V. (Belgium), H.R. Polycoats Pvt. Ltd. (India), Yantai Wanhua Synthetic Leather Group Co. Ltd. (China), and Others |
| Key Segment | By Type, End-use Industry, and Region |
| Major Regions Covered | North America, Europe, Asia Pacific, Latin America, and the Middle East & Africa |
| Purchase Options | Request customized purchase options to meet your research needs. Explore purchase options |
Regional Landscape
The Asia Pacific region dominated the global market. The regional market will increase at the fastest rate from 2022 to 2028. China, India, and South Korea are expected to be the top revenue-generating economies in APAC. As disposable income rises in line with population growth, market players will have many expansion opportunities. China is one of the most important marketplaces in terms of product manufacturing and sales.
On the other hand, the global epidemic had a negative impact on the country's manufacturing output. Several manufacturers have halted or reduced their operations to prevent the spread of the disease. Limited manufacturing output because of a halt or slowdown in operations, as well as supply and transportation bottlenecks in the country and infrastructural sluggishness, are expected to have a negative impact.
Europe is the world's second-largest synthetic leather market. Germany, France, the United Kingdom, Italy, Russia, Poland, and Spain are all important countries in the region. Because Europe's market is mature, it is expected to grow at a slower rate during the forecast period. Due to the existence of numerous footwear, garment, and bag businesses in the region, Europe has long been a key synthetic leather market. Due to the early adoption of synthetic leather in numerous industries, this market is more developed than others
List of Key Players in the Global Synthetic Leather Market:
Kuraray Co. Ltd. (Japan)
San Fang Chemical Industry Co. Ltd. (Taiwan)
Teijin Limited (Japan)
Mayur Uniquoters Limited (India)
NAN YA plastics corporation (Taiwan)
Filwel Co. Ltd. (Japan)
Zhejiang Hexin Industry Group Co., Ltd. (China)
Alfatex N.V. (Belgium)
H.R. Polycoats Pvt. Ltd. (India)
Yantai Wanhua Synthetic Leather Group Co. Ltd. (China)
The global synthetic leather market is segmented as follows;
By Type Segment Analysis
PU-Based
PVC Based
Bio-based
By End-user Industry Segment Analysis
Footwear
Furnishing
Automotive
Clothing
Bags, Purses & Wallets
Others
By Regional Segment Analysis
North America
Europe

France
The UK
Spain
Germany
Italy
Nordic Countries
Benelux Union

Belgium
The Netherlands
Luxembourg

Rest of Europe

Asia Pacific

China
Japan
India
Australia
South Korea
Southeast Asia

Indonesia
Thailand
Malaysia
Singapore
Rest of Southeast Asia

Rest of Asia Pacific

The Middle East & Africa

Saudi Arabia
UAE
Egypt
South Africa
Rest of the Middle East & Africa

Latin America

Brazil
Argentina
Rest of Latin America