Industry Insights
[195+ Pages Report] According to the report published by Facts and Factors, the global fabry disease treatment market size was valued around USD 1.77 billion in 2019 and is expected to grow to around USD 3.78 billion by 2026 with a compound annual growth rate (CAGR) of roughly 9.83% between 2020 and 2026. The report analyzes the global fabry disease treatment market drivers, challenges, and the impact they have on the demands during the forecast period. In addition, the report explores emerging opportunities in the fabry disease treatment market.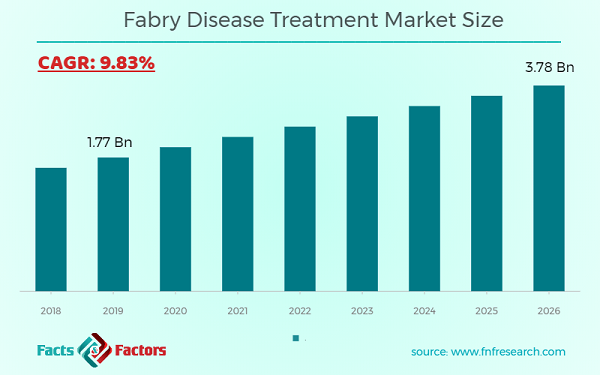 To know more about this report | Request Free Sample Copy
Market Overview
Fabry disease is an X-linked lysosomal storage condition. The deficiency of the alpha-galactosidase enzyme in a patient causes progressive organ dysfunction. The development of Fabry diseases is primarily caused by an abnormal accumulation of a particular fatty matter known as globotriaosylceramide. The skin, heart, eyes, brain, kidneys, central nervous system, and gastrointestinal system are all affected by this irregular accumulation.
Industry Growth Factors
The treatment's main goal is to reduce and alleviate the patients' crippling discomfort while also preventing disease progression. Fabry's disease cannot be cured, but the harm it causes can be reduced with proper treatment. In the year 2003, the FDA approved the intravenous administration of Agalsidase as an enzyme replacement therapy (ERT) for the treatment of Fabry's disease. Before that, patients were given carbamazepine and diphenylhydantoin to relieve pain, and their estimated lifespan was between 40 and 50 years. The use of new treatments such as substrate replacement therapy and chaperone treatment has risen rapidly in recent years. However, enzyme replacement therapy has long been the most popular treatment, with a large market share that is expected to sustain during the forecast period.
The market is growing as the number of patients suffering from Fabry disease is increasing. Aside from that, broad R&D activities and the potential approval and launches of promising pipeline products such as substrate decline treatments and compound replacement treatments are expected to boost the industry's growth over the forecast period. In addition, the market is expected to expand due to the legalization of oral chaperone therapy in developing countries and the advancement of gene therapy. Additionally, due to patent expirations, the proliferation of biosimilars is expected to increase during the forecast era. Patients with Fabry disease often experience strokes, excruciating pain, an early heart condition, impaired kidney function, which may contribute to kidney failure, and debilitating gastrointestinal symptoms. Since there is no cure for Fabry disease, care focuses on managing complications associated with disease progression and providing symptomatic relief. Various patients are often misdiagnosed due to mild symptoms. The global Fabry disease market is expected to expand at a significant pace in the coming years as a result of these factors.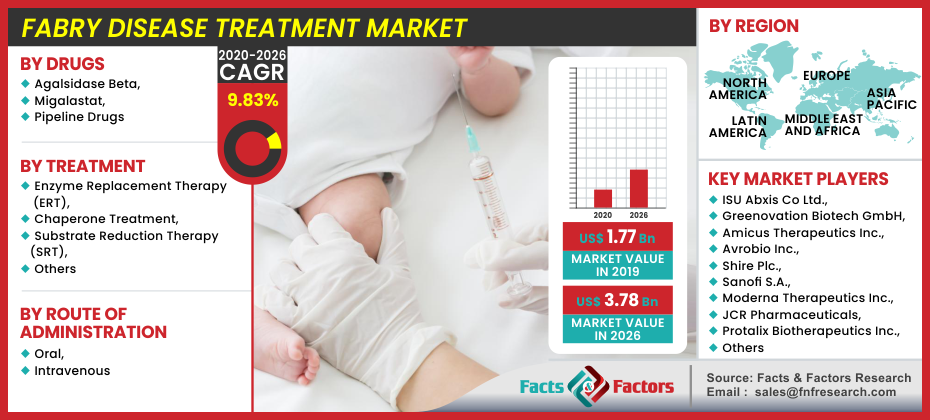 To know more about this report | Request Free Sample Copy
Segmentation Analysis
The global Fabry disease treatment Market is segregated into drugs, route of administration, treatment, and regions. The drug category is segmented into migalastat, agalsidase beta, and pipeline drugs. The pipeline drugs are expected to hold highest market share in 2019. Based on treatment, the market has been categorized into substrate reduction therapy, chaperone treatment, enzyme replacement therapy, and others. Both Shire's Replagal, and Sanofi's Fabrazyme have received European approval, only Fabrazyme has received approval in the United States. Current clinical trials are focusing on improving the safety and efficacy profile of ERTs, as well as the development of innovative oral therapies that can replace intravenous infusions.
The segment's dominance is supported by strong sales of Fabrazyme and Replagal, as well as the possible acceptance of successful pipeline candidates. However, the introduction of new, more effective treatment methods, such as gene therapy, is critical for a significant improvement in patient benefits. In terms of route of administration, the market has been segregated into oral, and intravenous.
Report Scope
| | |
| --- | --- |
| Report Attribute | Details |
| Market Size in 2019 | USD 1.77 Billion |
| Projected Market Size in 2026 | USD 3.78 Billion |
| CAGR Growth Rate | 9.83% CAGR |
| Base Year | 2019 |
| Forecast Years | 2020-2026 |
| Key Market Players | ISU Abxis Co Ltd., Greenovation Biotech GmbH, Amicus Therapeutics Inc., Avrobio Inc., Shire Plc., Sanofi S.A., Moderna Therapeutics Inc., JCR Pharmaceuticals, Protalix Biotherapeutics Inc., and Idorsia Pharmaceuticals Ltd., amongst others. |
| Key Segment | By Drugs, Treatment, Route, and Region |
| Major Regions Covered | North America, Europe, Asia Pacific, Latin America, and the Middle East & Africa |
| Purchase Options | Request customized purchase options to meet your research needs.Explore purchase options |
Regional Analysis
Due to various expanding human service use and developing infrastructure, Asia Pacific offers major growth opportunities for pharmaceutical companies. Because of the large populations in emerging countries, the region is expected to grow the fastest in the coming years, followed by Latin America. In 2018, North America surpassed Europe as the most important regional market.
Increased availability of innovative therapies, improved social insurance offices, and favorable reimbursement terms are all playing important roles in the region's business growth. Inclusion of expensive medications like Fabrazyme by health insurance plans, as well as favorable regulatory medicinal services arrangements, are also encouraging pharmaceutical companies to increase R&D activity in the field of rare diseases.
Competitive Players
Some main participants of the global Fabry disease treatment market are:
ISU Abxis Co Ltd.
Greenovation Biotech GmbH
Amicus Therapeutics Inc.
Avrobio Inc.
Shire Plc.
Sanofi S.A.
Moderna Therapeutics Inc.
JCR Pharmaceuticals
Protalix Biotherapeutics Inc.
Idorsia Pharmaceuticals Ltd.
The global Fabry disease treatment market is segmented as follows:
By Drugs:
Agalsidase Beta
Migalastat
Pipeline Drugs
By Treatment:
Enzyme Replacement Therapy (ERT)
Chaperone Treatment
Substrate Reduction Therapy (SRT)
Others
By Route of Administration:
Fabry Disease Treatment Market: Regional Segment Analysis
North America
Europe

UK
France
Germany
Italy
Spain
Rest of Europe

Asia Pacific

China
Japan
India
South Korea
Southeast Asia
Rest of Asia Pacific

Latin America

Brazil
Mexico
Rest of Latin America

Middle East and Africa

GCC Countries
South Africa
Rest of MEA