Industry Insights
[221+ Pages Report] According to Facts and Factors, the global synthetic ropes market was valued at USD 841.19 million in 2021 and is predicted to increase at a CAGR of 5.6% to USD 1,124.02 million by 2028. The study examines the market in terms of revenue in each of the top regions, which are classified into countries.
Market Overview
Artificial chemicals and strong fibers, such as nylon, polyester, polypropylene, or high modulus polyethylene, are used to make synthetic ropes (HMPE). Durability, flexibility, versatility, and wear resistance are just a few of the benefits they provide. Furthermore, they are resistant to rot, mold, mildew, and abrasion, as well as frequent friction, making them ideal for use on boats in coastal areas. The attributes of synthetic rope, such as durability, high tensile strength, lightweight, high performance, and safety features, are the key factors driving the worldwide synthetic rope market. The global market is predicted to increase due to the growing number of construction businesses, offshore marine operations, and high demand for oil and gas in various regions.
Synthetic rope has a number of advantages over steel rope, including increased corrosion resistance, fatigue resistance, weather and chemical resistance, and low lightweight. It is widely used in a variety of industries, including maritime and fishing, mining, oil and gas, building and construction, and sports. Over the previous few decades, it has steadily gained market acceptance by replacing steel ropes. Synthetic rope is about a tenth of the weight of wire rope of the same size. Market growth is projected to be hampered by raw material price fluctuations and a lack of understanding regarding synthetic rope.
Impact of COVID – 19
Due to recent events surrounding the COVID-19 epidemic, most countries have gone into lockdown, and numerous governments and private sector businesses are functioning at a reduced capacity or have suspended operations entirely. Due to a lack of raw materials, labor shortages, and other factors, the production of numerous items such as synthetic rope and other products has come to a halt all over the world. The synthetic rope market is projected to be hampered as a result of this.
The complete research study looks at both the qualitative and quantitative aspects of the synthetic ropes market. Both the demand and supply sides of the market have been investigated. The demand side study examines market income in various regions before comparing it to all of the major countries. The supply-side research examines the industry's top rivals, as well as their regional and global presence and strategies. Each major country in North America, Europe, Asia Pacific, the Middle East and Africa, and Latin America is thoroughly investigated.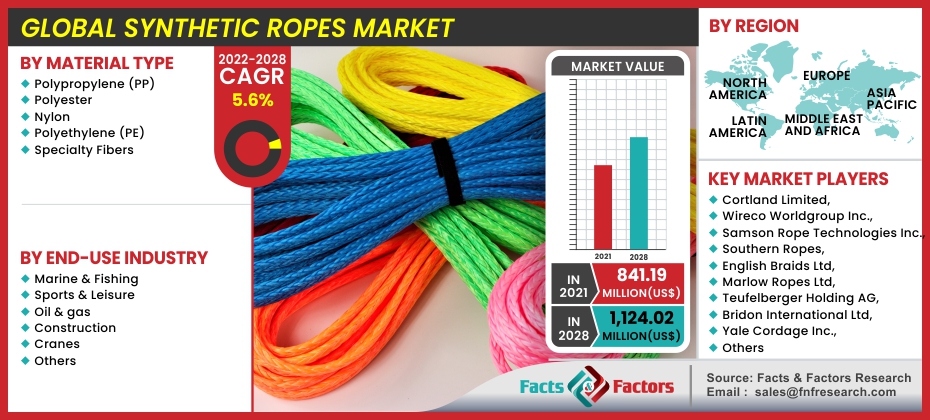 Segmentation Analysis
The global synthetic ropes market is segregated based on material type and end-user industry.
The market is divided into Polypropylene (PP), Polyester, Nylon, Polyethylene (PE), and Specialty fibers based on material type. Between 2022 and 2028, Nylon and Specialty Fibers such as high-molecular polyethylene (HMPE) and aramid are expected to grow at a rapid rate in terms of volume. Because of their widespread use in the nautical and fishing industries, where they are occasionally mixed with polyester, polypropylene (PP) ropes had the biggest market share. Due to their high price, specialty fibers make up a small fraction of the market, but they are expected to be in high demand due to their exceptional high strength features.
The marine and fishing industry is predicted to have the biggest market share over the projection period. Synthetic ropes are extensively used in the nautical sector for mooring, hoisting, towing, and other duties. Furthermore, synthetic ropes have a lot of potential in the nautical industry to replace steel wire ropes. The synthetic ropes used in the crane's category are predicted to increase at the fastest rate over the forecast period.
Report Scope
| | |
| --- | --- |
| Report Attribute | Details |
| Market Size in 2021 | USD 841.19 Million |
| Projected Market Size in 2028 | USD 1,124.02 Million |
| CAGR Growth Rate | 5.6% CAGR |
| Base Year | 2021 |
| Forecast Years | 2022-2028 |
| Key Market Players | Cortland Limited, Wireco Worldgroup Inc., Samson Rope Technologies Inc., Southern Ropes, English Braids Ltd, Marlow Ropes Ltd, Teufelberger Holding AG, Bridon International Ltd, Yale Cordage Inc., Lanex A.S., and Others |
| Key Segment | By Material Type, End-Use Industry, and Region |
| Major Regions Covered | North America, Europe, Asia Pacific, Latin America, and the Middle East & Africa |
| Purchase Options | Request customized purchase options to meet your research needs. Explore purchase options |
Regional Landscape
In 2021, North America held the largest share of the global synthetic rope market, and this trend is likely to continue throughout the forecast period. During the forecast period, Asia-Pacific is expected to have the greatest CAGR. As the utility of waterproof and durable materials with lightweight and high strength qualities rises, synthetic rope demand is expected to expand across the region. The fast expansion of the construction sector as a result of expanding urbanization in emerging economies like China and India has widened the global market.
The European market is predicted to increase at a significant CAGR from 2022 to 2028. The growing maritime and fishing industries in European countries are predicted to boost demand for synthetic ropes over the forecast period. Furthermore, in a range of shapes and applications, items with high tensile strength and longer durability have succeeded in substituting steel wires. Synthetic ropes are so employed in the construction, marine, and oil and gas industries.
List of Key Players in the Global Synthetic Ropes Market:
Cortland Limited
Wireco Worldgroup Inc.
Samson Rope Technologies, Inc.
Southern Ropes
English Braids Ltd
Marlow Ropes Ltd
Teufelberger Holding AG
Bridon International Ltd
Yale Cordage Inc.
Lanex A.S.
The global synthetic ropes market is segmented as follows;
By Material Type Segment Analysis
Polypropylene (PP)
Polyester
Nylon
Polyethylene (PE)
Specialty Fibers
By End-Use Industry Segment Analysis
Marine & Fishing
Sports & Leisure
Oil & gas
Construction
Cranes
Others
By Regional Segment Analysis
North America
Europe

France
The UK
Spain
Germany
Italy
Nordic Countries
Benelux Union

Belgium
The Netherlands
Luxembourg

Rest of Europe

Asia Pacific

China
Japan
India
Australia
South Korea
Southeast Asia

Indonesia
Thailand
Malaysia
Singapore
Rest of Southeast Asia

Rest of Asia Pacific

The Middle East & Africa

Saudi Arabia
UAE
Egypt
South Africa
Rest of the Middle East & Africa

Latin America

Brazil
Argentina
Rest of Latin America