Industry Insights
[229+ Pages Report] According to Facts and Factors, the global specialty pulp and paper chemicals market was valued at USD 24.9 million in 2021 and is predicted to increase at a CAGR of 2.5% to USD 26.31 million by 2028. The study examines the market in terms of revenue in each of the key regions, which are classified into countries.
Market Overview
Specialty pulp and paper chemicals are downstream derivatives of a wide range of commodity chemicals, such as acids, amines, alcohols, fatty alcohols, solvents, surfactants, and betaines, which are bulk chemicals that can be supplied without preprocessing. Mineral acids and bases are commonly utilized as basic chemicals in specialized pulp and paper manufacturing. Furthermore, these compounds are an essential component of the paper-making process, which minimizes water and energy use. The use of specialty papers such as tissue papers, diazo sheets, laminations, magazines, envelopes, and others increases demand for specialty chemicals, which drives the market growth. The employment of functional chemicals to improve paper performance by adding special qualities and features to optimize production, boost competitive advantage, and introduce consumer benefits into daily products is driving market expansion.
Furthermore, the expansion of the Specialty Pulp and Paper Chemicals market is aided by an increase in recycled paper usage. Due to the digital revolution, which has also led to industry consolidation, demand for specialized paper and pulp chemicals has been dropping or remaining relatively stable in recent years. Growing demand from packaging, domestic, and sanitary applications, on the other hand, has helped to stabilize the market. Coating as a protective material to induce smoothness and limit ink absorbency in specialty paper is becoming more popular, which will increase the use of functional chemicals in the coming years.
Companies are focusing on identifying and monetizing new prospects in the global chemicals business as it enters the recovery phase. In the short term, the majority of chemical sectors are expected to see a volume increase of 4% to 8%, depending on the chemical sub-segment and product portfolio. One of the most difficult aspects is determining the correct material composition. If there is a greater variance in material composition, there should be a higher difference in pH range, resulting in an increase or decrease in pulp and paper quality. As a result, the highly experienced operator must select the right material composition in order to retain the finished product's quality.
Impact of COVID – 19
The global economy, industrial and manufacturing sectors, and consumer sector are all suffering as a result of the COVID-19 epidemic. As a result of COVID-19, the expansion of the paper, pulp, and chemical industries are expected to slow in 2021, resulting in a slowdown in the worldwide specialty paper and pulp chemical market over the projection period.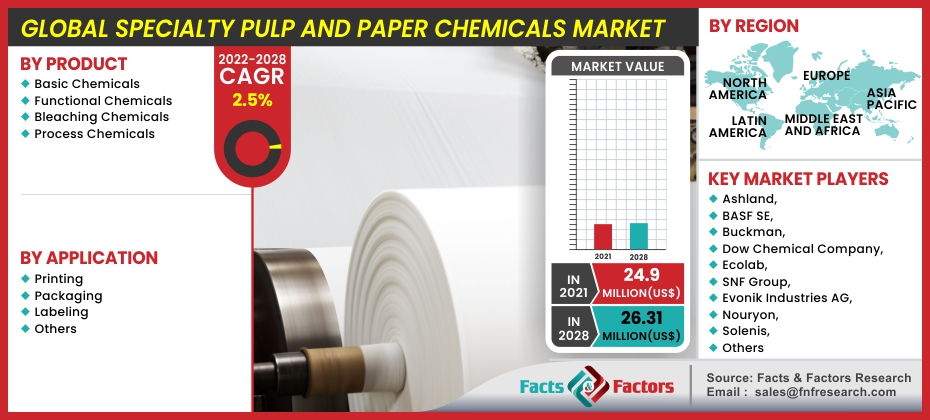 To know more about this report | Request Free Sample Copy
Segmentation Analysis
The global Specialty Pulp and Paper Chemicals Market is segregated based on product outlook and application outlook.
The market is divided into four areas based on product: bleaching, process, functional, and basic chemicals. Functional chemicals accounted for about half of the total specialty pulp and paper chemicals industry. Printability, color, texture, water repellency, and strength are among the traits and qualities of specialty paper that are improved by functional compounds. Dyes, coating binders, sizing additives, dry and wet additives, and whitening agents are some of the most regularly utilized functional chemicals.
Packaging was the most popular application area. Because of its capacity to produce great print contrast as well as a flawless finish in laminating and vacuum metalizing applications, the market for specialized pulp and paper chemicals for packaging is expected to develop rapidly. Another element boosting total market demand is the widespread use of specialty paper in food packaging goods such as corrugated clamshells, carryout boxes, paper tubes, plates, and cups. Commercial printing accounts for significant portions of writing and printing applications, and this segment is projected to drive demand for printing applications in the coming years.
Report Scope
| | |
| --- | --- |
| Report Attribute | Details |
| Market Size in 2021 | USD 24.9 Million |
| Projected Market Size in 2028 | USD 26.31 Million |
| CAGR Growth Rate | 2.5% CAGR |
| Base Year | 2021 |
| Forecast Years | 2022-2028 |
| Key Market Players | Ashland, BASF SE, Buckman, Dow Chemical Company, Ecolab, SNF Group, Evonik Industries AG, Nouryon, Solenis, and Others |
| Key Segment | By Product Outlook, Application Outlook, and Region |
| Major Regions Covered | North America, Europe, Asia Pacific, Latin America, and the Middle East & Africa |
| Purchase Options | Request customized purchase options to meet your research needs. Explore purchase options |
Regional Landscape
The Asia Pacific region dominated the worldwide Specialty Pulp and Paper Chemicals Market and is likely to continue to do so during the forecast period. Furthermore, rising disposable income has boosted retail infrastructure and packaged food consumption in the region, boosting demand for specialized pulp and paper chemicals. Furthermore, the Asia Pacific region's market expansion is fueled by the availability of raw resources.
Environmental performance, regulatory compliance, and early adoption of sustainable production practices are all important aspects in determining the industry's growth in North America. Due to saturation and growth in the digital economy, the specialized pulp and paper chemicals market in North America has reached a standstill.
List of Key Players in the Global Specialty Pulp and Paper Chemicals Market:
Ashland
BASF SE
Buckman
Dow Chemical Company
Ecolab
SNF Group
Evonik Industries AG
Nouryon
Solenis
The global specialty pulp and paper chemicals market is segmented as follows;
By Product Outlook
Basic Chemicals
Functional Chemicals
Bleaching Chemicals
Process Chemicals
By Application Outlook
Printing
Packaging
Labeling
Others
By Regional Outlook
North America
Europe

France
The UK
Spain
Germany
Italy
Nordic Countries
Benelux Union

Belgium
The Netherlands
Luxembourg

Rest of Europe

Asia Pacific

China
Japan
India
Australia
South Korea
Southeast Asia

Indonesia
Thailand
Malaysia
Singapore
Rest of Southeast Asia

Rest of Asia Pacific

The Middle East & Africa

Saudi Arabia
UAE
Egypt
South Africa
Rest of the Middle East & Africa

Latin America

Brazil
Argentina
Rest of Latin America