Covid-19
Global Industrial Alcohol Market Size, Share
The pandemic continues to cause unprecedented disruption across industries worldwide.Get detailed insights regarding the impact of COVID-19 on the market. Request Sample
Industry Insights
[197+ Pages Report] According to Facts and Factors, the global industrial alcohol market was valued at around USD 93,300 Million in 2020 and is predicted to create revenue of approximately USD 116,025 Million by the end of 2026, with a CAGR of roughly 3.7% between 2021 and 2026.
Market Overview
Industrial alcohols are used as a reagent and a solvent in a variety of sectors, including medicines, healthcare, energy, and chemicals. Apart from drinks, these alcohols are used in a variety of applications. Multifunctionality also boosts the adoption of a variety of end-user applications. Furthermore, ethanol, which is mostly manufactured and consumed as an alcoholic beverage, is widely used as a biofuel worldwide. Sugars generated from sugar cane, corn, sugar beets, wheat, and molasses are fermented to produce these fuels. It's also used as a substitute for gasoline in gasoline engines. Alcohols including methanol, benzyl alcohol, and isopropyl alcohol are also utilized in the manufacturing of food, flavorings, cosmetics, and adhesives. In addition, the market is anticipated to rise due to aggressive government initiatives and increased usage of methanol in chemical industries, as well as exponential expansion in manufacturing facilities. Furthermore, an increase in the number of corporate collaborations aimed at reducing greenhouse gas emissions and reducing the energy sector's reliance on imported fossil fuels is projected to enhance the market growth.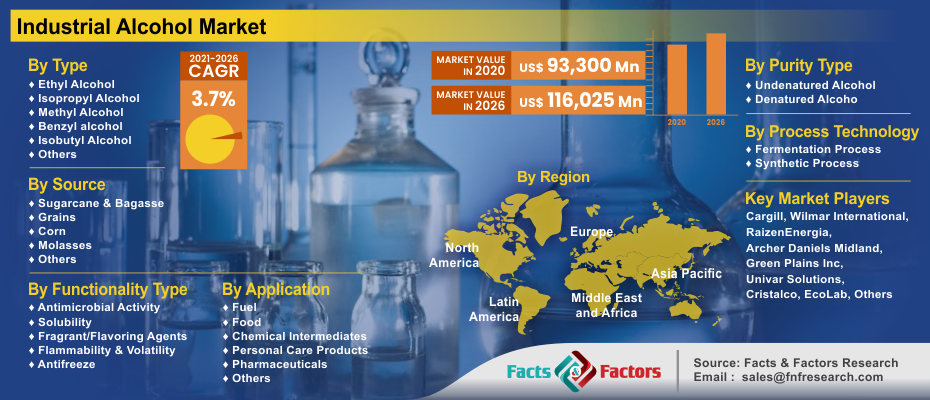 Industry Growth Factors
The growing need for biofuels among end-users for energy security, as well as the growing demand for low-cost feedstock in the chemical sector, are driving the worldwide industrial alcohols market. Furthermore, owing to the good qualities of these alcohols, such as high octane number and increased flammability characteristics, there is a spike in demand for organic solvents, which promotes market growth in transportation. Furthermore, a lack of petroleum and rising energy prices have intensified the problem of energy scarcity, leading to an increase in the use of alcohol as a source of energy. Bioethanol is also blended with gasoline and diesel to be used as a vehicle fuel. However, changing feedstock prices, such as molasses, are likely to hinder alcohol production and, the development of the industry in the future.
Segmentation Analysis
The global industrial alcohol market is segregated based on type, source, process technology, functionality type, purity type, application, and region.
Ethyl alcohol, isopropyl alcohol, methyl alcohol, benzyl alcohol, isobutyl alcohol, and others make up a type segment of the global industrial alcohol industry. The global industrial alcohol market can be divided into sugarcane & bagasse, grains, corn, molasses, and others based on the source segment. Based on functionality type, the global industrial alcohol industry is categorized into antimicrobial activity, solubility, fragrant/flavoring agents, flammability & volatility, and antifreeze. Undenatured alcohol and denatured alcohol are the purity type segment of the global industrial alcohol market. The fermentation process and synthetic process make up the process technology of the global industrial alcohol industry. The global industrial alcohol market can be divided into fuel, food, chemical intermediates, personal care products, pharmaceuticals, and others based on the application segment.
Industrial Alcohol Market: Report Scope
| | |
| --- | --- |
| Report Attribute | Details |
| Market Size in 2020 | USD 93,300 Million |
| Projected Market Size in 2026 | USD 116,025 Million |
| CAGR Growth Rate | 3.7% |
| Base Year | 2026 |
| Forecast Years | 2021-2026 |
| Key Market Players | Cargill, Wilmar International, RaizenEnergia, Archer Daniels Midland, Green Plains Inc, Univar Solutions, Cristalco, EcoLab, and Others |
| Key Segments | Type, Source, Functionality Type, Purity Type, Process Technology, Application, and Region |
| Major Regions Covered | North America, Europe, Asia Pacific, Latin America, and Middle East & Africa |
| Purchase Options | Request customized purchase options to meet your research needs. Explore purchase options |
Regional Analysis
Owing to the large production and consumption of methyl alcohol and ethanol in Asian countries like India and China, the industry is dominated by the Asia Pacific region. The government of India's attempts to utilize ethanol as an automotive fuel is expected to boost ethanol consumption considerably in India. China dominates the worldwide methanol business, owing to increased demand for methanol for gasoline blending and the manufacture of olefins from methanol, which has resulted in new price, economic, and market dynamics. With consumption objectives established by the governments of China and India, methyl alcohol and ethyl alcohol dominated the Asia Pacific. In this sector, ethanol use is low, and gasoline use is quickly expanding, accompanied by rising worries about air quality, notably in China and India. With rising GDP and population, the amount of fuel required for transportation is expected to climb dramatically by 2030, necessitating the use of additional biofuels. China is the world's fourth-largest producer of biofuels, whereas India has the best bioethanol demand conditions.
Competitive Players
Some main participants of the global industrial alcohol market are Cargill, Wilmar International, RaizenEnergia, Archer Daniels Midland, Green Plains Inc, Univar Solutions, Cristalco, EcoLab, Royal Dutch Shell Plc, MGP Ingredients, Lindeplc, The Andersons Inc, LyondellBasell Industries, Sigma-Aldrich, Dow Chemical Company, Grain Processing Corporation, Eastman Chemical Company, Greenfield Global Inc., Exxon Mobil Corporation, and Flint Hills Resources, amongst others.
By Type
Ethyl Alcohol
Isopropyl Alcohol
Methyl Alcohol
Benzyl alcohol
Isobutyl Alcohol
Others
By Source
Sugarcane & Bagasse
Grains
Corn
Molasses
Others
By Functionality Type
Antimicrobial Activity
Solubility
Fragrant/Flavoring Agents
Flammability & Volatility
Antifreeze
By Purity Type
Undenatured Alcohol
Denatured Alcohol
By Process Technology
Fermentation Process
Synthetic Process
By Application
Fuel
Food
Chemical Intermediates
Personal Care Products
Pharmaceuticals
Others
By Region
North America
Europe

France
The UK
Spain
Germany
Italy
Rest of Europe

Asia Pacific

China
Japan
India
South Korea
Southeast Asia
Rest of Asia Pacific

Latin America

Brazil
Mexico
Rest of Latin America

Middle East & Africa

GCC Countries
South Africa
Rest of Middle East & Africa