Industry Insights
[229+ Pages Report] According to the report published by Facts and Factors, the global wireless electric vehicle charging market size was worth around USD 15 million in 2021 and is predicted to grow to around USD 500 million by 2030 with a compound annual growth rate (CAGR) of roughly 90.1% between 2022 and 2030. The report analyzes the global wireless electric vehicle charging market drivers, restraints/challenges, and the effect they have on the demands during the projection period. In addition, the report explores emerging opportunities in the wireless electric vehicle charging industry.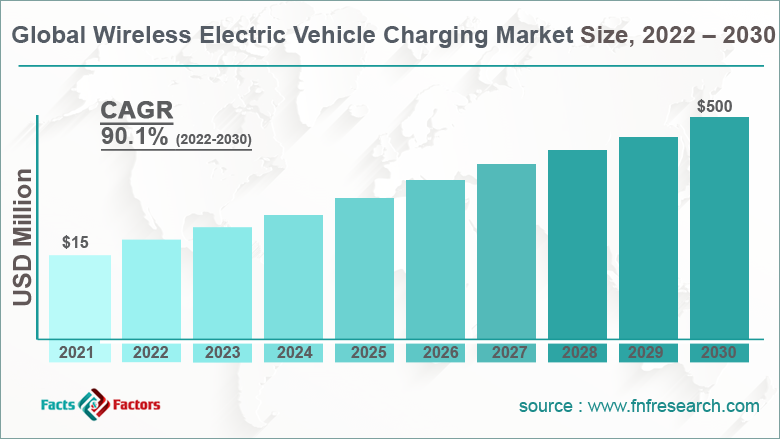 To know more about this report | Request Free Sample Copy
Market Overview
As the world is moving toward more sustainable ways of development, the market for electric vehicles (EVs) is gaining high momentum and so are the various technologies associated with it. One of the major aspects of the EV market is the construction of charging stations. The most conventional forms of charging stations include the use of wired technology, however, several key players are investing resources to innovate breakthrough technologies in the EV vehicle charging segment and one such technology is the development of wireless charging systems. It involves powering electric cars or other automobiles without utilizing any kind of cables and the units that provide such facilities are called wireless electric vehicle charging stations (WEVCs) which are different from the traditional electric vehicle charging stations (EVCs). The basic fundamental applied to such stations is the same principle used to develop transformers where the primary and secondary side or winding in transformers is replaced by the transmitted and received side respectively.
Key Insights
As per the analysis shared by our research analyst, the global wireless electric vehicle charging market is estimated to grow annually at a CAGR of around 90.1% over the forecast period (2022-2030)
In terms of revenue, the global wireless electric vehicle charging market size was valued at around USD 15 million in 2021 and is projected to reach USD 500 million, by 2030.
The wireless electric vehicle charging industry is projected to grow at a significant rate due to the growing demand for electric vehicle
Based on application segmentation, commercial charging station was predicted to show maximum market share in the year 2021
Based on power supply segmentation, 11 to 50 KW was the leading segment in 2021
On the basis of region, Europe was the leading revenue generator in 2021
To know more about this report | Request Free Sample Copy
Growth Drivers
Growing demand for electric vehicles to propel market growth
The global wireless electric vehicle charging market is projected to be encouraged by the rising sales and demand for electric vehicles due to the several benefits provided by them. Traditional automobiles run on fuel which is not only a non-renewable source of energy but also leads to serious and irreparable damage to the environment. The growing awareness amongst the population, increasing fuel prices, growing number of players providing ground-breaking technology-equipped passenger vehicles, rising investments in more affordable EV units, and some additional factors are leading the demand for electric vehicles for personal and commercial uses.
Furthermore, the market players providing hybrid vehicles is a smart way of tapping a higher consumer database which is further strengthened by the rising number of strategic collaborations to maintain a constant supply of raw materials and also ensure that the end-product demand values are being met. Since product innovation is key to future growth, EV markers are directing the monetary and non-monetary resources towards improving the overall consumer experience by investing in wireless charging technology resulting in zero requirements for additional accessories for re-powering a vehicle.
Restraints
Slow charging to restrict market expansion
Businesses working with technology have always struggled with improving the charging rate difference between wired and non-wired technology. The global market growth restrictions are no different as wireless EV charging is slower than wired charging. The time required to completely charge an EV depends on the battery strength. Wireless charging may not be helpful for long distances since there are several range-related restrictions.
Opportunities
Growing research to provide growth opportunities
The global wireless electric vehicle charging market can expect higher growth opportunities owing to ongoing extensive research for further enhancements in wireless technology. These activities are directed toward solving the existing drawbacks of the wireless system including finding ways to improve charging strength and enhance range limits. Additionally growing investments in far-field wireless technology is a potential segment many market players are showing keen interest in.
Challenges
Lack of supportive infrastructure to challenge the market expansion
The EV market is significantly new and currently, most of the electric vehicles that are commercially available are high in price. The product is yet to create a significant consumer database in underdeveloped or developing nations that are going through several financial, political, or economic crises. These regions lack the necessary infrastructure required to support the expansion of wireless technology which is a major challenge for the global market players to overcome.
Segmentation Analysis
The global wireless electric vehicle charging market is segmented based on application, vehicle, power supply, propulsion, and region
Based on application, the global market is divided into home charging unit and commercial charging station
The wireless electric vehicle charging industry witnessed the highest growth in the commercial charging station market and is projected to grow at a CAGR of more than 36% during the projection period
Due to the rising consumer awareness, more people willingly opt for commercial services that provide EV options, and this trend is expected to help the segment grow further since ride-sharing companies are noticing the expected future trend
The segmental growth can be further propelled by the rising demand for convenient, safer, and cost-efficient services which are currently acting as a major growth inhibitor for businesses providing passenger pick-up and drop services through fuel-powered vehicles
By charging method, the global market is segmented into resonant inductive power transfer (RIPT), capacitive wireless power transfer (CWPT), inductive power transfer (IPT), and magnetic gear wireless power transfer (MGWPT).
Based on propulsion, the global market is segmented into battery electric vehicle (BEV), commercial electric vehicle, plug-in hybrid electric vehicle, and crew exploration vehicle
Based on power supply, the global market segments are more than 50 KW, 11 to 50 KW, and 3 to less than 11 KW.
The wireless electric vehicle charging industry may register the highest growth in the 11 to 50 KW segment with a CAGR of 36.1%
These versions of charging points deliver better performance and the charging time is lesser than the time taken by 3 to less than 11 KW wireless charging
They can be used in residential and commercial settings and have higher potential than the other options available for use
Recent Developments:
In December 2022, Electreon, a leading player in the global market, announced that the company will deploy its products and services in the first-of-its-kind public wireless project in the German market. The unit under development will be responsible for providing wireless power to electric buses available for public transport
In September 2022, Denso, an auto parts supplier, initiated a new program for testing road pavements in Japan that are designed to power electric vehicles while on the go. The program is in collaboration with a Japanese construction group and the aim is to deliver practical technology by the end of 2025
Report Scope
| | |
| --- | --- |
| Report Attribute | Details |
| Market Size in 2021 | USD 15 Million |
| Projected Market Size in 2030 | USD 500 Million |
| CAGR Growth Rate | 90.1% CAGR |
| Base Year | 2021 |
| Forecast Years | 2022-2030 |
| Key Market Players | Tesla, Toshiba Corporation, Toyota Motor Corporation, Qualcomm Technologies, Momentum Dynamis, Renesas electronics, WiTricity Corporation, Robert Bosch Gmbh, Evatran group, IPT group, Integrated Device Technology, Continental Ag, Texas Instruments Inc, Nidec Mobility Corporation, Elix Wireless, Nission, ZTE Corporation, Plugless Power, HEVO power, BMW, INTIS GmbH, T Good Global Ltd., Daihen Corporation, WAVE Inc., Groupe Delachaux, Electreon Inc., Mojo Mobility Inc., HEVO Inc., Powermat Technologies., and others. |
| Key Segment | By Application, Charging Method, Power Supply, Propulsion, and Region |
| Major Regions Covered | North America, Europe, Asia Pacific, Latin America, and the Middle East &, Africa |
| Purchase Options | Request customized purchase options to meet your research needs. Explore purchase options |
Regional Analysis
Europe to lead with the highest growth
The global wireless electric vehicle charging market is projected to witness the highest growth in Europe with a CAGR of 36% mainly propelled by the technological growth being observed in the countries of Germany, the UK, Italy, and France in terms of the automotive industry and more specifically in the EV sector. The growing investment rate directed toward the installation of new research facilities along with units using end-products could act as regional market growth contributors. The regions are also witnessing a high demand for fuel-efficient vehicles, both for personal use as well as in the commercial sector which may work in the favor of an increase in demand for EVs resulting in more research for wireless technology. Growth in Asia-Pacific is expected to be led by the presence of dominant players working in the automotive segment with major growth opportunities emerging in Japan and China.
Competitive Analysis
Tesla
Toshiba Corporation
Toyota Motor Corporation
Qualcomm Technologies
Momentum Dynamis
Renesas electronics
WiTricity Corporation
Robert Bosch Gmbh
Evatran group
IPT group
Integrated Device Technology
Continental Ag
Texas Instruments Inc
Nidec Mobility Corporation
Elix Wireless
Nission
ZTE Corporation
Plugless Power
HEVO power
BMW
INTIS GmbH
T Good Global Ltd.
Daihen Corporation
WAVE Inc.
Groupe Delachaux
Electreon Inc.
Mojo Mobility Inc.
HEVO Inc.
Powermat Technologies.
The global wireless electric vehicle charging market is segmented as follows:
By Application Segment Analysis
Home Charging Unit
Commercial Charging Station
By Charging Method Segment Analysis
Resonant Inductive Power Transfer (RIPT)
Capacitive Wireless Power Transfer (CWPT)
Inductive Power Transfer (IPT)
Magnetic Gear Wireless Power Transfer (MGWPT)
By Power Supply Segment Analysis
More than 50 KW
11 to 50 KW
3 to less than 11 KW
By Propulsion Segment Analysis
Battery Electric Vehicle (BEV)
Commercial Electric Vehicle
Plug-In Hybrid Electric Vehicle
Crew Exploration Vehicle
By Regional Segment Analysis
North America
Europe

France
The UK
Spain
Germany
Italy
Nordic Countries
Benelux Union

Belgium
The Netherlands
Luxembourg

Rest of Europe

Asia Pacific

China
Japan
India
Australia
South Korea
Southeast Asia

Indonesia
Thailand
Malaysia
Singapore
Rest of Southeast Asia

Rest of Asia Pacific

The Middle East & Africa

Saudi Arabia
UAE
Egypt
South Africa
Rest of the Middle East & Africa

Latin America

Brazil
Argentina
Rest of Latin America