Industry Insights
[227+ Pages Report] According to the Facts and Factors study, the size of Global Wireless Electric Vehicle Charging Systems Market is estimated to be USD 43.55 Million in 2020 and USD 549.95 Million by 2026, with a CAGR of 52.6% between 2021 and 2026.
Market Overview
Over the last decade, the development of wireless charging solutions for electric vehicles has accelerated significantly. Part of this is due to cities' desire to move away from gasoline and diesel-powered vehicles in order to help offer cleaner cities, especially given the rapid urbanization that is occurring around the world, and partially due to electric vehicles becoming more efficient and cost competitive. There should be no need to ever plug in their automobiles if wireless charging devices are correctly incorporated into vehicles and strategically located around a city as well as at owners' houses. Vehicles should be able to be charged whenever and wherever they are parked, and EV owners should not have to worry about the grid connection because it would be handled automatically.
It is expanding and gaining popularity, according to industry experts and an analysis of the global wireless electric car charging market. The consumer is now aware of the device and is very interested in purchasing it. The Wireless Electric Vehicle Charger has been on the market for a few years now. The charging market has many different aspects, including increased production and acceptance of electric passenger cars, increased investment in smart city technology, and financial incentives provided by governmental organizations, to name a few.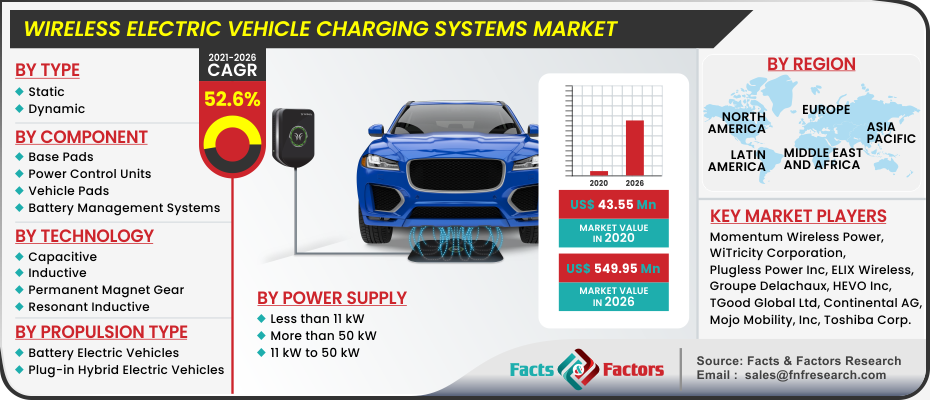 To know more about this report | Request Free Sample Copy
Industry Growth Factors
The market for wireless electric vehicle chargers is booming for a variety of reasons. The recent invasion of smartphones, smart gadgets, and other consumer electronic products has driven the demand for wireless devices to new heights. The Wireless Electric Vehicle Charger makes it easy for businesses and regular people to charge their automobiles. There is a variety of encryption features included in wireless electric vehicle charging equipment that benefits the automotive industry and helps to promote the worldwide public market demand for such wireless devices.
Furthermore, rising demand for electric vehicles, rising oil prices, global warming, and expanding infrastructure for fast or dash chargers are all driving the expansion of the wireless electric vehicle charging market, which is boosting the target market's growth.
Global Wireless Electric Vehicle Charging Systems Market: Segmentations
The market for wireless electric vehicle charging systems is divided into two types: dynamic wireless EV charging systems, and static wireless EV charging systems. During the forecast period, the static segment is expected to increase at the fastest rate.
Component Segment Insights:
In the wireless charging systems market in 2020, the base pads category accounted for the greatest percentage. Enhanced deployment of public and industry wireless electricity charging systems for buses, taxis, and industrial vehicles; the standardization of the interoperability of wireless charge pads; the presence of a large number of applications and pilot programs supporting static wireless electrical electricity charging systems all contributing to this growth.
Technology Segment Insights:
The inductive EV charge systems sector is anticipated to expand at the quickest rate over the forecast period. All contributing to the fast growth in this sector are the rapid charging capacity of induction wireless EV systems, the high efficiency due to the close connection between primary and secondary bobbins, low heating system build-up that allows considerable power transfer and increased efforts by major automakers to integrate wireless charging capacities into their vehicles.
Power Supply Segment Insights:
The largest share of the overall market in 2020 was for wireless EV charging systems with less than 11 kW. The high market share might be attributable to the standardization of wireless electric charging systems with a power of up to 11 kW, leading to considerable investment in the field by motor operators and increasing use of electric cars in Europe and North America.
Report Scope
| | |
| --- | --- |
| Report Attribute | Details |
| Market Size in 2020 | USD 43.55 Million |
| Projected Market Size in 2026 | USD 549.95 Million |
| CAGR Growth Rate | 52.6% CAGR |
| Base Year | 2020 |
| Forecast Years | 2021-2026 |
| Key Market Players | Momentum Wireless Power, WiTricity Corporation, Plugless Power Inc, ELIX Wireless, Groupe Delachaux, Mojo Mobility Inc, TGood Global Ltd, HEVO Inc, Continental AG, and Toshiba Corporation. |
| Key Segment | By Type, By Component, By Technology, By Power Supply, By Propulsion Type, By Region |
| Major Regions Covered | North America, Europe, Asia Pacific, Latin America, and the Middle East & Africa |
| Purchase Options | Request customized purchase options to meet your research needs. Explore purchase options |
Propulsion Segment Insights:
In 2020, the electric vehicle battery sector accounted for the biggest share of the wireless electric charge systems market. Economic and economic development is contributing to the increased worldwide adoption of electric battery vehicles, government regulations to phase out fossil fuels, increased government initiatives to transition electric mobility, and increasing the utilization of battery electric vehicles for independent delivery and driving applications.
Global Wireless Electric Vehicle Charging Systems Market: Regional Analysis
Based on regions, the global Wireless Electric Vehicle Charging Systems market can be divided into five main regions namely North America, Europe, Latin America, Asia Pacific, and The Middle East, and Africa.
During the projection period, the European region is expected to have the biggest market share. Wireless charging infrastructure can be implemented in this location due to the presence of well-developed infrastructure. Due to a combination of economies of scale, high levels of income, and being an automotive manufacturing center, Germany, along with the United Kingdom and France, will be the largest market for wireless charging. The Asia-Pacific region, followed by Europe and North America, held the greatest proportion of the worldwide wireless EV charging systems market in 2020. The region's big proportion is mostly due to the region's increased adoption of electric vehicles, strong demand for rapid charging infrastructure, and growing infrastructure development in emerging economies.
Global Wireless Electric Vehicle Charging Systems Market: Competitive Players
Some of the key players in the Wireless Electric Vehicle Charging Systems market are
Momentum Wireless Power
WiTricity Corporation
Plugless Power Inc
ELIX Wireless
Groupe Delachaux
Mojo Mobility Inc
TGood Global Ltd
HEVO Inc
Continental AG
Toshiba Corporation.
Wireless EV Charging Systems Market: Type Segmentation Analysis
Static Wireless EV Charging Systems
Dynamic Wireless EV Charging Systems
Wireless EV Charging Systems Market: Component Segmentation Analysis
Base Pads
Power Control Units
Vehicle Pads
Battery Management Systems
Wireless EV Charging Systems Market: Technology Segmentation Analysis
Capacitive Wireless EV Charging Systems
Inductive Wireless EV Charging Systems
Permanent Magnet Gear Wireless EV Charging Systems
Resonant Inductive Wireless EV Charging Systems
Wireless EV Charging Systems Market: Power Supply Segmentation Analysis
Less than 11 kW
More than 50 kW
11 kW to 50 kW
Wireless EV Charging Systems Market: Propulsion Type Segmentation Analysis
Battery Electric Vehicles
Plug-in Hybrid Electric Vehicles
Wireless Electric Vehicle Charging Systems Market: Regional Segmentation Analysis
North America
Europe

Germany
The UK
France
Spain
Italy
Rest of Europe

Asia Pacific

China
Japan
India
South Korea
Southeast Asia
Rest of Asia Pacific

Latin America

Brazil
Mexico
Rest of Latin America

Middle East & Africa

GCC Countries
South Africa
Rest of Middle East & Africa