Industry Insights
[225+ Pages Report] According to Facts and Factors, the global electric vehicle market is anticipated to grow at a compound annual growth rate (CAGR) of 24.5% during the forecast period between 2022 and 2028. The valuation for the electric vehicle market was USD 185 billion in 2021 and it is estimated to cross USD 980 billion, by 2028. The report analyzes various factors and their implications on the electric vehicle market's growth.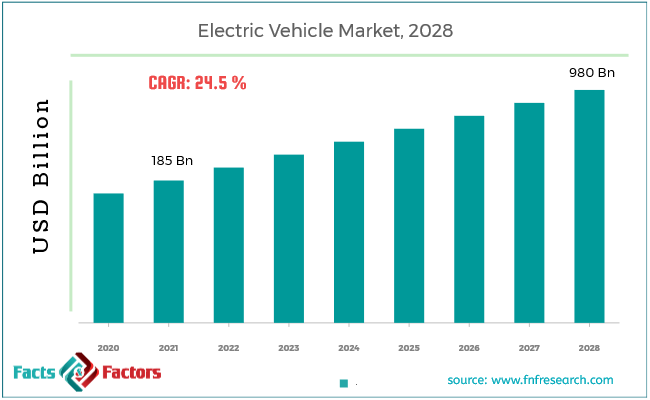 To know more about this report | Request Free Sample Copy
Market Overview
An electric vehicle, as opposed to a gasoline-powered vehicle, runs on electricity. Instead of a petrol engine, these vehicles are powered by an electric motor that needs a good amount of energy from batteries to function. These vehicles make use of a variety of batteries. Molten salt, lithium-ion, zinc-air, and other nickel-based designs are among them. The electric vehicle was created largely to replace traditional modes of transportation, which pollute the environment. It has grown in prominence as a result of several technological breakthroughs.
It surpasses traditional automobiles by offering better fuel economy, lower carbon emissions & maintenance, ease of charging at homes, a smoother drive, and lower engine noise. There are three main types of electric car batteries: pure, hybrid, and plug-in hybrid. Furthermore, while electric vehicles do not require engine oil changes, they are slightly more expensive than gasoline-powered counterparts.
Covid-19 Impact
The COVID-19 outbreak has had a detrimental effect on the automobile sector as a whole, and thus on the electric vehicle market as well. According to data supplied by the Society of Electric Vehicle Manufacturers (SMEV), new EV registrations of all types of electric vehicles fell by 20% during FY21 compared to FY20. Furthermore, in the midst of the pandemic, various players are attempting to design novel techniques in order to maintain up with the situation, such as deploying electric cars for medical supplies because they provide economical transportation with outstanding agility. For instance, Omega Seiki Mobility has launched Rage+frost, a cold load carrier three-wheeler specifically built for vaccines, medicine, and food distribution in these difficult circumstances.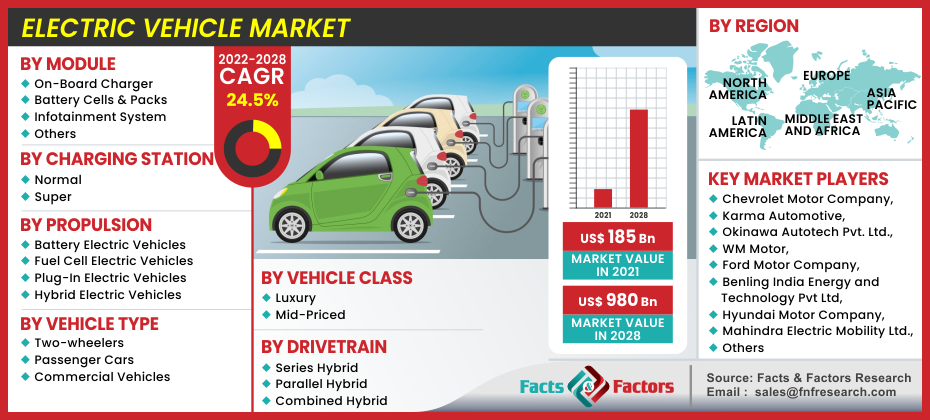 To know more about this report | Request Free Sample Copy
Electric Vehicles Market: Growth Drivers
Strict government restrictions and regulations toward vehicle emission are expected to drive the market's growth
Governments and regulatory agencies around the world are establishing strict emission rules and laws to minimize vehicle emissions in response to growing ecological issues. Stringent emission targets for carbon dioxide (CO2) and nitrogen oxides (NOx) in the air are major regulatory measures. Vehicles release large amounts of greenhouse gases, and the state & federal governments in the United States are making intensifying attempts to make transportation sustainable.
For instance, the United States Environmental Protection Agency (EPA) has announced that it is developing new guidelines to reduce nitrogen oxide (NOx) and other emissions emitted by heavy-duty trucks. Furthermore, the California Air Resources Board (CARB) is implementing the heavy-duty Low NOx Omnibus Regulation, which intends to reduce NOx emissions by 90% by 2027 compared to existing standards. Furthermore, the European Union (EU) promised in the Paris Agreement (COP21) to meet its 20% greenhouse gas emission reduction target in 2020 for the Kyoto Protocol's second phase. The EU has also set a goal of reducing greenhouse gas emissions by 40% by 2040 and reaching net-zero by 2050.
As a result, the demand for vehicle manufacturers, particularly commercial vehicle manufacturers, has increased as a result of the passage of emission restrictions for fossil fuel-powered vehicles. As a result, demand for electric vehicles is projected to rise. Thus, strict emission standards placed on fossil-fuel-driven commercial vehicles are propelling the global electric vehicle market forward.
Rising demand for low-emission, high-performance, and fuel-efficient vehicles are boosting the market's growth
As gasoline is a source of fuel, it is not a sustainable form of energy and will gradually run out of fuel. Sustainable energy sources must be identified and used to ensure a sustainable future. This requires the use of electric vehicles that do not necessitate the use of gasoline and are more cost-efficient than regular combustion vehicles. With the recent increase in the price of gasoline and diesel, demand for electric vehicles has surged.
Electric Vehicles Market: Restraints
High production costs will impede market expansion
Electric vehicles are preferable to regular fuel vehicles, but they are more expensive than gasoline-powered vehicles. Because these vehicles aren't mass-produced, they haven't yet attained economies of scale. Furthermore, the absence of charging points linked to the development of electric vehicles has proven to be a deterrent to market expansion. Similarly, producers require a significant amount of financial assets, which may stifle the global electric vehicle market growth. However, the battery costs are likely to drop in the coming years as part of the increased mass production of electric vehicle batteries in huge volumes and technological developments.
Electric Vehicles Market: Opportunities
Government initiatives to promote electric vehicles offer significant growth opportunities
Vehicle emissions reduction objectives have been set for 2050 in many countries across the world. They have begun to promote the production and sale of electric vehicles, as well as the infrastructure that supports them. For instance, the US government spent USD 5 billion in 2017 to support electric vehicle infrastructure like charging points. Many countries are offering minimal or even no registration fees and also exemptions from import duties, road tax, and sales tax. Furthermore, countries such as Germany and Norway are heavily investing in electric vehicle sales promotion.
As a result of the huge incentives and benefits in Europe, there is a rapid increase in the market for electric vehicles. This has resulted in an increase in demand for electric vehicle charging equipment and materials such as connectors, charging cables, portable chargers, and adapters. A 2020 vision for a nationwide fast-charging channel is also scheduled to be created as part of an agreement between the US departments of energy and transportation, with potential longer-term developments including up to 350 kW of DC power supercharging. As a result of stricter CO2 emission regulations, electric vehicles have become more popular.
Electric Vehicles Market: Challenges
Lack of standardization of electric vehicles remains a challenge
The necessity for the standardization of electric car charging stations has been highlighted by factors like the development of the electric vehicle market and variances in charging loads. Certain electric vehicle charging outlets may only work with a specific voltage. For instance, level 1 charging points provide a voltage of 120V AC, whereas level 2 charging points provide a voltage of 208V AC or 240V AC. DC charging stations, on the other hand, use 480V AC to provide quick charging. For the establishment of a favorable ecology and a rise in electric vehicle sales, governments must standardize charge stations. Different countries have different quick-charging standards. CHAdeMO is used in Japan; CCS is used in Europe, the United States, & Korea; and GB/T is used in China. Because India has yet to achieve standardization in fast charging systems, the Indian government has ordered the deployment of both CHAdeMO and CCS methods.
However, because this rule increased the cost of installing charging stations, the government amended the guidelines in July 2019 and enabled charging station operators to choose their preferred method. Tesla, a California-based electric vehicle manufacturer, employs high-performance superchargers that are exclusive to Tesla and cannot be utilized by other electric vehicles. The absence of standardization between countries may have an influence on charging station installation and stifle the market for electric vehicle charging stations.
Electric Vehicles Market: Segmentation
The global electric vehicle market is segregated on the basis of module, charging station, propulsion, vehicle type, drivetrain, vehicle class, and region.
By module, the market is divided into on-board chargers, battery cells & packs, infotainment systems, and others. Rising demand for electric vehicles boosts battery cells and pack manufacturing unexpectedly. As a result of this element, automotive battery makers or suppliers are always focused on research and development, which has helped to reduce battery costs. This aspect enables the market to develop at the fastest CAGR.
By charging station, the market is segmented in super and normal. Normal charging stations dominate the market, as the majority of customers choose to charge their vehicle at home while it is idle.
By propulsion, the market is classified into battery electric vehicles, fuel cell electric vehicles, plug-in electric vehicles, and hybrid electric vehicles. The battery electric vehicle segment dominates the market, but hybrid electric vehicles are predicted to increase at the fastest rate in the forecasted year.
By vehicle type, the global electric vehicle market is divided into two-wheelers, passenger cars, and commercial vehicles. Passenger cars dominate the market and have the highest CAGR.
By drivetrain, the market is segmented into series hybrid, parallel hybrid, and combined hybrid. The series hybrid drivetrain segment dominates the market because it provides maximum efficiency when driving on city streets or in congested areas. In comparison to parallel hybrid vehicles, series hybrid vehicles have higher fuel efficiency and lower emissions.
By vehicle class, the market is segmented into luxury and mid-priced. Mid-priced vehicles segment dominates the market and also have the highest CAGR.
Report Scope
| | |
| --- | --- |
| Report Attribute | Details |
| Market Size in 2021 | USD 185 Billion |
| Projected Market Size in 2028 | USD 980 Billion |
| CAGR Growth Rate | 24.5% CAGR |
| Base Year | 2021 |
| Forecast Years | 2022-2028 |
| Key Market Players | Chevrolet Motor Company, Karma Automotive, Okinawa Autotech Pvt. Ltd., WM Motor, Ford Motor Company, Benling India Energy and Technology Pvt Ltd, Hyundai Motor Company, Mahindra Electric Mobility Limited, Toyota Motor Corporation, Energica Motor Company S.p.A., Kia Corporation, Ampere Vehicles, Lucid Group, Inc., Tata Motors, Xiaopeng Motors, NIO, BYD Company Limited, Hero Electric, Nissan Motors Co., Ltd., Volkswagen AG, General Motors, Rivain, Daimler AG, Tesla Inc., and BMW AG. |
| Key Segment | By Module, Charging Station, Propulsion, Vehicle Type, Drivetrain, Vehicle Class, and Region |
| Major Regions Covered | North America, Europe, Asia Pacific, Latin America, and the Middle East & Africa |
| Purchase Options | Request customized purchase options to meet your research needs. Explore purchase options |
Regional Landscape
Asia Pacific region dominates the electric vehicle market
Asia Pacific electric vehicle industry is dominated by China, which is the world's leading manufacturer of electric vehicles and exporter of significant component parts for electric vehicles. According to the IEA's worldwide electric vehicle projection, China will be the market leader in 2030, with a share of roughly 57 percent. Furthermore, foreign manufacturers such as General Motors and Volkswagen are stepping up their operations in China. Tesla has a manufacturing site in China for one of its models, which will help meet the growing demand for electric sedans.
The company intends to release SUV models all over the world. The corporation will also open a battery manufacturing facility in China that will be utilized in its electric vehicles, lowering operational costs, increasing customer reach, and building a barrier to potential entrants. Because of rising population consumption, the European area is predicted to increase at the fastest rate during the forecast period.
Recent Developments
April 2021: Toyota Motor Corporation introduced Toyota bZ, a new BEV product line that includes a comprehensive range of models. By 2025, the business plans to introduce 15 BEV models, including seven new Toyota bZ BEV variants.
October 2020: Hino Motors, Ltd. (Hino) and BYD Firm Ltd. formed a joint venture agreement to establish a new company dedicated to the development of commercial BEVs.
Competitive Landscape
Some of the main competitors dominating the global electric vehicle market are :
Chevrolet Motor Company
Karma Automotive
Okinawa Autotech Pvt. Ltd.
WM Motor
Ford Motor Company
Benling India Energy and Technology Pvt Ltd
Hyundai Motor Company
Mahindra Electric Mobility Limited
Toyota Motor Corporation
Energica Motor Company S.p.A.
Kia Corporation
Ampere Vehicles
Lucid Group Inc.
Tata Motors
Xiaopeng Motors
NIO
BYD Company Limited
Hero Electric
Nissan Motors Co. Ltd.
Volkswagen AG
General Motors
Rivain
Daimler AG
Tesla Inc.
BMW AG.
The global electric vehicle market is segmented as follows:
By Module Segment Analysis
On-Board Charger
Battery Cells & Packs
Infotainment System
Others
By Charging Station Segment Analysis
By Propulsion Segment Analysis
Battery Electric Vehicles
Fuel Cell Electric Vehicles
Plug-In Electric Vehicles
Hybrid Electric Vehicles
By Vehicle Type Segment Analysis
Two-wheelers
Passenger Cars
Commercial Vehicles
By Drivetrain Segment Analysis
Series Hybrid
Parallel Hybrid
Combined Hybrid
By Vehicle Class Segment Analysis
By Regional Segment Analysis
North America

The U.S.
Canada
Mexico
Rest of North America

Europe

France
The UK
Spain
Germany
Italy
Nordic countries

Denmark
Finland
Iceland
Sweden
Norway

Benelux Reunion

Belgium
The Netherlands
Luxembourg

Rest of Europe

Asia Pacific

China
Japan
India
New Zealand
Australia
South Korea
Southeast Asia

Indonesia
Thailand
Malaysia
Singapore
Rest of Southeast Asia

Rest of Southeast Asia

The Middle East & Africa

Saudi Arabia
UAE
Egypt
Kuwait
South Africa
Rest of Middle East & Africa

Latin America

Brazil
Argentina
Rest of Latin America