Industry Insights
[213+ Pages Report] According to Facts and Factors, the global virtual reality in healthcare market size was worth around USD 431.90 million in 2021 and is estimated to grow to about USD 2793.69 million by 2028, with a compound annual growth rate (CAGR) of approximately 36.50% over the forecast period. The report analyzes the Virtual Reality in Healthcare market's drivers, restraints/challenges, and the effect they have on the demands during the projection period. In addition, the report explores emerging opportunities in the Virtual Reality in Healthcare market.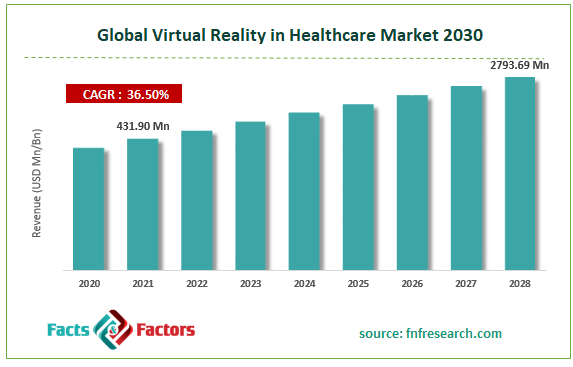 To know more about this report | Request Free Sample Copy
Market Overview
In healthcare, virtual reality has shown to be a boon to hospitals and medical practitioners. This technology is used to help people with autism, phobias, depression, and addiction plan, treat and diagnose them. Many healthcare providers have noticed the benefits of virtual reality and are integrating it into their operations. The technology has shown to be a useful tool for challenging treatments since it delivers risk-free settings. To deliver the best learning programs for physicians and students, major virtual reality providers have combined 3D interactive content with 360-degree video.
An increase in the number of surgeries, as well as the implementation of novel technologies in medical education and training, are projected to fuel market expansion. Other factors driving market expansion include rising demand for robotic procedures, expanding healthcare infrastructure, and supportive government efforts. There is a demand for additional medical experts, thus governments around the world are opening more medical schools. Global demand for quality medical education is predicted to fuel market expansion for virtual reality in healthcare. Modern information technology advancements including sophisticated computers, laptops, internet access, and mobile applications will further drive industry expansion. However, it is anticipated that the high cost of therapy, user privacy concerns regarding their data, and limited access to virtual reality technology in underdeveloped economies will impede market expansion.
COVID-19 Impact:
The COVID-19 crisis increased the potential for implementing virtual reality in the healthcare sector. The demand for virtual reality technology in the healthcare industry grew during the pandemic. Medical professionals were able to better understand and research the effects of the new strain because of the usage of virtual reality in healthcare. The device helped doctors by giving them real-time radiological insights into how the disease affected patients' bodies. Most COVID-19 healed patients suffer from Post-Intensive Care Syndrome. Virtual rehab sessions employing virtual reality technologies help patients rehabilitate in such circumstances.
Key Insights
Virtual Reality in Healthcare market share value at a CAGR of 36.50% over the forecast period.
The market is anticipated to rise as a result of an increase in surgeries and the use of advanced technologies in medical training and education.
By component, the hardware segment dominated the market in 2021.
By application, the Medical Training & Education segment dominated the market in 2021.
North America dominated the Global Virtual Reality in Healthcare market in 2021.
Growth Drivers
Increasing application of virtual reality is likely to pave way for global market growth
Healthcare professionals are using virtual reality to improve patient treatment capability. With the help of virtual reality medical care, experts can quickly recognize, diagnose, instruct, and cure medical issues. Virtual reality technologies are being used more frequently by psychiatrists to treat patients' worries. In healthcare, virtual reality (VR) is utilized in therapy sessions for phobias like claustrophobia, fear of heights, and fear of the dark. Pain control, social cognition training for autistic patients, stroke recovery, damage assessment and rehabilitation, Post-Traumatic Stress Disorder (PTSD), and other uses of patient therapy are also available.
Restraints
Technical limitations may hamper the global market growth
The adoption of electronic medical records may require specific technical skills because the industry has been using a paper-based system for a longer period of time. This can impede the growth of Virtual Reality (VR) in healthcare market because there aren't enough technical professionals working in this field. Industry experts say that these issues might eventually be resolved nonetheless.
Opportunities
Wearable technology trends and investment in pain management bring up several growth opportunities
The market share for virtual reality in healthcare will be supported by the growing trend for wearables, which includes fitness trackers, fit bands, rings, headsets, and goggles. Real-time mental health treatment has made VR headsets more popular. Technology developments will be crucial in fostering VR's use in wearable technology. Applications for patient therapy include damage assessment and rehabilitation, pain management, PTSD treatment, and stroke recovery are becoming more popular. Medical professionals have publicly shown support for the use of virtual reality technologies to treat PTSD in combat veterans.
Challenges
Integration of VR in low-end devices likely to limit the global market growth
Manufacturers and system integrators of virtual reality technologies are finding it hard to incorporate these technologies into low-cost devices, rendering them unavailable to middle- and low-income individuals. The inaccessibility to these technologies on low-cost devices is a concern for the industry, as the bulk of the world's population is middle- or low-income, which can stymie market growth.
Segmentation Analysis
The global Virtual Reality in Healthcare market is segregated on the basis of component, technology, application, end-use, and region.
By component, the market is bifurcated into Software and Hardware. Among these, the hardware segment dominates the market in 2021. The gear for virtual reality consists of PCs, head-mounted displays (HMD), and other gadgets like mobile phones and laptops. Virtual reality headsets are widely utilized for educational, therapeutic, and training purposes. Due to the rising demand for training for healthcare professionals, the software market is anticipated to rise steadily. This element is anticipated to encourage the use of virtual reality (VR) in the medical field.
By end user, the market is divided into Hospitals, Clinics & Surgical Centers, Research Organizations & Pharma Companies, Government & Defense Institutions, Research & Diagnostics Laboratories and Others. The Hospitals segment is expected to develop during the forecast period due to an increase in the use of virtual reality to aid surgeons during surgery in hospitals around the world. Furthermore, the increased usage of VR in neurological illnesses and cancer treatments in hospitals is likely to drive VR demand in the healthcare industry.
Report Scope
| | |
| --- | --- |
| Report Attribute | Details |
| Market Size in 2021 | USD 431.90 Million |
| Projected Market Size in 2028 | USD 2793.69 Million |
| CAGR Growth Rate | 36.50% CAGR |
| Base Year | 2021 |
| Forecast Years | 2022-2028 |
| Key Market Players | Microsoft, Firsthand Technology Inc., Alphabet, General Electric, Koninklijke Philips N.V., SyncThink Inc., Applied VR Inc., EchoPixel, DAQRI, Orca Health, and Others |
| Key Segment | By Component, Technology, Application, End-use, and Region |
| Major Regions Covered | North America, Europe, Asia Pacific, Latin America, and the Middle East & Africa |
| Purchase Options | Request customized purchase options to meet your research needs. Explore purchase options |
Recent Developments
In April 2021, Medtronic and Surgical Theater cooperated on a virtual platform for cranial surgeries. The collaboration will result in the integration of Medtronic's StealthStation S8 surgical navigation system with SyncAR technology Surgical Theater, which is projected to improve visibility for neurosurgeons during cranial surgeries.
In March 2020, for COVID-19 patients, XRHealth USA Inc. established a virtual reality telemedicine support group. Patients and clinicians experiencing similar symptoms can use virtual reality equipment to connect for true human interactions.
Regional Landscape
Rising prevalence of spinal problems is likely to help North America dominate the global market
North America is expected to dominate the Virtual Reality in Healthcare Market in 2021. Higher acceptance of these technologies, investment in R&D activities, and supportive government initiatives are factors that are fueling growth in this region. The National Institute of Health of the United States of America is sponsoring virtual reality research with an emphasis on healthcare. Additionally, since payers and healthcare providers face increasing pressure to reduce treatment costs, there is a growth in the outsourcing of healthcare IT services in North America. This element has had a favorable impact on the expansion of virtual reality in healthcare market for healthcare in the area.
Over the forecast period, Asia Pacific regional market is expected to grow at a significant rate in Virtual Reality in Healthcare market in 2021. Due to a rise in public awareness and improved healthcare infrastructure. Promising locations for outsourcing services connected to the creation and marketing of VR technology in healthcare include developing economies like India, China, Brazil, and Mexico. Stakeholders anticipate a sharp increase in the Asia Pacific Virtual Reality in Healthcare Market throughout the assessment period. The region's optimism is mostly due to developments in telemedicine and digital healthcare.
Competitive Landscape
Key players within the global virtual reality in healthcare market include
Microsoft
Firsthand Technology Inc.
Alphabet
General Electric
Koninklijke Philips N.V.
SyncThink Inc.
Applied VR Inc.
EchoPixel
DAQRI
Orca Health
Global Virtual Reality in Healthcare market is segmented as follows:
By Component
By Technology
Full-Immersive
Semi-Immersive
Non-Immersive
By Application
Surgery
Fitness Management
Patient Care Management
Pharmacy Management
Medical Training & Education
Others
By End-Use
Hospitals
Clinics & Surgical Centers
Research Organizations & Pharma Companies
Government & Defense Institutions
Research & Diagnostics Laboratories
Others
By Region
North America
Europe

France
The UK
Spain
Germany
Italy
Nordic Countries
Benelux Union

Belgium
The Netherlands
Luxembourg

Rest of Europe

Asia Pacific

China
Japan
India
Australia
South Korea
Southeast Asia

Indonesia
Thailand
Malaysia
Singapore
Rest of Southeast Asia

Rest of Asia Pacific

The Middle East & Africa

Saudi Arabia
UAE
Egypt
South Africa
Rest of the Middle East & Africa

Latin America

Brazil
Argentina
Rest of Latin America