Industry Insights
[235+ Pages Report] According to Facts and Factors, the Global Medical Device Interoperability market size was worth around USD 23,542.8 billion in 2021 and is estimated to grow to about USD 41,029.7 billion by 2028, with a compound annual growth rate (CAGR) of approximately 9.70% over the forecast period. The report analyzes the Medical Device Interoperability market's drivers, restraints/challenges, and their effect on the demands during the projection period. In addition, the report explores emerging opportunities in the Medical Device Interoperability market.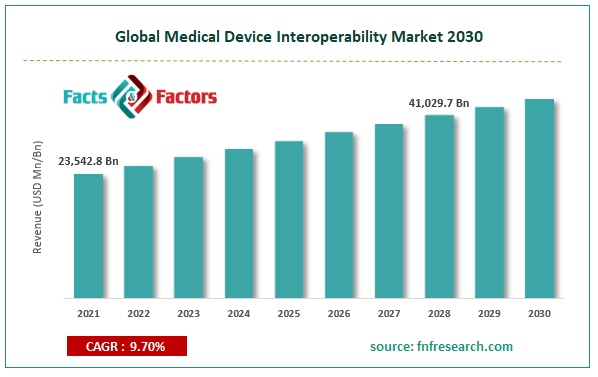 To know more about this report | Request Free Sample Copy
Market Overview
Interoperability across medical devices saves money and allows for the quick login, access, and storage of digital data, which can replace paper paperwork. Interaction between components and the surveillance of medical data via connectivity to the healthcare system database is made possible by the interoperability of medical devices. Interoperability will improve security, lower medical expenses, and provide prompt care. Over the anticipated timeframe, the sector for interoperable medical devices will grow due to all these positive interoperability attributes.
As electronic medical devices grow more connected to one another and other technologies, the capacity of interconnected systems to share and use information safely, securely, and effectively becomes crucial. Adopting cloud technology connected to healthcare services is one of the primary factors propelling the medical device interoperability solutions market. Because the volume of electronic health record data is continuously rising, it is impossible to retain bulk data on local storage devices without the risk of losing critical data.
The growing need to reduce healthcare costs, government attempts to improve patient care and safety, government support for medical device interoperability, and the rapid adoption of EHR and other healthcare IT systems are driving growth in this industry. However, the medical device interoperability sector is being constrained by a lack of real interoperability solutions, standards, and the use of outdated legacy systems.
COVID-19 Impact:
The pandemic has benefited the market for medical device interoperability solutions, and this trend is anticipated to remain for the foreseeable future. Before COVID, healthcare organizations faced interoperability and inefficient data handling difficulties, which worsened during the epidemic. Due to interoperability issues, doctors could not correctly document patients' status and missed critical COVID-19 information, which delayed patient care. Data sharing through interoperability is becoming even more crucial as novel coronavirus strains cause fresh COVID-19 outbreaks worldwide.
Key Insights
Medical Device Interoperability market share value at a CAGR of 9.70% over the forecast period.
The growing need to reduce healthcare costs, government attempts to improve patient care and safety, government support for medical device interoperability, and the rapid adoption of EHR and other healthcare IT systems are driving growth in this industry.
By device type, the monitoring devices segment dominated significantly in 2021.
By end-user, the hospital segment dominated the market in 2021.
North America dominated the Global Medical Device Interoperability market in 2021.
Growth Drivers
The growing need to curtail healthcare costs will likely pave the way for global market growth.
Particularly in the US, healthcare expenses have nearly doubled during the past ten years. The considerable increase in healthcare expenses is the result of several factors, including increased health insurance premiums, the demand for high-quality medical care, the number of older adults, and the prevalence of chronic diseases worldwide.
Restraints
The lack of standards may hamper the global market growth.
One of the significant barriers to the adoption of interoperability solutions is the lack of standards for receiving, sending, and managing information between EHR systems. Data must be altered and cleaned before being imported into another system due to mismatched types, unusual data fields, and proprietary formats. Delays and inaccuracies are caused by the lack of a uniform standard for taking, transmitting, receiving, storing, and managing patient data.
Opportunities
Emerging markets for healthcare interoperability solutions in developing markets to bring up several growth opportunities
Most of these growing countries are still in the early phases of medical device interoperability due to a lack of awareness, limited availability of interoperable solutions, a lack of IT facilities, and financial and social restraints. The increasing population in these countries will likely increase the volume of healthcare data in their respective healthcare systems. Government attempts to establish interoperable solutions, increased government investment in healthcare systems, and increased acceptance of automation technologies are the primary reasons driving the adoption of medical device interoperability in Asia Pacific's rising markets.
Challenges
The shortage of healthcare IT professionals will likely limit the global market growth.
The scarcity of qualified resources is a significant impediment to deploying interoperability solutions in hospitals. Nowadays, the requirement for healthcare IT workers outnumbers the supply in developing and developed economies, including the United States and Europe. There is also a scarcity of IT specialists in Canadian healthcare systems; 79% of existing clinical IT personnel want extra training. The expanding quantity of healthcare information technology efforts adds to the total load. This is a significant obstacle to the market expansion of medical device interoperability.
Segmentation Analysis
The global Medical Device Interoperability market is segregated based on device industry participants, end-user, applications, and region.
By device type, the market is divided into Monitoring Devices, Surgical Devices, Imaging Devices & Information Systems, Diagnostic Devices, and Therapeutic Devices. Among these, the monitoring devices segment is expected to grow significantly in 2021. Non-invasive remote monitoring devices that evaluate or detect standard parameters, as well as non-invasive monitoring devices that wirelessly transfer patient information to their health care provider or other monitoring entity, are examples of remote or wearable patient monitoring devices. Monitoring devices enable doctors to monitor, report, and analyses their patients' acute or chronic diseases while they are not in the hospital or clinic. They allow providers to make proactive clinical decisions by a real-time understanding of a patient's disease state.
By end-user, the market is classified into Hospitals, Ambulatory Care, and Clinics & Imaging Centres. The hospital's segment will dominate the market in 2021. The Hospitals category is predicted to grow throughout the forecast period as hospitals worldwide increasingly adopt interoperability solutions to assist surgeons during surgery. Factors like a gang emphasis on patient-driven knowledge conveyance and state funding for medical device interoperability in hospitals drive market growth. The necessity to manage rising healthcare costs and regulatory mandates are pushing for expanding medical device interoperability.
Report Scope
| | |
| --- | --- |
| Report Attribute | Details |
| Market Size in 2021 | USD 23,542.8 Billion |
| Projected Market Size in 2028 | USD 41,029.7 Billion |
| CAGR Growth Rate | 9.70% CAGR |
| Base Year | 2021 |
| Forecast Years | 2022-2028 |
| Key Market Players | Immucor Inc., Ortho Clinical Diagnostics, F. Hoffmann-La Roche AG, Quotient Limited, Abbott, Bio-Rad Laboratories, BAG Healthcare GmbH, DiaSorin S.P.A., Danaher, BIO KIT (Werfen), and Others |
| Key Segment | By Device Type, Industry Participants, End-User, and Region |
| Major Regions Covered | North America, Europe, Asia Pacific, Latin America, and the Middle East & Africa |
| Purchase Options | Request customized purchase options to meet your research needs. Explore purchase options |
Recent Developments
In May 2021, Epic Systems (US) and Anthem, Inc. (US) collaborated to reduce administrative costs and address gaps in care by leveraging Epic's Payer Platform, which will be integrated directly into Anthem's Health OS.
In May 2021, Oncodesign collaborated with InterSystems Corporation (US) (France). In this collaboration, Oncodesign will employ InterSystems' IRIS for Health system to organize and leverage healthcare data to speed the search for innovative oncology treatments using AI.
Regional Landscape
The dominance of well-developed health facilities will likely help North America dominate the global market.
North America is expected to dominate the medical Device InteroperabilityMarket in 2021. The dominance is due to well-developed health facilities, a better acceptance of new technologies, and technician trainability. Another element incentivizing acceptance of the medical device interoperability industry is government activities promoting insurance-based healthcare mandates. With the advent of technical breakthroughs in the healthcare IT sector, enormous volumes of data are being generated at healthcare facilities employing various medical systems and equipment. It has become critical for healthcare businesses to link and integrate diverse IT systems installed within the firm to minimize healthcare expenses while also collecting actionable information. This contributes to market growth in this region.
Over the forecast period, Asia Pacific regional market is expected to grow significantly in the medical Device Interoperabilitymarket in 2021. Developing government initiatives for eHealth, rising medical tourism, rising requirement for quality healthcare, and the rapidly increasing need for the management and execution of medical devices and HCIT solutions to provide cost-effective and reliable care to patients are driving market growth in the APAC region.
Competitive Landscape
Key players within the global medical device interoperability market include
Immucor Inc.
Ortho Clinical Diagnostics
F. Hoffmann-La Roche AG
Quotient Limited
Abbott
Bio-Rad Laboratories
BAG Healthcare GmbH
DiaSorin S.P.A.
Danaher
BIO KIT (Werfen)
The Global Medical Device Interoperability market is segmented as follows:
By Device Type
Monitoring Devices
Surgical Devices
Imaging Devices & Information Systems
Diagnostic Devices
Therapeutic Devices
By Industry Participants
Clinical IT System Vendors
Healthcare System Integrators
Vendor-Agnostic Connectivity Vendors
Medical Device OEMs
By End-User
Hospitals
Ambulatory Cares
Clinics & Imaging Centres
By Application
Acute Care Settings
Patient Data Repositories
Remote Patient Monitoring
By Region
North America
Europe

France
The UK
Spain
Germany
Italy
Nordic Countries
Benelux Union

Belgium
The Netherlands
Luxembourg

Rest of Europe

Asia Pacific

China
Japan
India
Australia
South Korea
Southeast Asia

Indonesia
Thailand
Malaysia
Singapore
Rest of Southeast Asia

Rest of Asia Pacific

The Middle East & Africa

Saudi Arabia
UAE
Egypt
South Africa
Rest of the Middle East & Africa

Latin America

Brazil
Argentina
Rest of Latin America