Industry Insights
[236+ Pages Report] According to the report published by Facts & Factors, the global vegetable seeds market size was worth around USD 8.6 billion in 2021 and is predicted to grow to around USD 14.45 billion by 2028 with a compound annual growth rate (CAGR) of roughly 10.31% between 2022 and 2028. The report analyzes the global vegetable seeds market drivers, restraints/challenges, and the effect they have on the demands during the projection period. In addition, the report explores emerging opportunities in the vegetable seeds market.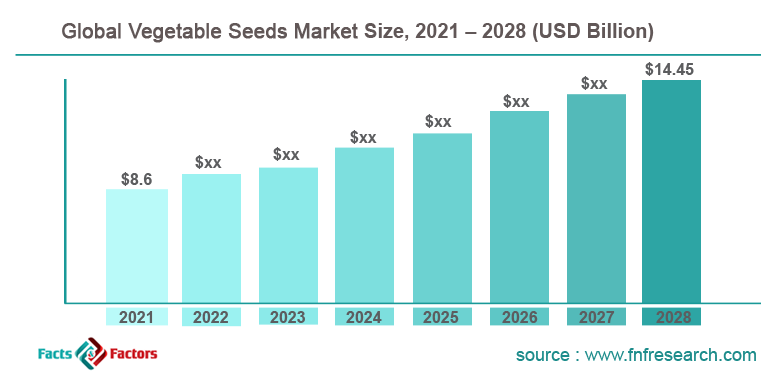 To know more about this report | Request Free Sample Copy
Market Overview
Vegetables are plant parts consumed by humans and animals as food items. They come in various forms and can be consumed raw or cooked depending on the vegetables. The term is largely used for edible plants which include leaves, stems, fruits, flowers, seeds, and roots. Vegetables are an important component of a healthy diet since they are a great source of minerals, vitamins, fiber, carbohydrates, and protein content. Seeds on the other hand are embryonic plants that are covered with an outer protective layer while coupled with the food reserve. Vegetable seeds originate from seeds and are used for vegetable farming. Seeds are extremely important for the plants and the vegetables they originate from. While protecting the embryo is one important aspect, they also provide assistance during the dispersal of the components to different locations and allow for dormancy in case of unfavorable external conditions.
Key Insights
As per the analysis shared by our research analyst, the global vegetable seeds market is estimated to grow annually at a CAGR of around 10.31% over the forecast period (2022-2028).
In terms of revenue, the global vegetable seeds market size was valued at around USD 8.6 billion in 2021 and is projected to reach USD 14.45 billion, by 2028. Due to a variety of driving factors, the market is predicted to rise at a significant rate.
Based on cultivation method segmentation, open field was predicted to show maximum market share in the year 2021
Based on type segmentation, open-pollinated was the leading revenue-generating type in 2021.
On the basis of region, Asia-Pacific was the leading revenue generator in 2021.
Covid-19 Impact:
The global market was not significantly impacted by the pandemic since they were classified as essential items and processes involving vegetable seeds did not have to undergo the process that producers of non-essentials had to face. The demand for the seeds remained high as the food consumption level remained the same level without any major impact.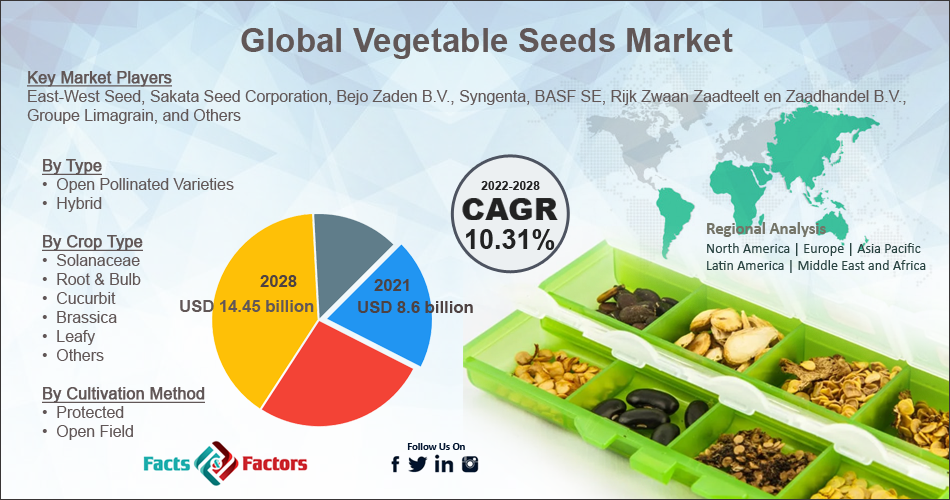 To know more about this report | Request Free Sample Copy
Growth Drivers
Increasing emphasis on a healthy diet to propel the market growth
The global vegetable seeds market is projected to grow significantly, majorly driven by the rising attention toward maintaining a healthy diet, for which vegetables are extremely crucial. They are advised not only by healthcare professionals for patients suffering from various ailments but for people who are healthy and of all age groups ranging from infants to older generations. For instance, diabetic patients are recommended to consume carrots, cabbage, broccoli, cucumber, spinach, and others not only for their nutritional value but possible effects in helping control sugar levels. An important point to note is that there are more than 422 million patients living with diabetes as per the World Health Organization. The same trend is observed for patients with medical conditions where emphasis on vegetable intake is laid by doctors and physicians.
Restraints
Concerns over chemical exposure of seeds to restrict market expansion
The global market size may face certain challenges during the growth trend owing to the rising concerns over vegetable seeds being overly exposed to harsh chemicals during the vegetation process. The chemicals in the form of fertilizers and pesticides may sometimes impact the quality of the seed rendering it less nutritious than its actual value. Poor knowledge of chemicals may lead to poor quality of final output if fertilizers are overused.
Opportunities
Government's initiatives in encouraging agricultural outputs to provide growth opportunities
The global market cap is projected to benefit from the rising initiatives undertaken by government agencies for the agricultural and vegetation sector. The initiatives involve free demo classes for proper utilization of fertilizers, information about the new range of vegetable seeds, financial assistance, educating farmers on how to market their products, and other beneficial projects. For instance, in April 2021, the United States Department of Agriculture invested USD 330 million in specialty crops grants, amongst other aspects of agriculture and vegetation
Challenges
Growing number of processed food consumers to challenge market size expansion
One of the most challenging factors against the growing trend in the global market is an increasing number of consumers preferring processed food items over vegetables led by changing consumer preferences, and manufacturers of processed foods advertising their products as nutrition-rich and providing all minerals and vitamins in a one easily consumable food form.
Segmentation Analysis
The global vegetable seeds market is segmented based on crop type, cultivation method, type, and region.
Based on crop type, the global market segments are root & bulbs, Solanaceae, brassica, leafy, cucurbit, and others. The Solanaceae family consists of food items like eggplant, tomatoes, pepper, and potatoes amongst others that are one of the most common forms of vegetables consumed. Tomatoes have a high adoption rate owing to their high replacement rate which is around 99.29%
Based on cultivation methods, the global market is divided into open fields and protected. Currently, the market is dominated by the open fields segment since not all crops can be grown in a protected environment due to associated costs, however, investments in protected cultivation methods are increasing significantly. In January 2019, around 496,800 hectares of land globally were used for greenhouse vegetables.
Based on type, the global market is divided into hybrid and open-pollinated, which also leads segmental growth as pollination is a free-flowing process and cannot be controlled, unlike the hybrid type. Common hybrid seeds are cauliflower, corn, carrots, and celery. In 2020, the US cultivated over 14.2 billion bushels, which is related to corn farming.
Recent Developments:
In May 2022, Bayer Crop Science, a German multinational biotechnology and pharmaceutical company, announced its plan to tap into the Indian market by introducing high-yielding and disease-proof hybrid varieties of crops. In the primary launches seeds of vegetables like cabbage, sweet corn, onion, and watermelon seeds will be launched, the success of which will determine future investments
In July 2022, Syngenta, a global provider of agricultural science and technology, inaugurated its USD 15 million control lab designed for vegetable seeds. The facility provides space for fungal, disease, and bacterial testing, and helps expand the company's vegetable seed processing capacity.
Report Scope
| | |
| --- | --- |
| Report Attribute | Details |
| Market Size in 2021 | USD 8.6 Billion |
| Projected Market Size in 2028 | USD 14.45 Billion |
| CAGR Growth Rate | 10.31% CAGR |
| Base Year | 2021 |
| Forecast Years | 2022-2028 |
| Key Market Players | East-West Seed, Sakata Seed Corporation, Bejo Zaden B.V., Syngenta, BASF SE, Rijk Zwaan Zaadteelt en Zaadhandel B.V., Groupe Limagrain, and Others |
| Key Segment | By Crop Type, Cultivation Method, Type, and Region |
| Major Regions Covered | North America, Europe, Asia Pacific, Latin America, and the Middle East &, Africa |
| Purchase Options | Request customized purchase options to meet your research needs. Explore purchase options |
Regional Analysis
Asia-Pacific to lead regional growth during the projection period
The global vegetable seeds market is projected to witness the highest CAGR in Asia-Pacific driven by China and India, two of the world's dominating regions in the agricultural industry. China is currently the global leader in agricultural products, which accounted for over 30% of the world's vegetable and fruit market in 2020. It produced more than 478 million tons of vegetables, which was led by the potatoes segment. The country also generated a revenue of over USD 840.7 million due to vegetable export by the month of July 2022. The high revenue is an outcome of the government's initiatives to meet the growing food requirements of its population which are currently roughly around 1.4 billion people.
North America is anticipated to grow significantly propelled by the massive agricultural outputs generated in the United States. The country spends a hefty amount on improving agricultural and vegetable produce. The current market share of the US in terms of vegetable exports is around 9.07%.
Competitive Analysis
East-West Seed
Sakata Seed Corporation
Bejo Zaden B.V.
Syngenta
BASF SE
Rijk Zwaan Zaadteelt en Zaadhandel B.V.
Groupe Limagrain
The global vegetable seeds market is segmented as follows:
By Crop Type
Root & Bulb
Solanaceae
Brassica
Leafy
Cucurbit
Others
By Cultivation Method
By Type
By Regional Segment Analysis
North America
Europe

France
The UK
Spain
Germany
Italy
Nordic Countries
Benelux Union

Belgium
The Netherlands
Luxembourg

Rest of Europe

Asia Pacific

China
Japan
India
Australia
South Korea
Southeast Asia

Indonesia
Thailand
Malaysia
Singapore
Rest of Southeast Asia

Rest of Asia Pacific

The Middle East & Africa

Saudi Arabia
UAE
Egypt
South Africa
Rest of the Middle East & Africa

Latin America

Brazil
Argentina
Rest of Latin America