Industry Insights
[205+ Pages Report] According to Facts and Factors, the global UV infection control device market size was worth USD 382.40 million in 2021 and is estimated to grow to USD 545.51 million by 2028, with a compound annual growth rate (CAGR) of approximately 6.10% over the forecast period. The report analyzes the UV infection control device market's drivers, restraints/challenges, and their effect on the demands during the projection period. In addition, the report explores emerging opportunities in the UV infection control device market.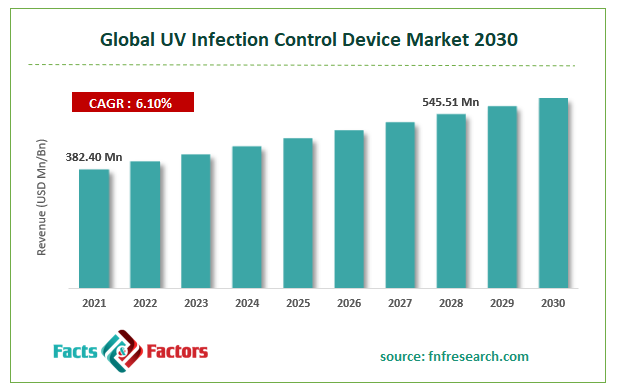 To know more about this report | Request Free Sample Copy
Market Overview
The UV infection prevention and control device relies on UV light that bounces off of walls and other surfaces and is absorbed by bacteria. When this happens, the bacteria's luminous porphyrin components become excited, causing oxidative damage and cell death. The UV infection control device is a disinfection technology that uses Ultraviolet radiation to eliminate microorganisms in various healthcare facilities, including hospitals, clinics, ambulatory surgery centers, research facilities, emergency departments, and others. Infections related to healthcare are increasing yearly. The wavelength of the UV range is higher than that of visible light and lower than that of X-rays. UV radiation quickly and efficiently renders bacteria inactive through a physical mechanism. When viruses and bacteria are exposed to the germicidal UV light frequencies, they cannot replicate and spread infection.
Increased government focus on infection control programs is one of the main factors fueling the UV infection control devices market growth. On the other hand, expensive UV infection control equipment and strict government regulations somewhat hinder growth. However, high growth potential in emerging markets is anticipated to generate profitable opportunities soon.
COVID-19 Impact:
COVID-19 outbreak, there is an increasingly global need for cutting-edge healthcare infrastructure, services, and facilities to treat the affected. To deal with an increase in COVID-19 patients, infection control goods like personal safety equipment are increasingly in demand worldwide. Health care providers use personal protective equipment to keep themselves and their patients safe from infection and the spread of disease.
Key Insights
As per the analysis shared by our research analyst, the global UV infection control device market value will grow at a CAGR of382.40% over the forecast period.
In terms of revenue, the global UV infection control device market size was valued at around USD382.40 million in 2021 and is projected to reach USD 545.51 million by 2028.
The frequency of hospital-acquired illnesses is rising, governments are placing more emphasis on infection control programs, and more people are adopting technologically improved UV equipment, all of which are driving the growth of the global UV infection control market.
By type, the mobile type category dominated the market in 2021.
By end users, the hospital's category dominated the market in 2021.
Asia Pacific dominated the global UV infection control device market in 2021.
Growth Drivers
Rise in healthcare technological advancements to drive market growth
The market for UV infection control has expanded as healthcare authorities increasingly turn to technical advancements for solutions to pressing market problems. Like all other growing industries, the UV infection control device market is driven by technological developments, including machine learning, cloud-based services, artificial intelligence, and big data. A huge shift in the need for technology-driven healthcare due to COVID-19 has altered the global healthcare scene and propelled the expansion of the market for ultraviolet infection control devices.
Restraints
Lack of awareness among the population hinders the market growth
The global market growth would be hampered by the lack of awareness of smart healthcare products. GE Healthcare and other medical device manufacturers provide adherence programs, remote monitoring services, and other smart patient services. However, Accenture, an American-Irish multinational firm that offers consulting and processing services, asserts that healthcare practitioners are unaware of these offerings.
Opportunity
Government investments in infrastructure to present market opportunities
The use of new technologies in the healthcare sector has immense promise, particularly boosting patient engagement, enhancing service quality, and lowering operational inefficiency. Furthermore, developing government funding and support in the healthcare sector creates lucrative prospective market niches, particularly in developing countries.
Segmentation Analysis
The global UV infection control device market has been segmented into type and end users.
Based on type, the market is segmented into mobile, station, and others. The mobile type segment held a significant share in the market in 2021. The "Smartphone" is nearly always used for social networking and the pursuit of knowledge among high-income people and is quickly spreading to lower-income areas, particularly among urban populations. With the fundamental components for creating diagnostic test becoming more accessible and affordable, the field of infectious disease diagnostics may be approaching a turning point.
Based on end users, the market is classified into hospitals, clinics and others. In 2021, the hospital's category dominated the global market. Hospitals treat a variety of patients who need surgery, which promotes a rise in the use of UV infection control devices and, in turn, propels the segment's expansion. In addition, the aging population's link to chronic diseases is expanding, and people are becoming more aware of the need for high-quality medical treatment. The unexpected COVID-19 epidemic is also increasing the number of hospitalizations.
Recent Developments:
March 2020, the Spectral and Advanced Ultra-Violet Systems had received the theAUVS UV Box's approval for use with Spectralink Versity mobile phones. The AUVS UV Box provides a unique infection control system to protect patients and staff from pathogens, reduce hospital-acquired Infections (HAI) and support healthcare infection prevention protocols when used with the Spectralink Versity enterprise smartphone.
February 2020, Clorox Healthcare partnered with Ultraviolet Devices, Inc. (UVDI) to introduce the Clorox Healthcare Optimum-UV System. Both the companies would combine the power of manual surface disinfection with advanced ultraviolet (UV) technology to deliver an even more comprehensive surface disinfection solution infection control device Market.
Report Scope
| | |
| --- | --- |
| Report Attribute | Details |
| Market Size in 2021 | USD 382.40 Million |
| Projected Market Size in 2028 | USD 545.51 Million |
| CAGR Growth Rate | 6.10% CAGR |
| Base Year | 2021 |
| Forecast Years | 2022-2028 |
| Key Market Players | American Air & Water Inc., American Ultraviolet, Lumalier Corp., Nikkiso Co. Ltd., PDI Inc., Seal Shield LLC, STERIS plc., THE CLOROX COMPANY, UVC Cleaning Systems, XENEX, and Others |
| Key Segment | By Type, End User, and Region |
| Major Regions Covered | North America, Europe, Asia Pacific, Latin America, and the Middle East &, Africa |
| Purchase Options | Request customized purchase options to meet your research needs. Explore purchase options |
Regional Landscape
The Asia Pacific dominated the UV infection control device market in 2021
The Asia Pacific dominated the market in 2021. Due to the established healthcare infrastructure, increased purchasing power, and widespread use of cutting-edge medical technology. Increased hospital-acquired infections are another important element boosting the market's expansion. In addition, the region's market is expanding due to rising disposable incomes, rising health standards, and technological developments that have led to the creation of new UV infection control devices.
In addition, the region's market is expanding due to rising disposable incomes, higher health requirements, and technological developments for new UV infection control systems. For example, the Asia Pacific Society of Infection Control (APSIC) offers cutting-edge infection control techniques to lower hospital-associated infections, manage newly developing and reemerging infectious illnesses, and enhance patient outcomes.
Competitive Landscape
American Air & Water Inc.
American Ultraviolet
Lumalier Corp.
Nikkiso Co. Ltd.
PDI Inc.
Seal Shield LLC
STERIS plc.
THE CLOROX COMPANY
UVC Cleaning Systems
XENEX.
Global UV infection control device Market is segmented as follows:
By Type
Mobile Type
Station Type
Other types
By End User
By Regional Segment Analysis
North America
Europe

France
The UK
Spain
Germany
Italy
Nordic Countries
Benelux Union

Belgium
The Netherlands
Luxembourg

Rest of Europe

Asia Pacific

China
Japan
India
Australia
South Korea
Southeast Asia

Indonesia
Thailand
Malaysia
Singapore
Rest of Southeast Asia

Rest of Asia Pacific

The Middle East & Africa

Saudi Arabia
UAE
Egypt
South Africa
Rest of the Middle East & Africa

Latin America

Brazil
Argentina
Rest of Latin America